Cashman, Collins, Harvey, Ichiro honored
Baseball luminaries feted at ALS benefit dinner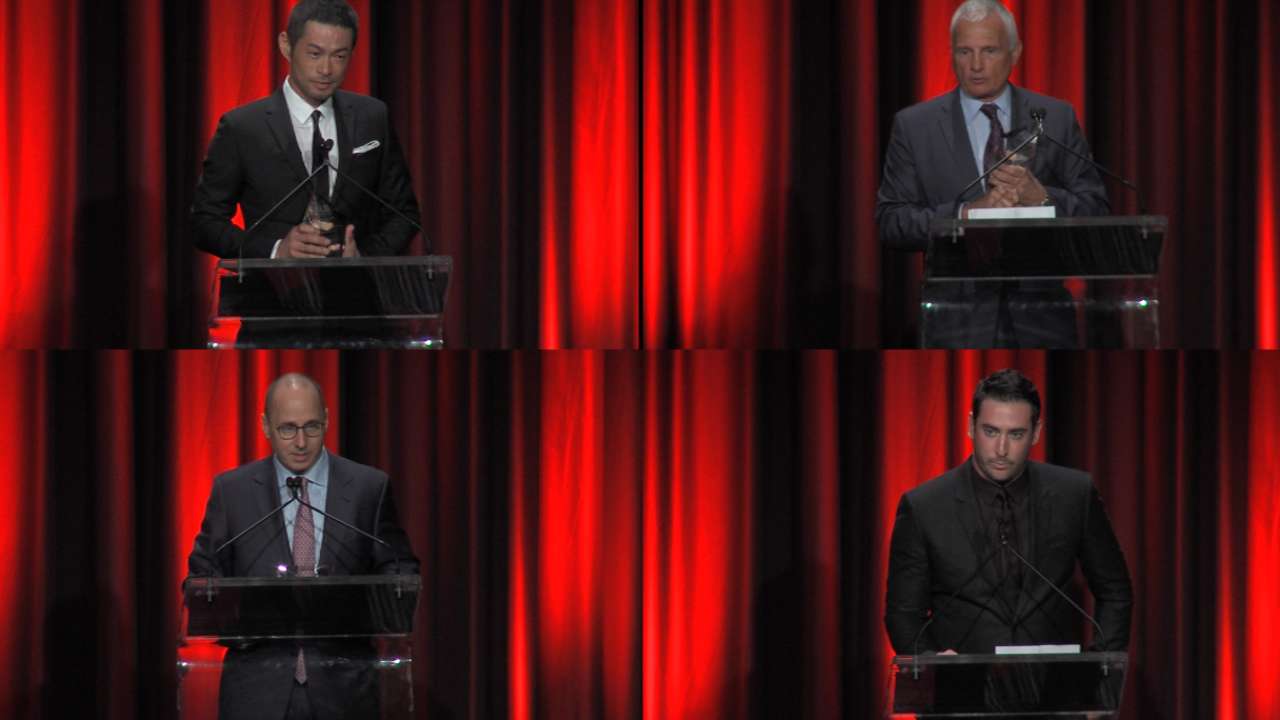 NEW YORK -- Yankees general manager Brian Cashman, Mets manager Terry Collins and pitcher Matt Harvey, and Marlins outfielder Ichiro Suzuki were honored at the 22nd annual Lou Gehrig Sports Award Benefit dinner in front of nearly 600 guests at the Marriott Marquis in Manhattan on Thursday night. The event raised more than $1.1 million for the ALS Association Greater New York Chapter.
Cashman was honored with the Jacob K. Javits Lifetime Achievement Award by the organization, which plays a major role in promoting the fight to treat and cure what many still refer to as Lou Gehrig's disease. More than 6,400 people in the U.S are diagnosed with amyotrophic lateral sclerosis (ALS) every year. There is no known cure, but major breakthroughs in research have been achieved over the last few years after the Ice Bucket Challenge videos became a viral phenomenon two summers ago.
• Photo gallery
Since then, significant increases in funding have allowed scientists to detect a common gene in ALS patients. This is believed to be an encouraging first step toward finding a cure.
"There are so many amazing difference-making people in this world, doing so much for others. I really applaud your efforts and your commitment so the doctors can cross that finish line," Cashman said. "God willing, sooner or later, that finish line will be crossed."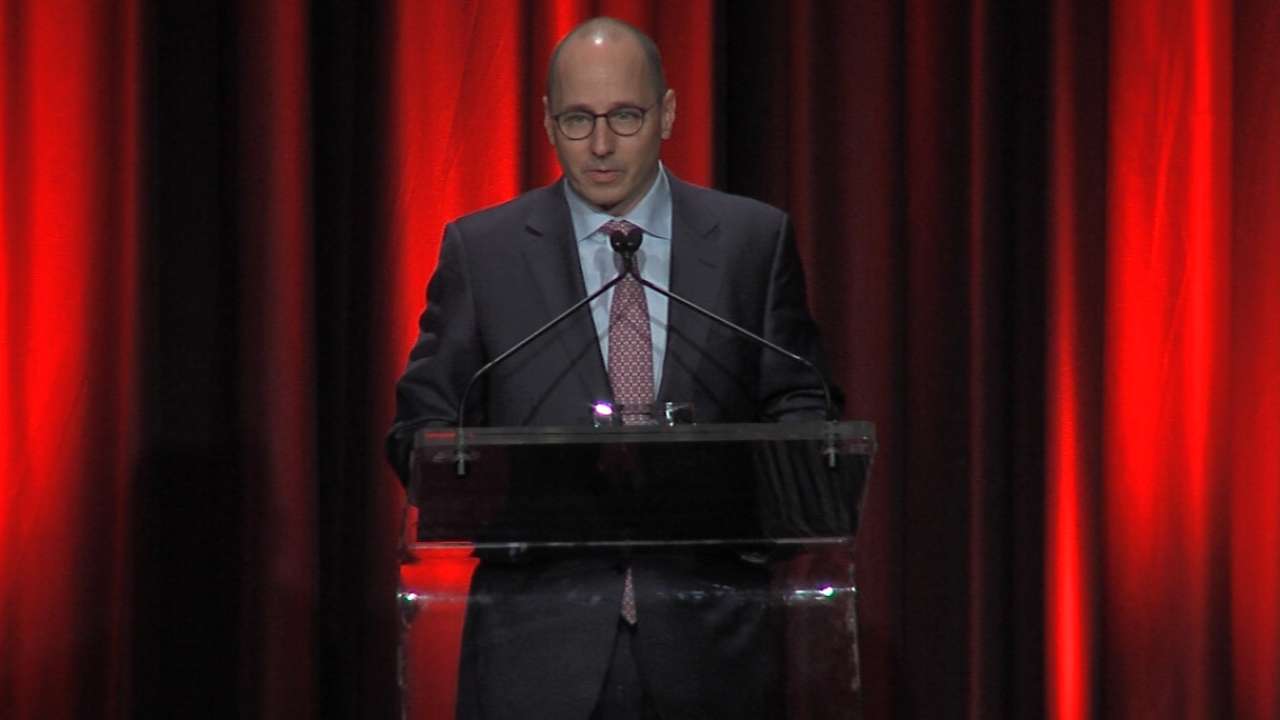 Original Met Ed Kranepool and former Yankees Mickey Rivers, Roy White and Pat Kelly also attended, and tennis great Patrick McEnroe was honored as well. Nearly all referenced ALS striking close to home, whether it affects a friend, family member or former teammate.
"I tell my guys every spring, we can accomplish a lot if we get on the same side of the rope and pull together, which is what teams have to do," Collins said. "Well, you have the bigger goal. The real champions in our world are here tonight. You're supporting something that has to be fixed. We can win this battle against ALS."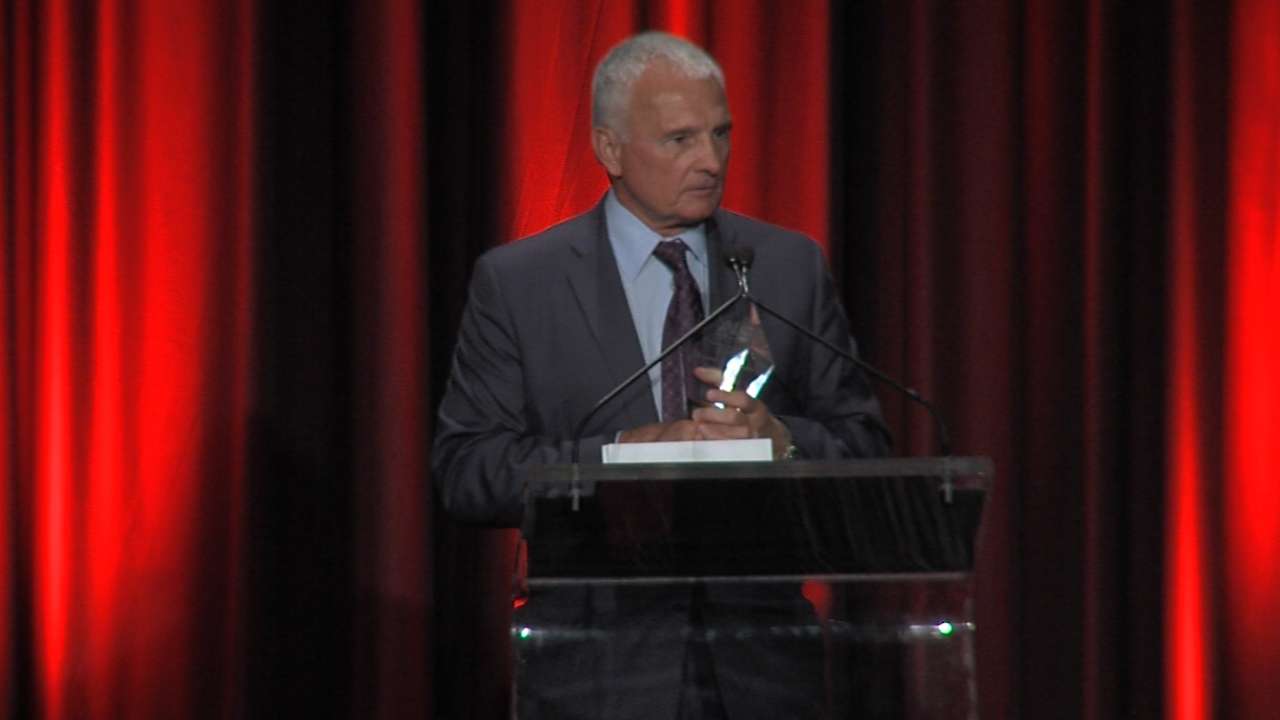 Even with all the stars in attendance, the night's largest figure was Gehrig, whose legacy remains strong since his death put ALS into the public consciousness in 1941. One of the greatest hitters of all time, Gehrig was forced to retire at age 36 after being diagnosed. He died two years later.
"[The cause] is synonymous with the Yankees," said White, who lost a good friend and teammate, Hall of Famer Catfish Hunter, to ALS. "As a young boy growing up in California, we were like baseball historians. We knew about Lou Gehrig even though we didn't get a chance to see him play. So we knew about ALS. Once I became a Yankee, this became one of the causes I supported the most."
"A friend of mine from college, her brother died of ALS," Cashman said. "I think everyone has a story that links to this disease. Hopefully, at some point, sooner rather than later, because of the bigger efforts taking place, the doctors and scientists and analysts can come up with ... a cure. That's what this is all about."
Lighthearted videos preceded the honorees' appearances on stage; the one made for Collins jokingly depicted the 67-year-old as a contestant on "Dancing With the Stars."
"I taught dance when I was in college," Collins told the crowd. "That might be something I can probably do."
Ichiro added more levity to the night when he took the stage as the night's final honoree. After a video parodied Ichiro's 4,308 hits between Major League Baseball and Japan, the future Hall of Famer made the night's shortest and most memorable speech.
"You might be expecting a speech," said Ichiro in English, "but unlike home runs, speeches in English are not my game."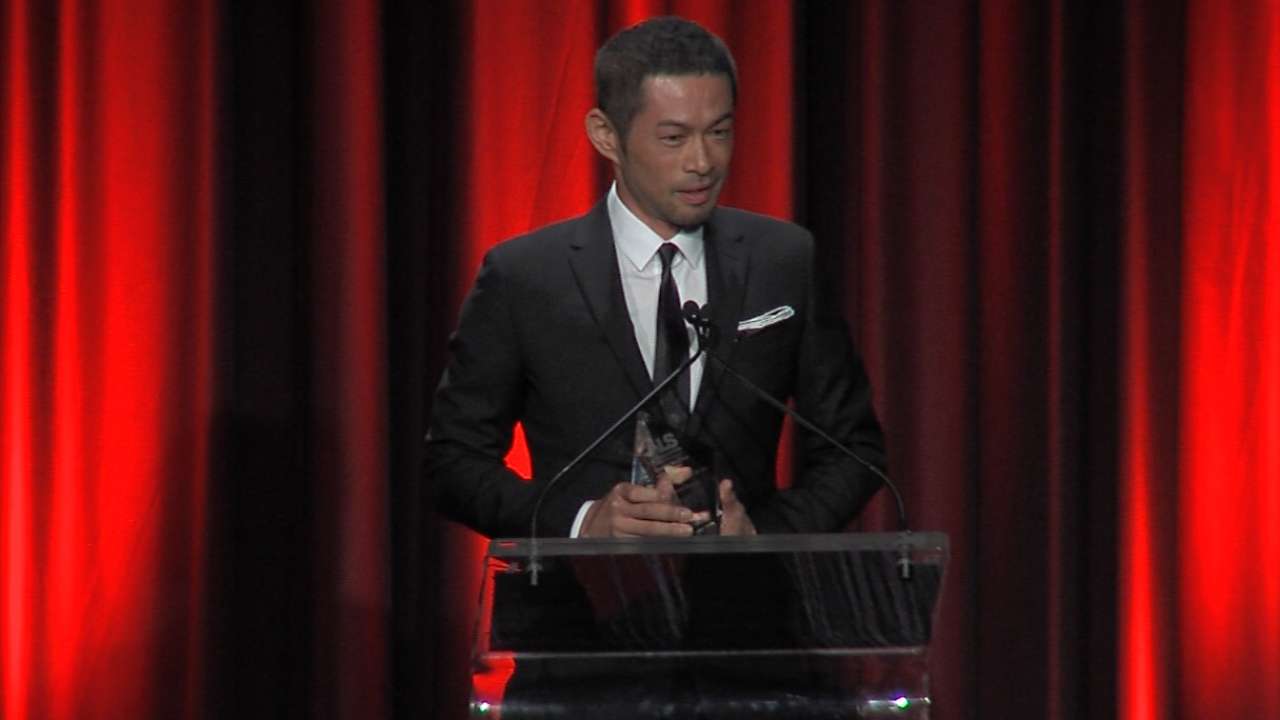 Ichiro, Collins and Cashman were invited to attend the event by Marlins owner Jeffrey Loria, a benefit co-chairman of the ALS Greater New York Chapter.
"We're incredibly grateful for their participating," said Judith Arner Brown, president and CEO of the chapter. "We need to bring attention to this disease, and it's been going on for too long."
Joe Trezza is a reporter for MLB.com based in New York. Follow him on Twitter at @joetrezz. This story was not subject to the approval of Major League Baseball or its clubs.