MLB.com Columnist
Jonathan Mayo
Mets in AFL: Cecchini getting extra work
MLB Pipeline checks in on New York's prospects in the Arizona Fall League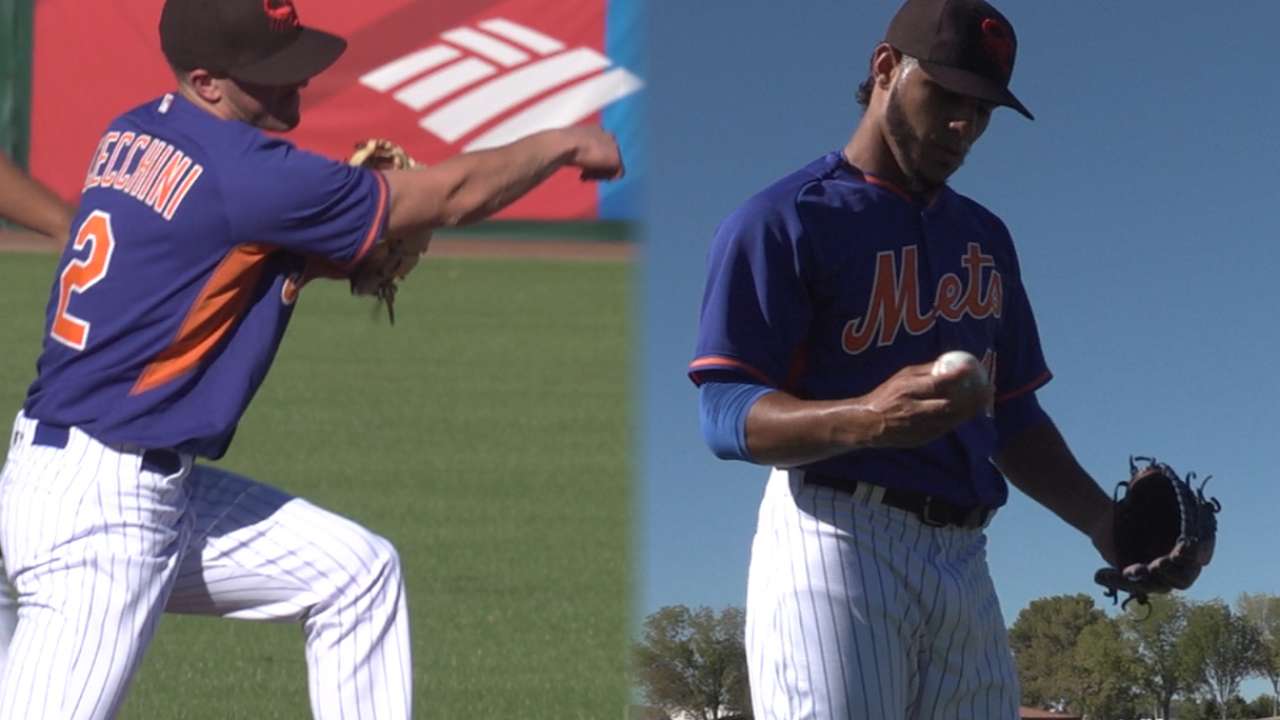 Baseball is a complete family affair for Mets shortstop prospect Gavin Cecchini. His entire family.
Cecchini's older brother Garin has played in the big leagues and is now in the Brewers organization. His cousin Josh Prince also a big leaguer. All three played for their father, Glenn, at what is now a legendary baseball program at Barbe High School in Lake Charles, La. Glenn is now the head coach of USA Baseball's 18-and-under national team. His wife, Gavin's mom, Raissa, also has coached.
• Complete Arizona Fall League Coverage
"My dad gets all the hype," Gavin Cecchini said. "He just won his second gold medal in Mexico with Team USA. He's done everything and is an unbelievable coach. But my mom's the one people sometimes forget about. She has contributed to my brother and my success as much as my dad. We always joke around, I tell my teammates she throws better BP than my dad. They're both great and have so much knowledge of the game. They're the reason my brother and I are the players that we are today."
Now both Gavin and his brother can put "Major Leaguer" on their resumes. Gavin, the Mets' No. 3 prospect, made his big league debut on Sept. 11 this year after a very strong Triple-A season that saw him hit .325, good for third in the Pacific Coast League.
"It was unbelievable," Cecchini said. "It was everything you dream of. Wally Backman was the manager and he called me in his office and said, 'Hey man, I want to tell something, but you can't let anyone know.' My heart started beating a little faster. He said, 'You're going up to the big leagues.'
"It's everything you work for as a kid. The experience, whenever you get that first callup, you can't explain it. It's just something you have to go through yourself. There's no words for it. To be in that atmosphere, going for the Wild Card Game, it was a blast."
Now Cecchini is getting some extra work in the Arizona Fall League in the hope he can make New York his permanent home in 2017. He's learned over the years as he's moved up levels that he has to make adjustments more quickly, but be sure not to ask him if he's working on doing that in just one area of his game.
"People always ask me that, but I want to focus on all aspects of the game," Cecchini said. "When you start saying this certain aspect of the game doesn't need work anymore, that's when you go downhill. I'm focusing on everything and just getting better at all aspects of the game."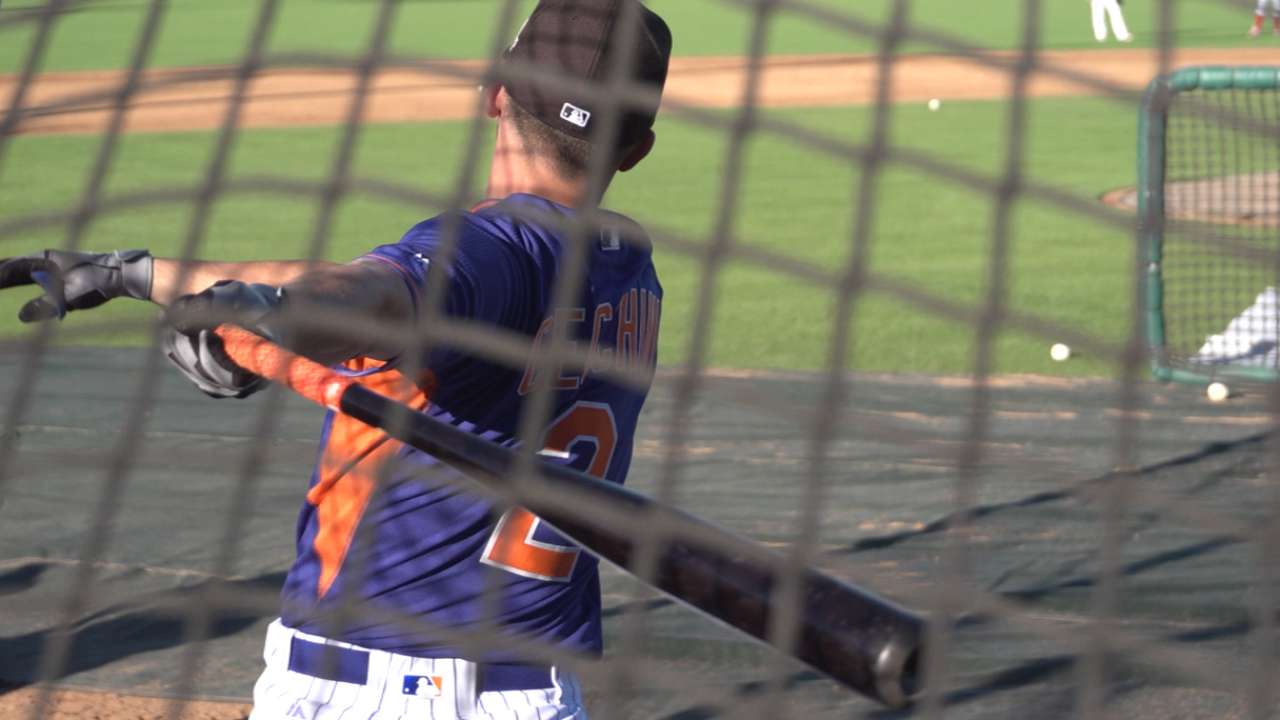 If it sounds like Cecchini has a little edge to him, it's because he does. He's been described as a baseball rat, an all-out player who has a chip on his shoulder. Cecchini doesn't run away from the description.
"There's no doubt about it," Cecchini said. "That's how I've always played the game. Sometimes people can look at it the wrong way, as cockiness, but that's just how I approach the game. That's how I've always been, as a little kid. I go out there and play, somewhat play with some swag. I love this game and work my butt off every single day to get better and help the New York Mets win."
Mets hitters in the Fall League
Gavin Cecchini, SS
Matt Oberste, 1B
Champ Stuart, OF
Tim Tebow, OF
A senior sign out of Oklahoma in the seventh round of the 2013 Draft, Oberste had a solid, if unspectacular season in the Double-A Eastern League in 2016 (.283/.340/.409). Almost exclusively a first baseman in years prior, he saw time at third during the year and played a little left field in the Arizona Fall League. Oberste has struggled to get the bat going while he auditions for a 40-man roster spot.
Stuart has one tool that cannot be taught, speed, and his is top of the scale. He swiped 40 bases and reached Double-A for the first time this past season. Stuart is continuing to work on refining his approach -- he struck out 168 times in 2016 -- and needs to show he can get on base more consistently to use that speed. He, too, is Rule 5 Draft eligible this offseason, and was performing well over the first few weeks of the AFL.
If you haven't heard that Tebow, the former Heisman Trophy winner, was trying his hand at baseball, then you haven't paid attention. The 29-year-old has a steep learning curve to overcome, having not played baseball since his junior year of high school. Tebow obviously has some size, strength and athleticism, though he was slowed by a knee injury this week.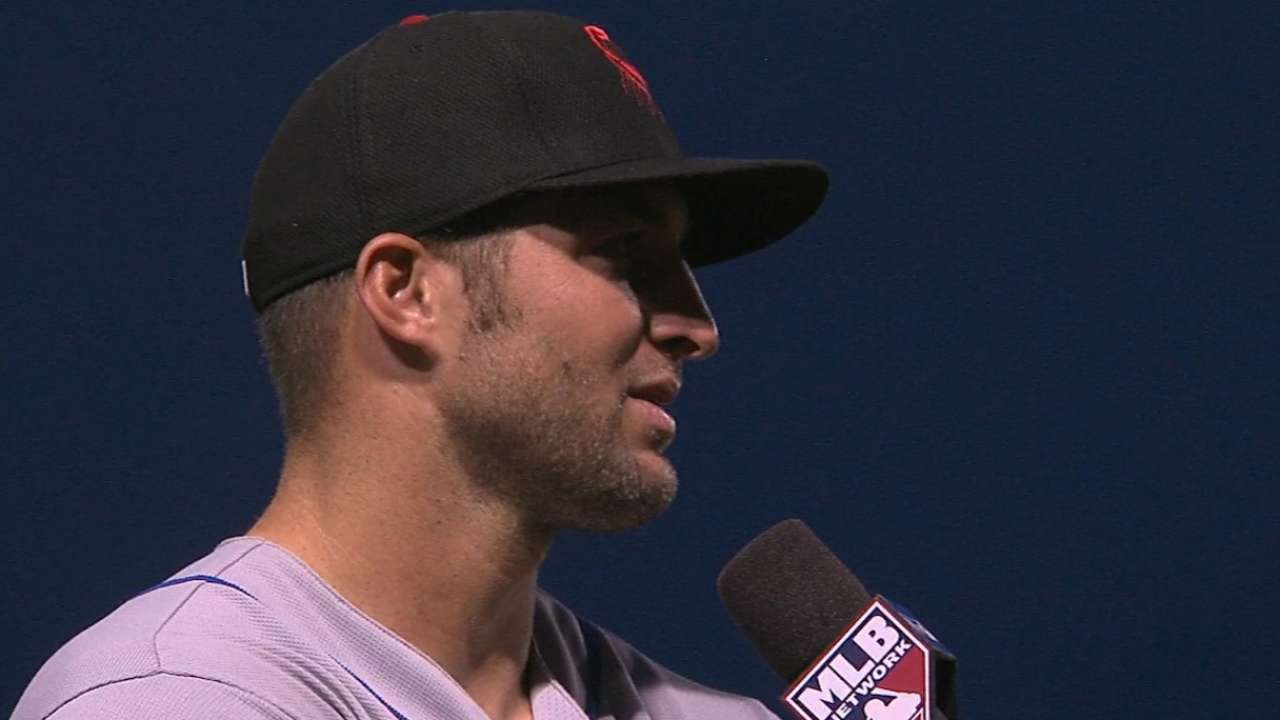 Mets pitchers in the Fall League
Marcos Molina, RHP
Corey Oswalt, RHP
David Roseboom, LHP
Corey Taylor, RHP
Molina missed much of the 2015 season with elbow issues. He ended up needing Tommy John surgery during the offseason, forcing him to miss all of 2016. Molina's time in the AFL is giving him his first competitive innings since August 2015. He's shaking off the rust and getting needed reps this fall with the hope he can hop back on the track that had him climbing the organizational ladder rapidly before the injury.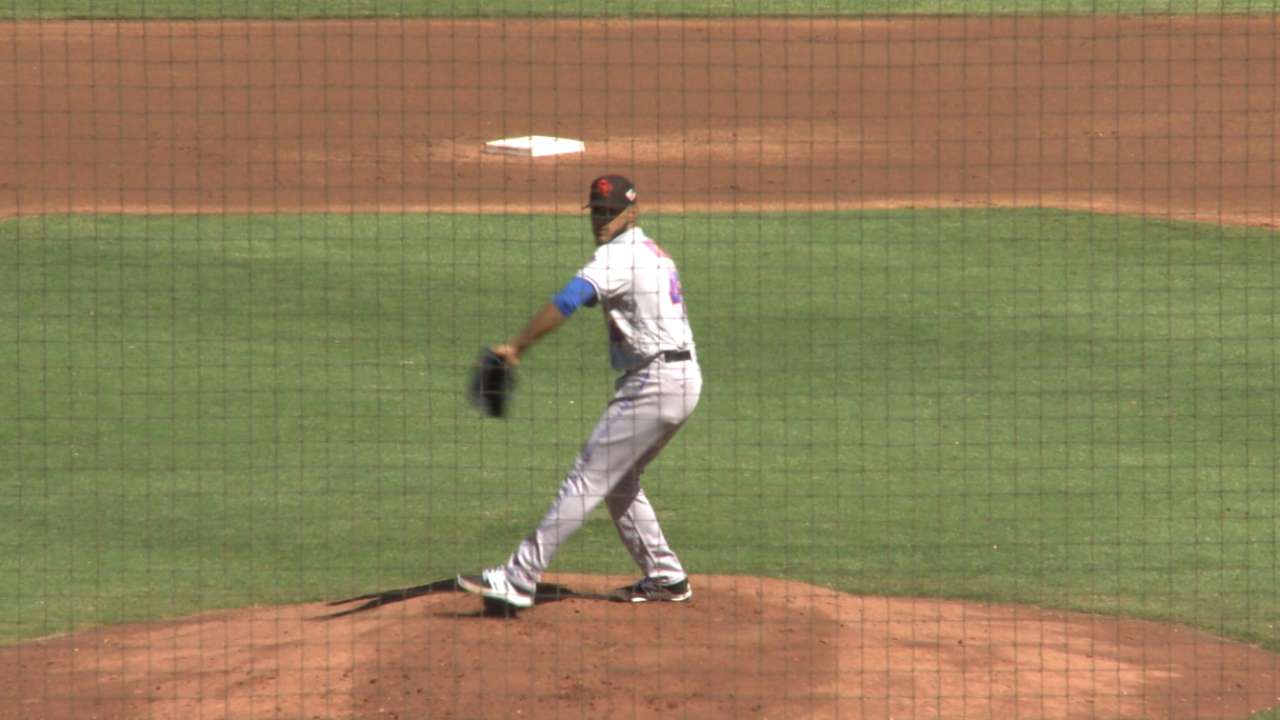 Oswalt had a strong full-season debut in 2015 and looked like he was getting his feet under him this past June in the Florida State League when he missed two months with a shoulder strain. He did make it back for the very end of the season, but finished the year with just 68 2/3 innings pitched. Oswalt has been throwing well as a starter for Scottsdale, looking to make up for some lost innings and possibly audition for a 40-man roster spot.
Over the past two seasons, Roseboom has been one of the more effective relievers in the Mets' system. In 2016, he saved 14 games and finished with a 1.87 ERA and a .170 batting average against. Roseboom has continued to throw well out of Scottsdale's bullpen. The southpaw isn't likely to be a closer in the future, but his splits (lefties hit just .141 against him in 2016) suggest the potential to at least be a lefty specialist.
In his first full season as a Met after being taken in the seventh round of the 2015 Draft as a Texas Tech senior, Taylor led the system with 20 saves. He also had a 1.87 ERA and while he didn't miss a ton of bats, he did strike more hitters out in the second half. That trend continued in the Fall League (nearly a strikeout per inning) as Taylor prepares for the upper levels.
Jonathan Mayo is a reporter for MLBPipeline.com. Follow him on Twitter @JonathanMayo and Facebook, and listen to him on the weekly Pipeline Podcast. This story was not subject to the approval of Major League Baseball or its clubs.