Former Cubs thrilled 2016 club secured title
Hall of Famer Sandberg among those celebrating following Game 7 victory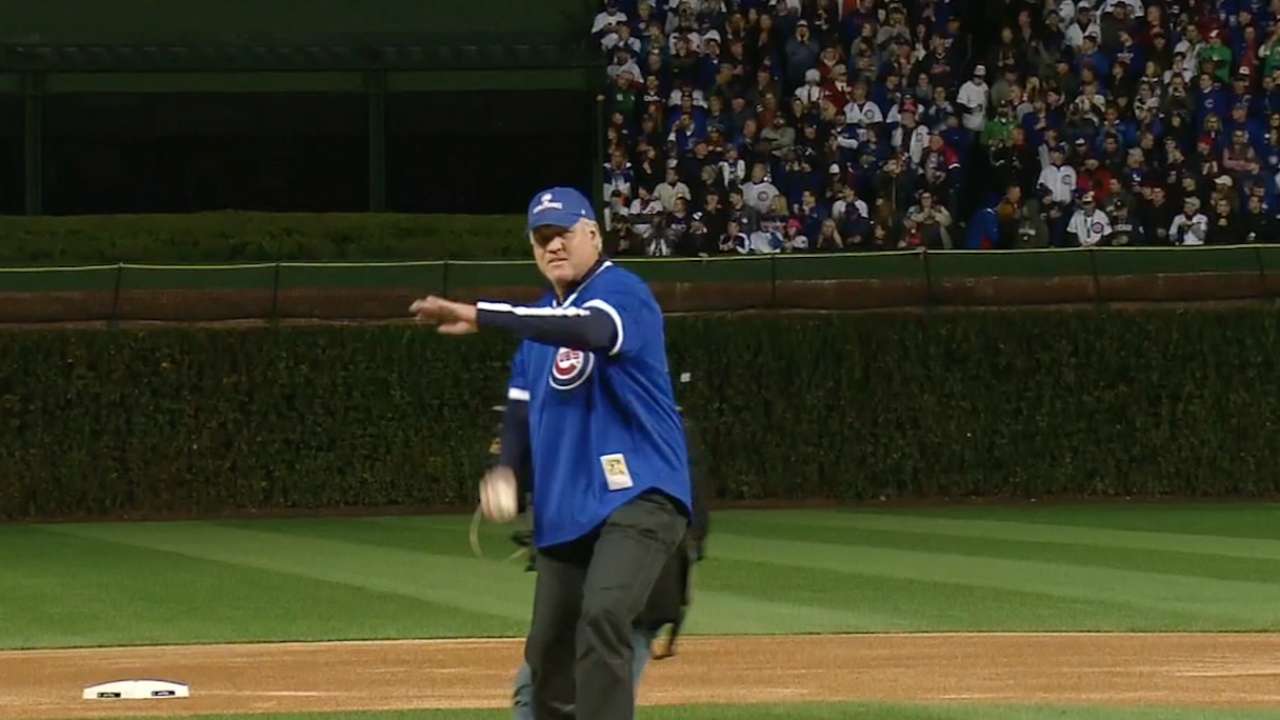 The Cubs brought the team and its fans the franchise's first championship since 1908 with an 8-7 win against the Indians in Game 7 of the World Series on Wednesday night.
As monumental an achievement as it was for the Cubs who won on the field, so many more through the years never got to taste a World Series victory with Chicago. As the city celebrated after Game 7, many of those former Cubs weighed in on this historic moment for the franchise.
• Shop for Cubs World Series champions gear
Hall of Fame second baseman Ryne Sandberg (1982-97)
"Unreal. It's a big relief. The game was very tense and stressful. But for baseball, what a World Series, what a Game 7. I don't remember a better one, I really don't.
"I said it all along -- this group's different. They're special. The best ownership, president, GM, Minor League system, players, right on down to the last guy."
Pitcher Kerry Wood (1998-2008, '11-12)
"It happened Chicago!!! @Cubs"
It happened Chicago!!! @Cubs pic.twitter.com/psiepgiT4Q

- Kerry Wood (@KerryWood) November 3, 2016
Shortstop Shawon Dunston (1985-95, '97)
"I'm kind of numb. Like, 'Wow, the Cubs really won?' I think I'm more happy for the fans. They always came out to the games and rooted for us when we were in last place. They wanted the Cubs to win so badly. ... Those are really good, loyal fans who go back through years and years.
"I know Harry [Caray] is smiling, I know Ernie Banks is smiling, Ron Santo -- every former Cubs player who passed away. I really wish they could have experienced it. At least Billy Williams is around, and he experienced it."
Pitcher Jon Lieber (1999-2002, '08)
"Man, it's just really great. But honestly, I am so thrilled and happy for the fans, the true fans out there. Just getting a chance to know them the years I played in Chicago with the Cubs, knowing how much that team has meant to them and being a former Midwesterner, the passion that they have for the Cubs. It just means the world to me to see them actually get a chance to celebrate this."
Center fielder Juan Pierre (2006)
"When I played there, every guy who wore the uniform, at least in Spring Training, you talked about being that team to break the curse. These young guys actually did it, and the way they did it. Chicago fans supported the Cubbies, year in, year out. ... It was great for baseball and great for the city of Chicago.
"When you ask, 'Who won the World Series five years ago?' you have to really think about it. I think this one is going to stick. People will know the Cubs won it in 2016."
Andy MacPhail, Cubs president and CEO from 1994-2006
"They have had some great fans there for a long, long time. They've had to suffer through that 'Lovable Loser' nonsense, which used to drive me crazy. So I was so happy that they could finally put that behind them. I mean, there were some fans that really wanted to see this happen before they went on to the great unknown. I'm happy that their wishes could get fulfilled. It was rare when a homestand would go by where somebody wasn't scattering the ashes of one of their friends on the field.
"It's a special place and it's a special franchise, and to reach that level after so many tries is just a good thing for the sport and a great thing for Cubs fans."
Third baseman Steve Buechele (1992-95)
"I just know, having played there, what the fans and the town would be like if they won a championship. I know Chicago, so they have to be absolutely thrilled to death. It's a great place to win. This just solidifies the fans' patience. Obviously it has to be an awesome feeling for the city."
Dodgers senior advisor to the president and CEO Ned Colletti -- a Chicago native who worked for the Cubs for 13 years and went to his first game at Wrigley Field in 1961
"I believe it is a great night for baseball, for Chicago and for the Cubs organization. Personally, I have said goodbye to so many people -- my parents, many members of my family, friends, former players -- who had waited for a time like this. Truly historic, truly special and a wonderful exclamation point to a classic World Series."
David Adler is a reporter for MLB.com based in New York. Follow him on Twitter at @_dadler. This story was not subject to the approval of Major League Baseball or its clubs.