Cubs' core has fans thinking repeat in '17
After ending 108-year drought, club built for another deep postseason run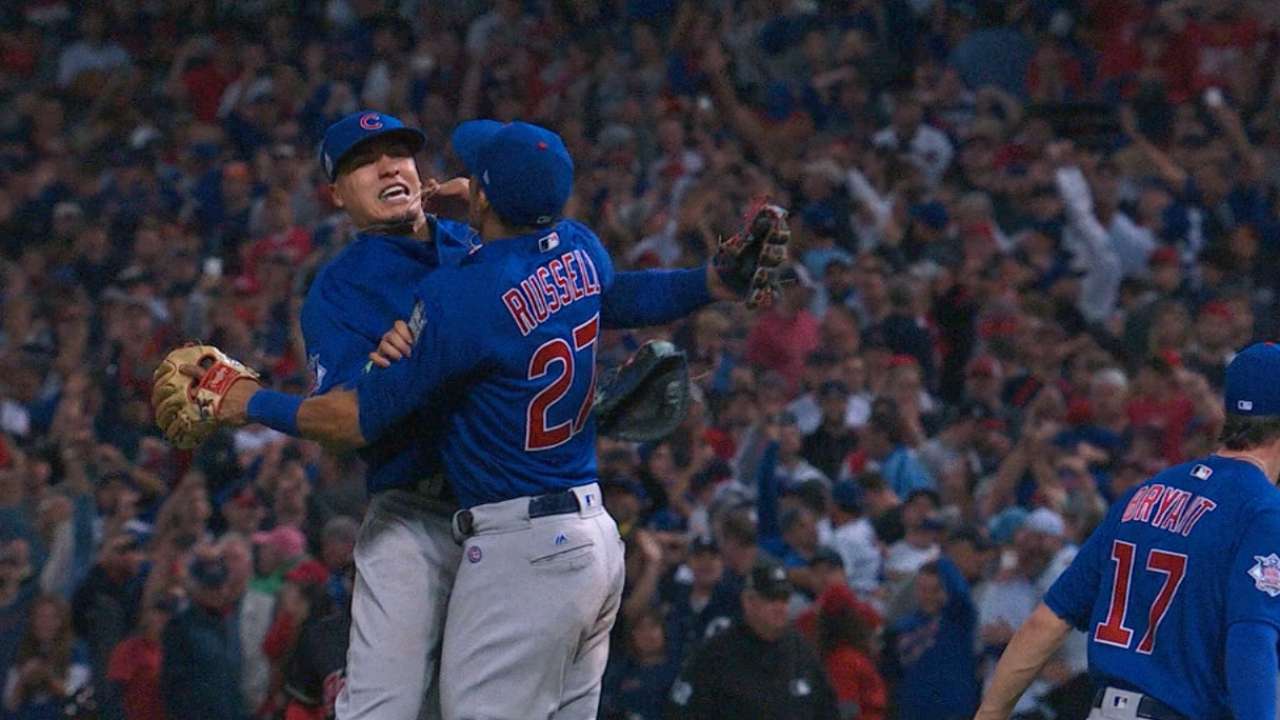 The Cubs took a blowtorch to history in 2016 and starting writing their own. Led by Joe Maddon, their quirky and enlightened manager, the Cubs won 103 regular-season games and their first World Series since 1908 by riding a near perfect blend of youth and experience, talent and timing.
There is already talk about a repeat, and with the talent base on hand, fans have every reason to expect another exciting team. It will be one of the shortest Chicago winters in many, many years, and Cubs faithful already have reasons to be looking ahead to Opening Day 2017.
• Shop for Cubs World Series champions gear
Opponent
For the second time in three years, the Cubs open the season against their longtime rivals from St. Louis. The Cardinals beat the Cubs nine times in 2016 -- more than any other team -- but Chicago still took the season series, 10-9.
The Cards are a proud franchise, and likely aren't thrilled at how the Cubs' emergence played a big part in shutting St. Louis out of the postseason for the first time since 2010. They could attempt to reload this offseason in response. But without many front-line starters on the free-agent market, the Redbirds will likely turn on Opening Day to righty Carlos Martinez, who went 1-3 with a 4.80 ERA in five starts against Chicago in '16.
Opening Day starter
Jon Lester started Game 1 in each of the Cubs' five postseason series the past two Octobers, including the World Series against the Indians. There is no reason -- after a '16 season in which he went 19-5 with a 2.44 ERA and contended for the National League Cy Young Award -- that he shouldn't take the ball on Opening Day.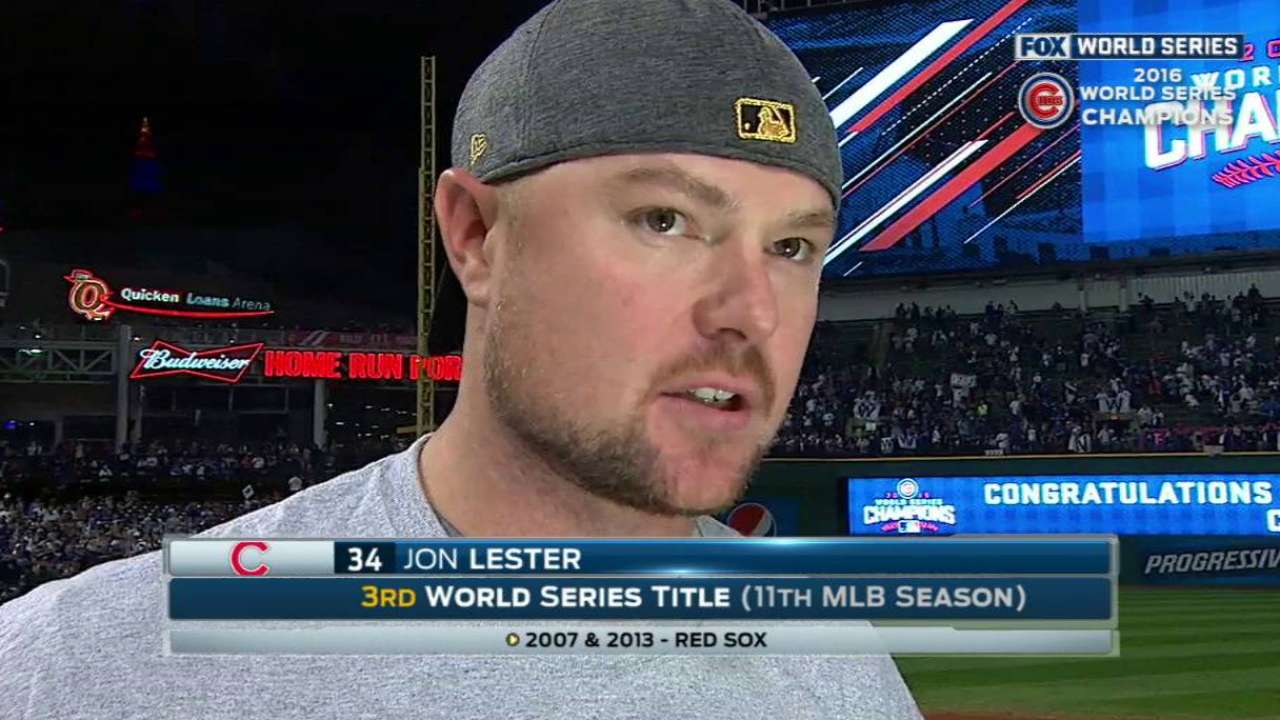 Opening Day lineup
1. Ben Zobrist, RF
2. Kris Bryant, 3B
3. Anthony Rizzo, 1B
4. Kyle Schwarber, LF
5. Addison Russell, SS
6. Javier Baez, 2B
7. Willson Contreras, C
8. Jason Heyward, CF
9. Lester, P
Dexter Fowler's career year boosted his value significantly in what was already shaping up to be a lukewarm free-agent market. A $9 million mutual option could bring him back, but the Cubs may have to let him walk to get Schwarber and Baez's bats in the everyday lineup, because they're locked into Heyward at an outfield spot for the foreseeable future. Schwarber can only play a corner position, but Heyward can move to center while Zobrist can shift to right. That would free up second for Baez, who showed in the postseason he's ready for an everyday role. Of course, this is the Cubs, so expect everyone to move around quite a bit.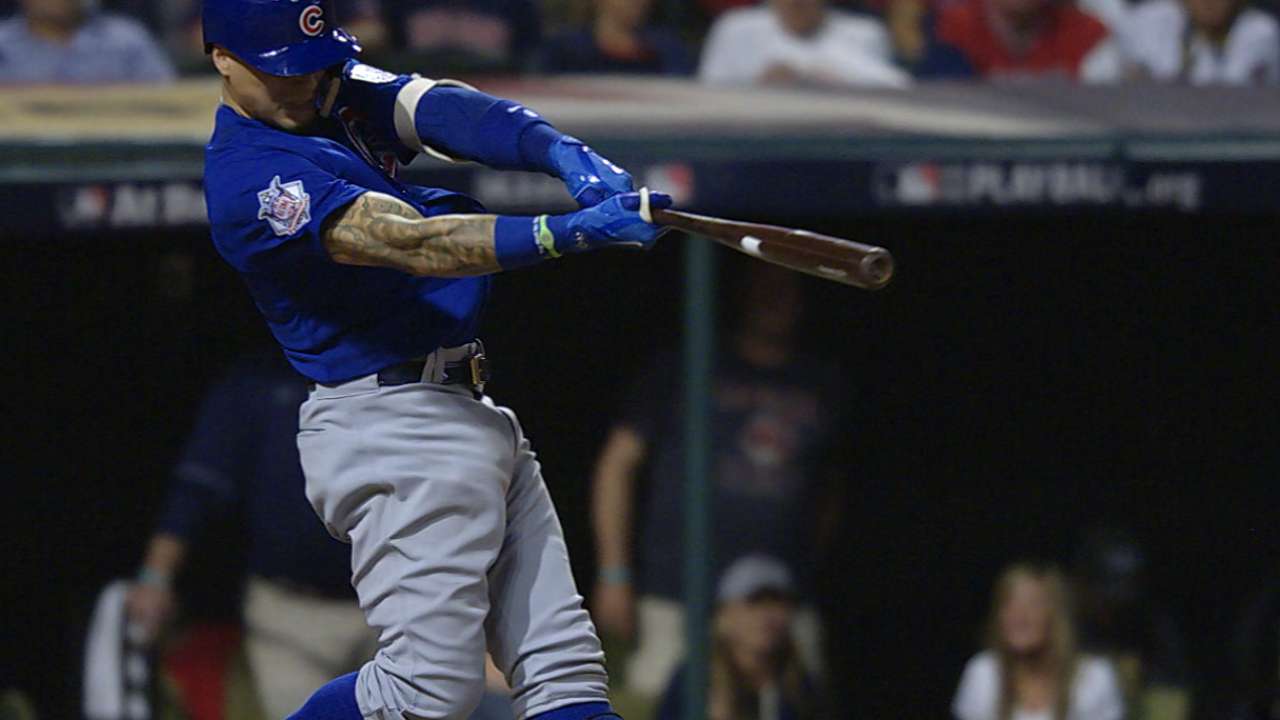 Elsewhere, Contreras takes over full-time duties behind the plate, while Chicago's powerful heart of the order remains intact.
Three reasons to be excited
• Why not be excited? Winning has returned to North Side of Chicago and the city couldn't be more excited about it.
• A full season of Schwarber, who showed against the Indians that he has the potential to be an elite hitter, coming back from missing almost the whole year to make an impact in the World Series.
• Bryant, Rizzo and Russell hitting their primes? It's possible this team could win more than 103 games in 2017.
Joe Trezza is a reporter for MLB.com. This story was not subject to the approval of Major League Baseball or its clubs.