Nationals pick up Gio's option for 2017
Veteran left-handed starter will earn $12 million next season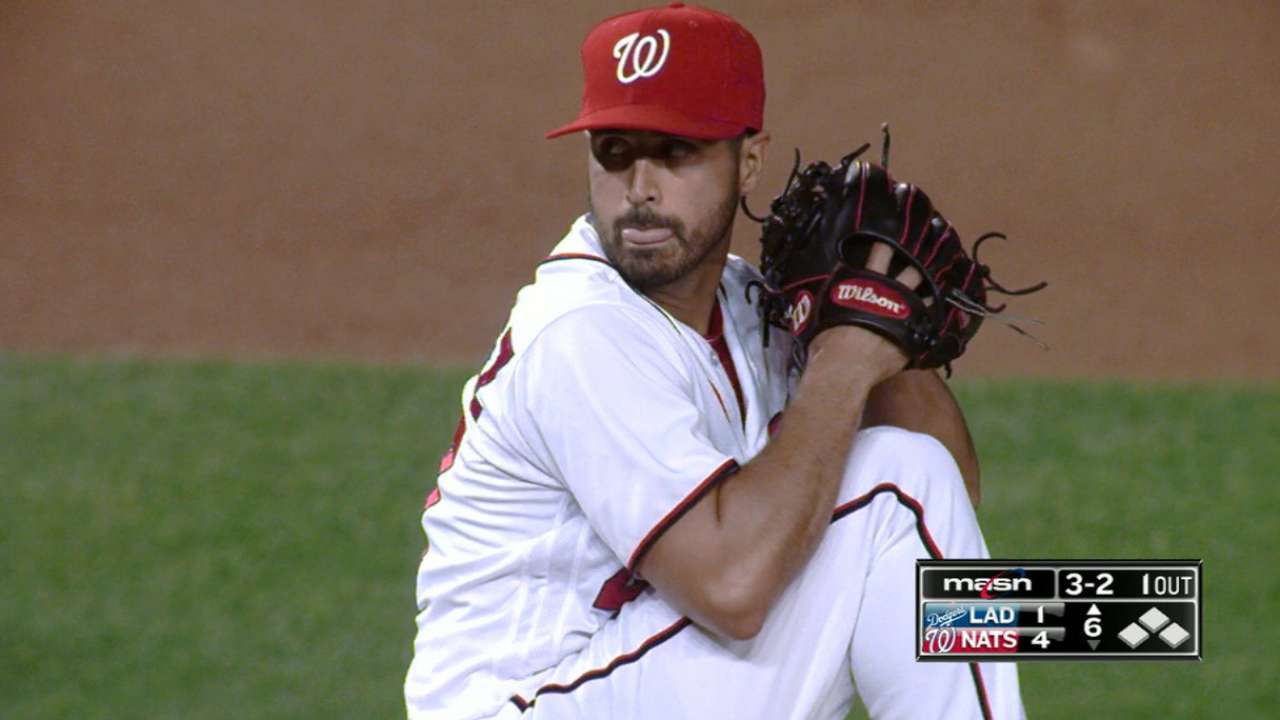 CLEVELAND -- The Nationals are picking up the $12 million vesting-option on the contract of left-hander Gio Gonzalez, the team announced Thursday.
The move ensures the Nationals could potentially have Gonzalez under team control for two more seasons. If he throws 180 innings next season -- a mark he has not passed since 2013 -- his $12 million option for 2018 becomes guaranteed.
Gonzalez suffered through quite possibly the worst full season of his Major League career in 2016, finishing with a 4.57 ERA -- the highest of his career as a full-time starter. Still, Gonzalez has made at least 30 starts in each of the past seven seasons, and he made 27 in the lone exception (2014). That makes Gonzalez a relative bargain in a market where free-agent starting pitchers are perhaps the most expensive commodity. It could also make Gonzalez an attractive trade piece.
Gonzalez, 31, also gives the Nationals insurance in case pitching prospects such as Lucas Giolito, Reynaldo Lopez and A.J. Cole are not ready to enter the rotation at the start of next season.
And perhaps Gonzalez is due for a bounce back. His 3.76 FIP last season suggests he was better than his ERA indicated. His strikeouts-per-nine-innings ratio (8.7) was comparable to his career average (8.8), and his rate of walks per nine innings (3.0) was the lowest of his career.
In addition, the Nationals declined their 2017 club option on Yusmeiro Petit, which was worth about $500,000. Petit put up a disappointing 4.50 ERA in 36 games this past season and was left of the playoff roster during the National League Division Series.
Jamal Collier covers the Nationals for MLB.com. Follow him on Twitter at @jamalcollier. This story was not subject to the approval of Major League Baseball or its clubs.