A's could seek outfield help via free agency
Oakland also expected to look for veteran rotation help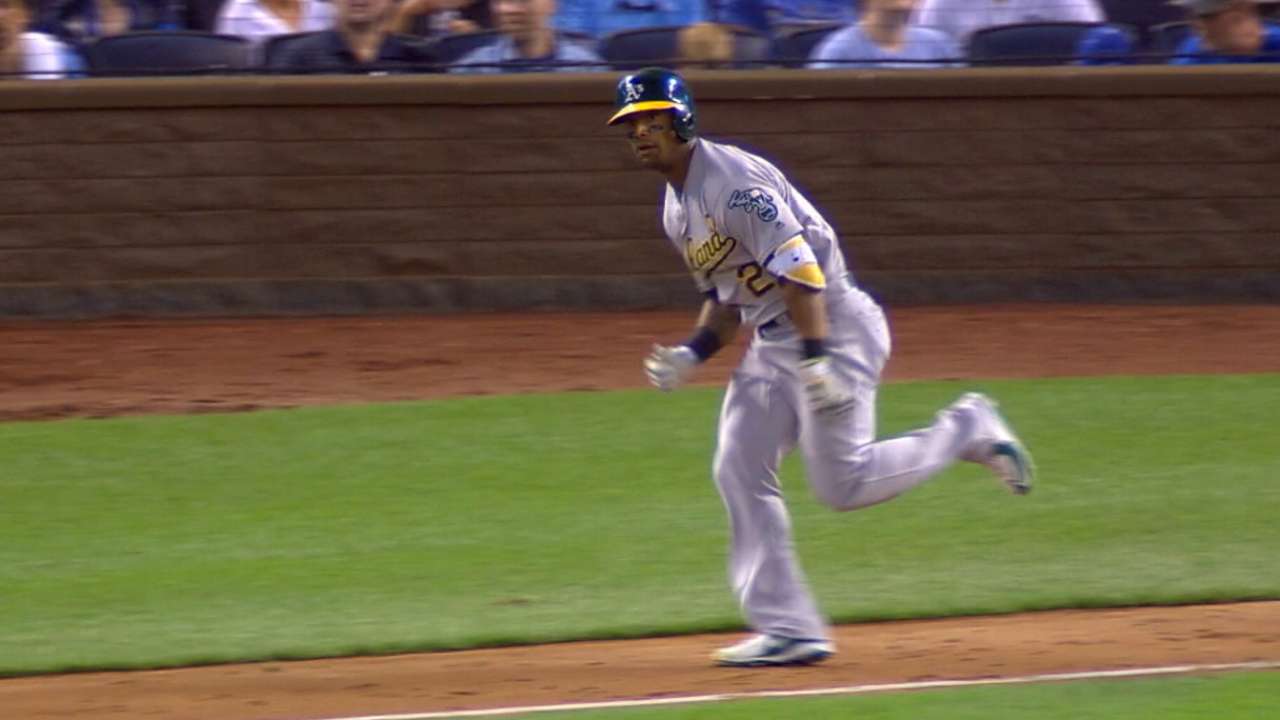 OAKLAND -- Though the A's hardly ever make a big splash in the free-agent market, their offseason doings rarely lack intrigue. Rather, history shows they're primed for a trade frenzy in an effort to better their roster following a second consecutive last-place division finish.
It's unclear how active they plan to be this winter, but complacency won't be had, seemingly setting the stage for a series of moves ahead of the 2017 season.
Arbitration-eligible: RHPs Sonny Gray, Liam Hendriks; 1B Yonder Alonso; OF Khris Davis; OF/INF Danny Valencia; C Stephen Vogt
Free agents: LHP Ross Detwiler, OF Sam Fuld
Biggest potential free-agency loss: The A's don't have much to worry about here. Detwiler was a midseason pickup, and he was called up only when they needed a warm body in their injury-depleted rotation. The lefty ended up giving them seven starts, making nine appearances overall with a 6.14 ERA, and the A's are set to move on with a mostly youthful rotation that's brimming with depth. Fuld, meanwhile, will turn 35 this month, and there's no telling how his surgically repaired left shoulder will respond to baseball activity this offseason.
The A's also outrighted 10 players off their 40-man roster, and each elected free agency: pitchers Henderson Alvarez, Felix Doubront, Jarrod Parker, Fernando Rodriguez, Donn Roach and Chris Smith; catcher Matt McBride; utility players Eric Sogard and Tyler Ladendorf; and outfielder Andrew Lambo, who has already returned to the A's organization on a Minor League contract.
Potential free-agent targets: The A's are in dire need of outfield help to keep Davis company, but it won't come cheap should they seek outside help -- their only internal options being Mark Canha, Jake Smolinski, Valencia, Brett Eibner and, potentially, Matt Olson, who is better kept at first base.
The top free-agent options include Dexter Fowler, Ian Desmond and Carlos Beltran, Beltran being the most reasonably priced target, albeit still out of the A's price range most likely. A Josh Reddick return is also doubtful. Beyond that group, these players could potentially be under consideration: ex-Athletics Rajai Davis and Brandon Moss, and Austin Jackson.
The A's are also expected to be in play for a veteran starting pitcher to add stability to their young staff.
Wild-card scenario: The A's haven't shied away from the blockbuster deal -- hello, Josh Donaldson -- under this regime, and it's unlikely they stray from their ways, leaving open the possibility of a trade involving one of their premier prospects for an experienced bat that can make an immediate impact. Reversely, they could potentially deal away a proven player -- Gray is the ultimate trade bait -- to get several young ones to add to their stash in return.
Jane Lee has covered the A's for MLB.com since 2010. Follow her on Twitter @JaneMLB. This story was not subject to the approval of Major League Baseball or its clubs.