Shaw hits spot on fateful pitch to Zobrist
Indians reliever says he 'threw the ball where I wanted,' gives credit to Cubs left fielder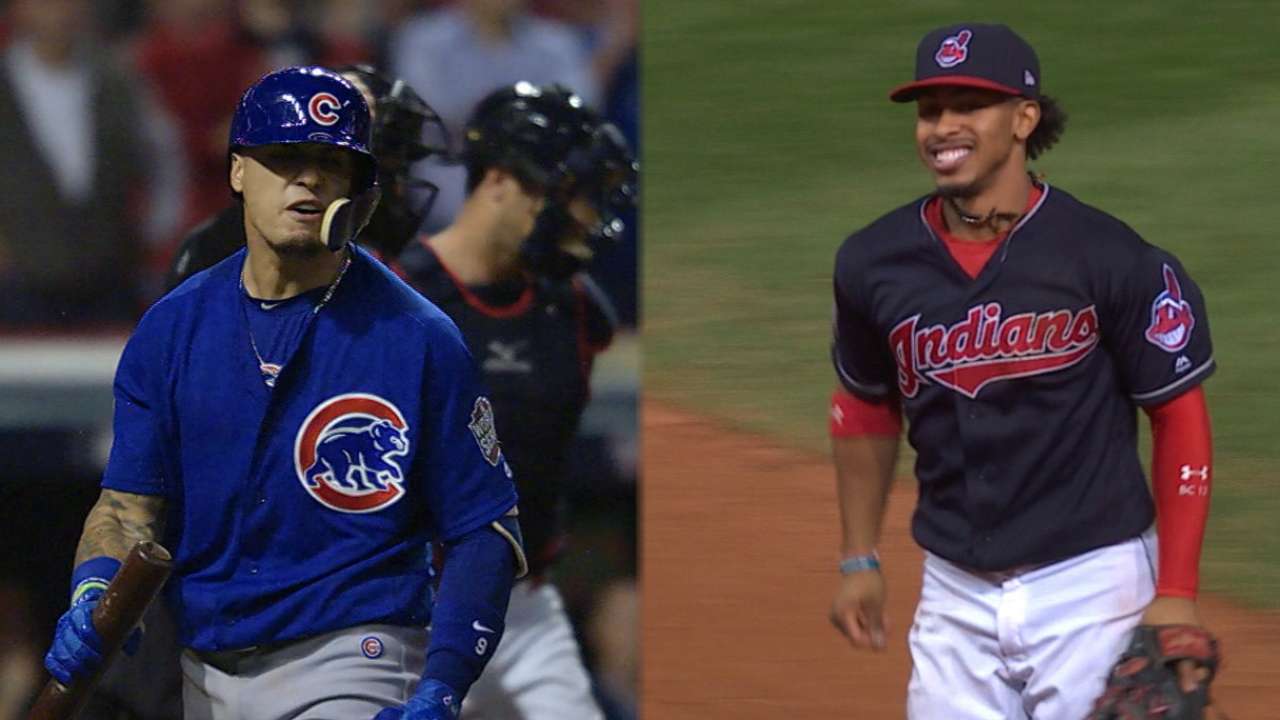 CLEVELAND -- On a night in which just about nothing went according to plan for the Indians, Corey Kluber and Andrew Miller succumbed to struggles not previously seen on this postseason stage. So durable had they been throughout this month that it was reasonable to believe they would team with closer Cody Allen as the only pitchers in a potential Game 7 World Series victory over the Cubs on Wednesday evening.
But Wednesday turned to Thursday, and all three had been used up by the time right-hander Bryan Shaw entered a tie game for the Indians with one out and a runner on first in the ninth, Allen being the only one who had not allowed a run. After Jason Heyward stole second and went to third on a throwing error by catcher Roberto Perez, Shaw got out of the jam unscathed. But he endured a Cubs rally in the 10th that made him the losing pitcher in an 8-7 Fall Classic affair packed with action.
A 17-minute rain delay followed the ninth inning, but Indians manager Terry Francona maintained after the game he didn't believe it had any bearing on Shaw's performance in the 10th
"I don't think it had much of an impact," Francona said. "If there's one guy that you're going to have that happen to [it would be Shaw], because he bounces back so quickly -- and he was fine. That had nothing to do with it."
Shaw, who had held the Cubs to one unearned run in his previous 3 2/3 innings in the Series, said, "Everything felt great."
But it didn't matter against the heart of the Cubs' lineup. Designated hitter Kyle Schwarber opened the inning with a ground-ball single past a shifted Jason Kipnis -- standing in shallow right field -- before being lifted in favor of pinch-runner Albert Almora Jr. Almora advanced to second on Kris Bryant's ensuing flyout to the wall in right-center field, at which point Shaw was ordered to intentionally walk Anthony Rizzo to bring Ben Zobrist to the plate.
Shaw got ahead, 1-2, before Zobrist fouled off a 94.3-mph cutter. Shaw came at him again with the same pitch, but this one was shot to left field just past the reach of a diving Jose Ramirez at third base for a go-ahead double.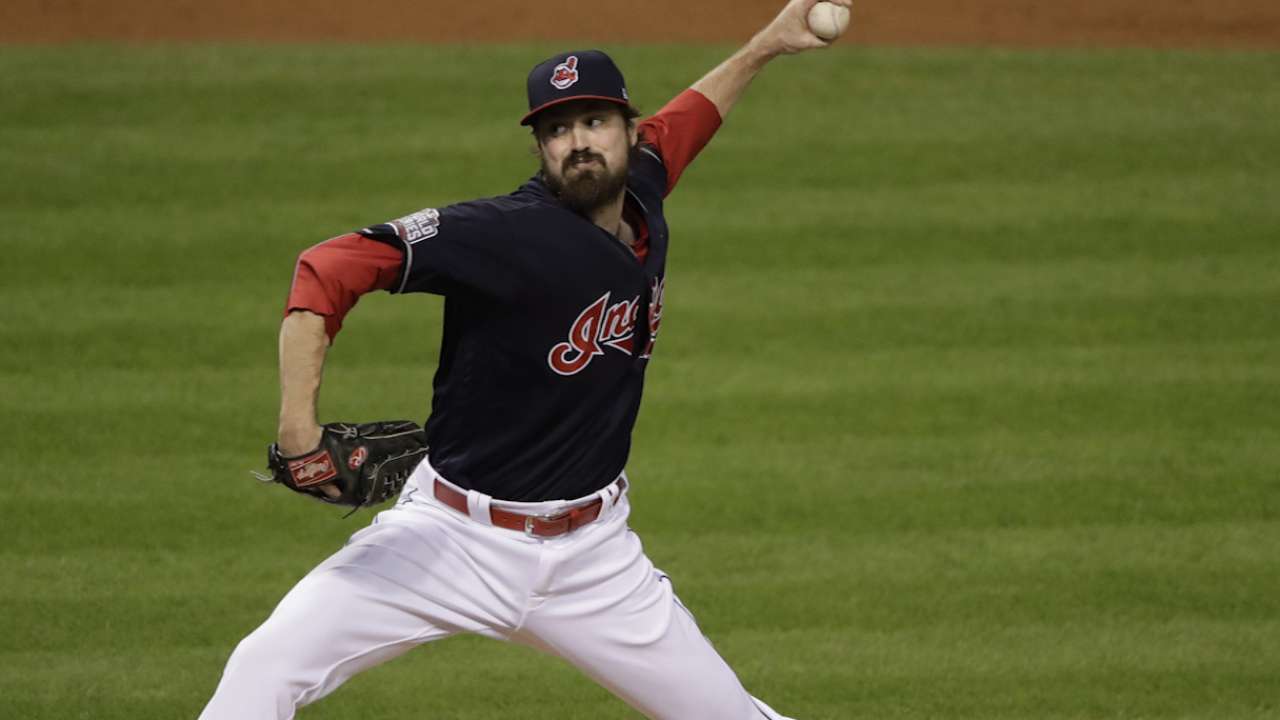 "We did what we wanted," Shaw said. "I threw the ball where I wanted, he just hit it right where Jose wasn't. If he's a little bit early on the ball or a little late, it's either foul or right into Jose's glove. It doesn't make a difference, but he's a professional hitter, he's going to take good at-bats, which is what he did, and he hit a good pitch."
Said Zobrist: "I know he throws a pretty hard cutter, and I just kept battling. Fortunately, he put one close enough to the plate where I could just slap one down the line there. I have to thank Rizz, because if he wasn't such a good player, I wouldn't be in that position."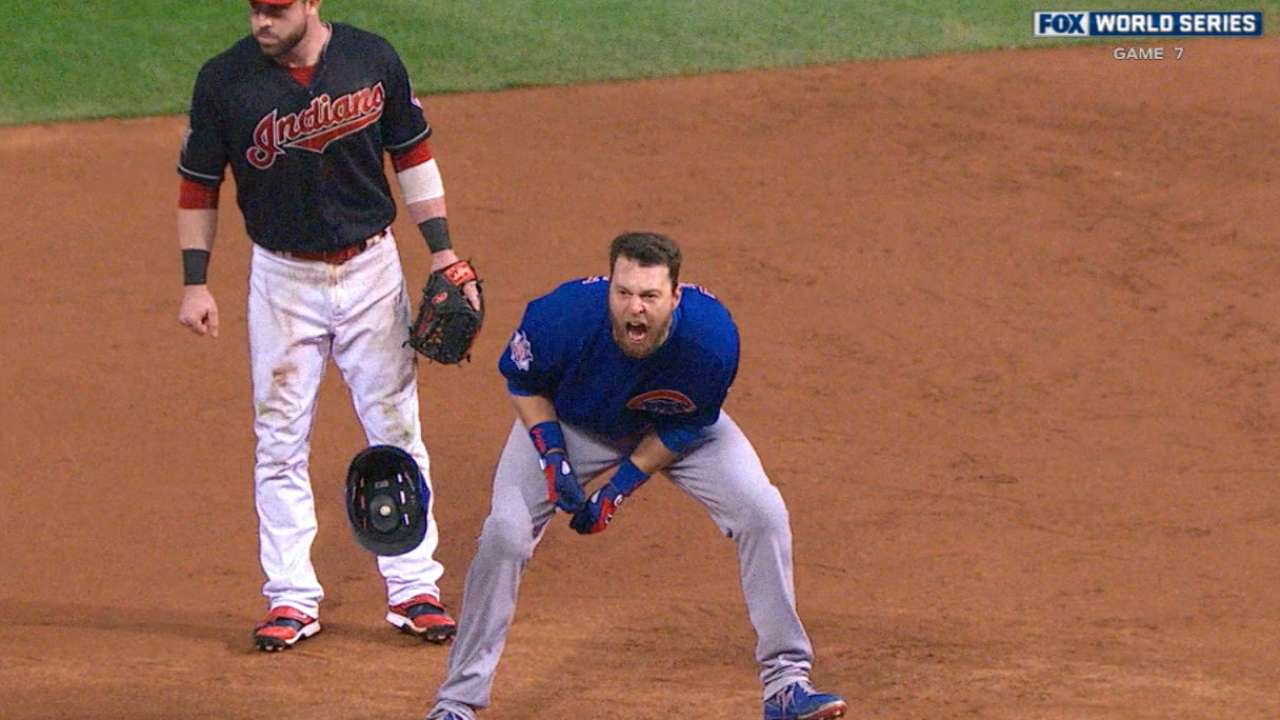 Miguel Montero added an RBI single after an intentional walk to Addison Russell, forcing Shaw out of the game. Right-hander Trevor Bauer took the reins, collecting two quick outs for an Indians club that saw its own comeback efforts fall one run short.
"As soon as they scored, we thought we were going to come back," Shaw said. "Obviously we didn't, but that's just a testament to our hitters and the mindset of this team."
Jane Lee has been a reporter for MLB.com since 2010. This story was not subject to the approval of Major League Baseball or its clubs.