Tribe fans consoled by Cubs counterparts after Game 7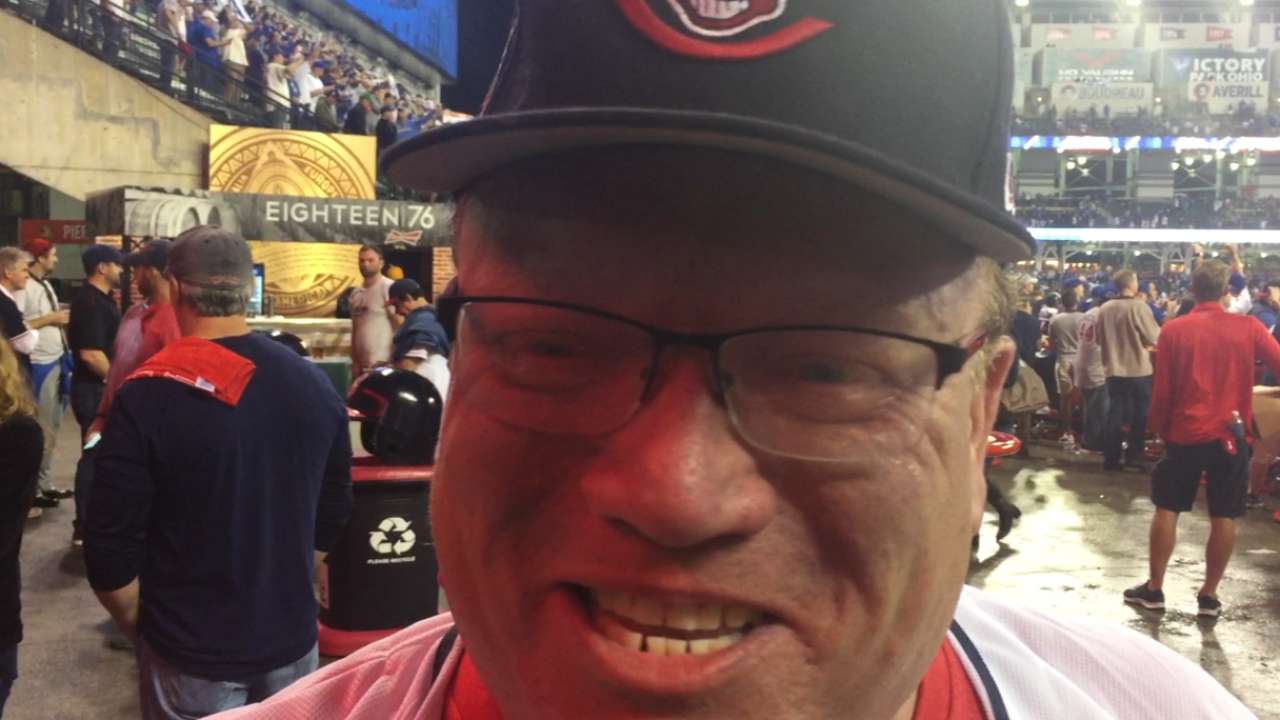 CLEVELAND -- Progressive Field was never like this before and it never will be like this again. There were Indians fans hugging Cubs fans when it was all done. There were compliments among the two fan bases, and there was a shared experience that sports never sees.
That is what they will remember at the end of the 2016 Major League Baseball season. It was the camaraderie around downtown Cleveland, seen in the outdoor restaurants of East 4th Street and seen in the concourses and every aisle of the ballpark. It was the certainty that one side would be let down, but also the feeling that if you were going to lose, those were the ones to lose to.
Almost every interview of Indians fans led to the same sentiment after the 8-7, 10-inning victory by the Cubs over the Indians. There was stunning sportsmanship in the stands. How else can you explain the coexistence of an almost 50/50 split? The Cubs ended their 108-year drought, meaning the Indians now have the longest drought in baseball, dating back to 1948.
? Tribe should be remembered for more than end result
"They've been suffering a long time, too, and I'm sure they're excited," said Marty Brownsey, an Indians fan from Buffalo whose father taught him to love the Tribe in the 1970s and '80s. "It's tough to see so many happy fans in your ballpark cheering on their team winning. But I understand. If it was the other way, I'd be happy, too. It's sad. A lifetime of cheering, and you want that championship. We were so close, one run away. It hurts."
This was not like other near-misses. It was not like 1997, when the Indians lost to a fledgling expansion team from Florida in Game 7 of the World Series. This was a shared experience. There was the Cubs' early lead, then the Rajai Davis homer, the rain delay and Ben Zobrist. Many Indians fans hung around to watch, to see how it would feel for them.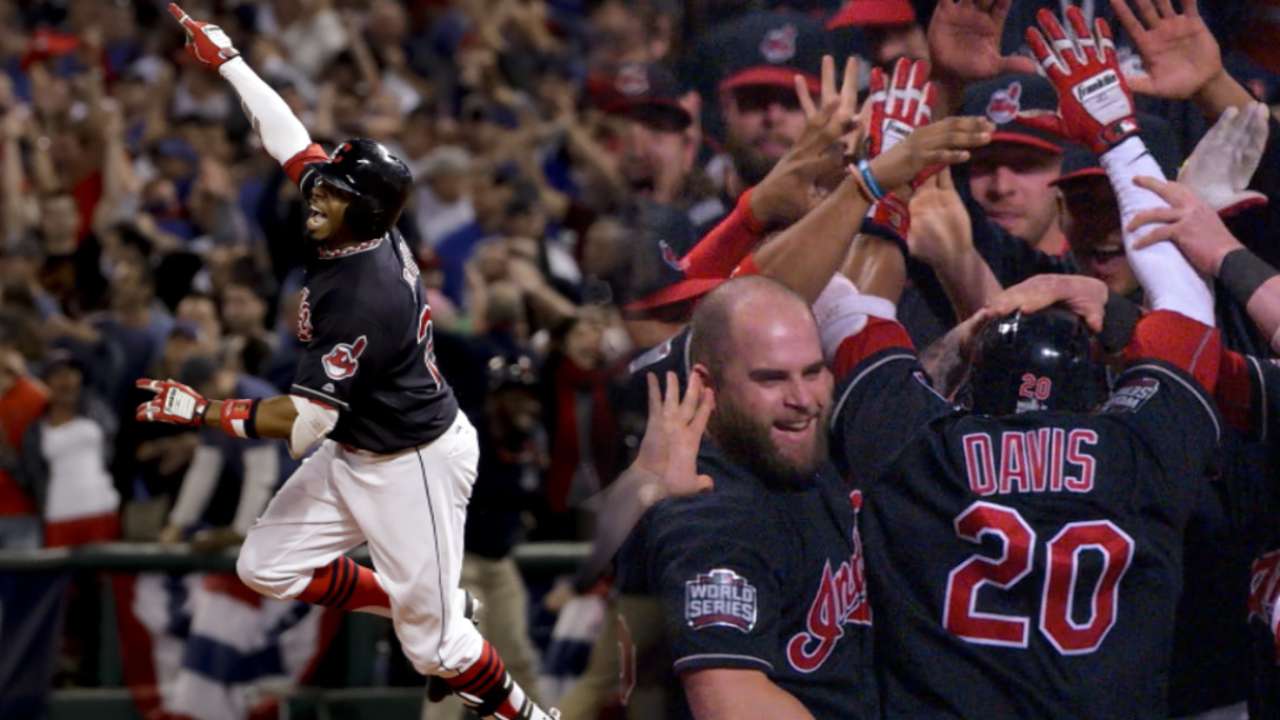 "It was electrifying. It was disappointing. It was exhilarating," said Carrie Arman of Ashtabula, Ohio, who watched the game with her husband Jim in Section 117, Row L. "It was everything you could possibly want from a World Series game, especially Game 7.
"I think the fans are the same on both sides. They're just really good people. I had a really good time. It was a roller coaster. When they got the last play, the Cubs fan behind me is weeping, weeping. And we were hugging the Cubs fans and they were hugging us, and it was just a great camaraderie. Congratulations, Cubs fans."
Mary Anne Hart, 78, watched from home, having previously attended Game 1 of the World Series and Game 2 of the American League Division Series against Boston. She is still waiting for the elusive next world championship. In 1948, she was 10 years old and listening to Bob Feller and Lou Boudreau and the Indians win it all.
"That was probably about the time I became a real baseball fan," she said. "It was probably around that time when they were doing so well that it gave me the fever.
"I have a hard time remembering a whole lot about it. I know that we had some really good pitchers. I think we had three 20-game winners that year. I do remember that it used to be that when you started a pitcher, he went nine innings. He didn't get pulled. You kind of considered him a flop if he had to have a relief pitcher come in. Those pitchers pretty much pitched most of the game. I know there was Feller and Mike Garcia was my favorite. There was Bob Lemon and Early Wynn. Those are pitchers that I remembered during that time.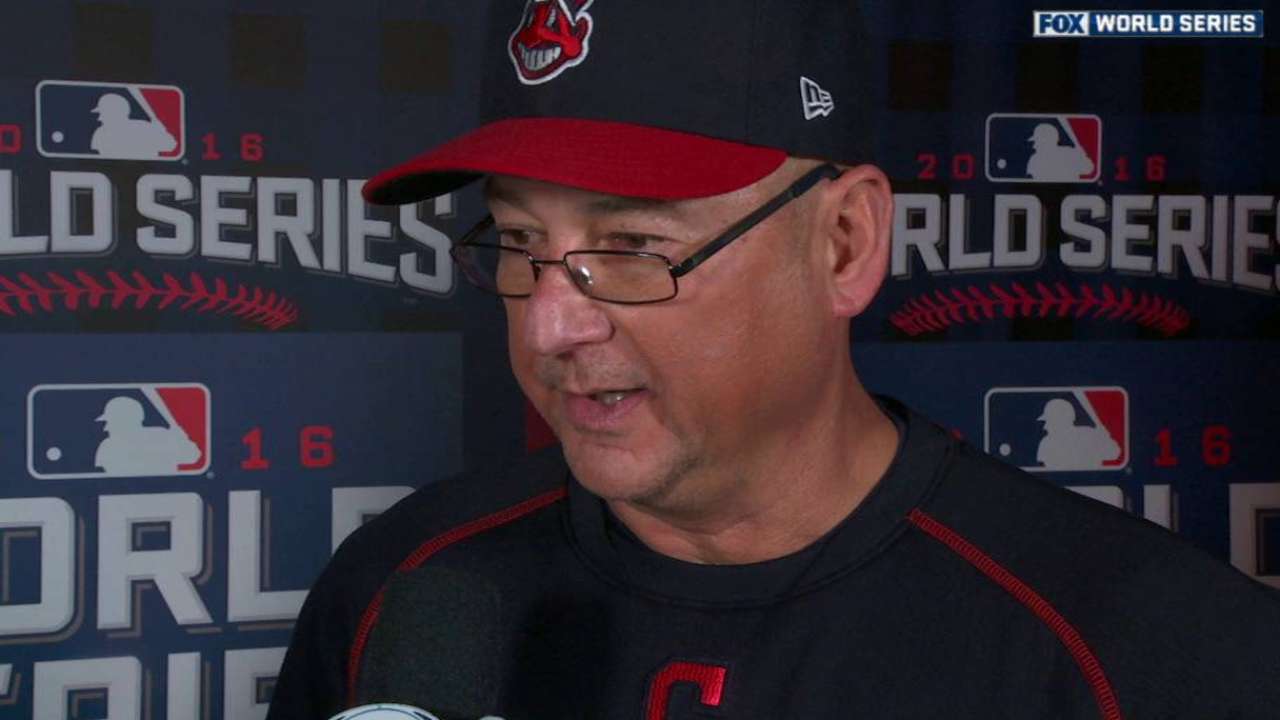 "I was such an avid fan," she said. "I used to keep score. I used to sit by the radio, and I had a loose-leaf book, and I would keep score inning by inning, who was pitching and who got hits and so forth. I didn't know how to keep score properly, but I did it in my own way."
Hart was engrossed for this Game 7. "I had a lot of people I was texting back and forth with, a lot of friends and family," she said. "I love baseball, so it usually isn't hard for me to stay awake. I had no thoughts of being drowsy in this one for sure."
During the game, the entire East 4th Street area was packed with people between different bars. By the ninth inning, you couldn't move there were so many people. Then it started raining, and it cleared out a good bit.
"It's crazy because it's been so long since the Indians and Cavs won a championship," said Jonathan Roy of Cleveland. "So with both of them getting there, Cleveland is on top. We ain't scared of nobody. The Browns are going to get there some day. Like I keep telling people coming down, keep your heads up there because the Cavs won against Golden State after being beaten the first year. So the Indians are going to lose this year and come back the next year. They did it with the Cavs, and they're going to do it with the Indians."
Sam Blackie of Lakewood, Ohio, said it was "crazy."
"I was so tired from the night before, I didn't think I was going to make it out, but it's Game 7, so you've got to come out," he said. "I made it down here, the crowd was electric over here.
"Rajai's homer was definitely the biggest moment. I thought we had it. We had all the momentum going into the ninth. Then Bryan Shaw."
? Tribe's 2016 fight, perseverance could bode well
Blackie said he thought the crowd was "a little tamer I think than Game 6. But it was still real rowdy. It was great. God, it would have been nice. I thought it was our year. But then I remembered that we're from Cleveland."
Brownsey clutched his completed scorebook, one he faithfully maintains. He and other Indians fans now accept the mantel from Cubs fans, but rather than dwell on their drought, they talked about what an incredible run the 2016 Indians made amid so many doubters.
"Part of what hurts so much is the things the team did so right throughout the year," Brownsey said. "I remember when (Mike) Napoli took that stolen base and he got to second on the wild pitch and [Terry] Francona was laughing. You fell in love with this team. That's what makes it hurt. When you lose 100 games, it doesn't hurt as much when you're eliminated. But when you fall in love with a team, it hurts a great deal when the season is over."
Mark Newman is enterprise editor of MLB.com. Ben Weintrib is a reporter for MLB.com. This story was not subject to the approval of Major League Baseball or its clubs.