Blue Jays in AFL: Alford dazzling with loud tools
MLB Pipeline checks in on Toronto's prospects participating in the Arizona Fall League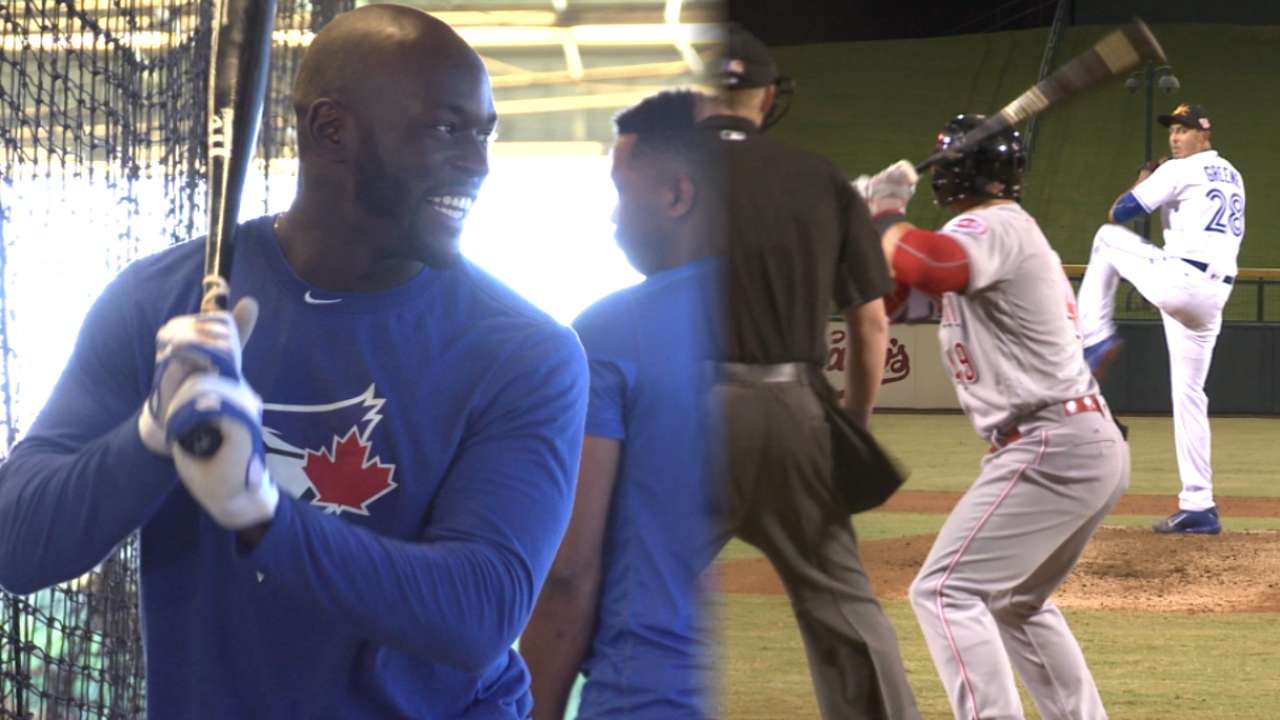 After an injury-plagued campaign that saw him make two trips to the disabled list, Anthony Alford is making others take notice of his exceptional physical tools as he showcases his bright future in the Arizona Fall League.
Expectations for Alford's 2016 campaign were understandably high. After all, he was coming off of an impressive first full season in which he had hit .298/.398/.421 with 36 extra-base hits and 27 stolen bases between Class A Lansing and Class A Advanced Dunedin.
• Complete Arizona Fall League coverage
But the Blue Jays' No. 3 prospect's year began inauspiciously, as he departed his first regular-season game in Dunedin with a knee injury for which he spent all of April on the disabled list. He landed on the shelf once more in June, this time for a concussion, while the pair of injuries limited him to just 33 first-half games in the Florida State League.
"It was real frustrating because this was to be a big year for me," Alford said. "But the second half I got in a rhythm and tried to finish strong -- and that's what I did."
• Blue Jays Top 30 prospects list
Fully healthy, Alford settled in after the midseason mark to hit .257/.381/.449 with eight home runs and 13 steals over his final 59 contests. Altogether, he posted a .236/.344/.378 batting line with 28 extra-base hits, including nine home runs.
Alford's big second half has now carried over into the Fall League, where, entering Thursday, he's hit .292 with two home runs and eight RBIs in 13 games for the Mesa Solar Sox. While he's pleased with his performance so far, the 22-year-old's primary focus is to make up for time lost during the season.
"I was looking for somewhere to play winter ball because I missed a lot of at-bats during the season. The Blue Jays told me that I would have the opportunity to play in the Fall League, and I was very honored," Alford said.
"The biggest thing for me -- and everyone knows it -- is getting reps," continued MLBPipeline.com's No. 86 overall prospect. "I was kinda hindered by injuries this year, so I couldn't really get in a rhythm and get those consistent reps I need."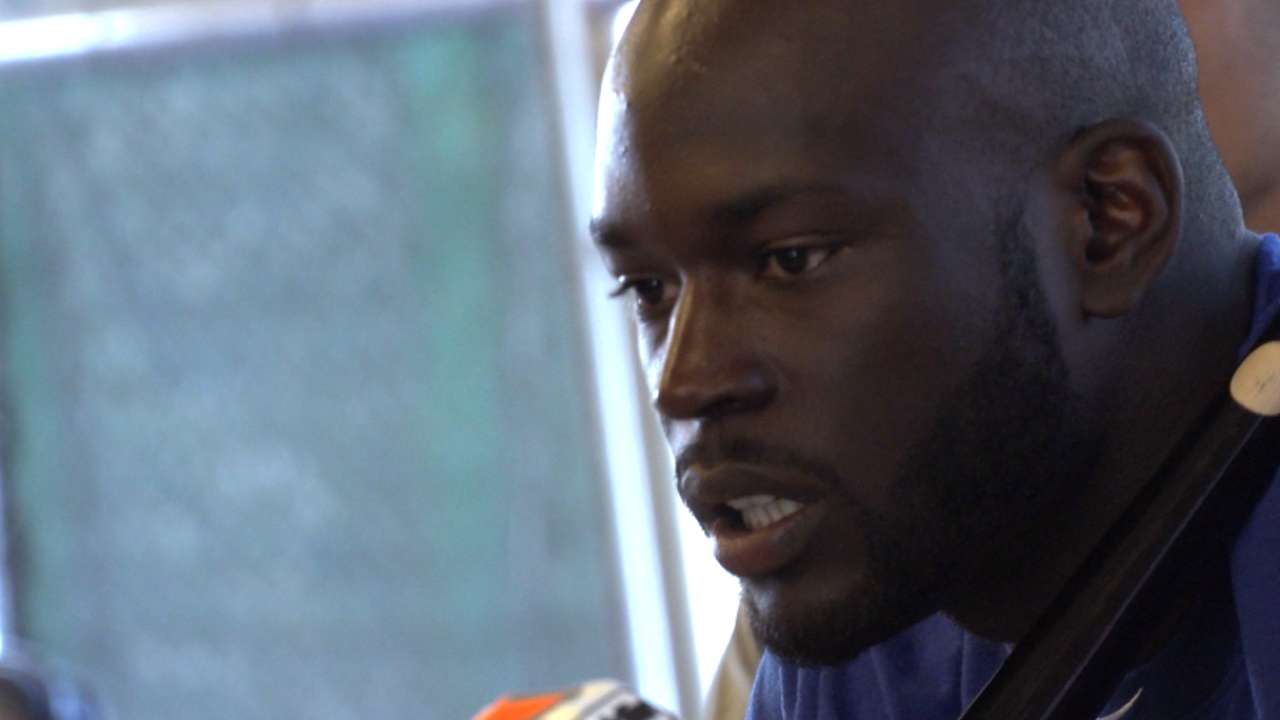 Meanwhile, there may not be a more athletic player in the desert this year than Alford, who, after signing with Toronto as a third-round pick in 2012, spent one season playing quarterback for Southern Mississippi and another as a defensive back at Mississippi before transitioning to baseball full time.
"Sometimes you just need to let your athleticism take over," he said. "There's no right or wrong way to do some stuff, you just have to be athletic and get it done."
Blue Jays No. 10 prospect Conner Greene is quick to extol the virtues of his Solar Sox teammate's elite athleticism, with no shortage of examples.
"I didn't get to see it because I was in Double-A, but I heard that -- and my buddy sent me a video of it -- he jumped over our left fielder to catch a ball, hit the wall and then fell," Greene said. "He just does things consistently that are just out of this world."
"He hit a 430-something-foot home run the other day, and Anthony's not even known as a power guy. Surprises are endless with Alford, and he's a great guy in the clubhouse."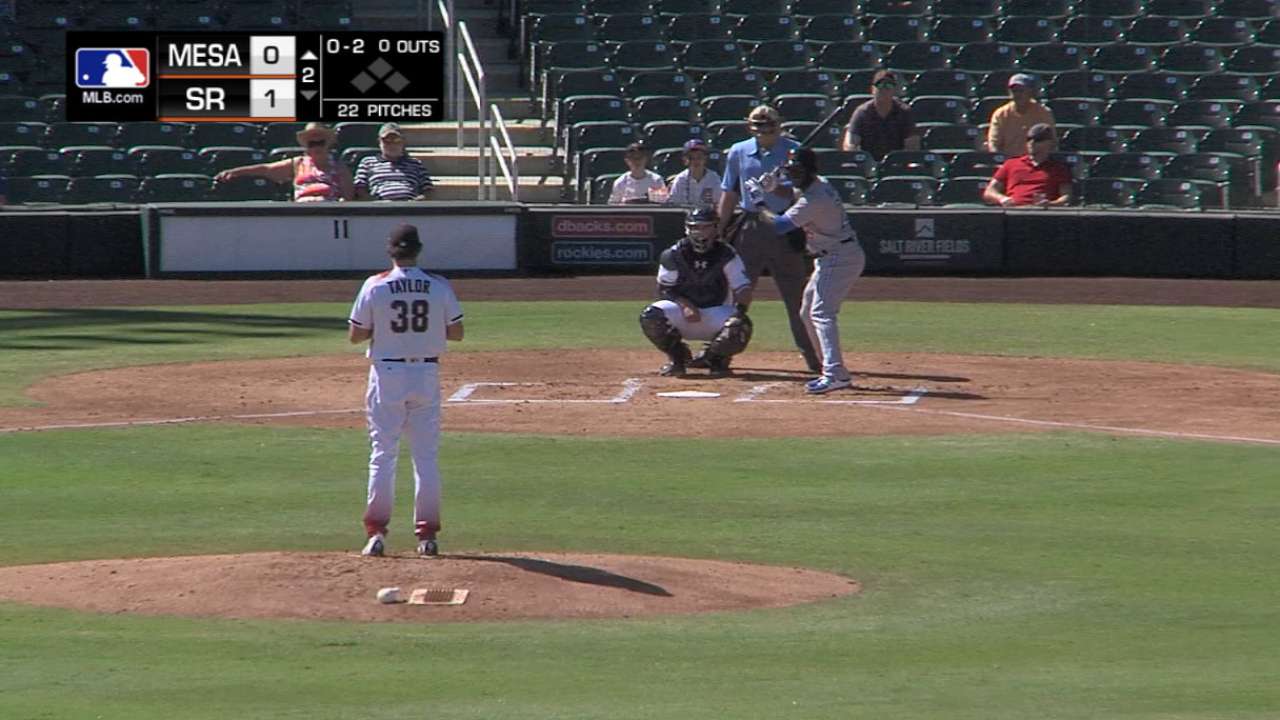 Blue Jays hitters in the Fall League
Alford
Danny Jansen, C
Juan Kelly, 1B/3B
The injury bug bit Jansen once again this year as a broken hamate in his left hand resulted in two months on the disabled list and ultimately limited the Blue Jays' No. 30 prospect to 57 games. The 21-year-old catcher is swinging the bat well so far this fall, hitting .255 with two triples and seven RBIs through 13 games as he readies himself for 2017.
Kelly was recently added to Mesa's roster as a replacement for Blue Jays No. 29 prospect Ryan McBroom. The 22-year-old switch-hitter posted intriguing numbers in his first full-season campaign, hitting .274/.356/.448 with 53 extra-base hits including 12 home runs in 131 games for Lansing. He also showed well defensively over 44 games at the hot corner after spending much of his previous four years at first base.
Blue Jays pitchers in the Fall League

Matt Dermody, RHP
Conner Greene, RHP
Tim Mayza, LHP
Justin Shafer, RHP
John Stilson, RHP
Dermody, 26, saw his career take off in 2016, beginning the season in Dunedin before advancing to Double- and Triple-A and then making five appearances out of the Blue Jays' bullpen as a September callup. The left-hander's fastball-changeup pairing allows him to get outs on both sides of the plate, as he held right-handed hitters to a .261 average and one home run across 145 plate appearances during the regular season.
Greene returned to Dunedin to post a 2.90 ERA over 15 starts and earn a promotion to Double-A New Hampshire. The 21-year-old righty struggled at times in the Eastern League but finished the season on a high note, going 3-1 with a 3.03 ERA and a .183 opponents' average over his last five regular-season outings.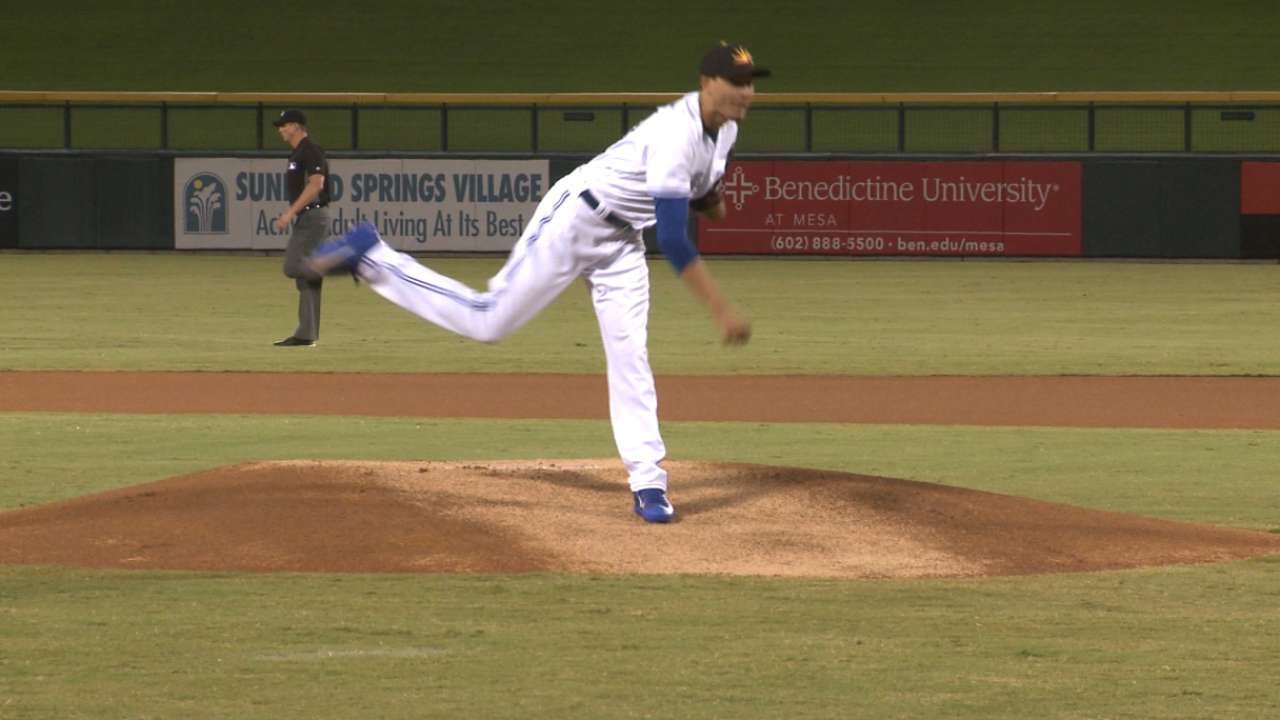 "The talent is unbelievable there," Greene said referring to his time with New Hampshire. "A lot of people say that if you can play in Double-A you can play in the bigs, so that was a confidence booster, thinking that if I'm successful here then I'll have a shot."
Mayza, a 12th-round Draft pick in 2013, was selected for the Fall League after a breakout campaign that saw him set career highs in ERA (2.25), strikeouts (65) and innings pitched (64) while making 42 appearances between Dunedin and New Hampshire. The 24-year-old lefty is using the Fall League to showcase his ability as Toronto decides whether to add him to the 40-man roster ahead of December's Rule 5 Draft.
Shafer, 24, missed parts of April in May while on the disabled list, and it's that lost time that the 2014 eighth-rounder is looking to make up in the Fall League after logging 115 1/3 innings during the regular season. The 6-foot-2 right-hander scuffled early in the Fall League but has rounded into form of late, allowing one earned run in 6 2/3 innings across his last two starts.
Stilson appeared to be on the fast track to the big leagues when he reached Triple-A in 2013 in just his second pro season, but a right shoulder injury delayed the 2011 third-rounder's progress the following year, and he underwent surgery to repair a torn labrum in '15. After a healthy season that saw him return to Triple-A, the right-hander is trying to pitch his way onto the Blue Jays' 40-man roster.
Mike Rosenbaum is a reporter for MLB.com. Follow him on Twitter at @GoldenSombrero. This story was not subject to the approval of Major League Baseball or its clubs.