Lester, Cubs find trouble after Hendricks exits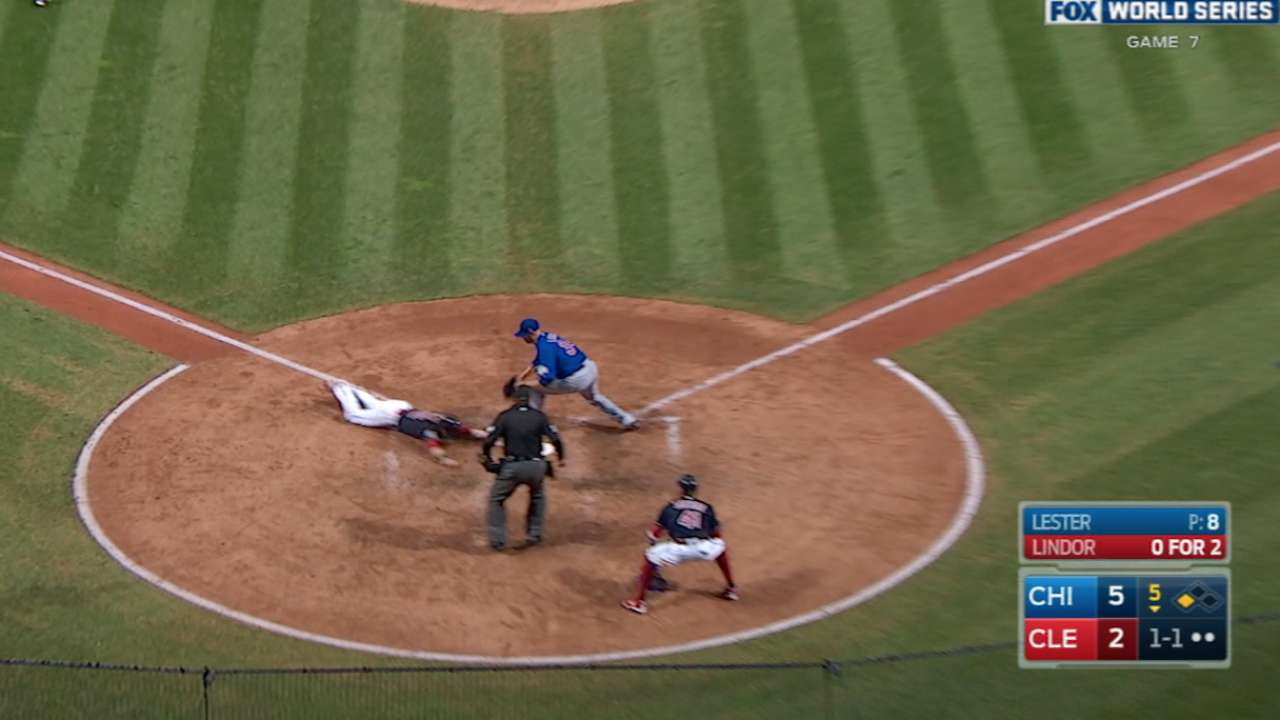 CLEVELAND -- Kyle Hendricks dodged traffic through the early innings of his "dream" start in Game 7 of the World Series on Wednesday night before settling into a lane, but a two-out walk in the fifth came back to haunt him and the Cubs as the Indians cut into Chicago's advantage, though the Cubs would go on to win the game, 8-7, and the Series.
After working around four hits and a pair of infield errors in his first three innings, Hendricks recorded eight straight outs from the bottom of the third through the fifth while Chicago built a four-run lead. When Hendricks missed with a full-count cutter to Carlos Santana with two outs in the fifth, manager Joe Maddon made a move to Games 1 and 5 starter Jon Lester, who had spent several innings getting loose in the bullpen.
• Shop for Cubs World Series champs gear
Lester and catcher David Ross, who replaced starting backstop Willson Contreras, found immediate trouble. Jason Kipnis reached on a swinging bunt that dribbled along the third-base line, with Kipnis and Santana each advancing a base on Ross' throwing error.
Those runners were on the move again when Lester bounced a pitch to Francisco Lindor in the dirt. The ball bounced up and struck Ross' mask, caroming far enough toward the visitors' dugout to allow both Santana and Kipnis to score. Just like that the Indians were within two runs, at 5-3.
The play conjured memories of Game 6 of the American League Championship Series in Seattle in 1995, when the Indians extended a 1-0 lead to 3-0 on a two-run passed ball on a pitch from Randy Johnson to catcher Dan Wilson. Kenny Lofton scored from second base on that play.
Lester avoided further damage in the inning to close the book on Hendricks, who was charged with two runs (one earned) on four hits in 4 2/3 innings, with one walk and two strikeouts.
Adam McCalvy has been a reporter for MLB.com since 2001. This story was not subject to the approval of Major League Baseball or its clubs.