MLB.com Columnist
Alyson Footer
Fan who attended 1945 Game 7 returns in 2016
Cubs supporter, 83, at Fall Classic finale in Cleveland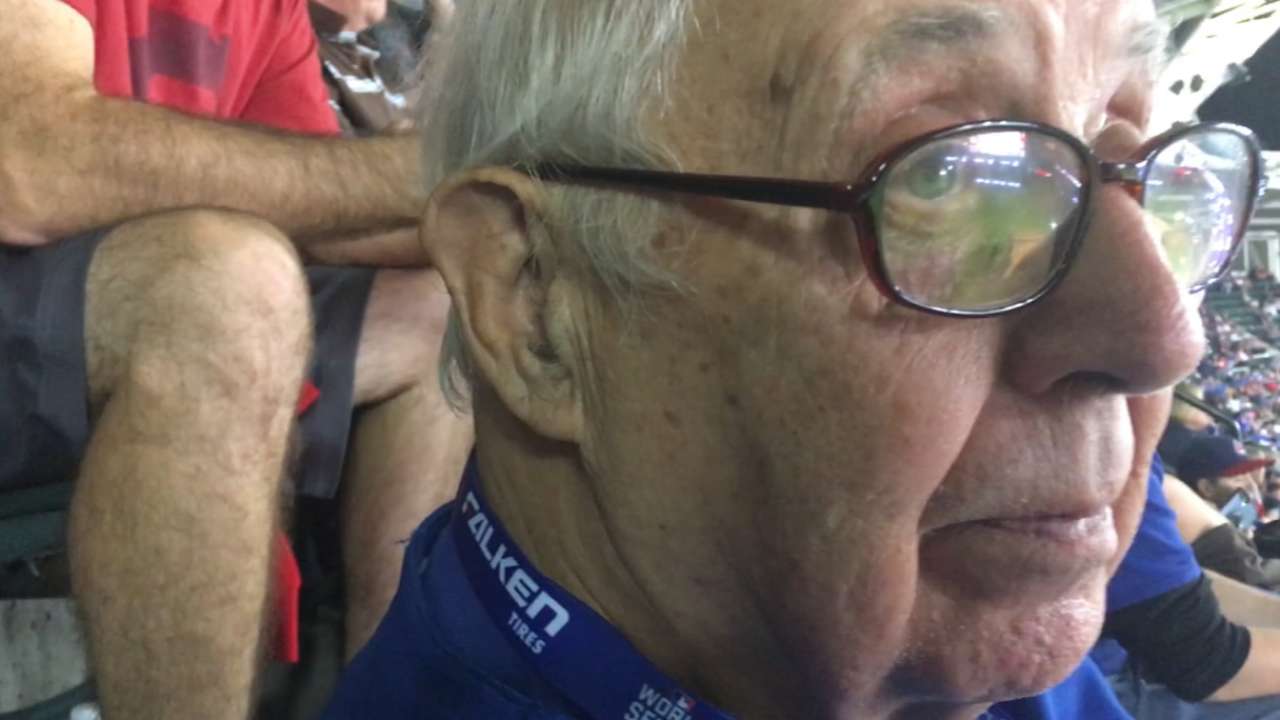 CLEVELAND -- Jim Mowery, a lifelong Cubs fan who grew up blocks from Wrigley Field, was 12 years old when he attended Game 7 of the World Series between the Cubs and Tigers in 1945.
Now 83, Mowery wanted to make some history of his own while his beloved team did the same on the field against the Indians, winning the World Series with an 8-7, 10-inning victory. Mowery wanted to become one of the few people to attend both Cubs Game 7s, and after he reached his upper-deck seat Wednesday, it's safe to say he very likely is the only person to hold this particular distinction.
Considering there haven't been any other Cubs Game 7s, or World Series appearances for that matter, over the seven-plus decades in between, Mowery knew this opportunity was special, and unique.
• Shop for Cubs World Series and NL champs gear
"I don't think I can wait another 71 years, that's for sure," he said.
The journey to Progressive Field from his native Chicago wasn't easy. First, there was the matter of coming up with the resources to fly to Cleveland, pay for a hotel and finding a game ticket.
His son started a GoFundMe page, and although there wasn't much time, the goal was met. Some fans donated airline miles; others donated cash.
"I have no idea how they did it," Mowery said of the effort.
Mowery attended World Series Game 3 last week in Chicago, and after the Cubs went down in the Series three games to one, he figured that's where the story might end.
But the Cubs mounted a comeback, winning Games 5 and 6, giving Mowery the opportunity to attend that elusive Game 7.
Sitting in section 533, four rows from the top of Progressive Field, Mowery, wearing a Cubs jersey with "I was at the last Cub World Series game Oct. 10, 1945" printed on the back, reminisced about his days as a youth, growing up blocks from Wrigley Field.
It was much different back then, compared to today, in that players intermingled with the general public in ways they do not in more modern times.
Mowery lived only one block from Hall of Famer Gabby Hartnett, and another Cubs player, Guy Bush, owned a gas station near Wrigley Field.
Mowery's aunt owned a rooming house, where many Cubs players from the 1930, '40s and '50s lived during the season.
Mowery still lives about a mile from Wrigley Field and said he plans to attend the parade in Chicago if the Cubs were to win the World Series.
Mowery attended three World Series games in 1945. Games 5 and 7 -- bleacher seats -- cost $1.50. He was a little fancier for Game 6, ponying up $6 for a seat in the grandstands.
The experience was pricier this time around, but with the help of perfect strangers, Mowery was able to realize his dream to attend another Cubs Game 7.
He has 41 grandchildren and great-grandchildren who were rooting for him, too.
"Sadly, some of them are [White] Sox fans," he joked. "But they're out of the will."
Alyson Footer is a national correspondent for MLB.com. Follow her on Twitter @alysonfooter. This story was not subject to the approval of Major League Baseball or its clubs.