MLB.com Columnist
Jonathan Mayo
Pirates in AFL: Joe, Wood increasing versatility
MLB Pipeline checks in on Pittsburgh's prospects in the Arizona Fall League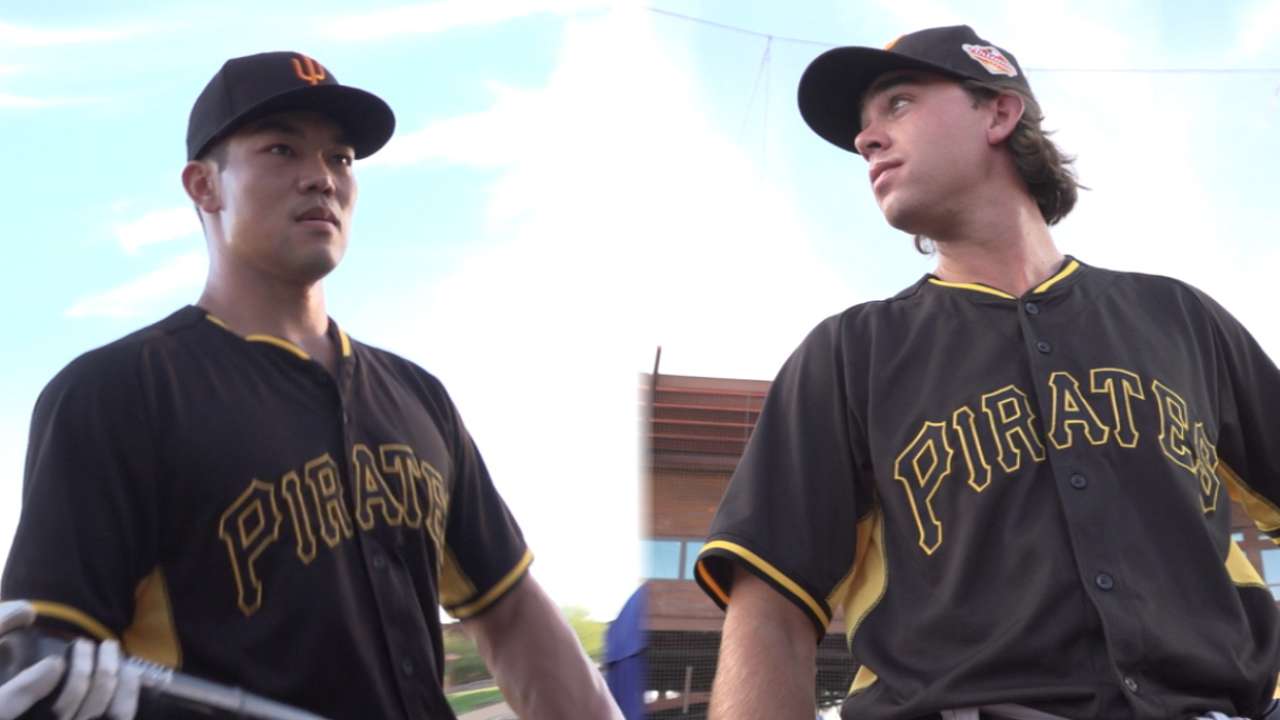 The ultimate goal for any hitter entering pro ball is to get to the big leagues and establish himself as an everyday player at one position. That, obviously, doesn't happen all too often, and it's been shown frequently in today's game that positional flexibility is a huge asset.
That's what Pirates prospects Connor Joe and Eric Wood are hoping as they get their work in with the Surprise Saguaros in the Arizona Fall League. The pair played a level apart -- Wood with Double-A Altoona, Joe in Bradenton in the Class A Advanced Florida State League -- but both played third base exclusively during the 2016 regular season. This fall, both are getting to move around, particularly in the outfield, while continuing to work on their overall games.
• Complete Arizona Fall League coverage
"Offensively, my goal is to put together consistent at-bats," Wood said. "Defensively, I'd say make all the routine plays. I'm playing the outfield a little here, so I want to make sure I make the routine play.
"I want to play everywhere, to be honest with you. It doesn't matter where. As long as I'm in there, I have a chance to make a difference. That's all."
Both do have experience playing elsewhere. Joe moved quite a bit while at the University of San Diego, even spending a good amount of time behind the plate. But he's had trouble being anywhere on the field as a pro, as injuries kept the 2014 draftee from making his pro debut until May 2015. Joe managed to play in 107 games in '16, a big step in the right direction.
"Being healthy again is a blessing," Joe said. "To be healthy the full year this past year has been awesome. To be able to play every day has been really cool."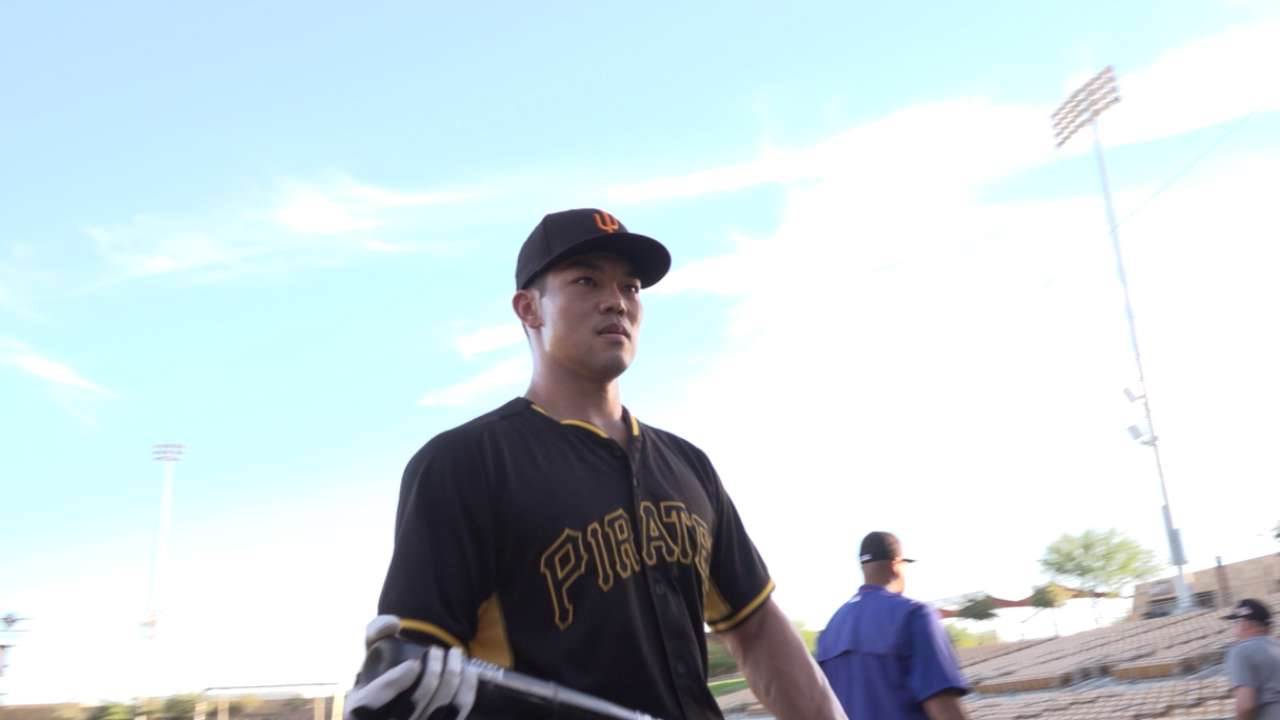 Wood was actually a pitcher for much of his amateur career and didn't start really focusing on hitting until junior college. So while he upped his production in the Eastern League this season, there's still a learning curve, even if it's been a few years since he thought of himself as a pitcher.
"It feels like a long time ago," Wood said. "I kind of miss it a little bit, but I guess it gave me the arm strength to play third, so no complaints."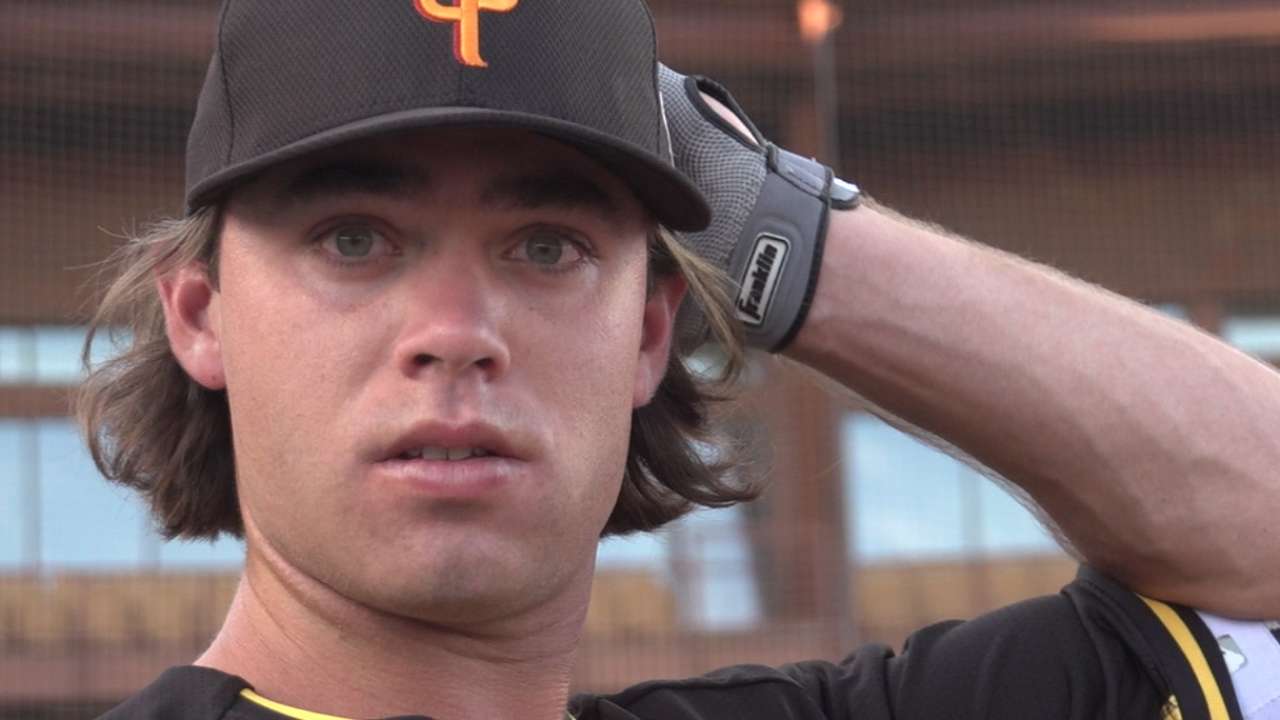 Neither Joe nor Wood has any complaints about extending their seasons to come to Arizona. Joe is trying to build off of a second half that saw him hit .313 with an .824 OPS, not to mention his .333 with three homers in six playoff games. Wood is coming off a season that saw him take a huge step forward, particularly on the power front (16 homers more than doubled his career total entering the season). They are soaking up as much knowledge as they can.
"Competing against the best pitching in Minor League baseball right now is an awesome experience, an awesome opportunity," Joe said. "It's a real test for me.
"You get to meet new guys that I either played with or against in the Florida State League, or guys in different leagues. That's the best part. I love meeting new people, guys hopefully I'll be playing with or against for the next 10-12 years."
"Absolutely," Wood agreed. "Learning from guys from different organizations, different philosophies of doing things, it's kind of cool to see everybody's perspective of things."
Pirates hitters in the Fall League
Jin-De Jhang, C
Connor Joe, 3B/OF
Eric Wood, OF/1B
For most of his career, Jhang had been paired up with former first-round pick Reese McGuire in sharing catching duties as they moved up the ladder. As a result, he hasn't gotten a ton of reps, and now with McGuire gone via trade, the Pirates want to see what they have on their hands. A 40-man-roster decision looms as well, and the AFL gives Jhang the chance to work with pitchers from other organizations and continue to work on his English/communication from behind the plate.
Pirates pitchers in the Fall League
Tanner Anderson, RHP
Montana DuRapau, LHP
Alex McRae, RHP
Edgar Santana, RHP
An overachieving college senior sign taken in the 20th round of the 2015 Draft, Anderson pitched across both levels of A ball, almost entirely in relief. He managed to log 88 innings in that role and showed a propensity to get ground-ball outs (3.39 GO/AO). Anderson is working on his slider as a starter in the Fall League, with an eye to a potential future as a long-man/swing-man type of role.
DuRapau, a 32nd-round pick in the 2014 Draft, made the jump to Double-A in 2016 and led the organization in saves with 22. He also had a .222 batting average against and struck out 9.3 per nine innings, earning him the chance to come to the AFL and get exposure against good competition. The right-hander is working on pitching off of his fastball more while coming out of Surprise's bullpen.
It's not often a pitcher who logged 155 1/3 innings during the regular season comes to throw more in the Arizona Fall League. But that's exactly what McRae, a 10th-round pick out of Jacksonville University in 2014, is doing after pitching his way up to Double-A. To monitor his innings, as well as to see what his stuff looks like in such a role, he's pitching solely out of the bullpen this fall.
Santana began the year in the Florida State League and ended it in Triple-A, knocking on the big league door. After 79 1/3 relief innings across three levels, Santana is simply trying to tighten up a few things so he's ready should Pittsburgh need him for the big league bullpen in 2017.
Jonathan Mayo is a reporter for MLBPipeline.com. Follow him on Twitter @JonathanMayo and Facebook, and listen to him on the weekly Pipeline Podcast. This story was not subject to the approval of Major League Baseball or its clubs.