Staumont returns to form in scoreless start
Royals' No. 10 prospect records third AFL win with dominant performance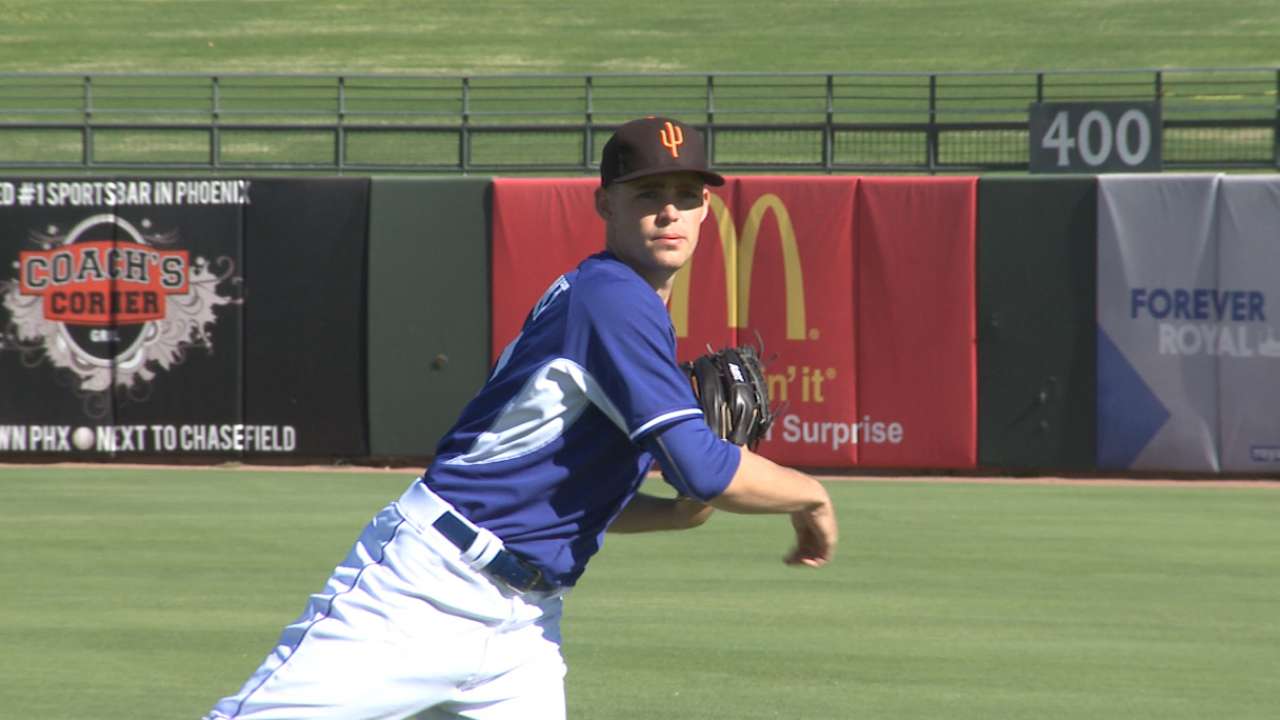 PEORIA, Ariz. -- Lights-out pitching from Josh Staumont served as the winning catalyst on Wednesday for the Surprise Saguaros as they beat the Peoria Javelinas, 6-0, in a game that also featured a pair of home runs.
Staumont, the Royals' No. 10 prospect, pitched four scoreless innings for the Saguaros, recording four strikeouts and two walks. He improved to 3-1 with the win, while his ERA sits at 2.45 through five Fall League starts.
"I feel great, I've been keeping the ball down, especially here," Staumont said before boarding the team bus after the game.
• Gameday
The performance served as a rebound for the 22-year-old right-hander after he gave up five runs in a 6-3 loss to the Scottsdale Scorpions on Oct. 28. But Staumont, who said he's hard on himself when it comes to judging his performances, still thinks there is room for improvement.
"I'm not very happy with what I've been doing," he said. "There's been too many walks already."
However, Staumont did not let his last outing keep him from setting high expectations against the Javelinas.
"You always have to think that you're going to dominate every single time and adjust accordingly," he said. "I wasn't anticipating doing anything below what I did. You just have to throw everything down the zone and let them hit."
• Royals in AFL: Dominant Staumont sharpening command
Specifically, Staumont is using his time in the Fall League to refine his approach against left-handed hitters.
"We've been throwing a lot more changeups to lefties," said Staumont. "That's something you're obviously going have to do going up higher in baseball."
While Staumont continues to work on his command of the strike zone, he is encouraged by the progress he is making and counts every start on the mound as a chance to move forward.
"I'm excited I'm moving in the right direction for myself," he said. "Every day that I take a step forward is something positive for me."
Mitch Garver also left his mark on the game, hitting a two-run home run in the first inning to give the Saguaros an early 2-0 lead they would not relinquish. The Twins' No. 24 prospect is hitting .262 with a Fall League-best four home runs in his second tour of the desert. Pirates farmhand Connor Joe also hit a home run and scored three runs for Surprise in a 2-for-3 performance.
Jonathan Saxon is a graduate student at Arizona State University. This story is part of a partnership between MLB.com and ASU's Walter Cronkite School of Journalism and Mass Communication. This story was not subject to the approval of Major League Baseball or its clubs.