Indians legend Thome gets Game 7 first-pitch honor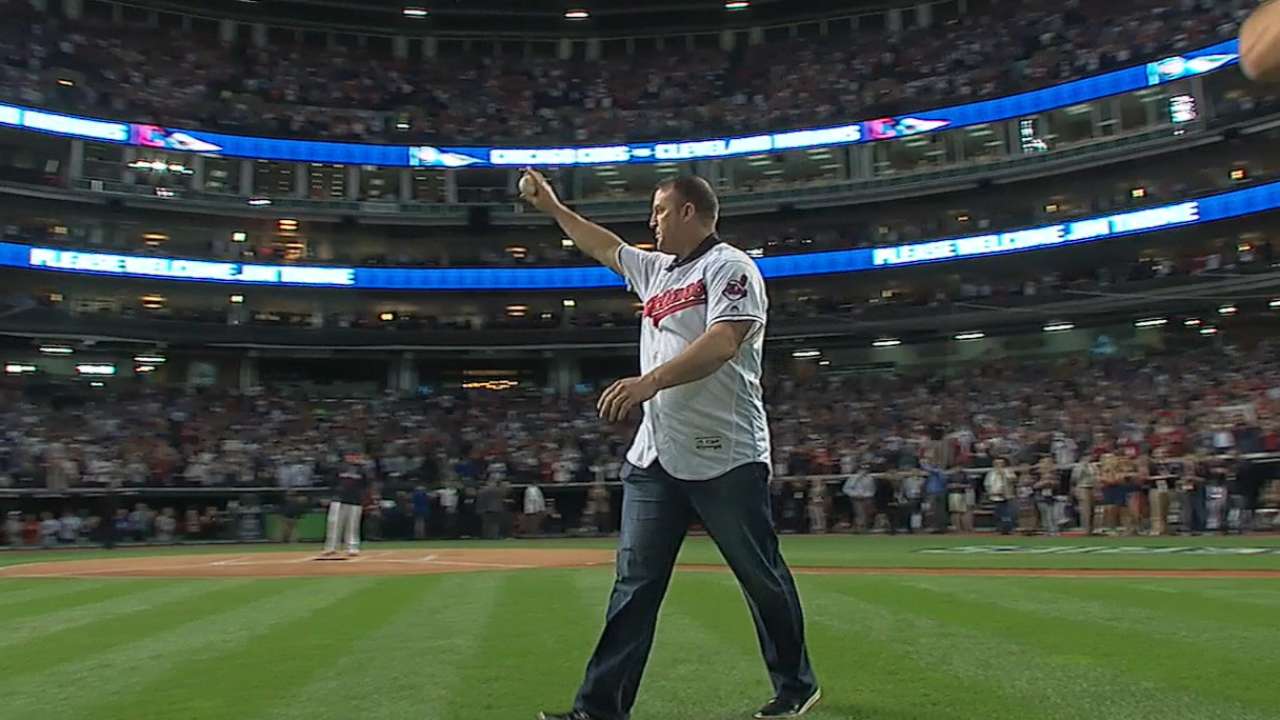 CLEVELAND -- There's a laundry list of cool things associated with a World Series being extended as far as a Game 7. One of those is that the star power involved with the pregame pageantry reaches its highest peak.
The Indians have trotted out some of their fan base's favorite players from yesteryear for ceremonial first pitches during the World Series, beginning with Kenny Lofton in Game 1, Carlos Baerga in Game 2 and Dennis "El Presidente" Martinez for Game 6.
• World Series Game 7: Live on FOX
Game 7 on Wednesday night featured arguably the Tribe's biggest star from those powerhouse 1990s teams -- Jim Thome, who spent his first 12 Major League seasons with the Indians, from 1991-2002, and returned to the club, briefly, for the final month of the 2011 season.
Thome played in 17 postseason series in 22-year career, including World Series with the Indians in 1995 and '97. The '97 Fall Classic also went to a Game 7, and although that Series went in the favor of the Marlins, Thome understands how special a winner-take-all Game 7 is for a professional ballplayer.
• Shop for Indians World Series and AL champs gear
"It's incredible," Thome said. "It's what you dream of as a kid, no doubt. These guys are in this moment, and they're going to remember this for the rest of their lives."
Thome, a five-time American League All-Star who will be eligible to be voted into the National Baseball Hall of Fame in 2018, clubbed 337 of his 612 career homers while with the Indians and compiled a .287 average and 937 RBIs. Overall, Thome drove in 1,699 runs and finished his career with a slashline of .276/.402./.554, and an OPS of .956 while also playing for the Phillies, White Sox, Twins, Dodgers and Orioles.
Thome, who was with his family in Chicago for the World Series games at Wrigley Field, is one of dozens of former Indians the club has invited back throughout the postseason to celebrate the Tribe's run. Should the Indians win Game 7, they planned to involve their past stars heavily in the postgame celebration.
"That's the cool part," Thome said of the Indians' inclusiveness. "They definitely bring everybody back and they make it feel like family. It's special."
Having spent so many of his years in Cleveland, Thome understands as much as anyone how much a World Series championship would mean to the city, and to the Indians players who have defied odds to get this far.
"They'll remember this night forever," Thome said. "To put themselves in this position to get to a Game 7 is just so great. Even as ex-players, we get that. We feel the love, we feel the excitement, and they're putting themselves out there for the city."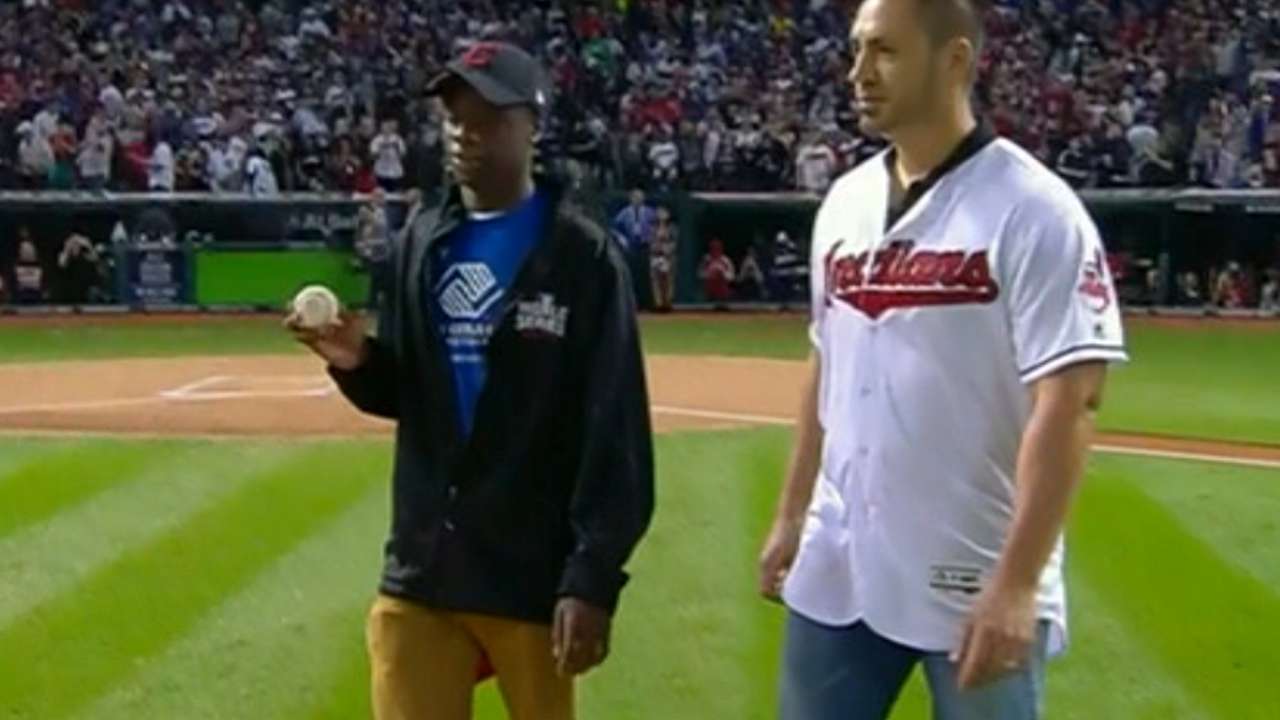 Former Indians slugger Travis Hafner also was involved in the pregame ceremony. He delivered the official game ball to the mound with Davontre Cohen, 17, from the Boys & Girls Clubs of The Western Reserve in Akron, Ohio.
Cohen, who is a senior at Akron Early College High School, is Akron's Youth of the Year for Boys & Girls Clubs of the Western Reserve.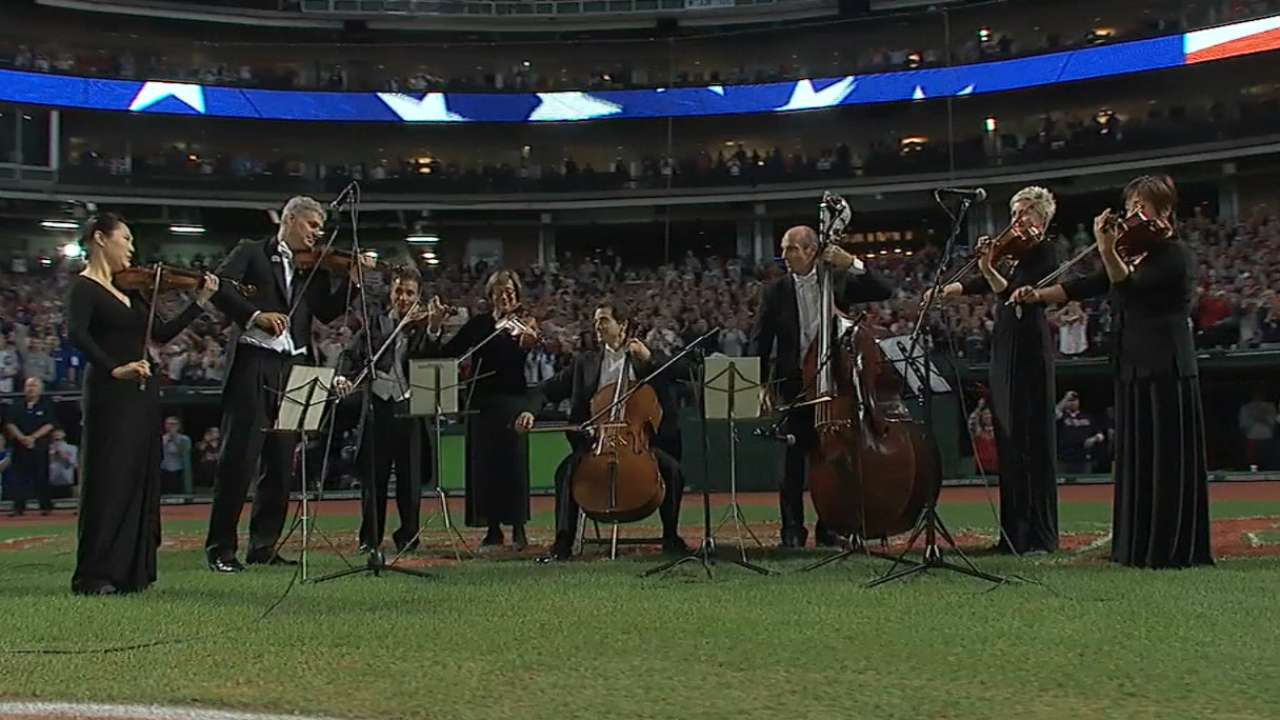 The national anthem was performed by members of the string section of the Cleveland Orchestra, which conducted an instrumental rendition.
"God Bless America" was performed by United States Marine Corps First Lieutenant Emily Meyer. Meyer, who is from Lancaster, OH, is a military police officer stationed at the U.S. Marine Corps Recruiting Station in Cleveland. She has served as a Military Mentor for the 2016 Senate State Youth Program.
Alyson Footer is a national correspondent for MLB.com. Follow her on Twitter @alysonfooter. This story was not subject to the approval of Major League Baseball or its clubs.