Cole drives in three in big Fall League performance
Giants No. 21 turns things around with impressive effort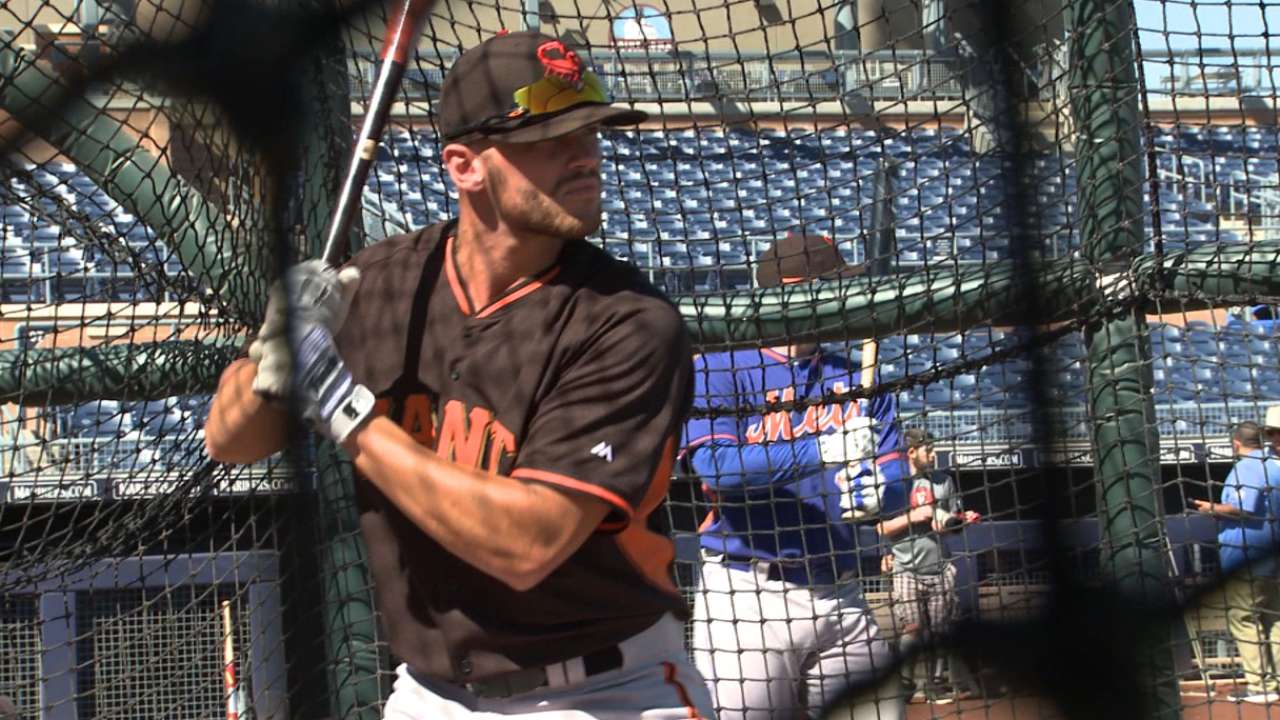 SCOTTSDALE, Ariz. -- Hunter Cole is in the middle of a tough stretch, but the Giants' No. 21 prospect was able to generate some positive momentum with a 1-for-5, three-RBI game on Wednesday afternoon in the Arizona Fall League.
Cole began the day with four RBIs in the AFL before nearly doubling that total in Scottsdale's 8-5 win over Salt River at Salt River Fields.
• Gameday
"I've been making a lot of adjustments the past couple of weeks, trying to get in a groove," Cole said. "Started off good, then hit a rough patch, but that's baseball. It was good to put some balls in play today, had one drop for me with two outs and two guys on. You take those when you can get them. Hopefully I can build off it, put some balls in play and find some holes."
The 24-year-old is hitting just .218 in the Fall League, but coming off a season in which he hit .271 in 126 games with Double-A Richmond.
"I thought it was pretty good, pretty respectable," Cole said of his season. "I can always do better. There were some bright spots and some not-so-bright spots. There's ups and downs to this game, you just have to stay even keel and grind it out."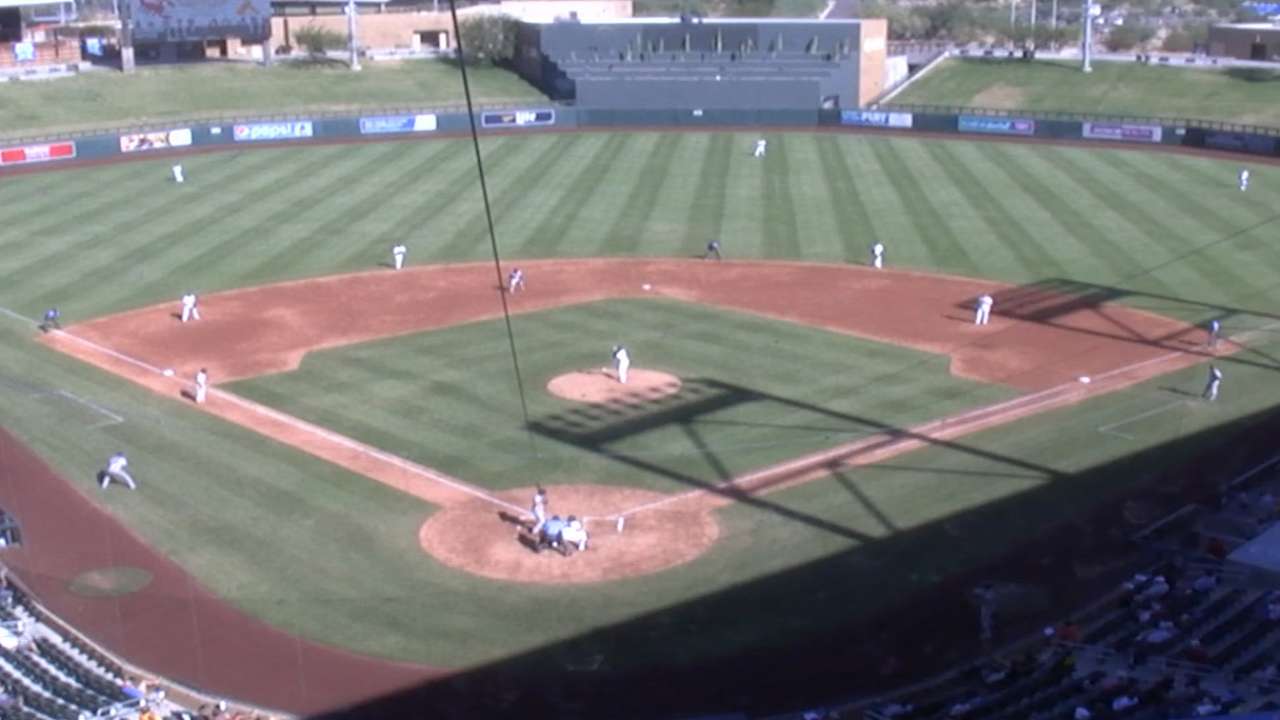 That's exactly what Cole has been doing in Arizona, and it paid off with a two-out, two-run single in the fourth.
After playing a career-high 126 games during the regular season, Cole has already added another 14 AFL games to his workload.
"It's pretty tough, but it's good competition so you have to be ready to play every day," Cole said. "If you have some bumps and bruises, hopefully the trainers can work it out and you can get to the end of it."
Scottsdale jumped out to an early lead, crossing the plate four times in the first inning. Chris Ellis (Braves' No. 16) had a tough time finding the zone and issued a trio of first inning walks. Cole drove in the first run of the game and reached on an error before Champ Stuart (Mets) highlighted the inning with a two-run single.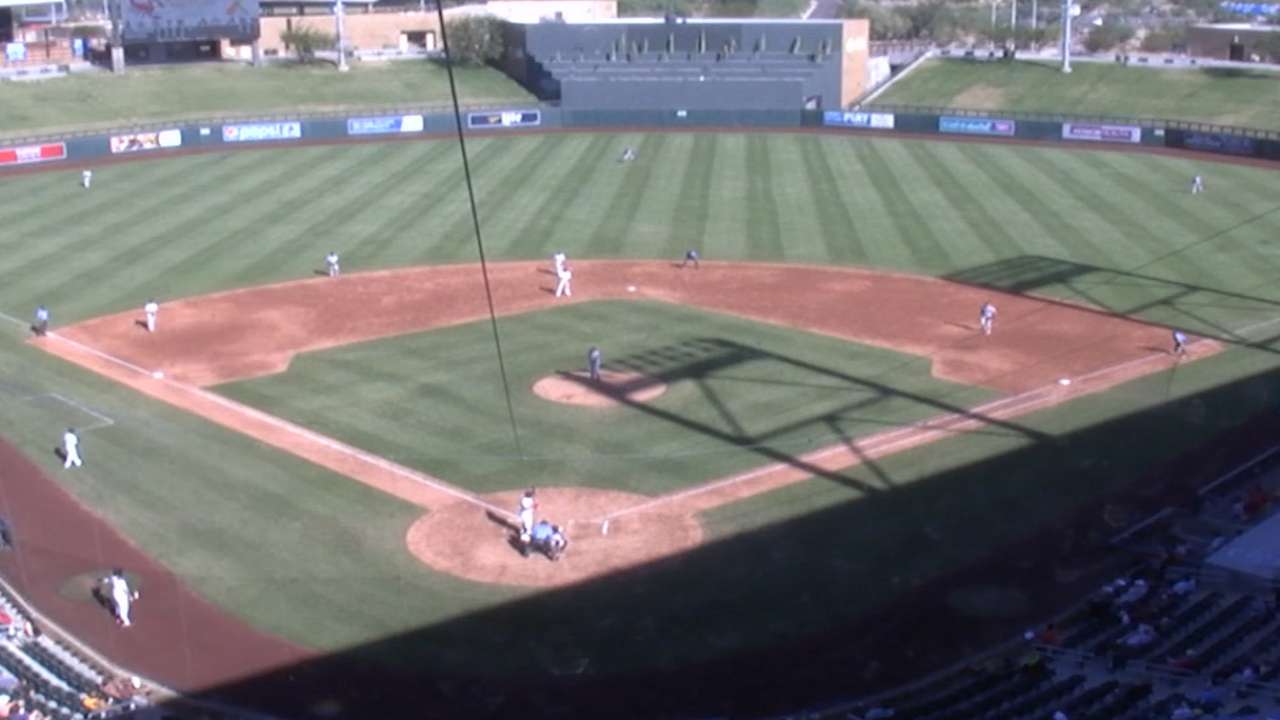 Salt River responded with two runs of their own in the bottom half of the inning. The first run came on an error, and the second came via a base hit up the middle from Kevin Cron (D-backs). Isan Diaz (Brewers' No. 8, No. 96 overall) singled, his first of two hits, and scored when Cron scorched a single with an exit velocity of 113.7 MPH, according to Statcast™.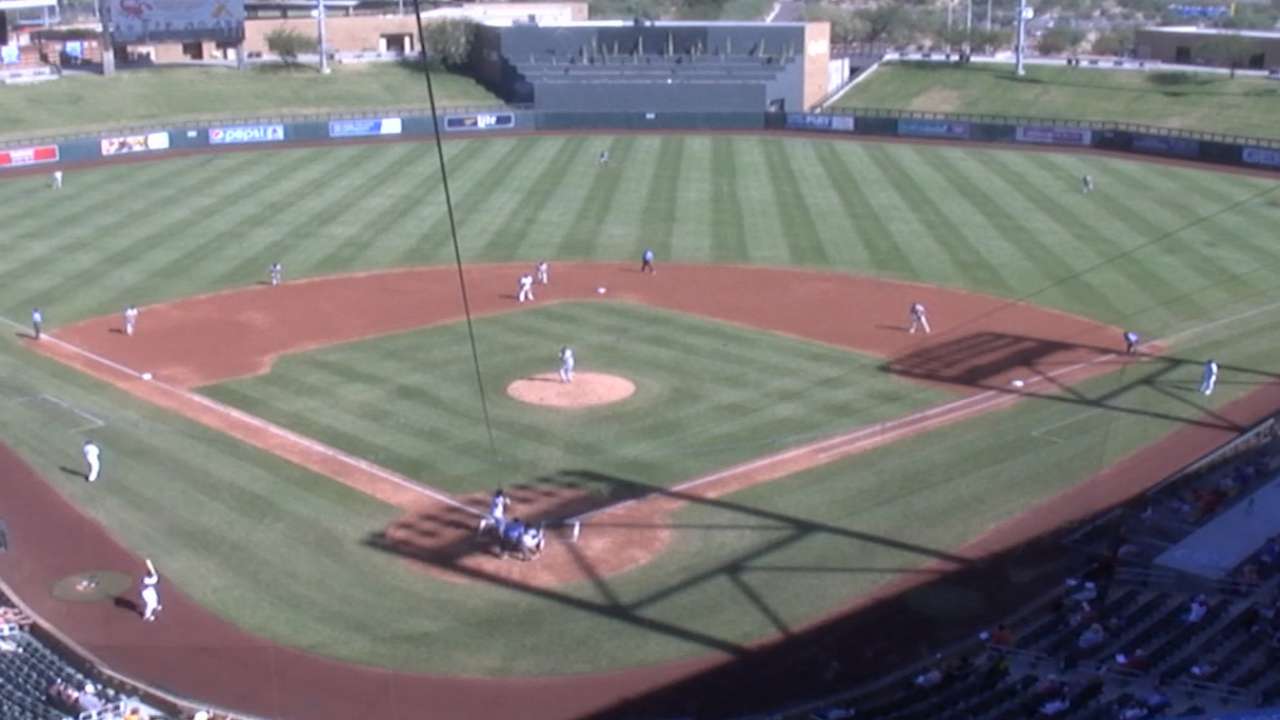 Ellis bounced back to retire seven in a row, and it looked like Salt River may have a chance to get back in the game. However, Ellis lost command once again in the fourth and was lifted after giving up seven runs (four earned) on four hits and four walks in 3 1/3 innings.
The Scorpions took advantage and put the game away with four more runs in the fourth, including Cole's two-run single.
William Boor is a reporter for MLB.com. Follow him on Twitter at @wboor. This story was not subject to the approval of Major League Baseball or its clubs.