During World Series Game 7: IRL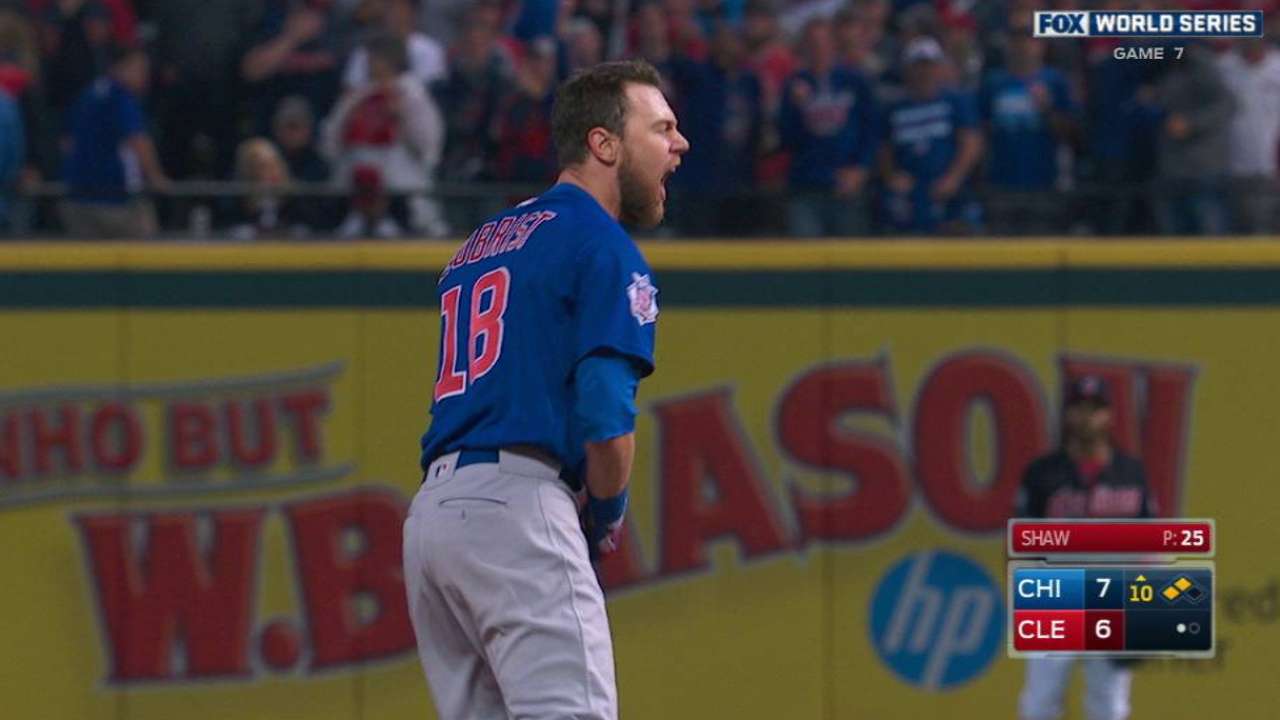 They play 162 regular-season games, a best-of-five Division Series, a best-of-seven League Championship Series and now this: World Series, winner take all. Game 7 is here. The celebration of the century is underway for the Cubs and their legion of fans. And all it took to end their 108-year championship drought was 10 innings of one of the wildest winner-take-all games in baseball history.
Ben Zobrist delivered the tiebreaking hit in the 10th inning, slapping an RBI double to send the Cubs to an 8-7 victory in an all-time classic that featured plenty of long-ball fireworks, managerial manuevers and even a dash of rain.
• Shop for Cubs World Series champs gear
We are on the scene at Progressive Field.
12:49 a.m. ET: The wait is finally over
Mike Montgomery induced a soft grounder to third baseman Kris Bryant, who slipped on the wet grass but completed the throw across the diamond to Anthony Rizzo to retire Michael Martinez and kick off the Cubs' party.
11:55 p.m. ET: Mother Nature weighs in
One of the most dramatic World Series games in recent history took a brief intermission after the ninth inning, when rain forced a delay with the Cubs and Indians tied, 6-6. The action resumed at 12:12 a.m. ET.
162 regular season games.
The Wild Card, DS & LCS.
6 #WorldSeries games.

And #Game7 goes to extras on @MLBONFOX after a rain delay. pic.twitter.com/pZ38BoLOw0

— MLB (@MLB) November 3, 2016
11:15 p.m. ET: Cleveland's party not quite over
Rajai Davis' game-tying, two-run homer with two outs in the eighth inning off Cubs closer Aroldis Chapman knotted the game at 6 -- the latest game-tying home run in World Series Game 7 history.
THE LAND.#Game7 is living up to the hype on @MLBONFOX: https://t.co/g63Hvj47c9 #WorldSeries pic.twitter.com/xaG0ncrXok

- MLB (@MLB) November 3, 2016
11:05 p.m. ET: One for the ages
David Ross, the popular backup catcher who plans to retire after tonight, became the oldest player in Major League history to homer in Game 7 of the World Series, hitting a solo shot to give the Cubs a 6-3 lead. Ross, 39, entered the game the previous inning as the personal catcher for left-hander Jon Lester, making his first relief appearance since 2007. Lester, who tossed six innings for the win in Game 5 on Sunday night, recorded nine outs after entering in the fifth and turning it over to Chapman with two outs in the eighth.
10:35 p.m. ET: Not horsing around in Cleveland
Even the four-legged police officers outside Progressive Field were in the Game 7 spirit, as the Indians look to rally from a 6-3 deficit after seven innings.
9:49 p.m. ET: Baez's blast opens bullpen gates
Javier Baez -- who had made two fielding errors -- chased Indians ace Corey Kluber from the game with a leadoff homer in the fifth inning. The Cubs rallied for another run off Andrew Miller to build a 5-1 lead. It was a welcome sight for the many Cubs fans in attendance, including Jim Mowery, who grew up blocks from Wrigley Field and was 12 years old when he attended Game 7 of the 1945 World Series between the Cubs and Tigers. More >
Only thing better than being at #Game7? Catching a homer there.#Game7 on @MLBONFOX: https://t.co/7Ce8ev0rip #WorldSeries‌ pic.twitter.com/X0QyzlOjij

- MLB (@MLB) November 3, 2016
9:18 p.m. ET: Prog rockin'
Carlos Santana pulled a single over Cubs first baseman Anthony Rizzo's outstretched glove to the tie the game in the third inning at a raucous Progressive Field. Coco Crisp's leadoff double started the rally for the Tribe, who saw the Cubs answer with two runs an inning later to retake the lead, 3-1.
Progressive Field is some kind of awesome right now. Hard to encapsulate how fired up these fans are.

- Anthony DiComo (@AnthonyDiComo) November 3, 2016
8:04 p.m. ET: Liftoff at leadoff
Dexter Fowler smacked the fourth pitch of the night from Kluber out to deep center, powering the Cubs to a fast start. It was the first leadoff home run in a winner-take-all Game 7 in World Series history. More >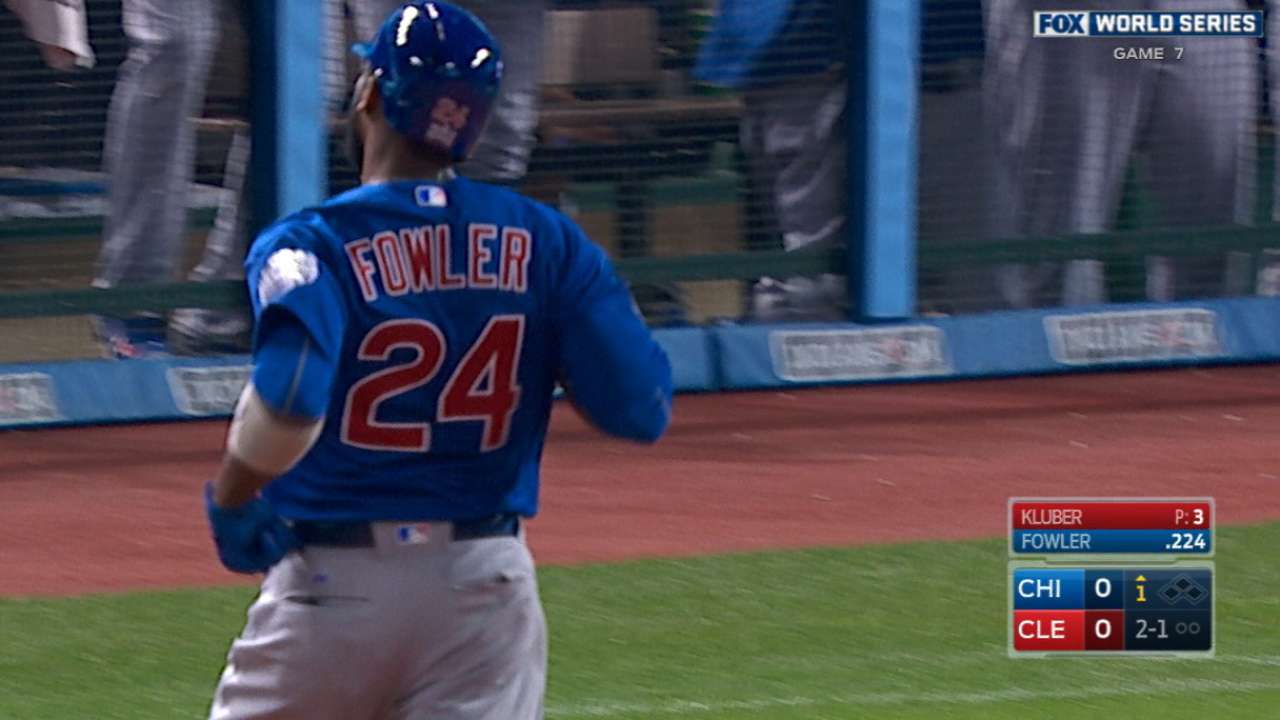 7 p.m. ET: Home-field advantage?
This is what neutral field might feel like in Major League Baseball. It's close to 50/50 throughout the concourse, 60/40 Indians at most.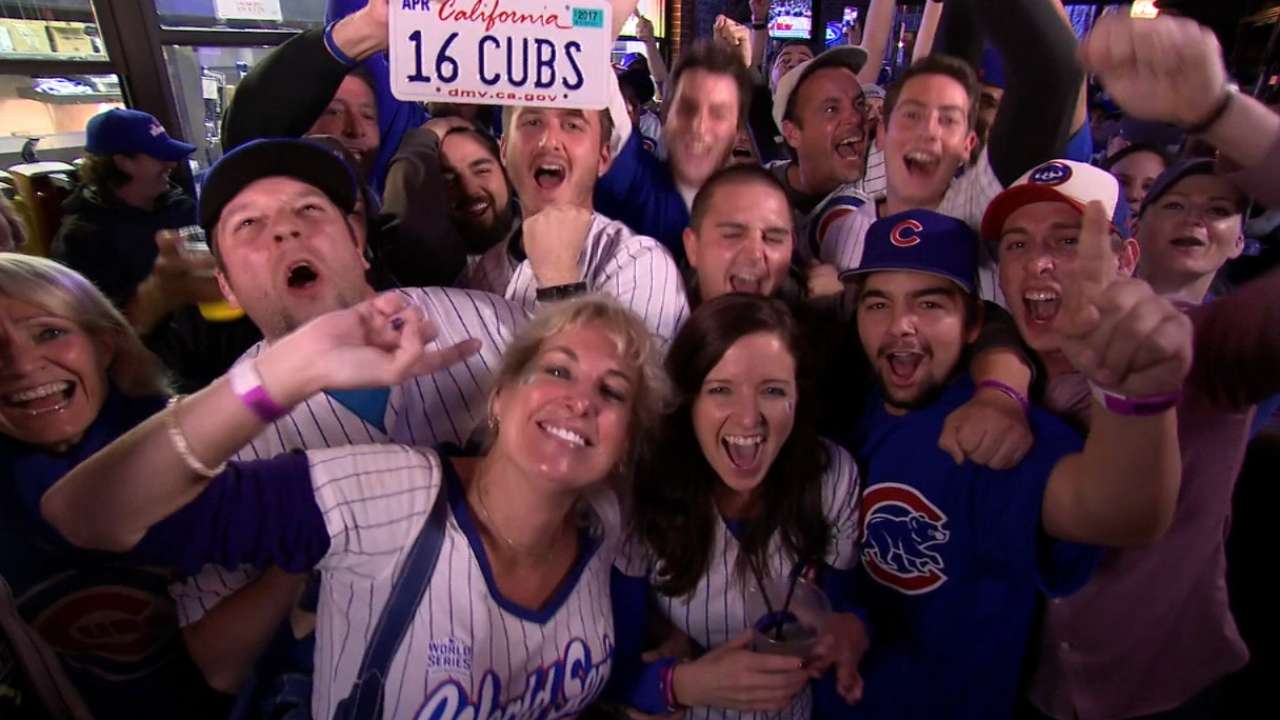 6:10 p.m. ET: Meanwhile, in Chicago …
Cubs fans are out and about on Clark Street hoping to watch their team secure its first World Series title since 1908.