Rizzo drawing Series inspiration from 'Rocky'
Maddon excited for Game 7, reflects on past experiences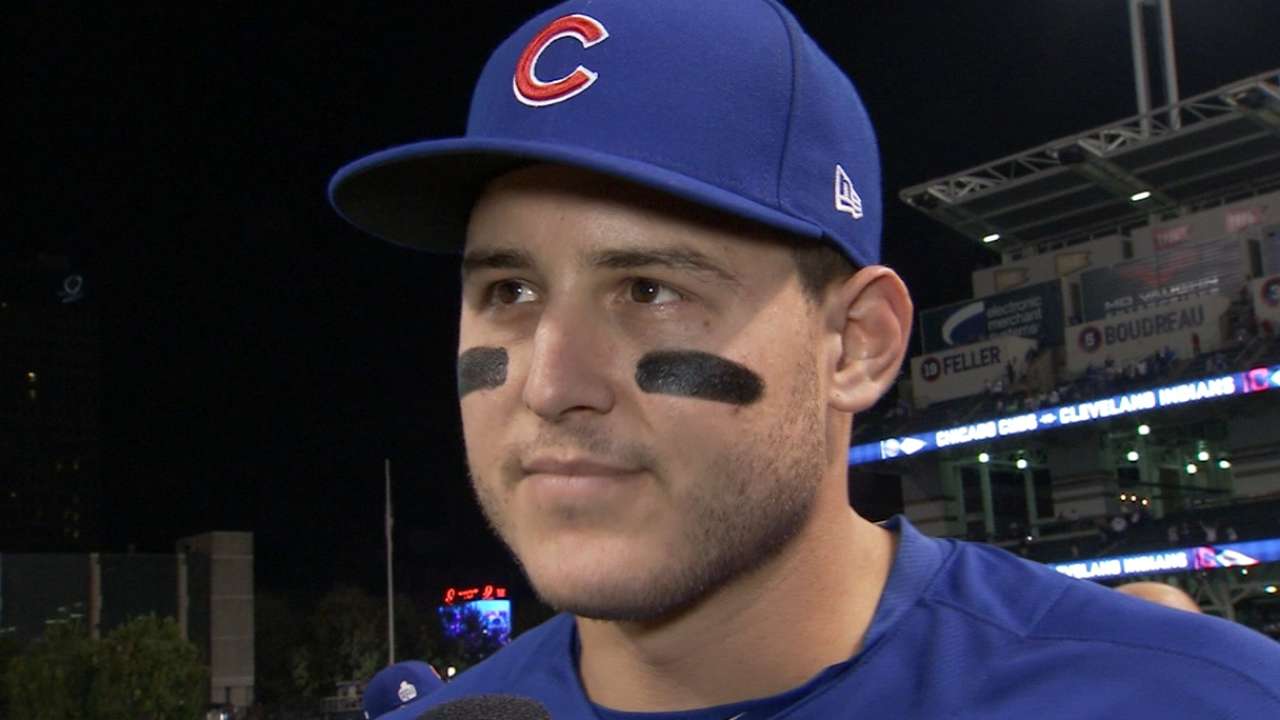 CLEVELAND -- Anthony Rizzo played the theme music from the movie "Rocky" before the Cubs' win on Sunday in Game 5 of the World Series at Wrigley Field, and he is still using the film as inspiration. Manager Joe Maddon said Rizzo is quoting Burgess Meredith's character, Mickey, before his at-bats.
"He's quoting him in the dugout every day," Maddon said. "He was yelling something about Mick [on Tuesday]. The whole game, he'll be sitting behind me before his at-bat and he'll be throwing 'Rocky-isms' out."
Maddon knows about the excitement of playing Game 7 of the World Series.
"The butterflies are a little bit bigger," Maddon said. "I can only liken it to football, where in football, you can be throw-up sick and after the first hit, you're fine. I'm not saying I'm throw-up sick, but I know when you get out in the dugout and the game's beginning and you start getting your focus, I'm sure our players feel the same way. Eager about it, absolutely; thankful, grateful to be in this moment. Couldn't do it with a better bunch of guys, players and coaches, and the entire organization and our fans. All those things are not lost on me.
• Shop for Cubs World Series and NL champs gear
"At the end of the day, the process is fearless and it really comes down to staying with your process. Winning and losing is going to happen. The best we can do is to stay with our methods."
Maddon recalls Game 7 of the 1964 World Series between the Cardinals and Yankees at Busch Stadium. Cards ace Bob Gibson won that one.
"As a 10-year-old, I remember how exciting that was and how meaningful that was to me at that time," Maddon said. "Game 7 on a personal note, the World Series in 2002 versus the Giants. When I hear that or see that, I think of Garret Anderson's [three-run] double in the right-field corner [in the third inning]."
Anderson's double helped the Angels post a 4-1 victory over the Giants and clinch the title. Maddon was the Angels' bench coach that year.
Another pivotal Game 7 for Maddon came with the Rays in the 2008 American League Championship Series against the Red Sox, and he can vividly see second baseman Akinori Iwamura making the play at second for the final out.
Stopper
Aroldis Chapman will be a free agent once the World Series ends, and the hard-throwing closer has made quite an impression on Maddon.
"He's been an extremely large reason we're in this moment right now," Maddon said before Game 7. "Industry-wide, I'd have to believe his stock has risen dramatically. He's a total team guy."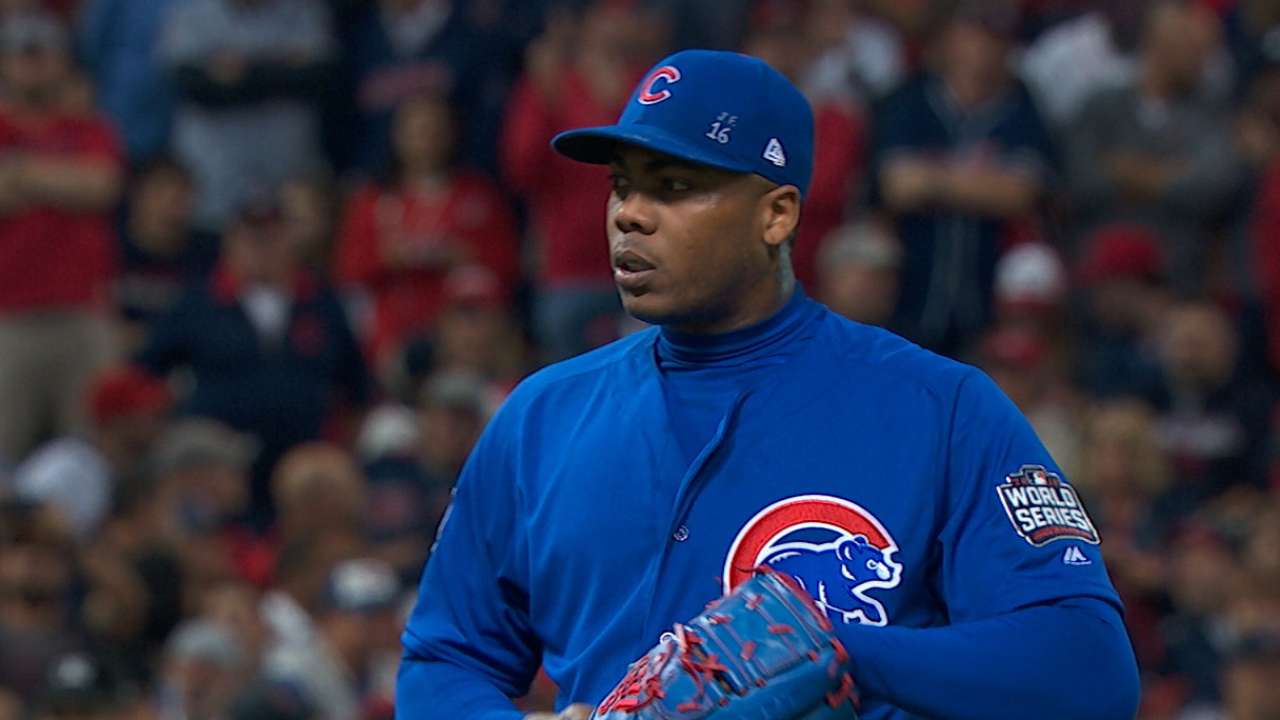 Closers like Chapman are unique.
"They are definitely luxury items -- they're the best sports car, the yacht, they're the coolest plane in the air -- they're different, they're that good," Maddon said.
Vacation
Maddon spent most of the day Wednesday answering emails and text messages from friends, former roommates and folks from Lafayette College and his hometown of Hazleton, Pa.
"When you get to this moment, everybody wants to check in, and they do, and you want to respond, even if it's just, 'Thanks, buddy,'" he said.
Maddon has been thinking about what route he'll take from Chicago to Tampa, Fla., to get home, plus scheduling different offseason events, such as a fundraiser in Hazleton.
Carrie Muskat has covered the Cubs since 1987, and for MLB.com since 2001. She writes a blog, Muskat Ramblings. You can follow her on Twitter @CarrieMuskat and listen to her podcast. This story was not subject to the approval of Major League Baseball or its clubs.