Dodgers in AFL: Bellinger, Verdugo getting extra at-bats
MLB Pipeline checks in on Los Angeles' prospects in the Arizona Fall League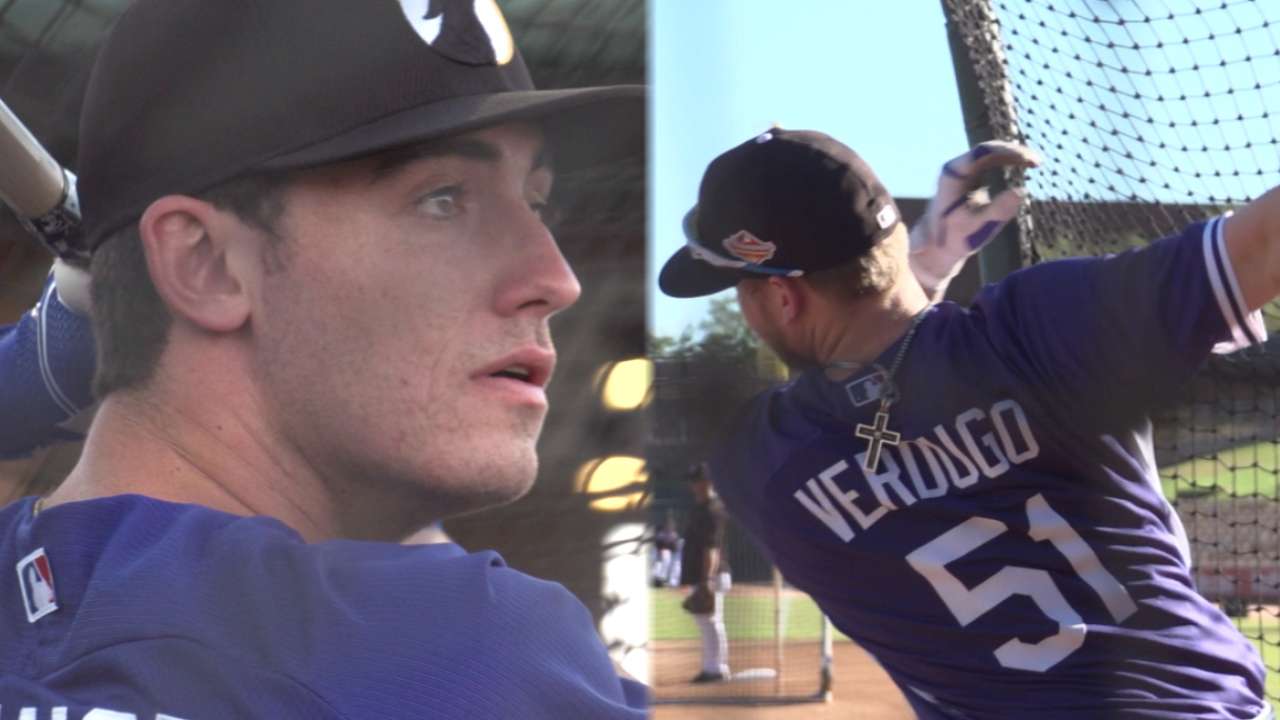 GLENDALE, Ariz. -- Corey Seager, Julio Urias and Joc Pederson have all made names for themselves as homegrown talent, and it looks as if the Dodgers' next wave of top prospects isn't too far away from making an impact of their own.
Three of the Dodgers' top four prospects -- No. 1 Cody Bellinger, No. 3 Alex Verdugo and No. 4 Willie Calhoun -- are extending their seasons with stints in the Arizona Fall League, looking to get extra at-bats and get a jump-start on 2017.
"I missed a month, so just getting good at-bats against consistent pitching," Bellinger, the No. 31 overall prospect, said. "For the most part, just show what you can do against [the increased competition]. That's my biggest goal, to come out, show what I can do and have fun."
• Complete Arizona Fall League coverage
The first baseman broke out for a monster season in 2015, hitting 30 homers and driving in 103 runs. While Bellinger, who was moved up to Double-A Tulsa for the bulk of 2016, didn't repeat those numbers, he had a solid season, hitting .271 with 26 homers and 71 RBIs. Bellinger has continued to hit in Arizona, where he is in the middle of a seven-game hitting streak and is batting .311 through 13 contests.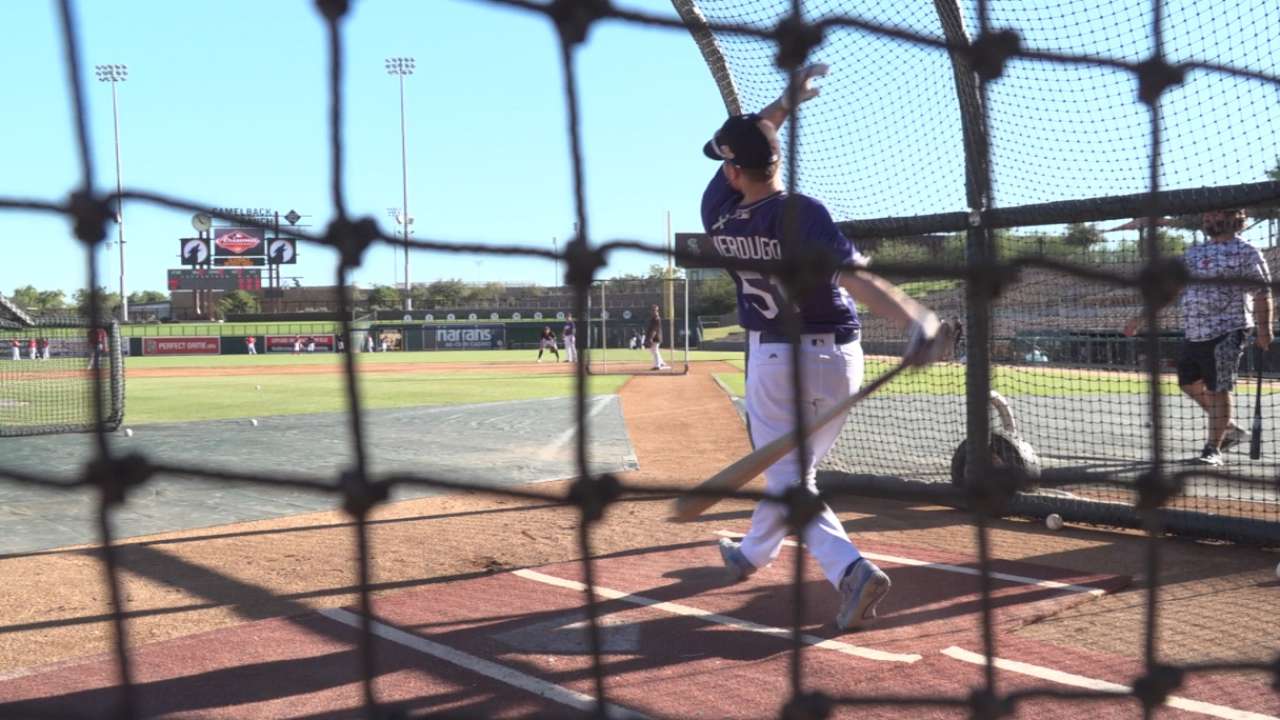 Like Bellinger, Verdugo was also moved up to Tulsa this season and hit .273 with 13 homers and 63 RBIs. However, the outfielder's 2016 season wasn't about his statistics. It was about maturing and learning what it takes to be a professional.
"I'd just say my approach at the plate and my professionalism, and that goes for everything -- just the way I carried myself on and off the field and the way I came to the field, the routine," MLB's No. 45 overall prospect said when asked what he improved upon this season.
Dodgers hitters in the Fall League
Calhoun, 2B
Tim Locastro, SS
Despite being listed at just 5-foot-8, Calhoun showed that there's plenty of power in his frame. The second baseman challenged for the Texas League home run title with 27 homers in 132 games with Tulsa. Calhoun hit .254 but profiles as someone able to hit for average, as well with a quick swing and a patient approach at the plate. Through eight AFL games, Calhoun is hitting .320 with a homer and four RBIs.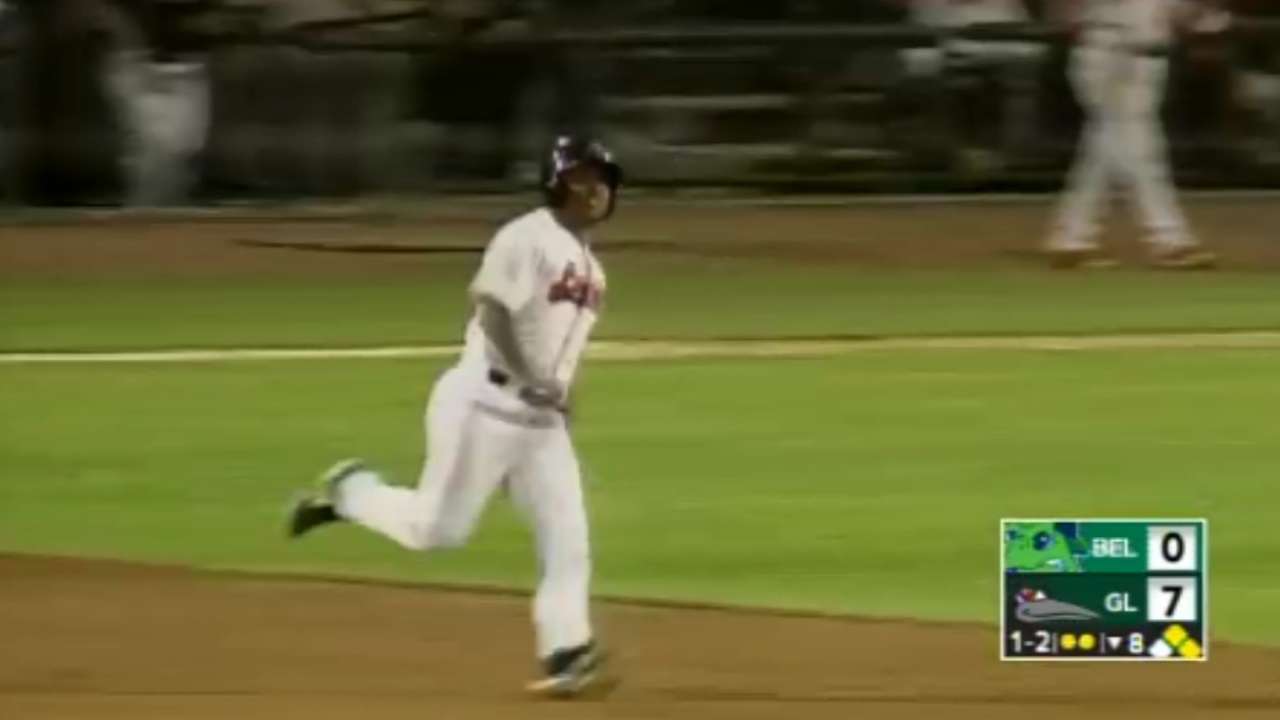 Locastro notched a career-high 52 RBIs this season in 131 games between Class A Advanced Rancho Cucamonga, and Tulsa. In 13 AFL games, he's added another six RBIs to his name. The 24-year-old spent the bulk of the season with Rancho Cucamonga and then adjusted well once he got his first taste of Double-A. Locastro hit .277 in 45 games with Tulsa and has continued to hit advanced pitching well in Arizona, where his average sits at .303.
Dodgers pitchers in the Fall League
Chris Anderson, RHP
Joe Broussard, RHP
Ralston Cash, RHP
Corey Copping, RHP
Anderson spent about three weeks on the disabled list but still appeared in a career-high 36 games this season. The 24-year-old posted a 3.25 ERA in 18 games (two starts) with Rancho Cucumonga, but he struggled a bit once he was promoted to Tulsa, where his ERA was 5.90 in 18 games (six starts).
Broussard is following up a strong season with an impressive showing in Arizona. The 25-year-old, whose fastball has good life and is typically between 91 and 95 mph, posted a 1.80 ERA in 50 games this season (mostly in Tulsa) and has held opponents scoreless in five of his six AFL outings. In fact, they've been hitless in four of those outings as well. In addition to the fastball, Broussard's next best pitch is his curveball, which he is still refining.
Cash, a 25-year-old right-hander, got his first significant taste of Triple-A in 2016. Cash appeared in one game with Triple-A Oklahoma City in 2015, but in 2016 he was bumped up in July and went 4-0 with a 2.63 ERA in 17 games.
Copping runs his fastball in the mid-90s and went 2-2 with a 4.50 ERA in 22 relief appearances in his first full professional season. The 22-year-old has been a bit up-and-down in Arizona and has a 4.91 ERA through six games.
William Boor is a reporter for MLB.com. Follow him on Twitter at @wboor. This story was not subject to the approval of Major League Baseball or its clubs.