Mariners outright Furbush, 2 others; claim righty Weber
Lefty, along with Cook and Clevenger, could opt for free agency
SEATTLE -- Relievers Charlie Furbush and Ryan Cook and catcher Steve Clevenger -- three players who finished last season on the 60-day disabled list -- cleared waivers and had their contracts outrighted to the Minor Leagues on Wednesday by the Mariners.
A fourth player, right-hander Adrian Sampson, didn't clear waivers as he was claimed by the Rangers. However, the Mariners countered that move by claiming another right-hander, 26-year-old Ryan Weber, from the Braves.
To make room for Weber on the 40-man roster, the Mariners designated catcher Steven Baron for assignment. Weber went 1-4 with a 5.15 ERA in 21 appearances, including seven starts, over the past two seasons with Atlanta, and he was 2-3 with a 2.76 ERA in 26 outings (five starts) last season for Triple-A Gwinett.
Furbush, Cook and Clevenger all have enough Major League service time that they can reject the outright assignment to the Minors and opt for free agency, but it's not known yet if they will go that route or stay with the Mariners.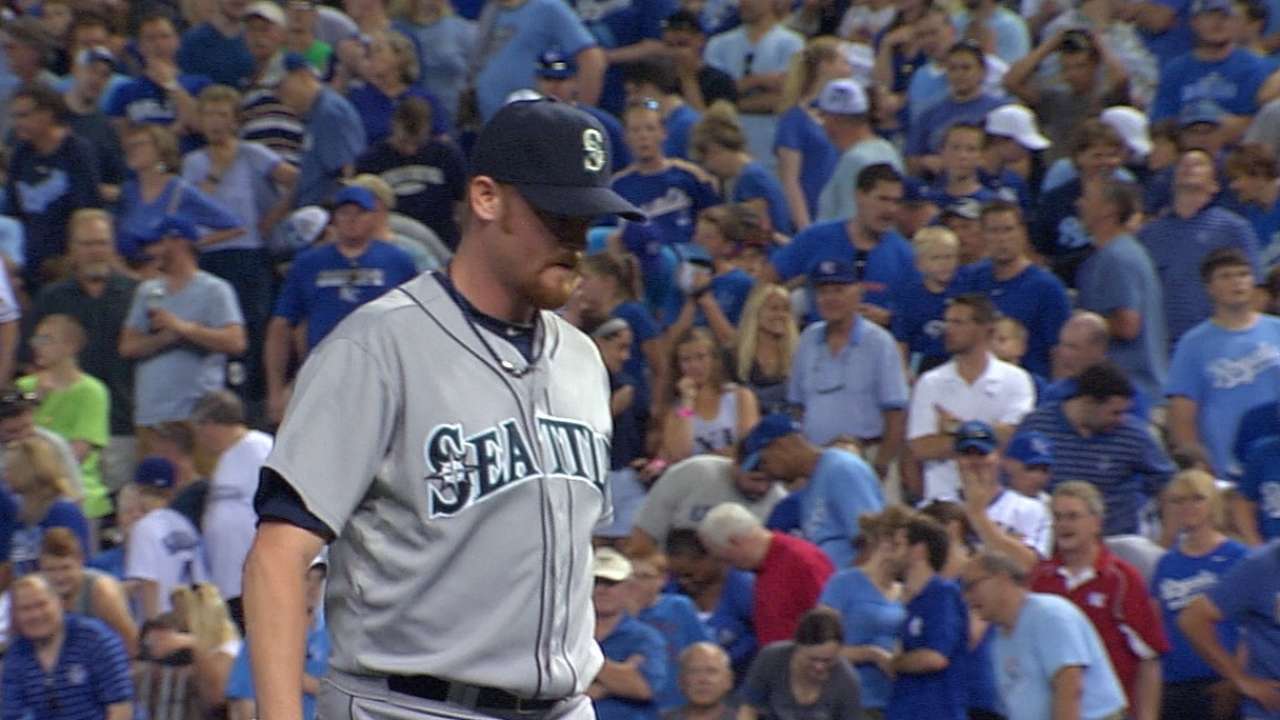 The flurry of moves came as the Mariners and other teams head into the offseason. Players currently on the 60-day disabled list must be reinstated to the 40-man roster or moved off the roster by the fifth day after the World Series concludes.
Right-hander Nathan Karns is the other Mariners player who finished the season on the 60-day disabled list after missing the final two months with a back injury. He'll presumably be returned to the 40-man roster prior to the Monday deadline, as he's expected to compete for a starting spot next spring.
Furbush, 30, was a key left-hander in the Mariners' bullpen from 2011-15, but missed all of the past season with left shoulder problems before undergoing surgery to repair his rotator cuff in August. He will need a 12-18 month recovery from that surgery and isn't expected to be ready until Spring Training of 2018.
Cook, a 2012 All-Star with the A's, also spent all of 2016 on the disabled list after signing a one-year deal with Seattle in free agency in January. The 29-year-old strained his latissimus dorsi muscle in Spring Training and pitched just one inning on a Minor League rehab effort in July before being shut down again for the rest of the year. He underwent Tommy John surgery on his right elbow on Oct. 20 and is also expected to miss the upcoming season.
Clevenger hit .221/.303/.309 with one home run and seven RBIs in 68 at-bats as Seattle's backup catcher after being acquired from the Orioles for Mark Trumbo last winter. The 30-year-old broke his right hand on a foul ball on June 29 and attempted a Minor League comeback in August before his right elbow issue flared up. He then was suspended without pay by the Mariners for the final 10 games of the season after tweeting several racially insensitive comments while rehabbing with the team.
Sampson, a 25-year-old right-hander from Sammamish, Wash., was 7-4 with a 3.25 ERA in 13 starts for Triple-A Tacoma. He made one start for the Mariners before injuring his right arm during warmups of the following game. Sampson is recovering from surgery to reattach a torn flexor bundle muscle. He was acquired from the Pirates on July 31, 2015, for lefty J.A. Happ, but now is added to the Rangers' 40-man roster.
The Mariners will have 10 days to trade, release or outright Baron to the Minor Leagues as he's moved off the 40-man roster. The 25-year-old caught four games for the Mariners in 2015, going 0-for-11 at the plate, and hit .280/.377/.358 in 66 games for Double-A Jackson last season.
Greg Johns has covered the Mariners since 1997, and for MLB.com since 2011. Follow him on Twitter @GregJohnsMLB and listen to his podcast. This story was not subject to the approval of Major League Baseball or its clubs.