Bucs could target their own in free agency
Re-signing righties Nova, Feliz might be team's most important moves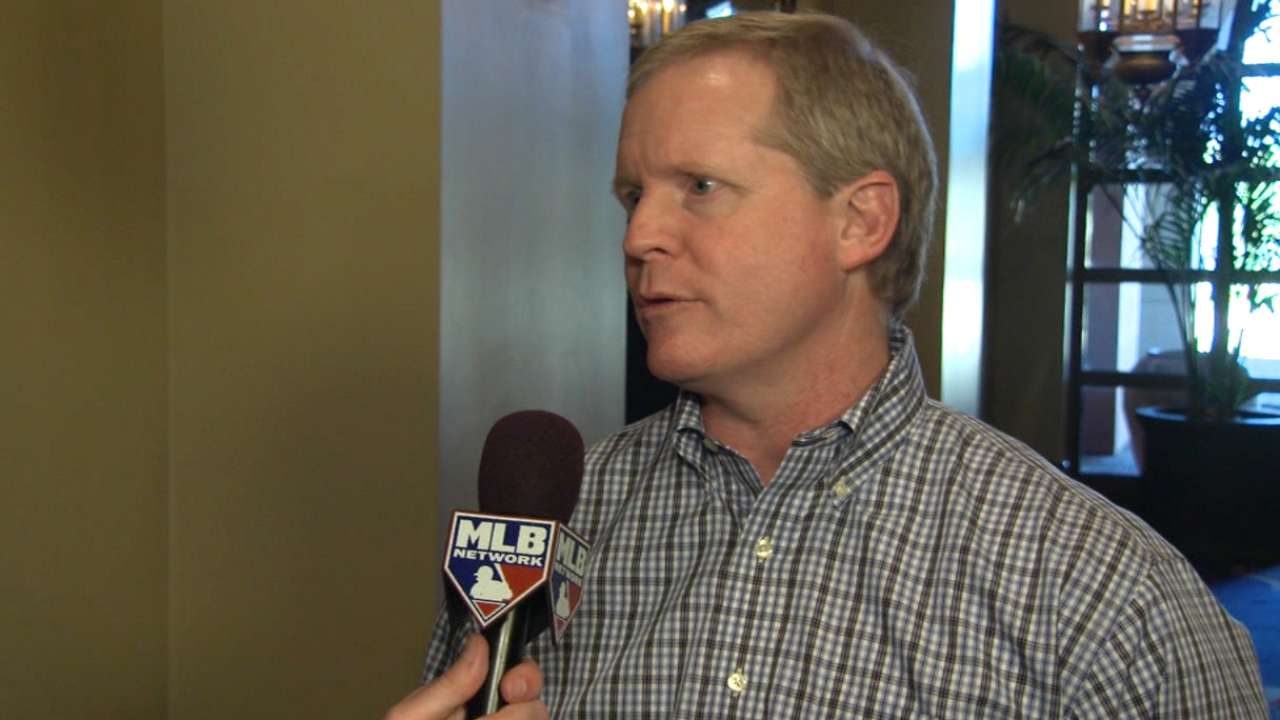 PITTSBURGH -- The Pirates made a handful of savvy free-agent signings last winter, bolstering a group that was expected to contend for a postseason spot for the fourth straight season. The Bucs fell well short of that goal, but it wasn't the fault of their offseason acquisitions.
David Freese and John Jaso were streaky but serviceable at the infield corners. Neftali Feliz proved to be a solid, albeit occasionally homer-prone, setup man. Juan Nicasio thrived once he was rightfully moved out of the rotation and into the bullpen. Matt Joyce and Sean Rodriguez turned out to be two of the Pirates' best hitters. The only one who struggled was Ryan Vogelsong, and he sandwiched a strong stretch between a rough start and a rocky finish.
The Pirates won't have as many holes to fill in free agency this season, but general manager Neal Huntington will be looking for value wherever he can find it as the Bucs try to improve in 2017.
The Pirates need a mid-rotation starter, whether it comes via free agency or trade. They could use a late-inning right-hander to complement lefties Felipe Rivero and Tony Watson. Otherwise, their 2017 roster appears to be mostly set.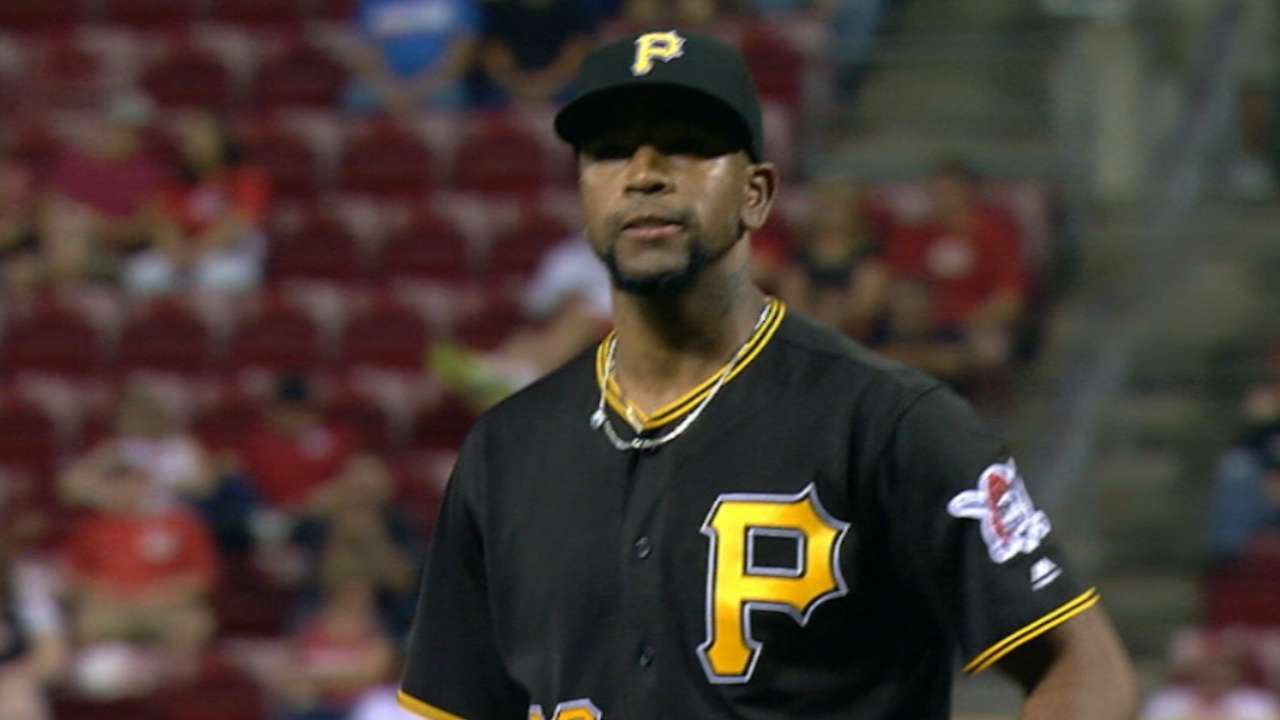 Then again, two of the Pirates' best signings -- Joyce and Freese -- came after they had reported for Spring Training. So as usual, the Hot Stove season may have a free-agent surprise or two in store.
Free agents: RHP Ivan Nova, RHP Feliz, 1B Rodriguez, RHP Vogelsong, OF Joyce
Arbitration-eligible: LHP Watson, RHP Nicasio, RHP Jared Hughes, SS Jordy Mercer, LHP Jeff Locke, RHP Drew Hutchison, LHP Wade LeBlanc, RHP Gerrit Cole
Biggest potential free-agent loss: It seems like the Pirates are prepared to part ways with Rodriguez, Joyce and Vogelsong. That makes Nova their biggest potential loss, simply because of the success he had and the hole he leaves in their rotation.
Nova, a non-waiver Trade Deadline acquisition, went 5-2 with a 3.06 ERA in 11 starts for Pittsburgh. The Pirates saw this situation play out a year ago with lefty J.A. Happ, who quickly signed with Toronto, and struggled to find a suitable replacement. It was impossible to avoid comparisons between Happ and Nova during the season. Will the same be true this offseason?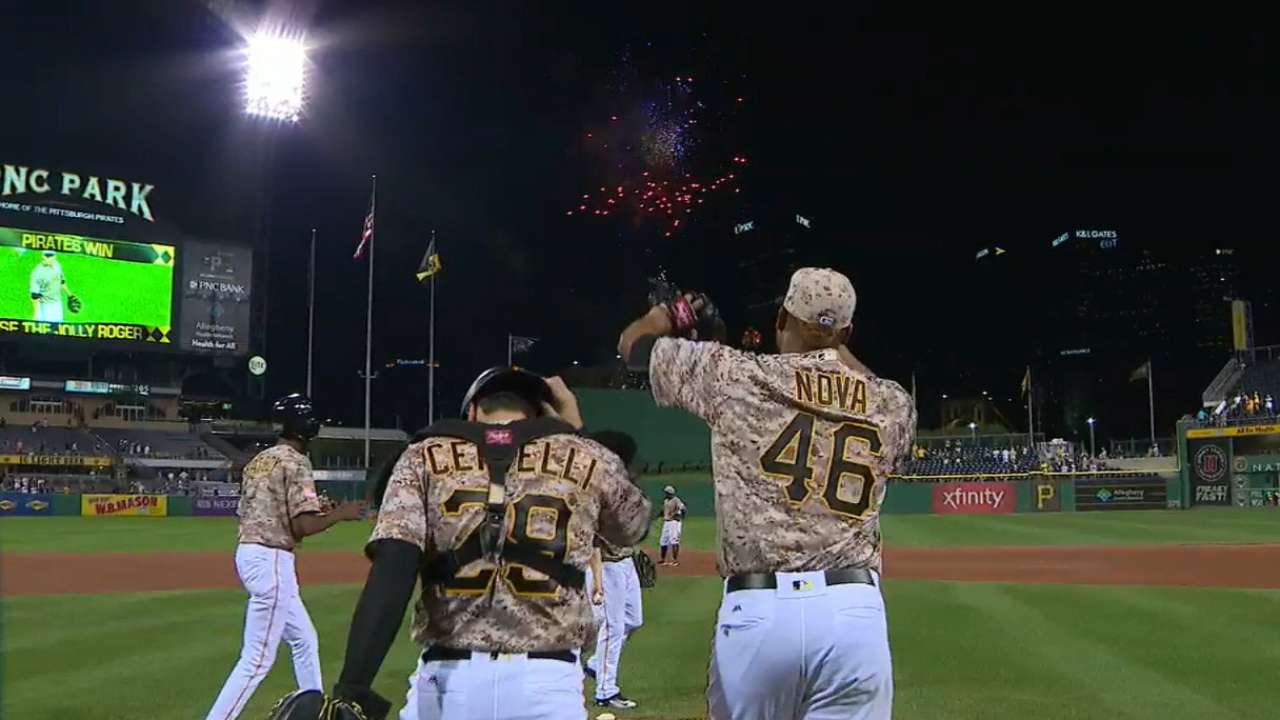 Potential free-agent targets: This might not be any more complicated than bringing back Nova and Feliz. They have negotiated with Nova, and there's mutual interest in an extension. That would come as a relief for the Bucs given the weak class of free-agent starters, which could force them to fill out their rotation through trades if Nova finds a better deal elsewhere.
If they can't retain Feliz, there are plenty of experienced right-handers on the market below the top tier of closers Kenley Jansen and Mark Melancon, including a few -- Sergio Romo, Drew Storen, Shawn Tolleson -- with closing experience. There are also several familiar faces who might make sense, particularly Bryan Morris and Joe Blanton.
Wild card scenario: If the Pirates are able to acquire a younger, cheaper starting pitcher to fill that void, perhaps they could reinvest their savings into their bench with a player like Rodriguez, a true fourth outfielder, another veteran reliever or a reclamation-project starter to add depth. Last winter, they opted to diversify their spending, upgrading incrementally at several spots rather than paying out for one big addition.
Adam Berry has covered the Pirates for MLB.com since 2015. Follow him on Twitter and Facebook, read his blog and listen to his podcast. This story was not subject to the approval of Major League Baseball or its clubs.