MLB.com Columnist
Mike Petriello
Crazy idea for Maddon: Start Lester in Game 7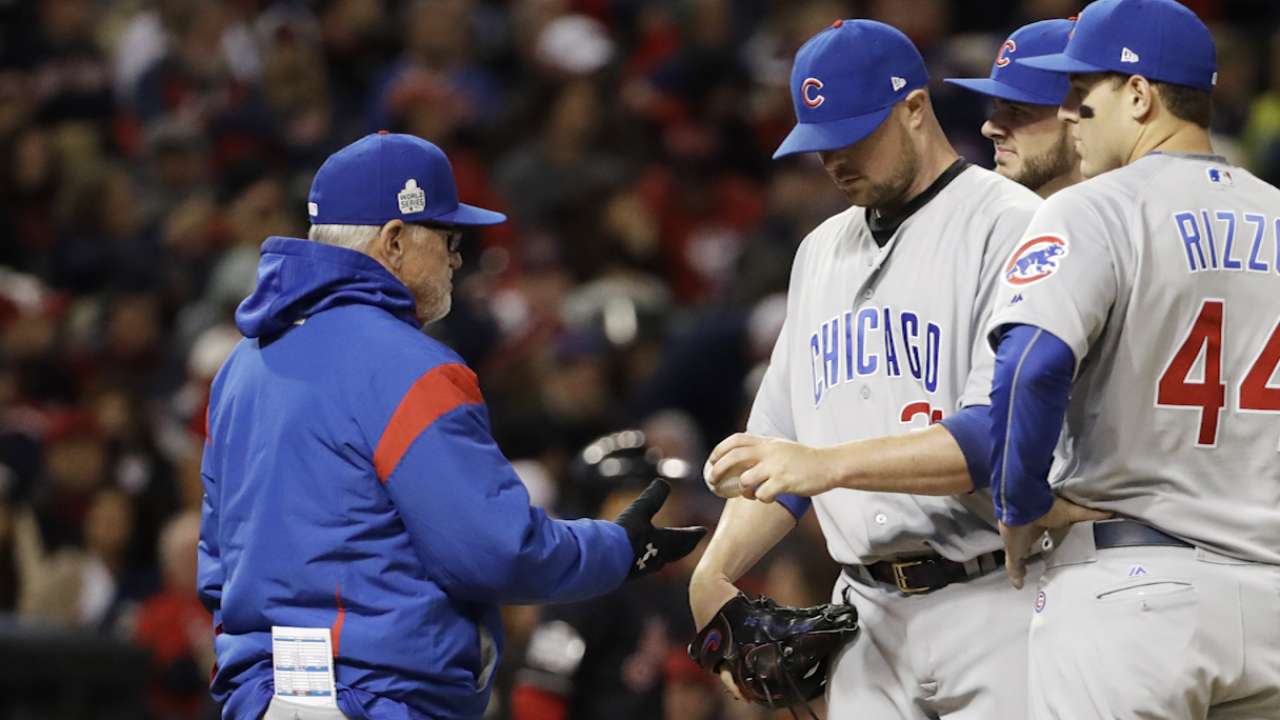 "Jon Lester will be available [in Game 7]," manager Joe Maddon said following the Cubs' 9-3 win over the Indians in Game 6 on Tuesday that sent the World Series to a seventh and final game tonight at Progressive Field. Presumably, that means in relief of starter Kyle Hendricks, as Lester threw 90 pitches in Game 5 on Sunday, and because Maddon has made it crystal clear that he no longer trusts most of his usual quality relievers like Pedro Strop and Hector Rondon.
So if it's close, we'll probably see Lester tonight in the middle or late innings. But what if Maddon flipped the script and just started Lester over Hendricks? It's an outside-the-box move that actually makes a tremendous amount of sense, and it's the perfect way for one of baseball's most famously inventive managers to finish off what's been been a redefining postseason for pitcher usage.
Think about it this way -- in Game 7, there are no "starters" and "relievers." There's simply pitchers and how to best deploy them to get 27 outs. If there's an argument that Hendricks would be less comfortable out of the bullpen, well, that argument shouldn't apply any less to Lester. So let's do this lighting-round style, because there's three good reasons why Maddon ought to consider this.
Because it'll help the Cubs' offense
The thing about Lester, as everyone knows, is that David Ross is the lefty's personal catcher. Lester threw 202 2/3 innings in the regular season this year, and Ross caught 199 2/3 of them, which is just above 99 percent. Last year, Ross caught 184 of Lester's 205 innings, or about 90 percent. Lester has thrown just three innings to Willson Contreras, and while it's an extremely small sample, he allowed five earned runs, including two homers.
• Shop for World Series gear: Cubs | Indians
The problem with that from Chicago's point of view is that Contreras is a far better hitter than Ross. Contreras hit .282/.357/.488 (126 wRC+) as a rookie and is projected by Steamer to be about a league-average hitter. Ross has been a below-average hitter for most of his career and his projections put him as a 71 wRC+ hitter right now, where 100 is league average. (Neither has done much in the postseason so far.)
So what you really want to do is to limit Ross' plate appearances as much as possible, preferably to zero. If you bring in Ross in the middle of the game along with Lester, then you've removed Contreras from the equation, and you potentially find yourself having to let Ross bat in a big spot late. On the other hand, if you start Lester and Ross, and you bat Ross ninth, then you can potentially get your two innings out of Lester right away and pinch-hit Contreras for Ross when the ninth spot comes up for the first time, which is a bit of a "have your cake and eat it too" situation. You can get Ross' help with Lester and never once have to let him bat.
Because it'll mess up Cleveland's platoons, and maybe hurts its defense
The Indians don't platoon much in the infield, but they do in the outfield. Against righty Jake Arrieta in Games 2 and 6, they went from left-to-right with Coco Crisp, Tyler Naquin and Lonnie Chisenhall. When they face lefties in an American League park, as they did against J.A. Happ in Game 2 of the AL Championship Series, that turns into Brandon Guyer, Rajai Davis and Chisenhall.
If Lester started, he'd likely only get through the lineup one time, and that would cause some problems for manager Terry Francona. (We're assuming that he knows this is happening beforehand, and not that Maddon is pulling the heel turn to end all heel turns by saying Hendricks is starting and then sending out Lester anyway.) Do you punt the first time through the lineup by putting out the Crisp/Naquin combination in left and center, preparing for Hendricks even though Naquin can't hit lefties, taking only 10 percent of his plate appearances this year against them? Or do you start Guyer and his massive platoon splits (144 career wRC+ vs. lefties, 84 wRC+ vs righties) for one plate appearance against lefties before replacing him?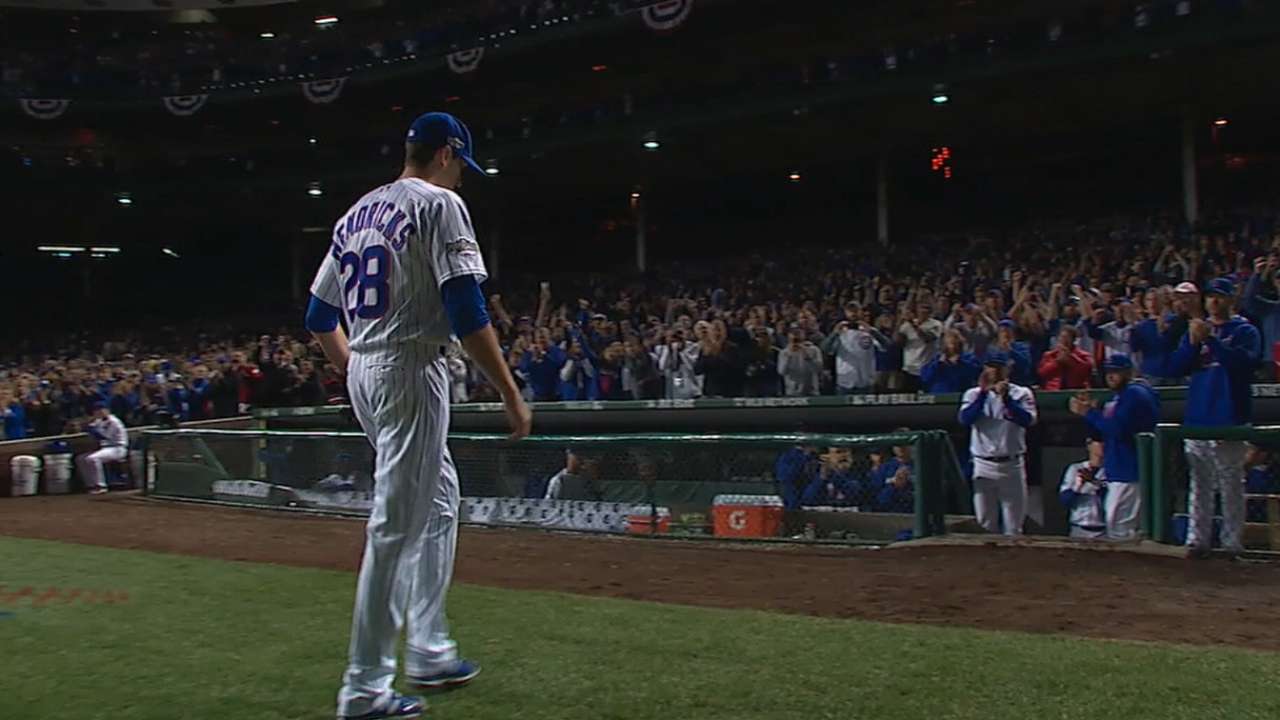 There's not a right answer there. Francona would either need to put out a suboptimal lineup for the first time through, or he'd need to weaken his bench by pinch-hitting very early. If he did that, he'd have already exhausted his best platoon options for late in the game when the Cubs start bringing in relievers. It causes matchup issues beyond belief.
Plus, if Francona did decide to wait to bring in Naquin until the righty Hendricks was in, now you have Naquin playing center in the late innings… and as if the minus-17 Defensive Runs Saved (worst among AL center fielders) wasn't scary enough, the defensive adventures Naquin had in Game 6 don't inspire confidence.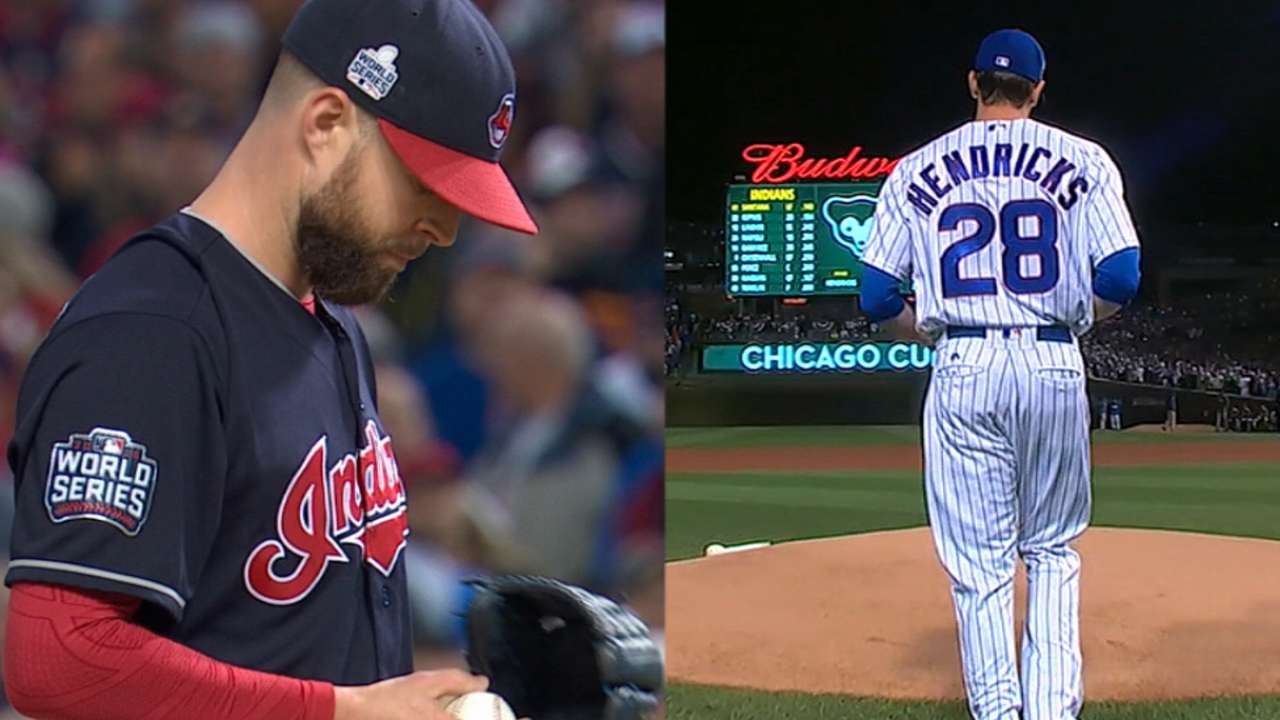 Because it may help take some pressure off of Lester's pickoff issues
The real reason Ross catches Lester, as is well-known, is because Ross is so good behind the plate that it helps Lester get by with his total inability to hold runners on. For example, Ross has thrown out Francisco Lindor twice in this series. When he did it in Game 5, Statcast™ measured Lindor as having a lead six feet above average when Lester moved to the plate, but Ross still nailed him in part because he got the ball out of his hands in a truly elite 0.59 seconds.
Obviously, that's a weakness. Obviously, there's never a good time for that. But if you're going to have that happen, you'd much rather have it in the first inning than in the middle or late innings. If it happens early in the game, well, the Cubs can still come back. If Lester throws the ball away late or can't prevent stolen bases, it might be catastrophic, especially in a game that seems likely to be a tight affair.
There's reasons not to do this, of course. It's weird; it's almost too weird. Chicago loves what Ross brings behind the plate. You'd hope it's not because it's Ross' last game and there's sentimentality involved in him being on the field for a potential win. You'd imagine he'd much rather rush onto the field from the dugout to celebrate a title than watch Cleveland take it while he's on the field. But either way, Maddon is hoping to get around seven innings from Hendricks and Lester. The order shouldn't really matter, except where it does. There's plenty of reasons to start Lester, get your two, and get out the door.
Mike Petriello is an analyst for MLB.com and the host of the Statcast podcast. This story was not subject to the approval of Major League Baseball or its clubs.