Statcast reviews the Royals' 2016 leaders
Morales paced club in maximum, average exit velocities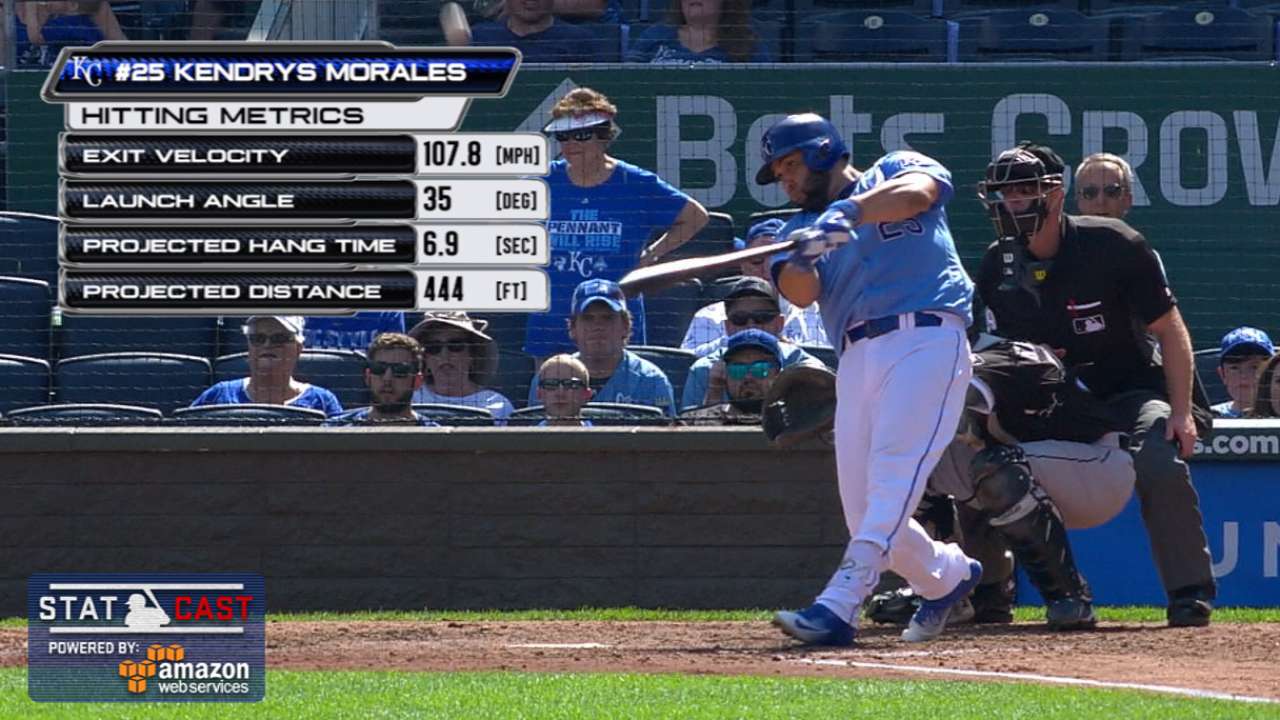 KANSAS CITY -- As we look back at the 2016 Royals, Statcast™ provided some exciting insight into statistics, including which Royal hit the ball hardest during the season and which Royals pitcher gave up the hardest hits.
Some of what was learned isn't all that surprising. Designated hitter Kendrys Morales, on average, produced the hardest-hit balls for the Royals. Morales led the team with 30 homers and batted .297 with a .895 OPS after May 30.
Starter Yordano Ventura, on average, was hit the hardest of the Royals' starters. Ventura posted career highs in ERA (4.45), WHIP (1.44) and batting average against (.263).
But did you know that beleaguered Royals reliever Joakim Soria actually ranked near the top of the staff in giving up the fewest hard-hit balls on average?
Here's a quick look at some of Statcast™'s interesting findings:
Top maximum exit velocity by a Royals hitter
Morales -- 115.6 mph
Top average exit velocity
Morales -- 93.9 mph (12th highest in MLB)
Eric Hosmer -- 93.4 mph
Alcides Escobar -- 84.0 mph (24th worst in MLB, minimum 30 batted balls)
Top average exit velocity off fastball
Morales -- 96.4 mph
Maximum distance
Morales -- 459 feet
Average distance on batted balls
Morales -- 237 feet
Batted balls barreled
Morales -- 46 (20th most in MLB)
Hosmer -- 40
Alex Gordon -- 24
Salvador Perez -- 23
Average exit velocity off pitcher
Chien-Ming Wang -- 91.6 mph (44th highest in MLB)
Chris Young -- 90.7 mph
Ventura -- 90.5 mph
Kris Medlen -- 90.4 mph
Danny Duffy -- 90.2 mph
Brian Flynn -- 90.1 mph
Ian Kennedy -- 89.9 mph
Edinson Volquez -- 89.6 mph
Kelvin Herrera -- 89.1 mph
Peter Moylan -- 88.7 mph
Soria -- 88.1 mph
Dillon Gee -- 87.5 mph
Wade Davis -- 86.5 mph
Matt Strahm -- 86.1 mph
Batted balls barreled off pitcher
Ventura -- 43 (second most in MLB to Hector Santiago's 49)
Kennedy -- 40 (seventh in MLB)
Volquez -- 39 (12th in MLB)
Duffy -- 37 (17th in MLB)
Davis -- 2
Strahm -- 1
Jeffrey Flanagan has covered the Royals since 1991, and for MLB.com since 2015. Follow him on Twitter @FlannyMLB. This story was not subject to the approval of Major League Baseball or its clubs.