Mattingly hoping Marlins draw more walks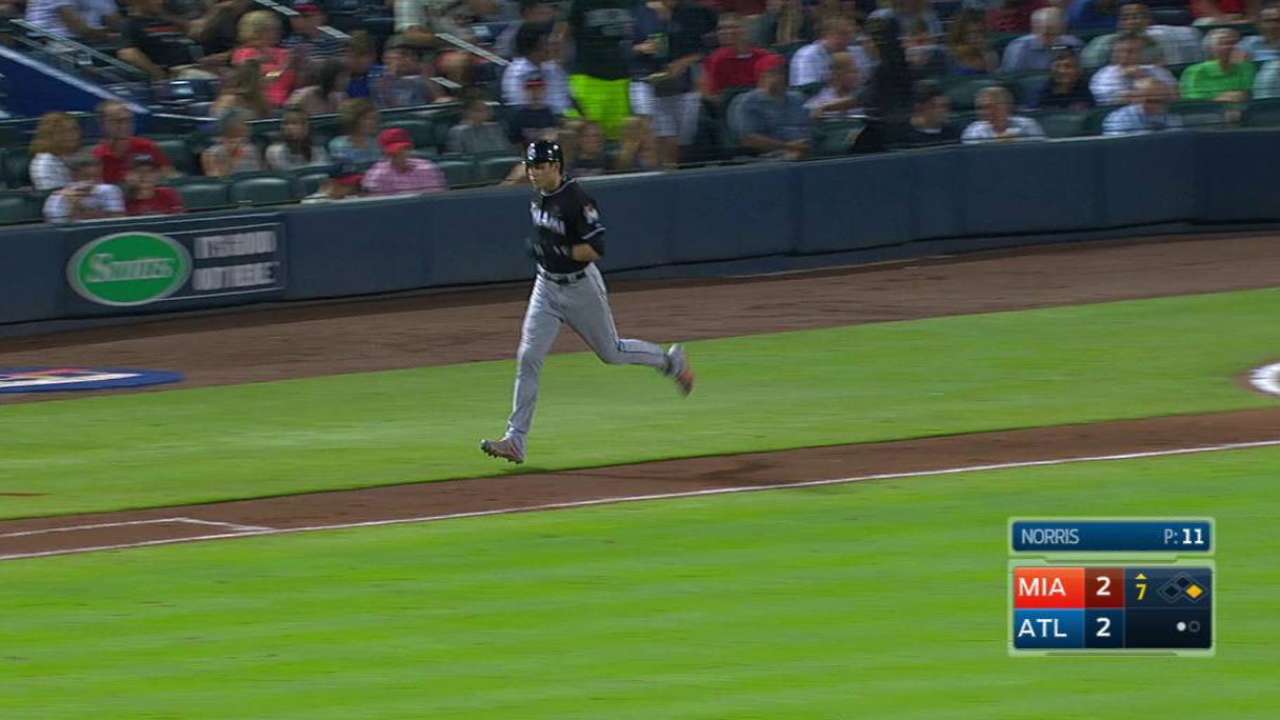 MIAMI -- The Marlins have their share of dynamic players. Christian Yelich and J.T. Realmuto are a couple of rising stars, and Giancarlo Stanton is among the most feared sluggers in the game.
In 2016, a number of Miami's young, talented players made strides at the plate. But to become a more prolific offense, the club collectively would like to figure out how to draw more walks.
The highs and lows of the offense are partly reflected in the discrepancy in hits and walks.
The Marlins were fourth in the Majors and second in the National League in team batting average (.263), but they ranked 26th in walks (447). They were fifth in hits (1,460), but 27th in walk percentage (7.3).
When it came to the bottom line -- scoring runs -- they were 27th in the Majors (655).
"For me, it's approach," manager Don Mattingly said late in the season. "It comes with that understanding of what the pitcher does and knowing what you want to do and being selective in your game plan. If you're just going to go up there swinging, you're not going to walk. And if you don't swing at strikes, you're not going to walk."
Two of the most patient teams in the Majors happened to reach the World Series. The Cubs topped all MLB clubs with 656 walks, while the Indians ranked ninth with 531.
The two World Series teams, the Cubs and Indians, also were among the MLB leaders in walks.
Chicago paced the Majors with 656 and Cleveland was ninth (531). In terms of runs, the Cubs were third overall (808) and the Indians finished fifth (777).
"Walking means you're probably being selective," Mattingly said. "Means you're not chasing as much."
The Miami manager noted if you're a player with a reputation for being overly aggressive on favorable hitter counts, like 3-1 or 2-0, you're probably not going to walk much.
"Until guys grow out of that, it's hard to make advancements," Mattingly said. "Until we can gain that approach, honestly, we won't gain that advancement. It's not just going to happen, morph into, and happen because you're a year older. It's an effort on your part, to get yourself strikes, and to be a better hitter and a better player."
Yelich paced the Marlins in walks with 72, and Stanton was second with 50. Martin Prado (49), Marcell Ozuna (43) and Justin Bour (38) rounded out the top five for Miami.
The Marlins are in an interesting spot because their leadoff batter, Dee Gordon, doesn't draw many walks. The speedster isn't a power threat, and pitchers tend to attack him and take their chances by letting him put the ball in play, rather than risk walking him.
Gordon, who served an 80-game suspension, drew 18 walks in 79 games.
The Marlins understand the tradeoff with Gordon. But, collectively, they can make improvements in their approach.
"Trust me, the other teams are studying too," Mattingly said. "So if you're a guy they know will swing, they don't have to throw you strikes, and you still won't walk. It's not a good combination."
Joe Frisaro has covered the Marlins for MLB.com since 2002. He writes a blog, called The Fish Pond. Follow him on Twitter @JoeFrisaro and listen to his podcast. This story was not subject to the approval of Major League Baseball or its clubs.