Before Game 7: IRL in Cleveland
They play 162 regular-season games, a best-of-5 Division Series, a best-of-7 League Championship Series and now this: World Series, winner take all. Let's play 7!
With both fanbases bursting at the seams in anticipation of the celebration of the century, we're on the scene as Cleveland gears up for Game 7 tonight (7 p.m. ET air time/8 ET game time on FOX).
• World Series gear: Cubs | Indians
07:00 p.m. ET: Home-field advantage?
This is what neutral field might feel like in Major League Baseball. It's close to 50/50 throughout the concourse, 60/40 Indians at most.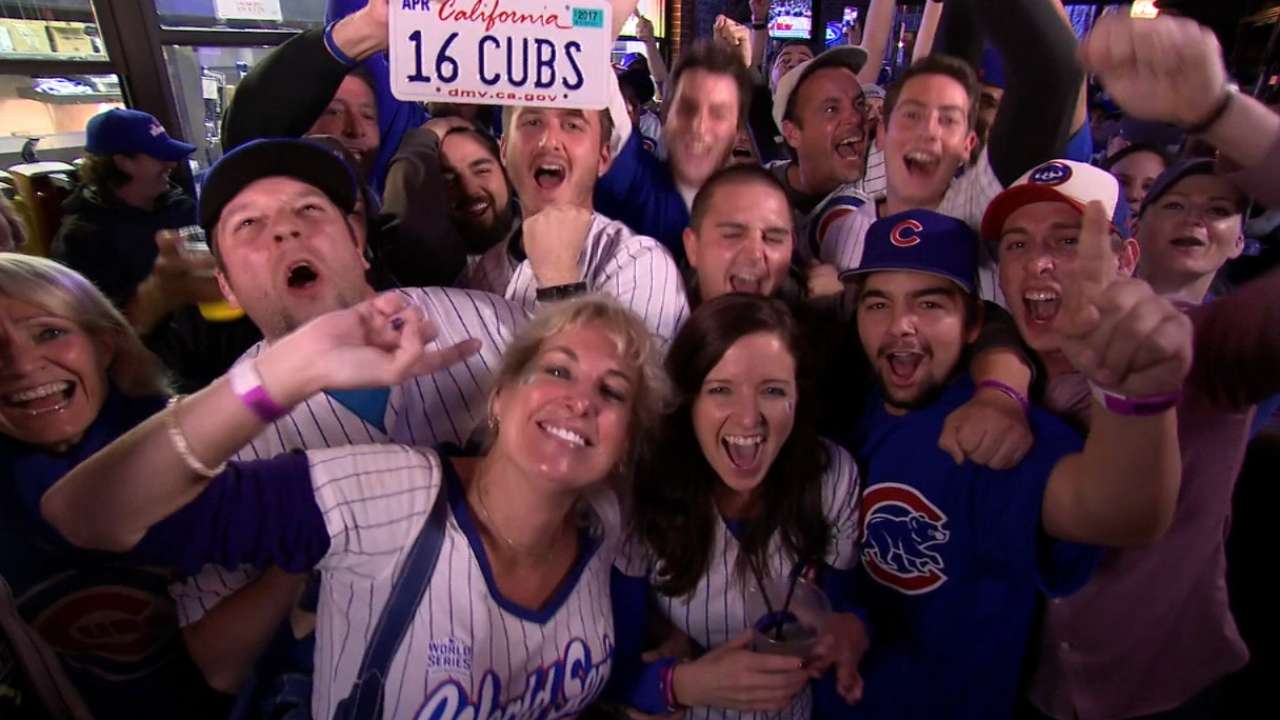 06:10 p.m. ET: Meanwhile, in Chicago …
Cubs fans are out and about on Clark Street hoping to watch their team secure its first World Series title since 1908.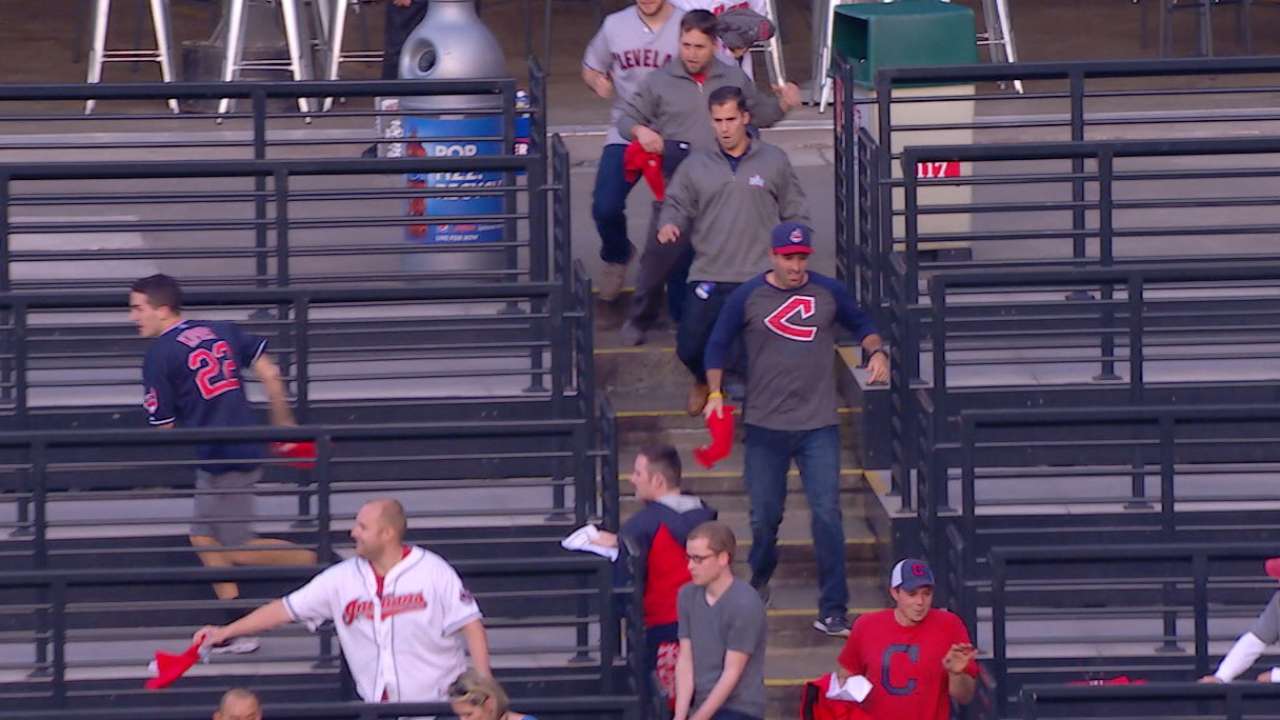 05:28 p.m. ET: Hometown hope
Steven Amiott (at left) has November history on his Android phone: "SRO3, Row GA4, Seat 5." That is the standing-room only entry into baseball paradise tonight. He will enter the gates along with (left to right) Sydney Russell, Ed Amiott and Rich Russell, a quartet of indefatigable Indians fans from Painesville, Ohio.
"I think it won't hit me until the first pitch to know that it's a surreal moment, it's Game 7, this is the end, winner-to-take all," Steven said as they waited outside the gates in the Left Field District at Progressive Field. "This is it. To be able to witness it live is awesome."
"You can smell it in the air," Ed Amiott added.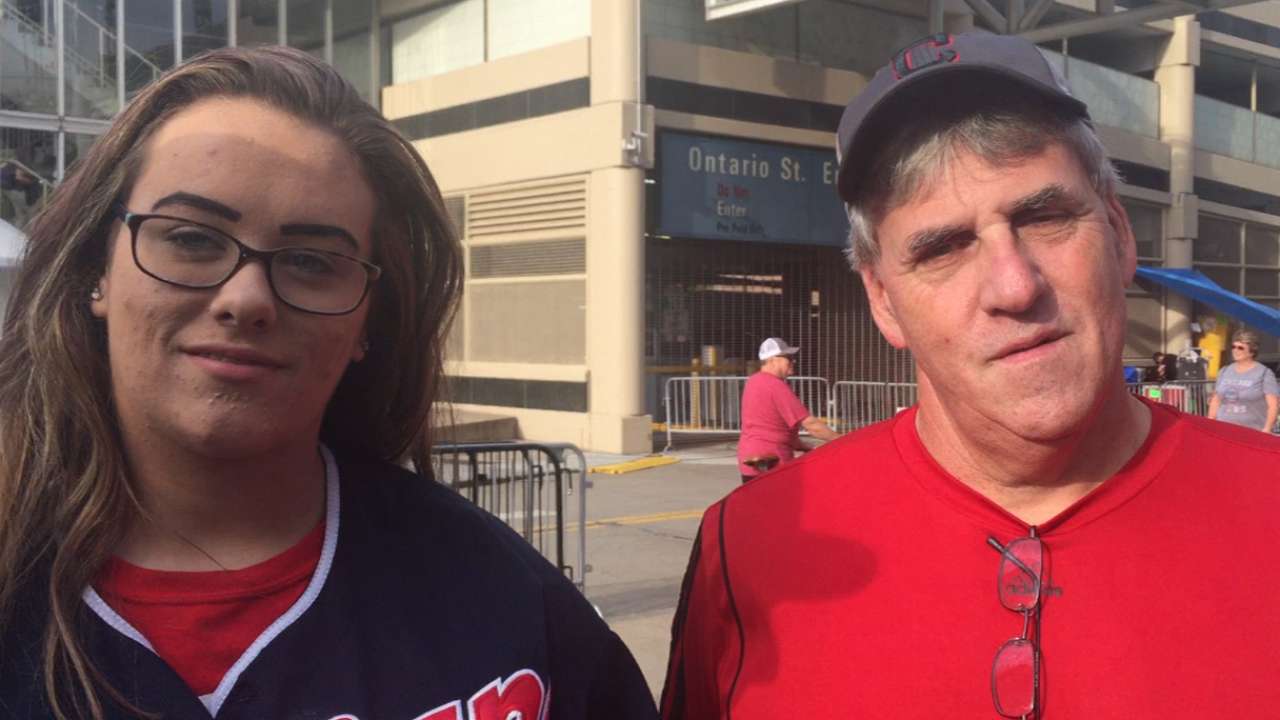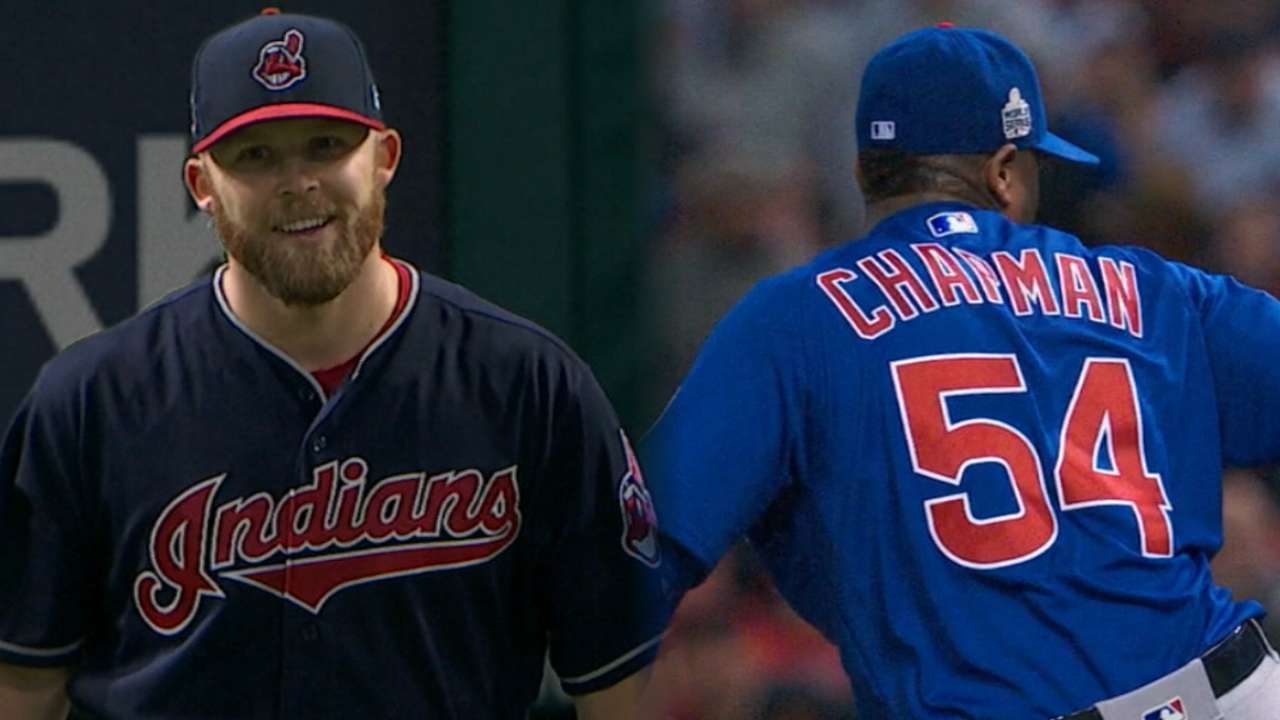 05:14 p.m. ET: Ann, Iowa one
Dane Harris has a kind message for his fiancee, Ann, back home in Cedar Rapids, Iowa:

"Ann, I love you and I'm sorry."

Harris (pictured at right) drove through the night with his friends (from left to right) Brian Hughes, Andrew Richards and Nick Allendorf. Game 6 ended at about 11:30 p.m. ET, and "it was a snap decision" to come here. They haven't slept. They will be on the Home Run Bridge out in left field, waiting for the precious final out. It was not an inexpensive ticket.

When asked what a ticket to this historic Game 7 means, Harris smiled and said, "My fiancee's not talking to me, that's how much it's worth." A Cubs victory might help ensure a happy marriage.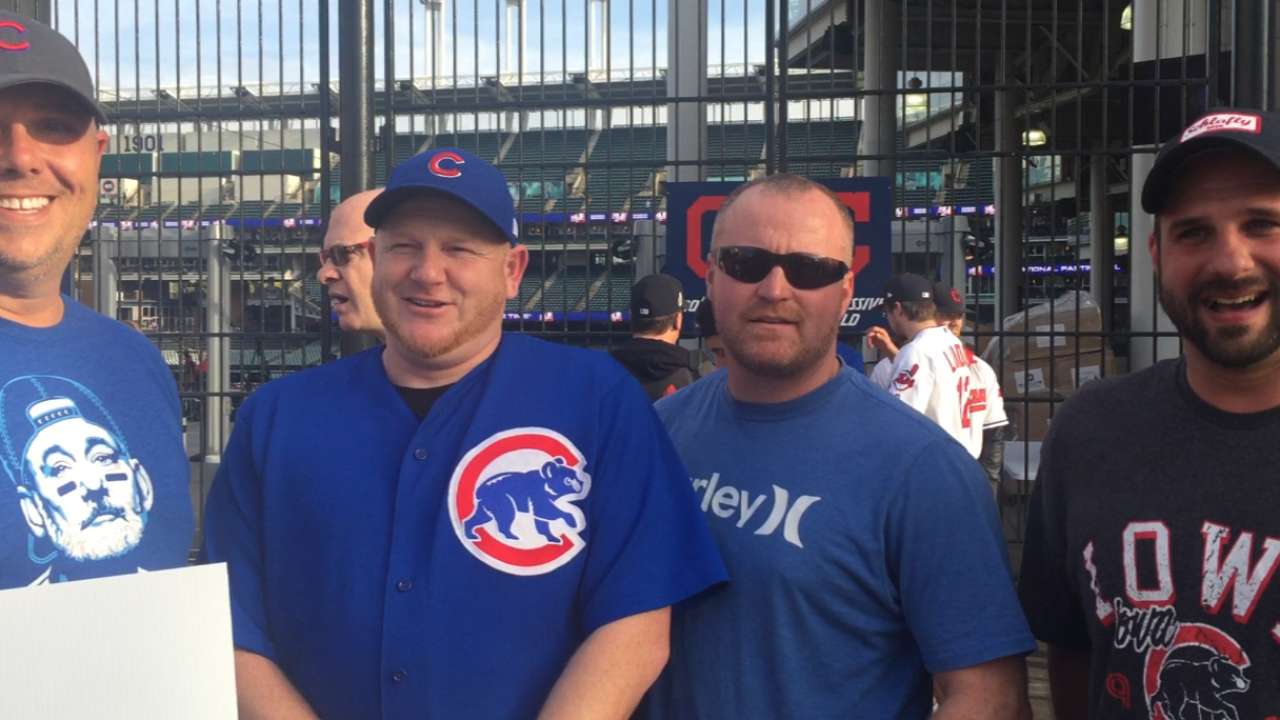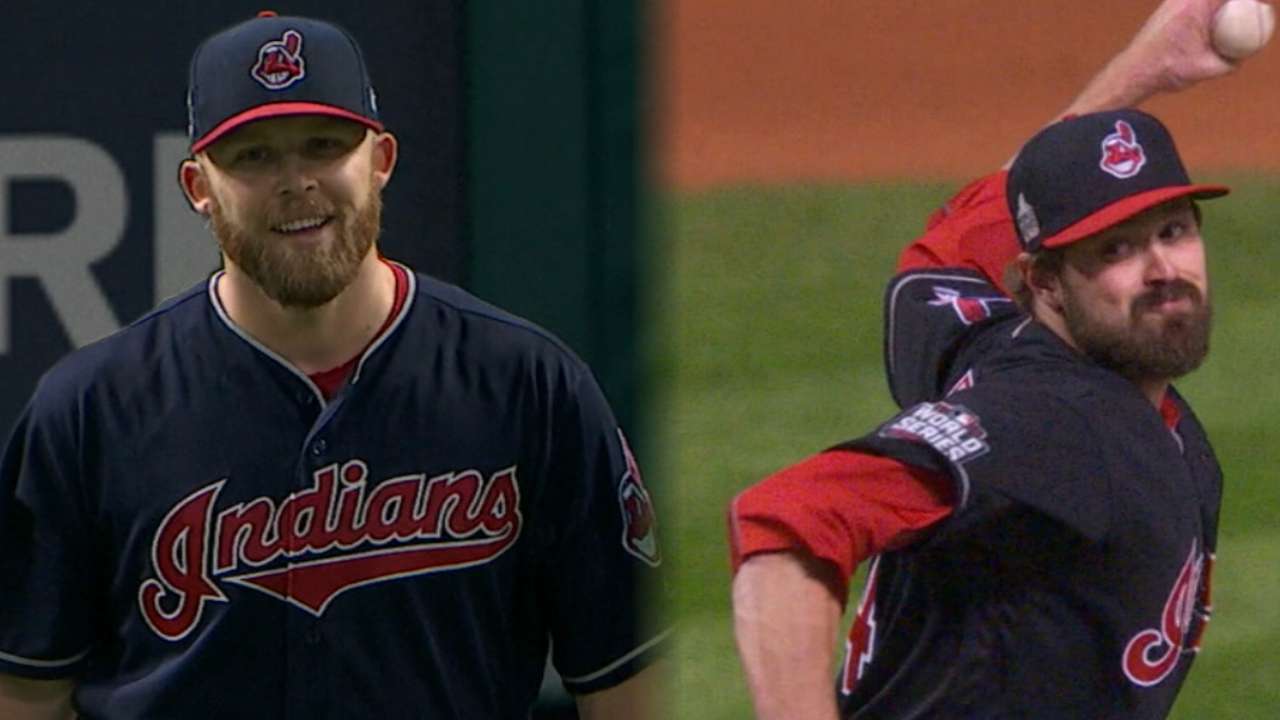 05:07 p.m. ET: Eyes on the prize
One thing's for certain: One team will hoist baseball's ultimate prize, the Commissioner's Trophy, before tonight's over.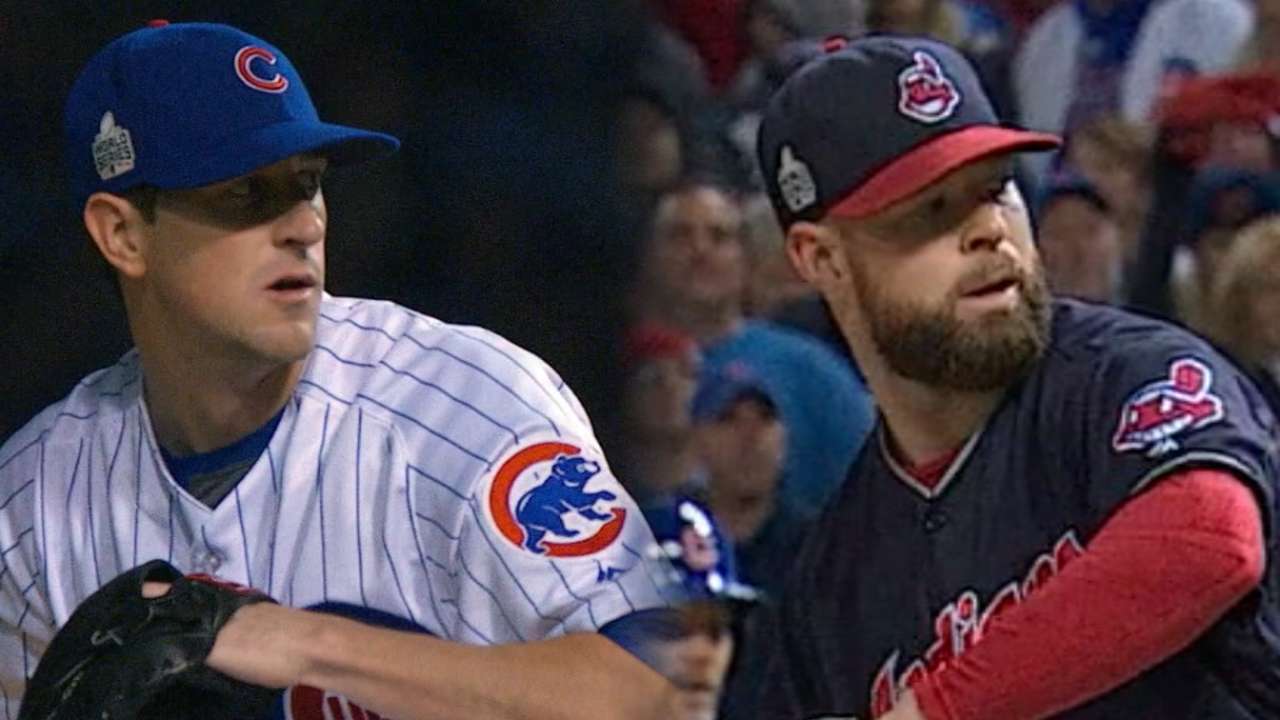 04:15 p.m. ET: Stage freeze
It's Cleveland against the World, and we're all getting chills. Pretty cool, huh? Everyone's wondering which winning team will have ice water in its veins in less than less than 4 hours. First pitch: 8 ET on FOX.
04:06 p.m. ET: The other coach is a couch
Think of this chair as a third-base coach, and it waves pretty much anybody with proper credentials toward the plate. Not many people on base at this moment.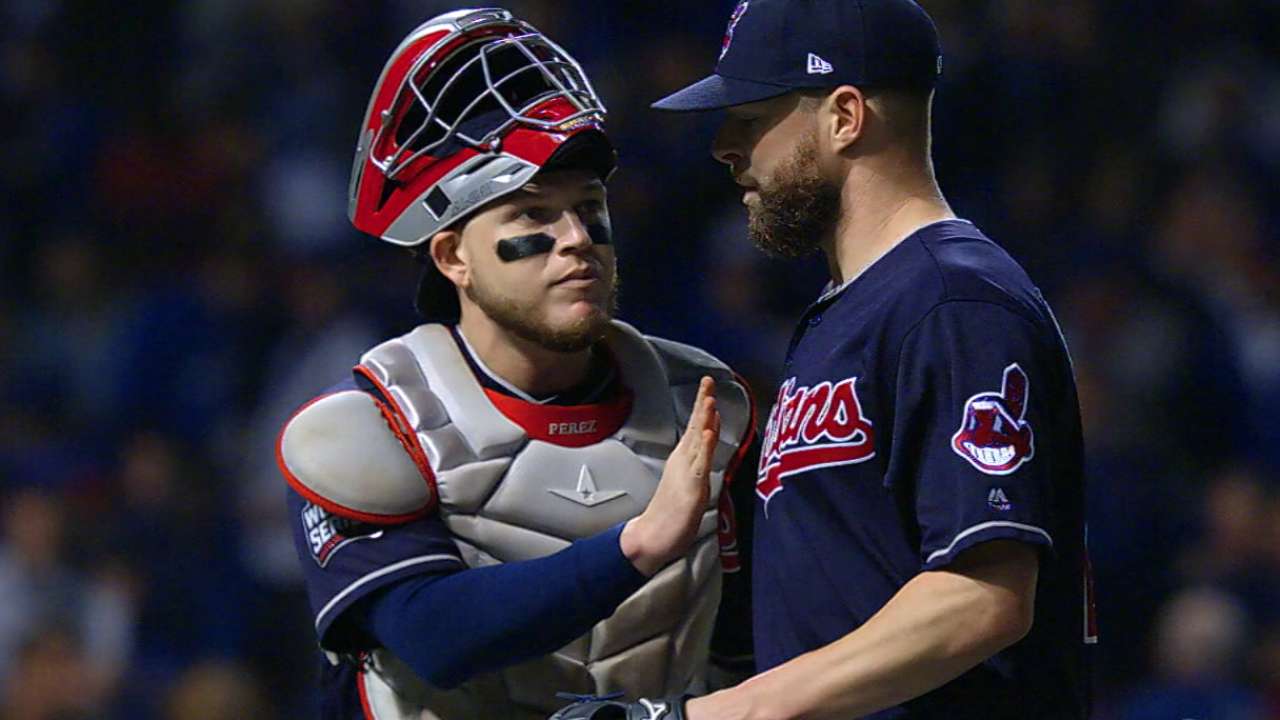 04:04 p.m. ET: A-door-able
One can only imagine the scene inside this dressing room: the pre-game routine, stretching exercises, the film study. Game 7 legends take many shapes and sizes. Best of luck, Slider.
04:02 p.m. ET: Hat trick
A fan displays her impressive oversized Cubs and Indians hats in the plaza outside Progressive Field.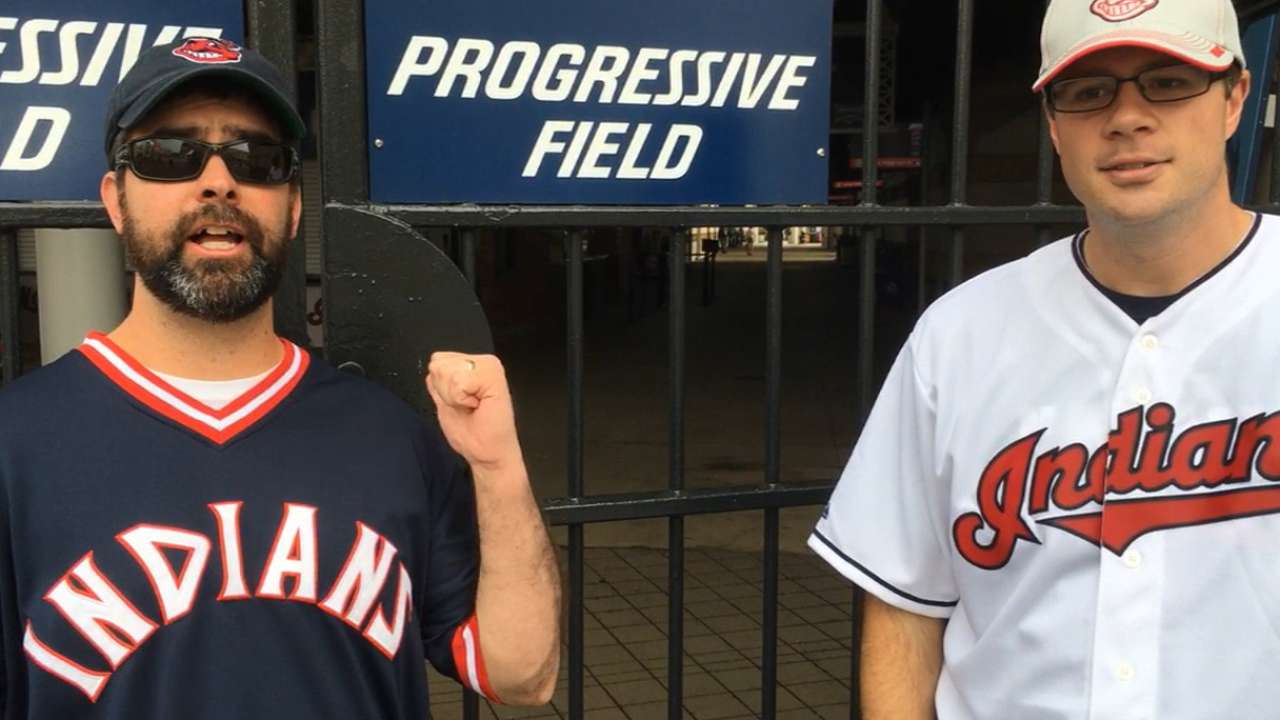 03:59 pm. ET: Hostile territory
Will the home or away crowd leave happy tonight? Cubs fans line up outside Progressive Field before Game 7.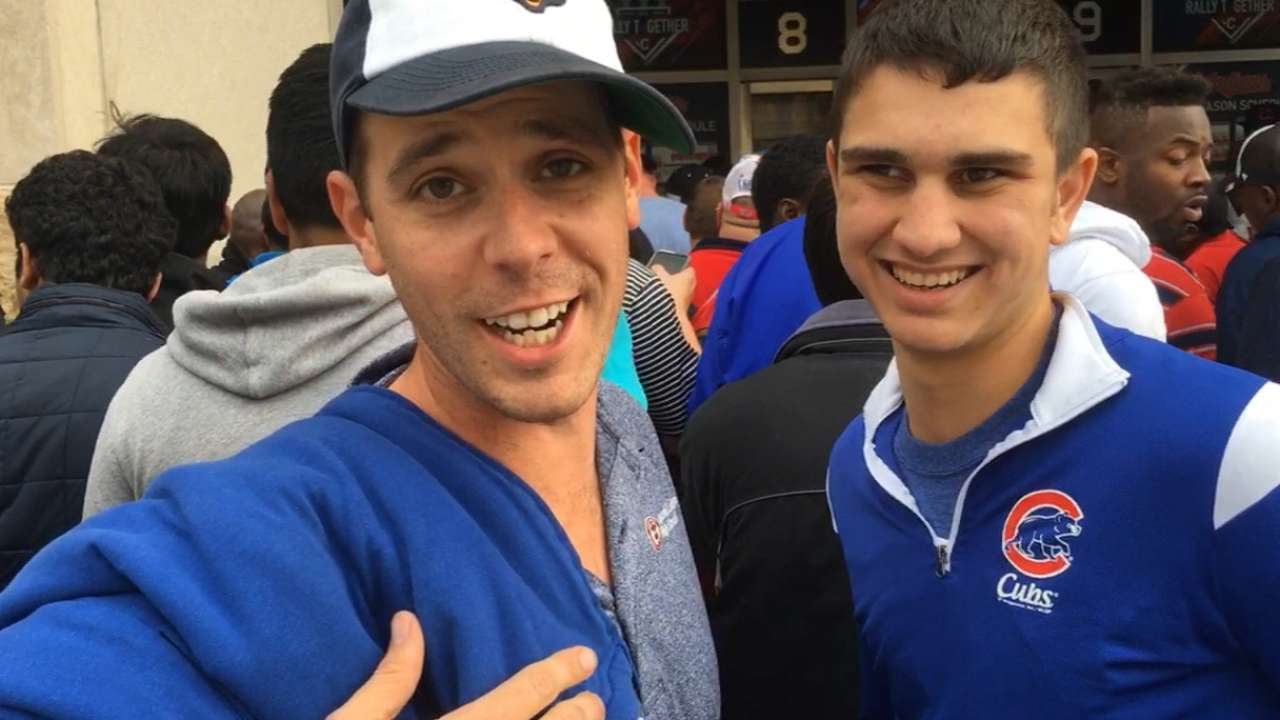 03:56 p.m. ET: Seventh heaven
Party of 7? Your table is set. First pitch: 8 sharp.
03:52 p.m. ET: Lucky number
Reminders of the importance of tonight's winner-take-all Game 7 abound at Progressive Field.
03:43 p.m. ET: Start at the finish
Game 6 winner Jake Arrieta, Game 5 winner Jon Lester and Game 4 starter John Lackey enter the Cubs' locker room before Game 7.
03:41 p.m. ET: The Kris hello
Cubs third baseman Kris Bryant enters the visitors clubhouse at Progressive Field.
03:35 p.m. ET: World view
Progressive Field, ready and waiting for what promises to be a legendary Game 7 tonight.
03:31 p.m. ET: Rally together
A group of fans show their Cleveland pride with homemade signs in the plaza outside Progressive Field before Game 7.
03:03 p.m. ET: Drawing conclusions
Five hours before game time, a young Indians fan makes signs outside the left-field gate. One hanging up reads: "I don't always skip school, but when I do 'I' beat the Cubs."
Found some guys in the hotel ready to #FlyTheW. pic.twitter.com/Pl3U4MAe8m

— Chicago Cubs (@Cubs) November 2, 2016
Jim Thome to throw out first pitch prior to #Game7, game ball to be delivered by Travis Hafner. #WorldSeries pic.twitter.com/C3j7CIoUYJ

— MLB (@MLB) November 2, 2016
10:00 a.m. ET: We've got the Golden Tickets
Eat your heart out, Willy Wonka. Indians and Cubs fans would gladly trade a lifetime supply of chocolate for the chance to see their favorite team win it all.