Rays in AFL: Honeywell's arsenal, competitiveness stand out
MLB Pipeline checks in on Tampa Bay's prospects in the Arizona Fall League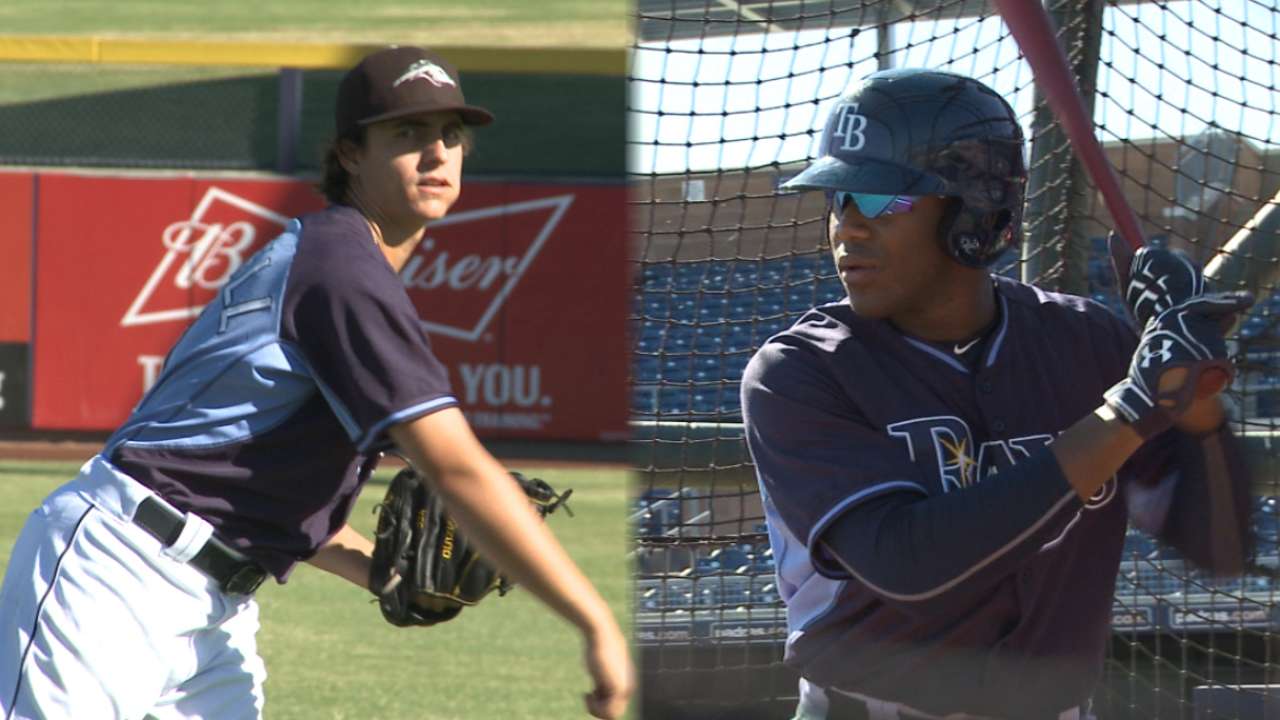 It hasn't taken Arizona Fall League hitters long to realize that Brent Honeywell's screwball is the real deal.
"I threw a couple of them the other day that were good; I liked the shape of them," Honeywell said about his trademark offering. "I use it as a strikeout pitch, I use it as a strike pitch -- I use it all the time."
Honeywell's screwball will likely gain a larger following Saturday when he starts for the West in the league's annual Fall Stars Game, but it's the totality of the right-hander's arsenal, as well as his fierce competitiveness, that has stood out this fall following a dominant regular-season campaign.
• Complete Arizona Fall League coverage
Honeywell, the Rays' No. 2 prospect, reached Double-A for the first time in 2016, receiving the promotion after posting a 2.41 ERA with 64 strikeouts in 56 innings for Class A Advanced Charlotte. He built on that success in the Southern League, recording a 2.28 ERA in 10 starts for Montgomery.
Altogether, the 21-year-old pitched to a 2.34 ERA, the best mark among Rays prospects with at least 100 innings pitched, in 115 1/3 innings, with 117 strikeouts and 25 walks. Following the season, the Rays named Honeywell their Minor League Pitcher of the Year.
The only blemish on Honeywell's year was a stint on the disabled list from May 20 to June 25 with right arm tenderness, an injury that quickly proved a non-issue upon his return but ultimately limited his workload. As a result, MLBPipeline.com's No. 39 overall prospect is using the Fall League to make up for that lost time while also working to refine the finer aspects of his game.
"Fastball command," said Honeywell about his Fall League objectives. "Fastball command but also work on the breaking ball. I'm trying not to get deeper into counts so I can keep my pitch count down and get into the sixth and seven innings."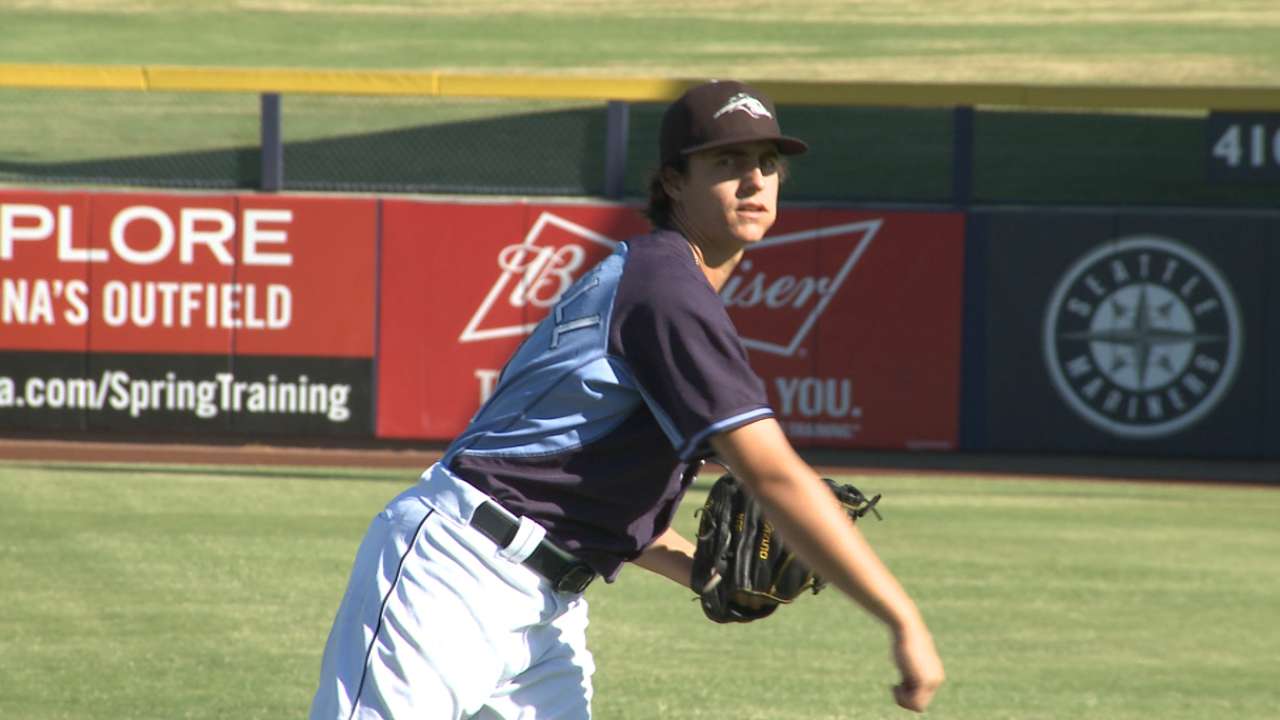 After struggling in back-to-back starts to begin the Fall League, Honeywell has rattled off seven straight scoreless innings across his last two outings for Peoria. He's permitted just four hits in that span while striking out five and walking zero.
But while Honeywell has spent much of the fall carving up opposing hitters, he's also taken the time to get to know some of the hitters on his own team, including those he played against during the regular season.
"[Tyler] O'Neill took me yard this year, but who didn't he take yard?" he said referring to the Mariners' No. 2 prospect. "There are a lot of good hitters on this team, especially guys who I faced this year in High-A and Double-A. It's good to rub shoulders with those guys, hitters and pitchers. It's a good deal."
Rays hitters in the Fall League
Nick Ciuffo, C
Justin Williams, OF
Kean Wong, 2B
Ciuffo, the Rays' No. 25 prospect, was putting together his best full-season campaign before a broken hand cost him much of June and July. He struggled upon returning, hitting just .191 over his final 18 games, but still finished with a solid .262 average in 59 games for Charlotte. On the other side of the ball, the 21-year-old backstop threw out a whopping 60 percent of attempted basestealers (30-of-50) en route to the organization's Defensive Player of the Year award.
Williams reached the Double-A level this year at age 20 after hitting .330/.350/.448 over 51 games in the Florida State League. Though his average dipped in the Southern League, the Rays' No. 15 prospect showed more consistent power by hitting six home runs in 39 games, giving him a career-high 10 homers for the season. Scouts expect the 21-year-old to develop even more power as he continues to mature physically and adds loft to his line-drive swing.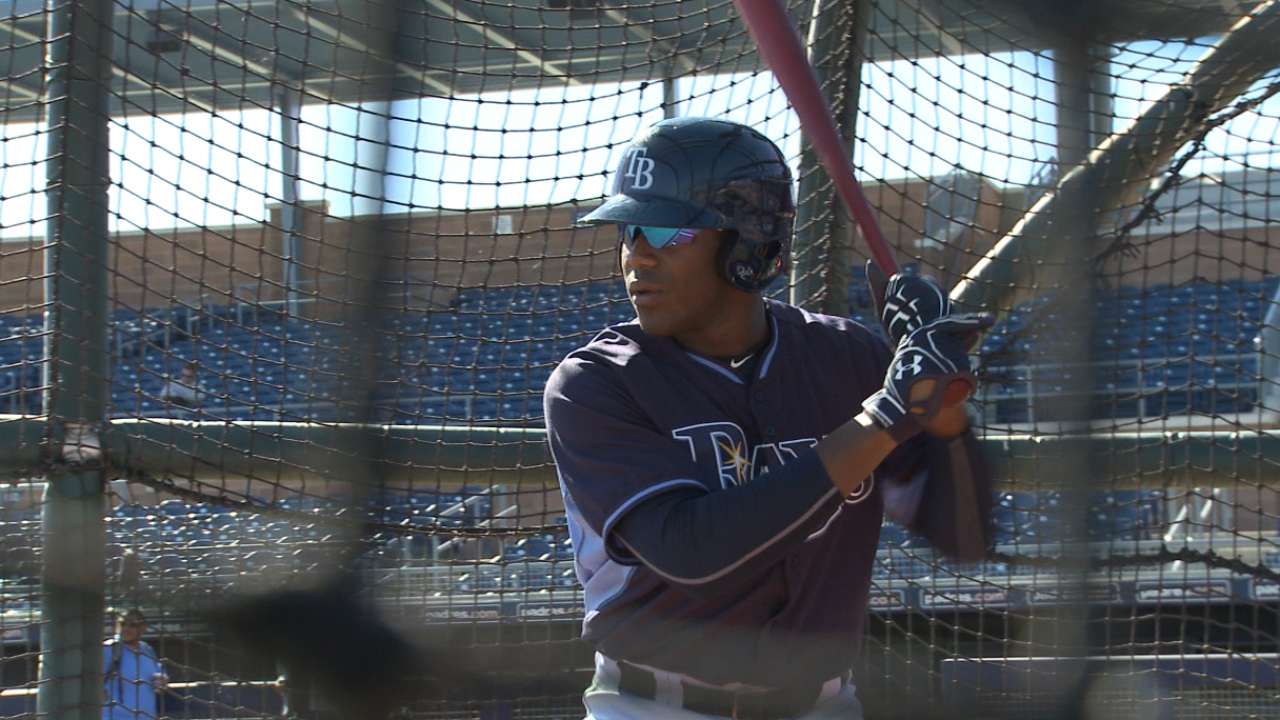 Wong spent his entire age-21 season in the Southern League, where he produced a .276/.324/.368 line over 117 games. More important, the left-handed-hitting second baseman exhibited an uptick in power against the advanced competition, setting career highs in home runs (five) and doubles (22) as well as RBIs (56).
Rays pitchers in the Fall League

Kyle Bird, LHP
Diego Castillo, RHP
Greg Harris, RHP
Honeywell
Bird, a 35th-round Draft pick in 2014 out of Flagler College, breezed through the Florida State League to receive a quick promotion to Double-A, where he tallied four saves and posted a 2.94 ERA in 49 innings. The 23-year-old lefty's stuff may not be overpowering, but he's proved adept at using his three-pitch mix to neutralize both right- (.231 average in 2016) and left-handed (.253) hitters.
Castillo's power stuff has been on display in the Fall League in the form of a 97-99 mph fastball and a sharp slider in the upper 80s. The pairing gives the 22-year-old righty two genuine swing-and-miss offerings and could make him a late-inning weapon for the Rays in the coming years.
Harris enjoyed his best season to date this year, his second as a member of the Rays after being acquired from the Dodgers following the 2014 season. The 22-year-old right-hander spent the entire season in the Florida State League, where he posted a 3.12 ERA and set career highs in wins (10), innings pitched (147) and strikeouts (134) over 27 appearances (24 starts).
Mike Rosenbaum is a reporter for MLB.com. Follow him on Twitter at @GoldenSombrero. This story was not subject to the approval of Major League Baseball or its clubs.