Tough night for Naquin begins with misplay
Center fielder doesn't take charge on Russell's two-run double in the first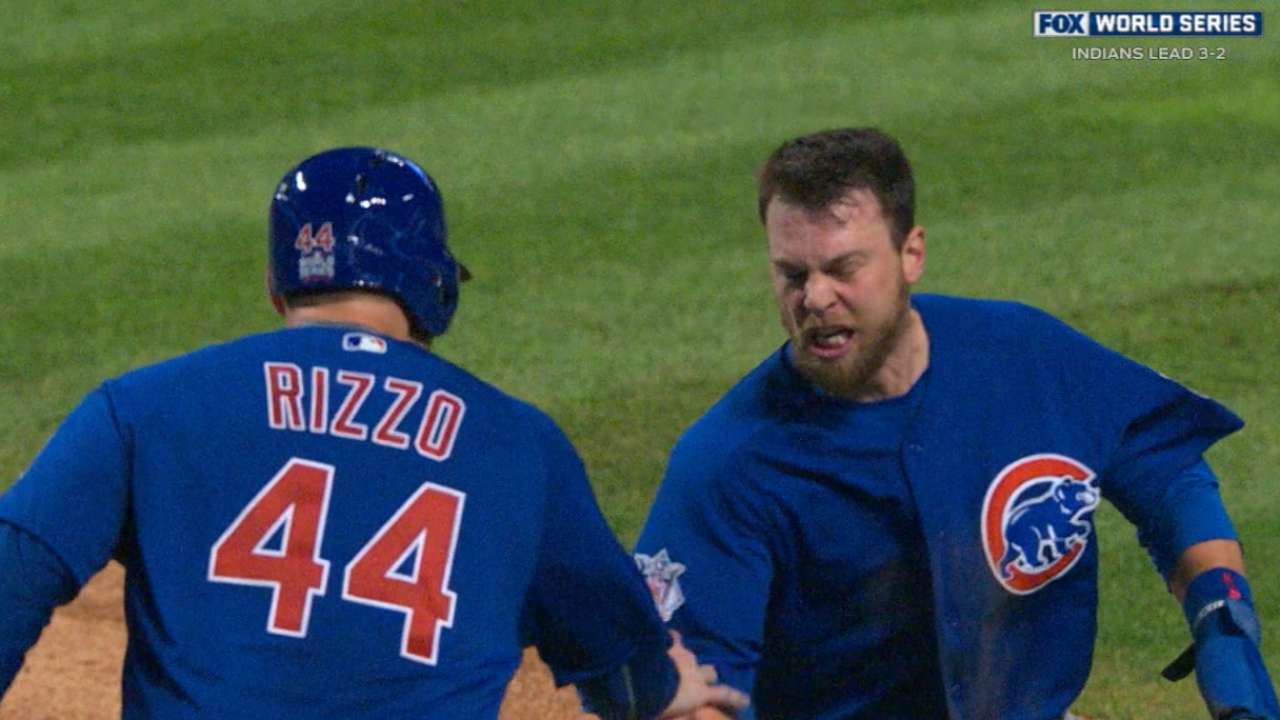 CLEVELAND -- Tyler Naquin's name will always be synonymous with this Indians season. Fans will never forget his slide across home plate, him scrambling to his feet and the mob of teammates forcing him to the ground after the rookie thrust a fist high in the air in one of the year's signature moments.
Indians fans do not want to remember Naquin for this. In Game 6 of the World Series on Tuesday, Naquin's mental blunder in the first inning set an unfortunate tone in Cleveland's 9-3 loss to the Cubs. For all the good feelings generated by his walk-off, inside-the-park home run against the Blue Jays back in August, Naquin's Game 6 gaffe now has a home in postseason purgatory, its importance hinging on whether the Indians can win it all in Game 7 on Wednesday.
"We've just got to win the game tomorrow," Indians right fielder Lonnie Chisenhall said. "If we leave winners, people will remember that."
Indians fans have plenty of bad memories from World Series past. There was Jose Mesa's blown save in the 1997 Fall Classic against the Marlins. David Justice and Tom Glavine broke Cleveland's hearts in the '95 World Series. Fans of a certain age may also be cursing Willie Mays' name for his over-the-shoulder catch that became the defining moment in the Giants' 1954 triumph over the Tribe.
• Shop for Indians World Series and AL champs gear
Naquin's part in the Game 6 loss will become a footnote, not a source of torment, if the Indians can beat the Cubs in the win-or-go-home contest that is on deck. For now, though, what transpired in the first inning is fresh on the minds of every nervous Tribe fan. When the flared fly ball off the bat of Addison Russell dropped between Naquin and Chisenhall, an inning-ender quickly turned into a two-run gut-wrencher.
"Off the bat, I thought that was going to be kind of a routine play," Russell said. "It looked like there was a little bit of miscommunication there."
There was a lot of that, actually.
Chicago's three-run rally in the opening inning began with a two-out home run off the bat of Kris Bryant and continued with consecutive singles by Anthony Rizzo and Ben Zobrist. With runners on the corners, Indians starter Josh Tomlin fired a 1-1 cutter that ran outside of the zone. Russell leaned, swung and flicked the baseball high into right-center field for what indeed looked like a routine out.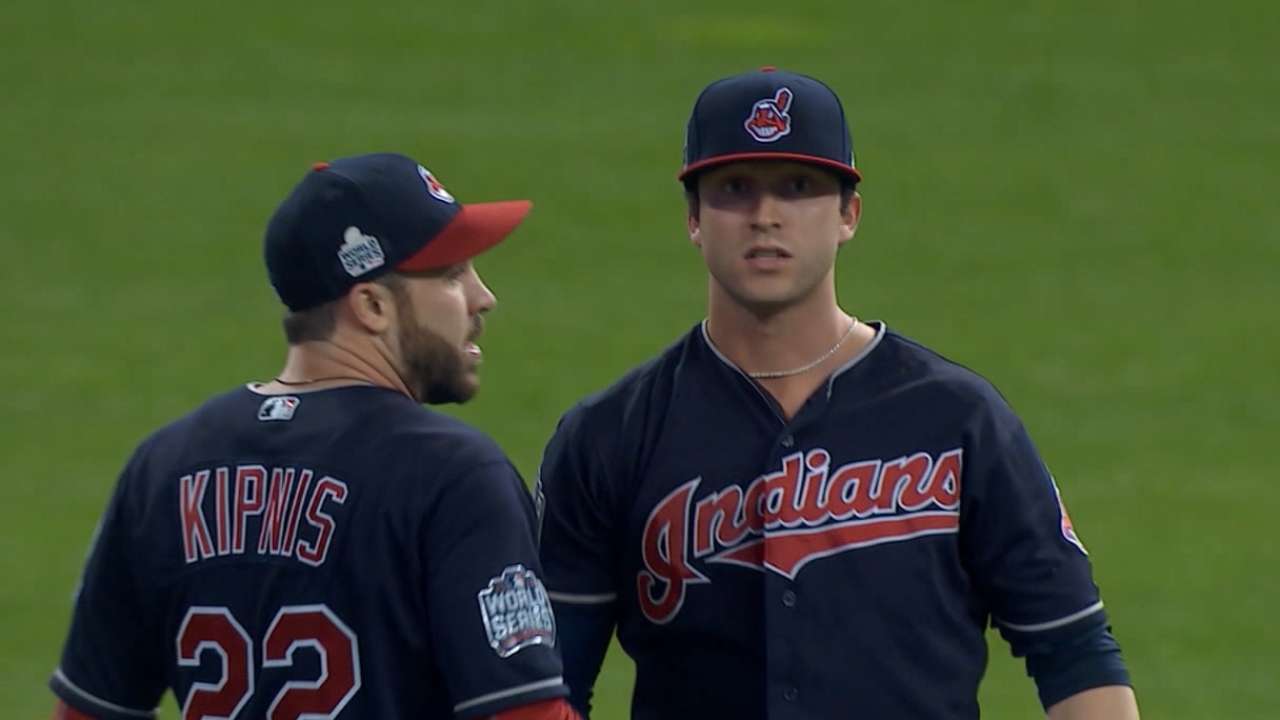 With the Progressive Field crowd roaring, Naquin sprinted in hard and looked up at Chisenhall at the last second; Chisenhall was also coming in hot, cutting in front of the center fielder. Naquin said later that he called for the ball. Chisenhall said no one did. That alone might be evidence of how distracting the decibel level was at that particular moment.
The baseball dropped to the grass, Rizzo and Zobrist scored and the Cubs were off and running.
"Lonnie went hard after it, as he should, but it's Naquin's ball," Indians manager Terry Francona said. "He was playing on that side and he's the center fielder. And I think at the end there, as Lonnie was kind of pulling off, Naquin was yelling, 'It's yours. You got it.' It's pretty loud anyway.
"We kind of told Nake, especially playing on that side, that's his ball. Just take charge and take it. He kind of made it hard on Lonnie, because you've got to go hard until you hear something. That was an unfortunate play, because we thought we were out of the inning."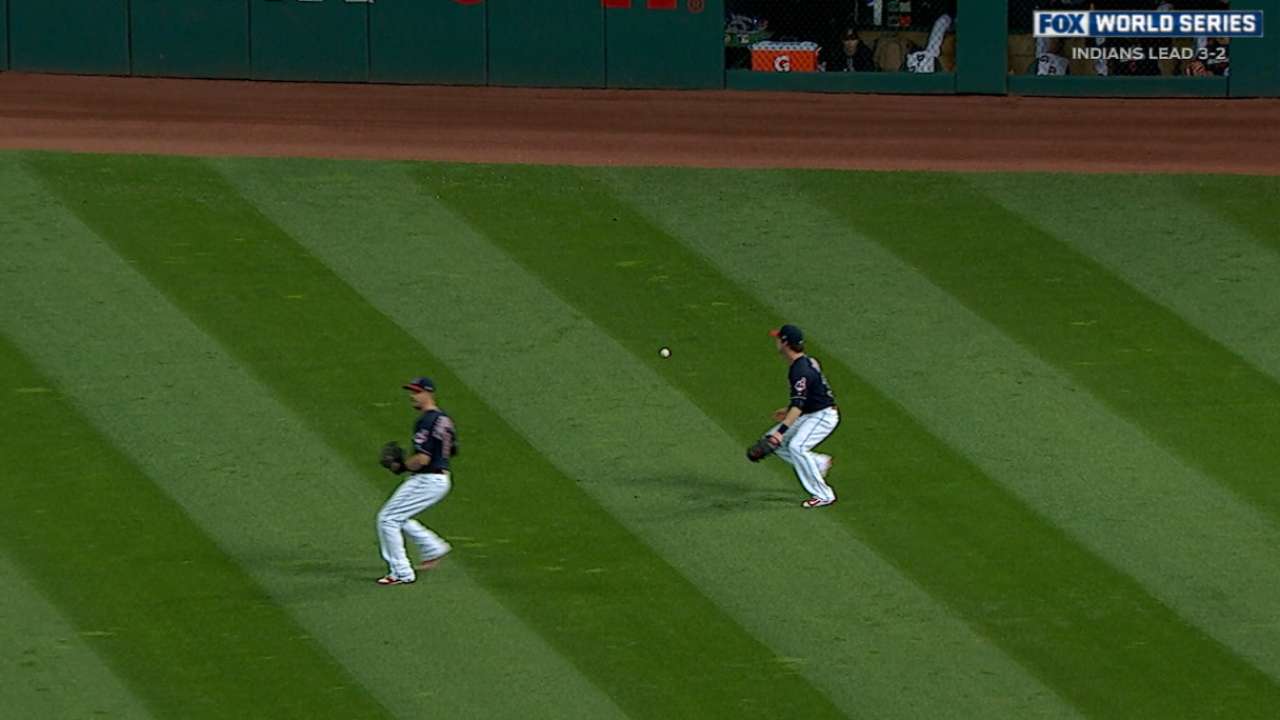 Chisenhall shouldered the blame for the misplay.
"I should've caught that ball," he said. "I made the aggressive move on it."
Naquin did, too.
"Being the center fielder, I need to take charge on that," said the rookie. "That's my mistake."
The defensive metrics indicate that Naquin had the best shot at catching it.
Based on the exit velocity (78 mph) and launch angle (29 degrees), Russell's sliced double had an expected batting average of only .158. Naquin was playing at his usual depth in center, while Chisenhall was shaded deeper than usual in right. When the ball left Russell's bat, Naquin was a projected 61 feet away from where it was going to land, while Chisenhall would have needed to cover a projected 76 feet.
According to Statcast™, the fly ball had a hang time of 4.68 seconds, too. All of that data is relevant, because when combined, it can reveal how often a play like that is made. The catch expectancy for Naquin was 93 percent based on the hang time and his distance from the ball. Combine that with the fact that Chisenhall was only 15 feet farther away, the play had around a 95-percent catch expectancy overall.
Or, as Chisenhall summed it up: "Somebody's got to catch it."
Even though it was only in the first inning, Russell's hit was also the most damaging in this World Series in terms of Win Probability Added. The double had a .166 WPA, meaning it increased the Cubs' chances of winning by 16.6 percent. That represents the highest WPA to date for an offensive play during the Fall Classic against the Indians.
After the blunder, Chisenhall, Naquin and left fielder Coco Crisp discussed ways to communicate beyond just calling out. That did not correct the problem. In the third, Bryant sent a similar fly ball to right-center, but this time Chisenhall made the catch on the run right in front of Naquin. As the right fielder gloved the ball, Naquin slid to a stop behind him. Visibly frustrated, Naquin stayed on the ground for a moment, his arms on his knees.
Second baseman Jason Kipnis helped Naquin up and offered some words of encouragement.
"It's tough," Kipnis said. "In regular-season games, the crowd noise isn't as loud usually in our park, or in a lot of other parks, so you can usually hear the other person call it. It's tough when you have to keep looking up and down to see who's waving you off. It's part of the game. It happens."
Naquin admitted that the first-inning misplay was on his mind in the fourth, when he stepped into the batter's box with the bases loaded and two outs.
"Absolutely," Naquin said. "I want to make up [for that], let Tomlin off the hook."
Cubs starter Jake Arrieta struck out Naquin to end the threat.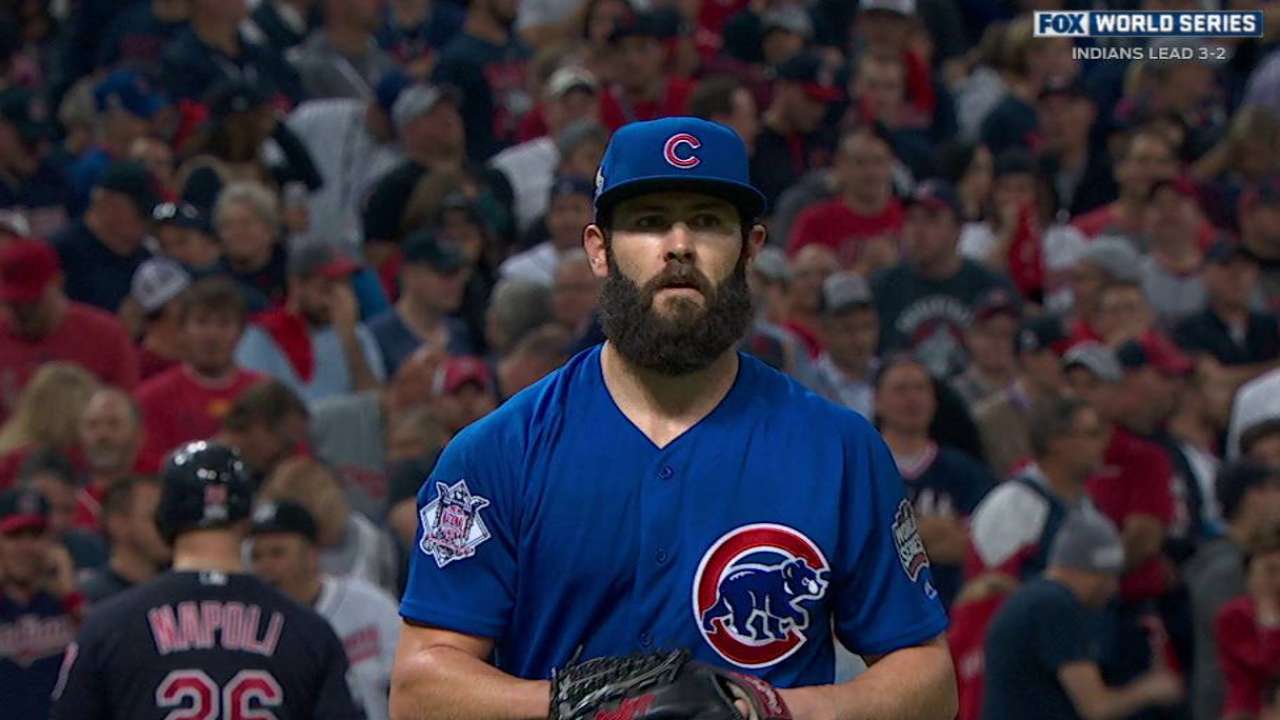 "It's kind of one of those things you have to learn from," Naquin said. "You've got two ways to look at it. You can grow up from it or you can just dwell on it."
With a win in Game 7, Indians fans will not dwell on it, either. One more victory and fans will continue to remember Naquin for his incredible inside-the-parker against the Blue Jays on Aug. 19, and not for what happened on a night Cleveland could have clinched the World Series.
"We've got to take care of business tomorrow," Naquin said.
Jordan Bastian has covered the Indians for MLB.com since 2011, and previously covered the Blue Jays from 2006-10. Read his blog, Major League Bastian, follow him on Twitter @MLBastian and listen to his podcast. This story was not subject to the approval of Major League Baseball or its clubs.