MLB.com Columnist
Richard Justice
Tonight: 1 drought, knocked out of the park
Game 7 a fitting end to memorable Fall Classic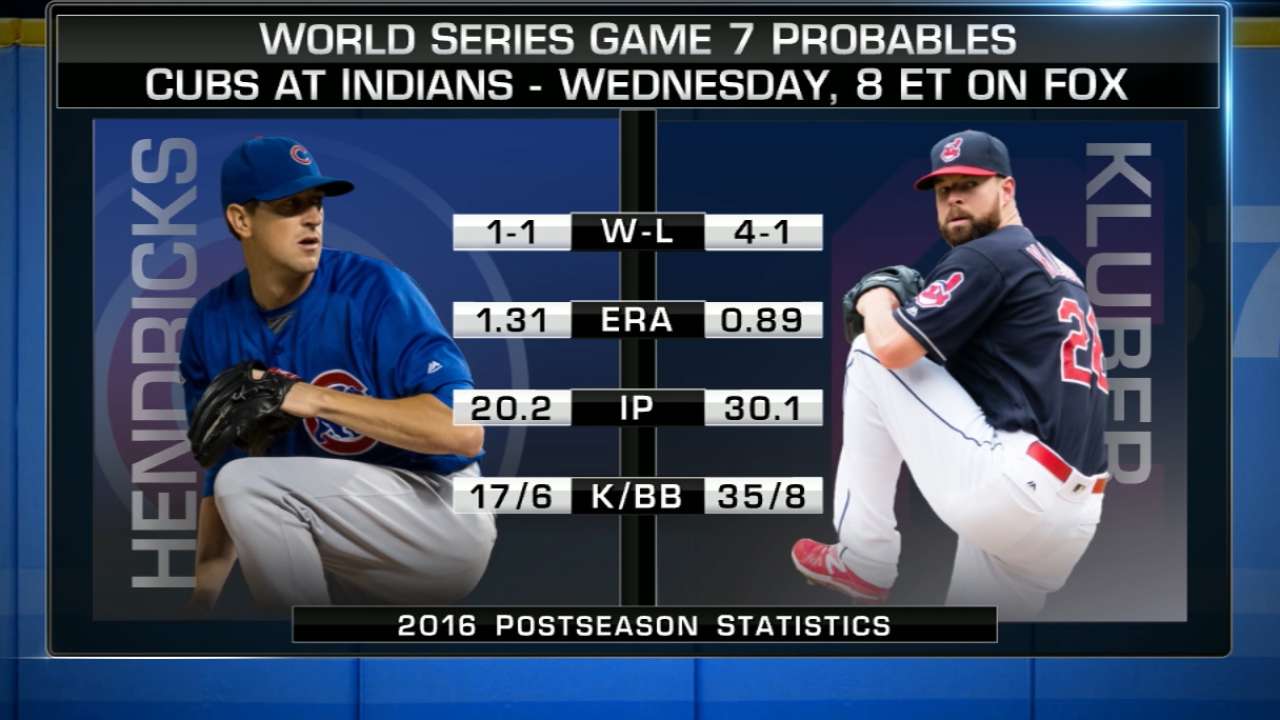 CLEVELAND -- Every so often, baseball rewards us with a World Series so captivating that we can't stand the thought of it ending. That's this Fall Classic in a nutshell.
There's only one appropriate conclusion to this one, and that's exactly what we're going to get. The 112th World Series will end tonight when the Chicago Cubs and the Cleveland Indians play the 37th Game 7 in Fall Classic history.
The Cubs forced it by winning Game 6, 9-3, on Tuesday night at Progressive Field, and it was every bit as decisive as that final score indicates. Third baseman Kris Bryant's first-inning home run got Chicago rolling, and shortstop Addison Russell's grand slam broke it open two innings later.
In draining the drama from one evening, the Cubs were setting the table for something even better. They've come back from a 3-1 deficit to force a deciding game, and by doing so, they have positioned themselves to win the franchise's first championship in 108 years.
Suddenly, everything the Cubs have worked for during this magical 103-win season, the thing that seemed to be slipping away from them a couple of days ago, is right there on the table.
"Anybody who plays this game grows up dreaming of winning a World Series," Bryant said. "You know, we get to play in a Game 7 tomorrow. That's pretty special."
That the Indians haven't won in 68 years, that these are two of baseball's oldest and most iconic franchises, only makes a Game 7 more appealing. That it has been playing out with the Tribe winning three of the first four and the Cubs punching back speaks volumes about the toughness and resilience of these teams.
"It's just correct and apt that we'd go seven games," Cubs manager Joe Maddon said.
• Winner take all: WS Game 7 facts and figures
From the start of this World Series, Chicago's advantage was the depth and quality of its starting pitching. For Game 7, Maddon will hand the baseball to his No. 3 starter, right-hander Kyle Hendricks, who led the National League with a 2.13 ERA.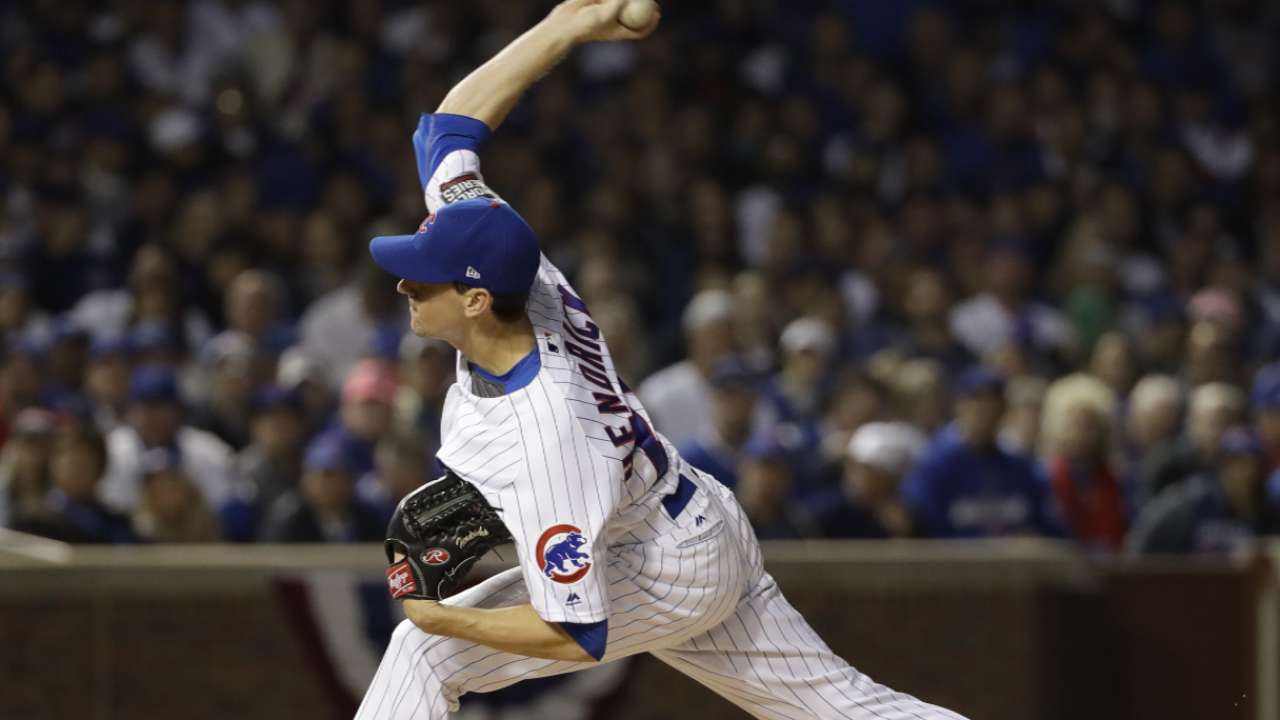 Now about the Indians, who have been unable to win back-to-back clinchers. Let's say someone had tapped manager Terry Francona on the shoulder on the first day of Spring Training and asked, "What would you think about your team playing Game 7 of the World Series?"
Francona would have signed up in a heartbeat, and so would every one of his players and coaches. Even when it had the Cubs in a 3-1 hole, the Tribe understood that winning one more was the toughest part of the deal.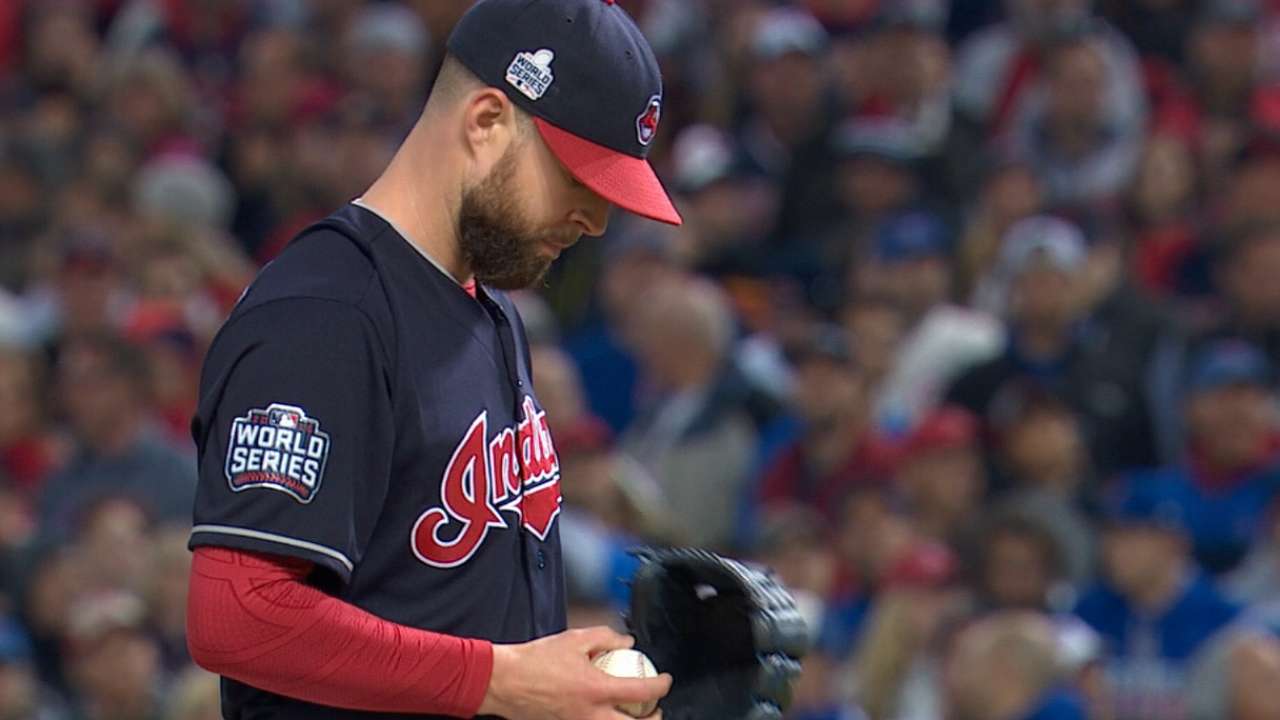 Francona will hand the ball to his ace, right-hander Corey Kluber, and no team in baseball trusts a pitcher more than the Indians trust Kluber. He has backed up that trust with a microscopic 0.89 ERA in five starts this postseason.
Kluber won Games 1 and 4, and he will be pitching on short rest (three days instead of four) for the second straight start.
In the past 68 years, only three pitchers have won three starts in a single World Series: Lew Burdette of the Braves in 1957, Bob Gibson of the Cardinals in '67 and Mickey Lolich of the Tigers in '68.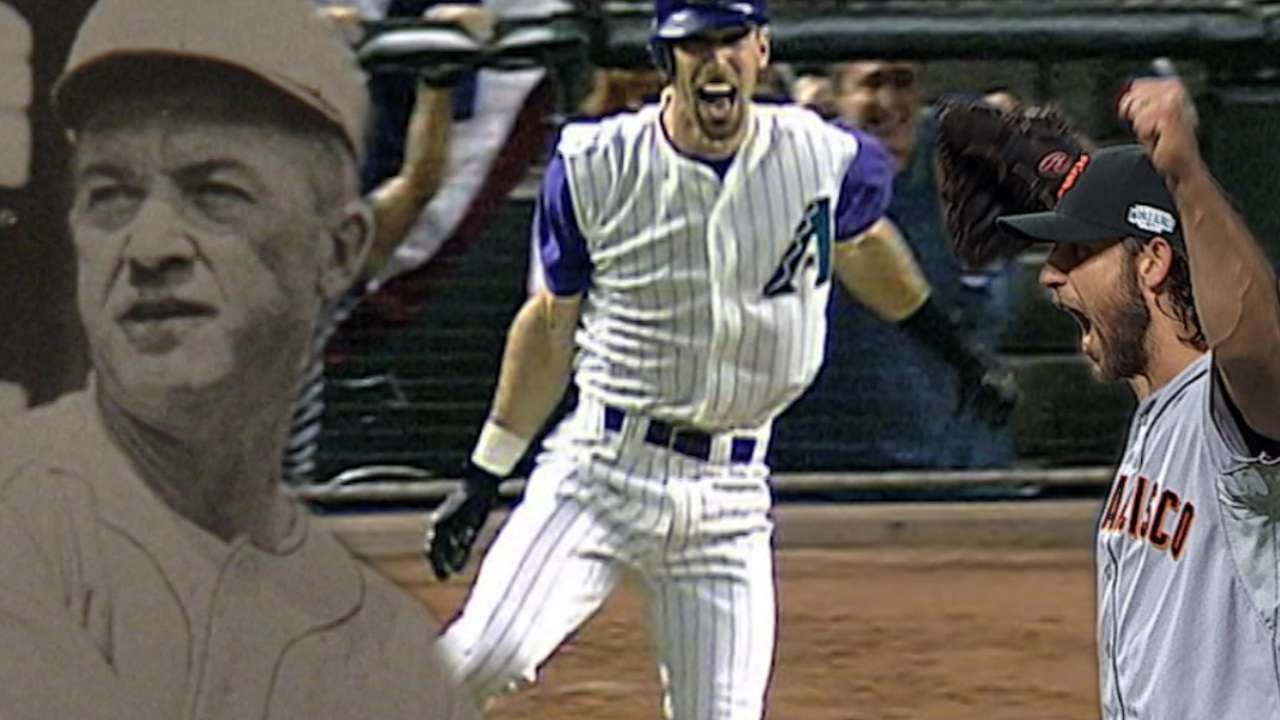 Perhaps the biggest advantage the Indians have is that Francona has his best bullpen arms rested and ready, and Maddon doesn't.
Because Game 6 got out of hand early, Francona did not use his three late-inning arms -- Andrew Miller, Cody Allen and Bryan Shaw -- who have a combined 0.95 ERA this postseason.
Francona has gotten the Indians to this point by managing postseason games with a sense of desperation, unafraid to push his best player. He'll do that again in Game 7.
• History of World Series Game 7
If the Indians can get five innings from Kluber, Francona would probably go right to his bullpen to navigate the final 12 outs.
"I think you've got to like our chances," Miller said. "We have a chance to win at home with our best guy on the mound. It's every kid's dream. How many times have we all pretended we're in Game 7 of the World Series? And here we are."
By contrast, Maddon used his closer, Aroldis Chapman, to get four outs on Tuesday. But that may not matter because this is a Game 7. If a player is needed, he'll play.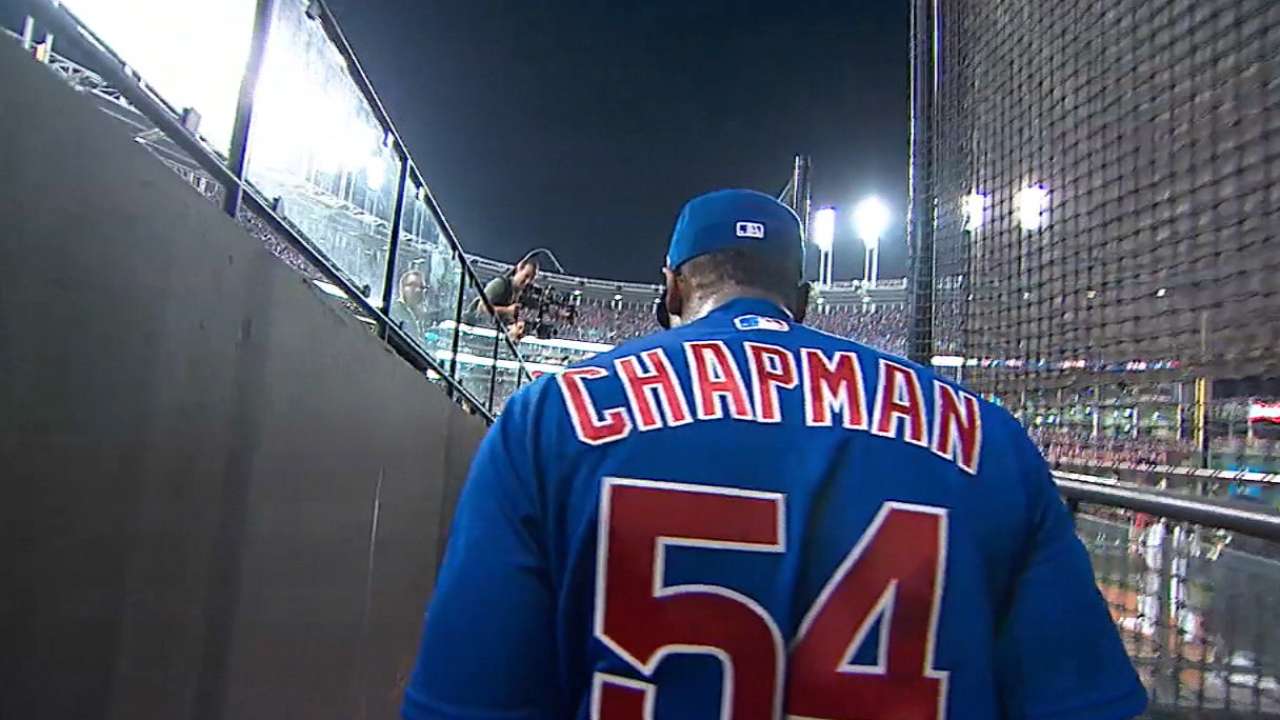 Through the years, Game 7 has produced some of the greatest moments in baseball history, from Pirates second baseman Bill Mazeroski's ninth-inning walk-off home run to beat the Yankees in 1960 to Jack Morris pitching a 10-inning shutout to get the Twins past the Braves in '91.
And there was 2001 when the Arizona Diamondbacks rallied from a 2-1 deficit off Yankees closer Mariano Rivera in the bottom of the ninth inning for a 3-2 victory.
That game featured Randy Johnson coming out of the bullpen a day after throwing seven innings to get the final four outs and his third victory of the World Series.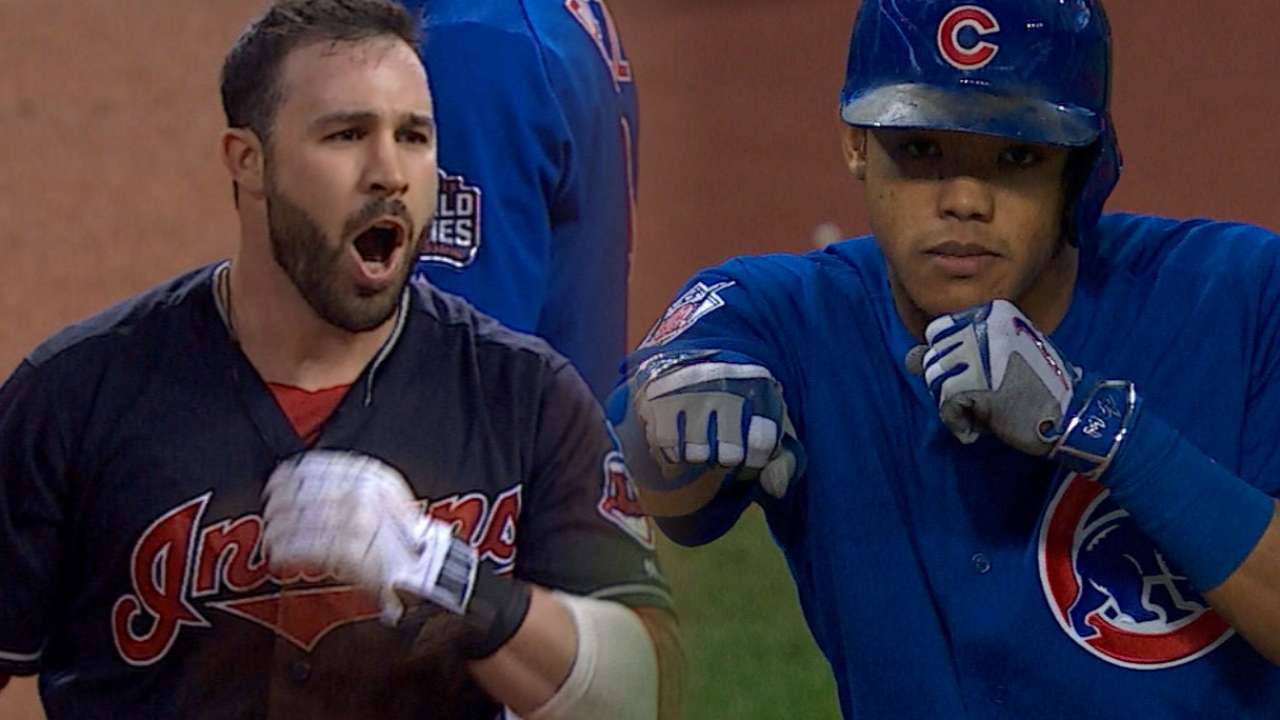 Game 7 gave us Gibson defeating Jim Lonborg in 1967 and Lolich outdueling Gibson the following year.
Now this.
"It's an honor to even be a part of it," Francona said, "and we're going to give it everything we have. I can't imagine a better group of guys to go through something like this with. I'm looking forward to it already."
Richard Justice is a columnist for MLB.com. You can follow him on Twitter @richardjustice. This story was not subject to the approval of Major League Baseball or its clubs.