MLB.com Columnist
Anthony Castrovince
Tale of 2 extremes for city of Cleveland
Will fans rejoice in another sports title or feel the anguish of one slipping away?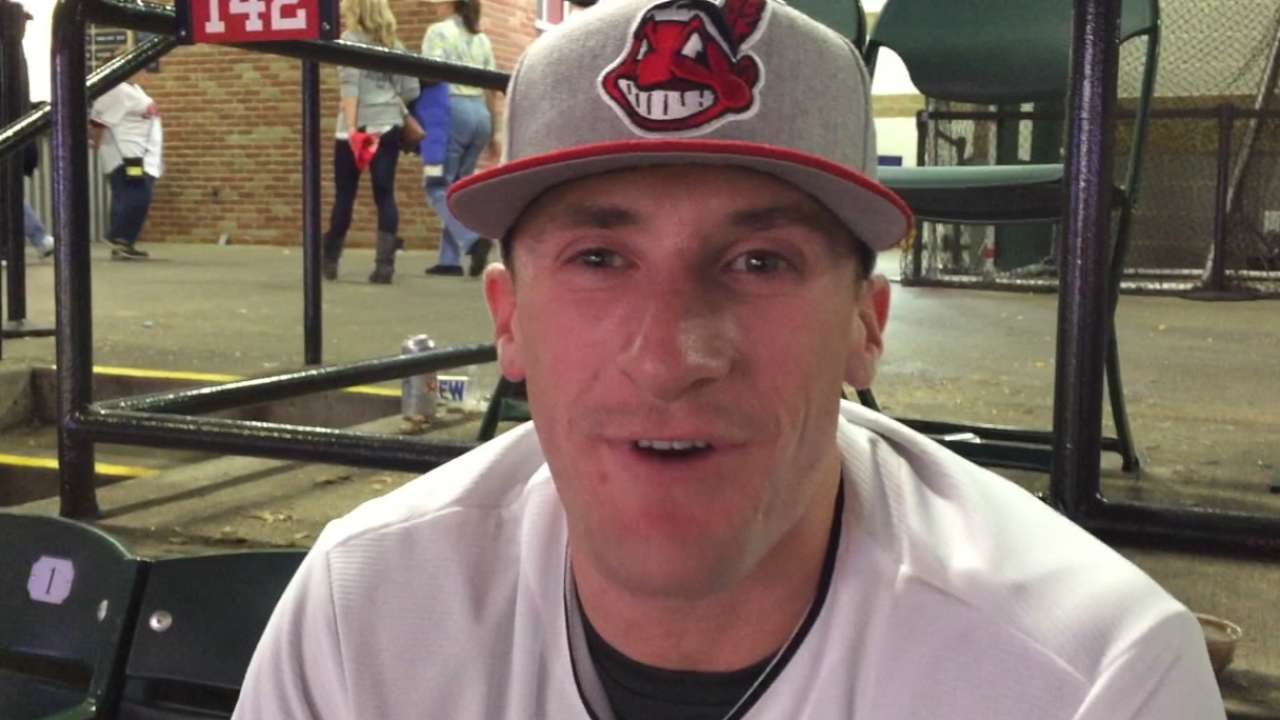 CLEVELAND -- The Land of Cleves is a land of sporting extremes. They don't dwell in the in-betweens here.
The heartbreak, which arrived overwhelmingly often in a 52-year span, isn't just some unfortunate occurrence in which the clearly better team won convincingly. No, no. It's gotta be more painful than that. It's gotta be "dumped at the altar on your birthday right after you found out your dog died and you came down with a case of shingles" kind of bad.
The elation, which finally arrived on Father's Day, in a burst of brilliant fourth-quarter basketball that slayed an NBA giant and completed a comeback from a 3-1 deficit in a best-of-seven series, was not normal, either. They had an estimated 1.3 million people downtown for the Cavaliers' championship parade, which, if you're at all familiar with the size of this downtown and the population of Northeast Ohio, is an insane sum.
So one way or another, the Indians are going to fit the formula Wednesday night. They are playing Game 7 of the World Series against the Chicago Cubs right here in the heart of it all, and this, to be sure, is an extreme circumstance.
• Shop for Indians World Series and AL champs gear
The Cubs won 103 games this year. They were the odds-on favorite going into this Fall Classic. They possess an unmatched 108-year title drought that has made them the superior storyline of this regular season and this postseason. They, more than any other factor, are the reason ratings for this Series are through the roof, and their "momentum" -- to the extent such a thing truly exists in this sport -- is unmistakable.
If the Tribe beats that team in a Game 7, belabors the "Curse of the Billy Goat" while simultaneously ending the Indians franchise's own 68-year drought, that's some extreme stuff right there.
But it works the other way, too.
Close defeat, blowout defeat, doesn't matter. If the Indians lose this ballgame, with their ace Corey Kluber on the mound and their home crowd behind them, they will fall into such a historical black hole that they'll conjure up conversation about whether all that LeBron James-enabled mojo really did transform a city, or if, you know, a solitary basketball team just so happened to win one -- an outlier amid the agony.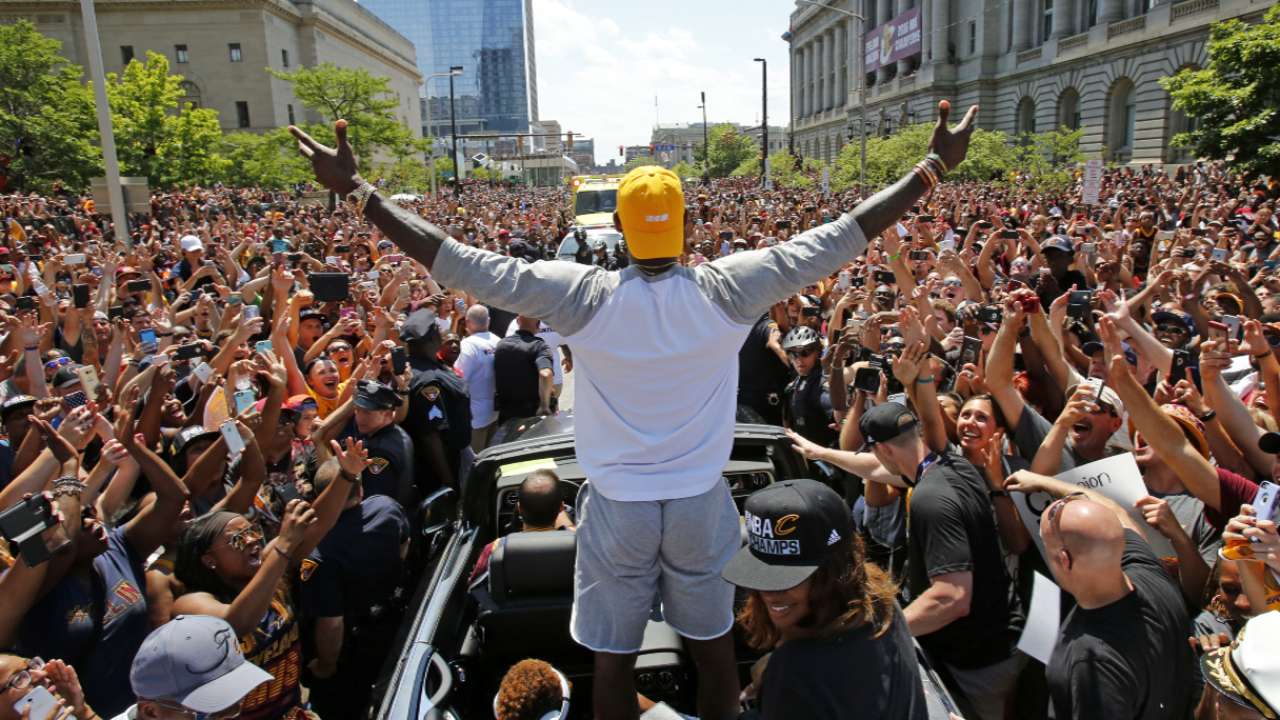 Sure, the Indians are/were a great story, even if they lose. They had a puny payroll, relative to other teams in their division and in the game at large. They had injuries aplenty. The Tribe was unquestioned underdogs in this Series, maybe even in all of October.
So there's temptation to say, "Hey, good effort," even if Cleveland comes out on the wrong end.
But a 3-1 lead is a 3-1 lead. The Indians, much like the aforementioned Warriors, had one. Only five teams in the history of the best-of-seven World Series have coughed such a lead up and lost Game 7, and only three of those five (the 1958 Milwaukee Braves, '68 Cardinals and '79 Orioles) lost the final two at home.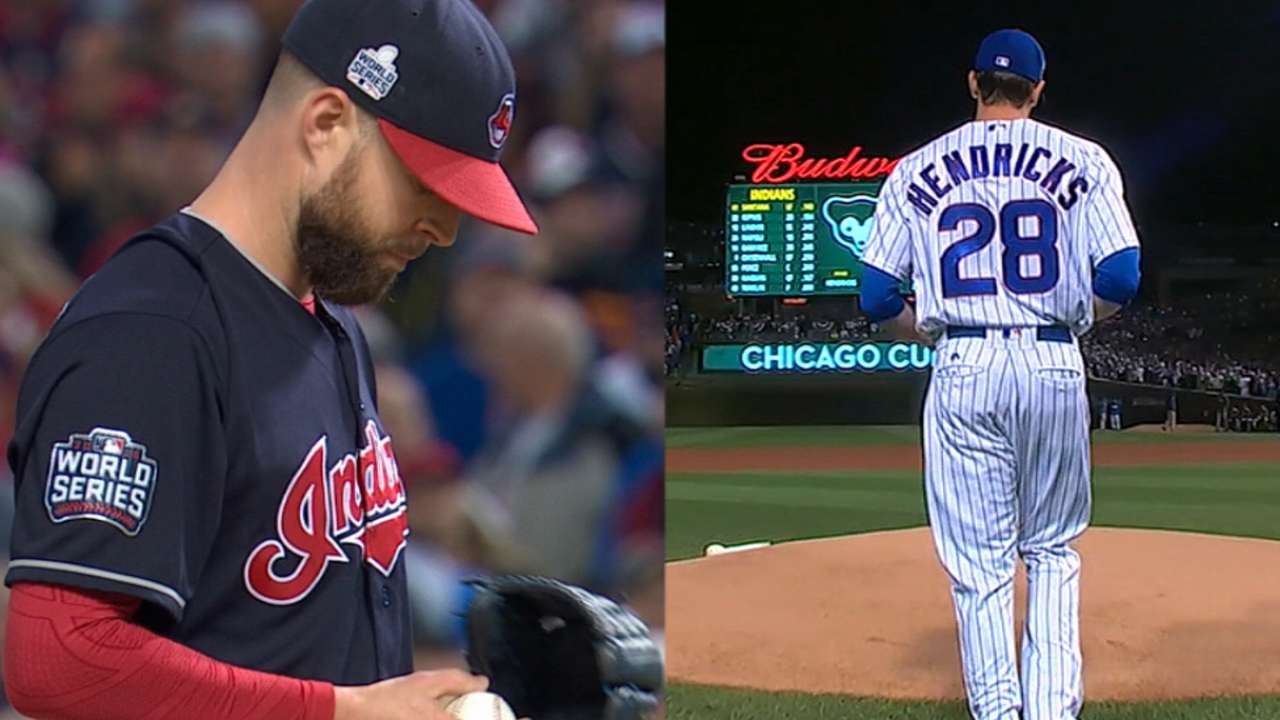 That's not a list you want to be on, folks.
Could the sporting gods really be so cruel as to pull Clevelanders -- the same people who endured such famous calamities as The Drive, The Fumble, The Shot, The Move, The Jose Mesa and The Last 17 Years of The Browns -- back into such dark waters?
Or is what has transpired in Games 5 and 6 of this World Series merely a setup to another glorious Game 7, similar to what LeBron and the Cavs pulled off at Oracle Arena on June 19?
The answer will come in the next nine innings, give or take.
"I'm going to go out on a limb," manager Terry Francona said, "and say it's a really important game."
Look, pretty much every word above has absolutely nothing to do with Francona and the 25 guys on his active roster, in theory. As Francona has been fond of saying in recent weeks, "It's not my fault my dad didn't win."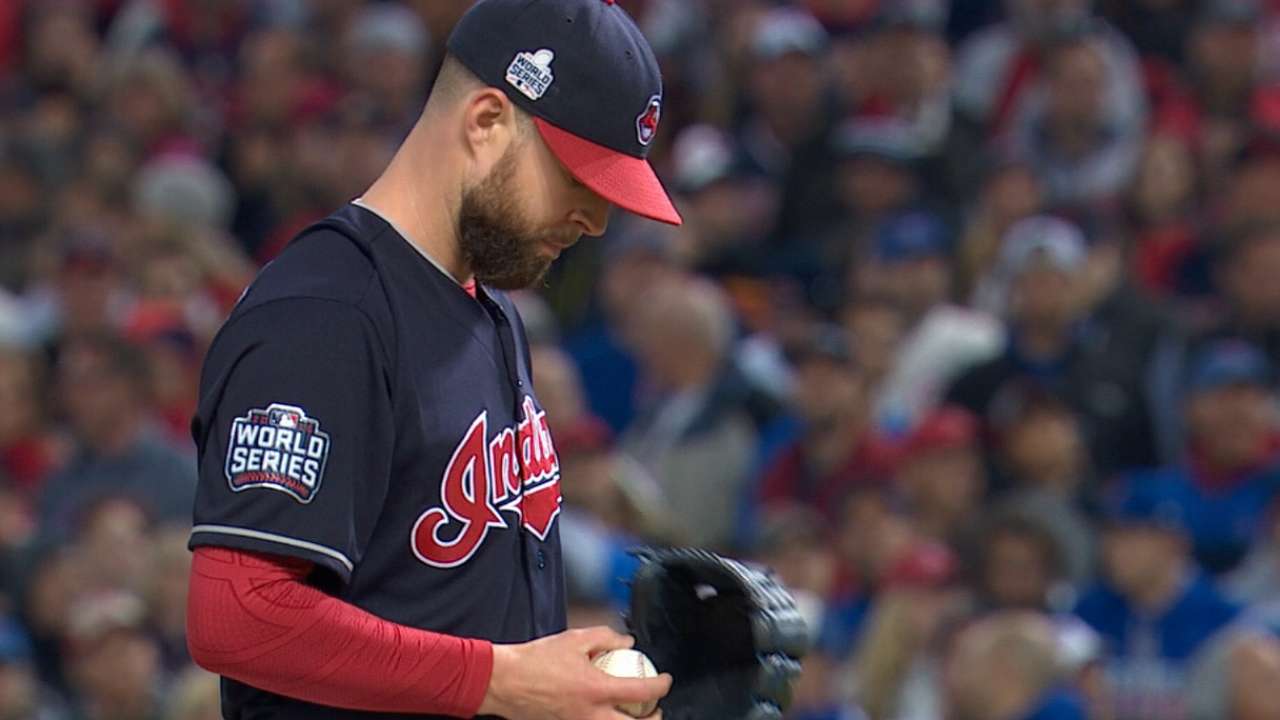 But these guys -- the vast majority of them, anyway -- were around this city the day the Cavaliers clinched the NBA championship and the day they were feted with confetti, and so they know what a victory would mean to people here, and by the same extension, they know how crushing a loss would be.
"We want to win just as much for these fans as we do for ourselves," closer Cody Allen said. "We owe it to our city and we owe it to each one of these guys in here to leave it all out there."
Somebody mentioned Cleveland's tortured past to Allen, and he smiled.
"I mean," he said, referencing the Cubs, "look at their history."
That's what we loved about this World Series matchup. The suffering was too real on one side not to be respected, on some level, by the other. It's amazing the hands of fate brought us a World Series with a combined 176-year title drought, and even more amazing that said Fall Classic has gone the distance.
Clevelanders would appreciate that, if they weren't too preoccupied with their Pepto-Bismol purchases.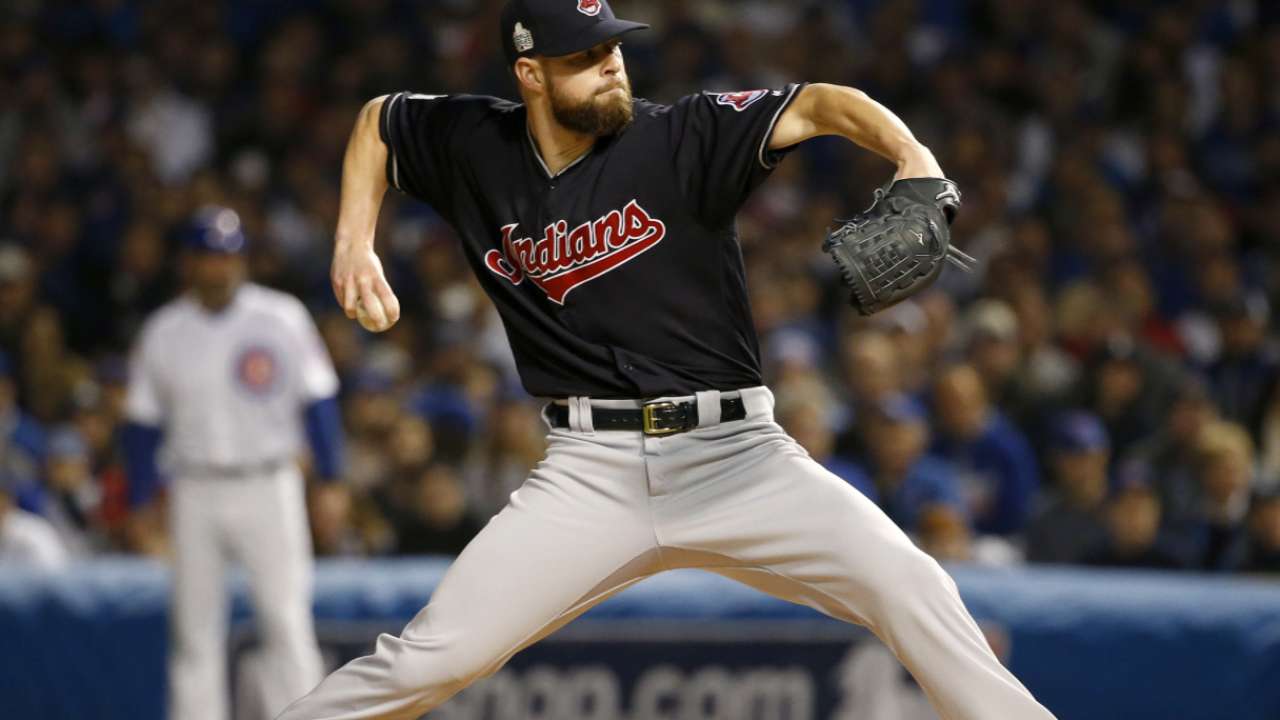 The Cavs' title was supposed to bury Cleveland's tortured past. Not that you'd expect every Cleveland team to dominate every professional season from here to eternity (the Browns' current march to 0-16 more than does its part to even the cosmic scales), but you'd think the respite from absolute anguish on the championship stage would last more than a few months, wouldn't you?
Well, sure, you would think so, and those who have been around this Tribe team -- myself included -- felt a distinct distinction in clubhouse vibe between now and 2007, the year the Indians famously coughed away a 3-1 lead on the American League Championship Series stage to Francona's Red Sox. Francona has kept the atmosphere so refreshingly loose around here that the idea of blowing a good thing legitimately felt unthinkable (I perhaps regrettably tweeted as much Saturday night), even with Jon Lester, Jake Arrieta and Kyle Hendricks lined up in succession.
I might come to regret this tweet, but...I just don't see the Indians blowing a 3-1 series lead. This is not the 2007 team.

— Anthony Castrovince (@castrovince) October 30, 2016
And then a fly ball fell in between Tyler Naquin and Lonnie Chisenhall and, well, who knows now? That was the kind of Benny Hill theme-worthy spectacle that can make a man wonder not only if Naquin and Chisenhall have been properly introduced, but also if he's going to have to eat his tweet.
Well, the beauty of baseball is that each game operates independently of another, momentum is that day's starter, etc. Kluber is really good at this. He's unflappable. He's been locked in this October. He's also facing the same lineup for the third time in nine days and pitching on short rest for the third time in 15 days. Does the robotic "Klubot" persona outweigh the quality of his opponents' adjustment ability and the nature of physical function?
Impossible to know but exciting to watch.
We could watch this game purely for its baseball merits, and that would be enough. But there's no denying the historical significance associated with these two clubs trying to win one. And because Cleveland sports always seem to be about more than just the individual team in the individual moment, it's impossible not to go into Game 7 and wonder what we're watching:
Confirmation that the pain has been alleviated? Or verification that old habits die hard?
Anthony Castrovince has been a reporter for MLB.com since 2004. Read his columns and follow him on Twitter at @Castrovince. This story was not subject to the approval of Major League Baseball or its clubs.