Kluber hopes to join elite Series company
Tribe hurler won Games 1 and 4, will try to clinch title vs. Cubs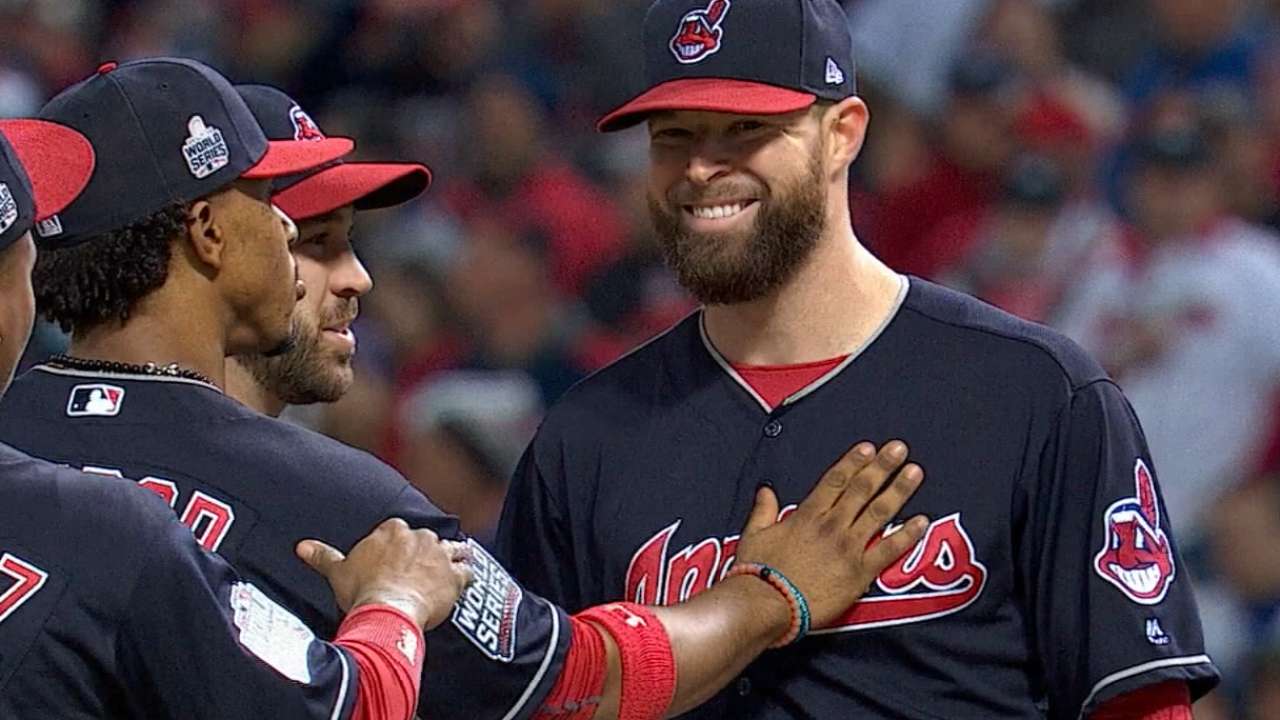 CLEVELAND -- At the time, pitching on short rest was hardly abnormal. At the time, it was often expected. So when Jack Morris took the mound for Game 7 of the 1991 World Series, becoming one of 53 pitchers to make three starts in a single World Series with the latter two on short rest, Twins manager Tom Kelly did not even consider removing him until after -- after! -- the ninth inning.
"I wanted the ball and I told him that," Morris said.
Morris won both the game and the argument, pitching a 10-inning shutout of the Braves to complete one of the greatest World Series performances in history. That is not what the Indians expect from Corey Kluber when he takes the mound Wednesday for Game 7 against the Cubs after winning Games 1 and 4. But it does speak to the reality that pitchers have fared well doing what Kluber is about to attempt.
Their combined Game 7 ERA, 2.97, was not much worse than their 2.31 Game 1 mark. Though only two of the 18 pitchers who started Games 1, 4 and 7 won all three. That group went 9-7 in Game 7 with a 3.00 ERA.
• Shop for World Series gear: Cubs | Indians
"You know, it's funny, people make a big deal out of short rest, but sometimes it's better," said Frank Viola, who started Games 1, 4 and 7 for the Twins in 1987. "With the adrenaline you have, any ache or pain you might have had, you didn't even think about. It reverts back to being a kid. Every kid who ever picks up a baseball, throws a baseball, has one dream. And that's having some kind of involvement in Game 7 of the World Series and making the difference."
Kluber will start after throwing 169 pitches in Games 1 and 4, the Indians relying heavily on their Andrew Miller-led bullpen. When John Tudor started Games 1, 4 and 7 for the Cardinals in 1985, he threw 209 pitches during the first two of them. When Curt Schilling did it for the 2001 D-backs, he threw 190. Though it's unclear how many Bob Gibson and Sandy Koufax and Denny McLain threw in the 1960s, it's likely they would collectively scoff at the conversation.
"Fatigue was never in the discussion in October, if that makes sense," Schilling said. "That was never something that I talked about or considered because I felt my best. I soaked in the adrenaline. You're so excited. I loved it because it felt like I was being picked, like, 'Hey, we need you three times to win this thing.' And I think that's cool. I loved that. That wasn't something that scared me."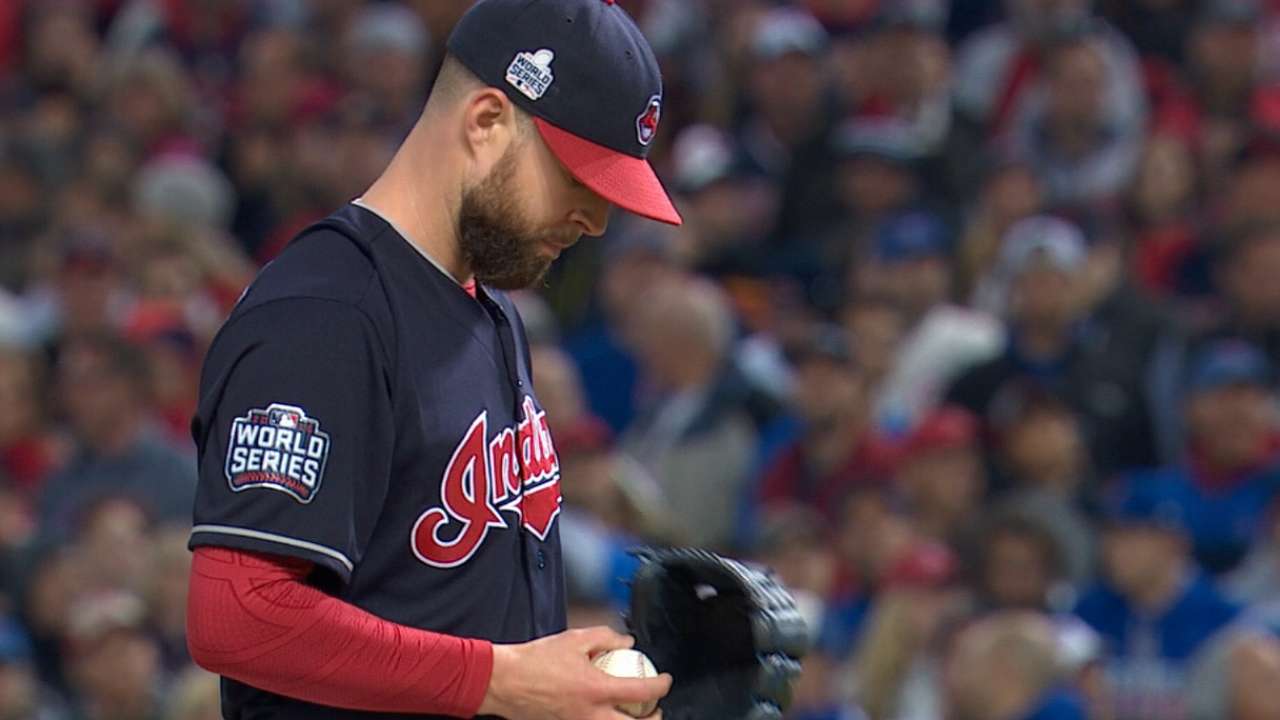 Much of this history harkens back to a bygone era, when four-man rotations were commonplace. Jim Kaat noted it wasn't even unusual to start three games in eight days, as he did for the Twins in 1965. "We were conditioned differently then," he said. "We were trained that way, from the Minor Leagues up."
• Hendricks-Kluber in G7 a rare CY-worthy duel
But recent baseball offers similar examples of individual achievement. Schilling's performance may have come at a time when pitch counts and innings totals were already a big deal throughout baseball, but in that same World Series, teammate Randy Johnson threw 1 1/3 perfect innings of relief on zero days' rest in Game 7.
In 2006, Chris Carpenter started three World Series games and won twice for the Cardinals, though two of those came on his regular turn -- a rainout allowed him to pitch Game 7 after starting in Game 5. In 2014, Giants pitcher Madison Bumgarner won Games 1 and 5, then fired five shutout relief innings to earn the Game 7 save. As recently as last month, Clayton Kershaw saved National League Division Series Game 5 for the Dodgers after pitching Game 4 on short rest two days earlier.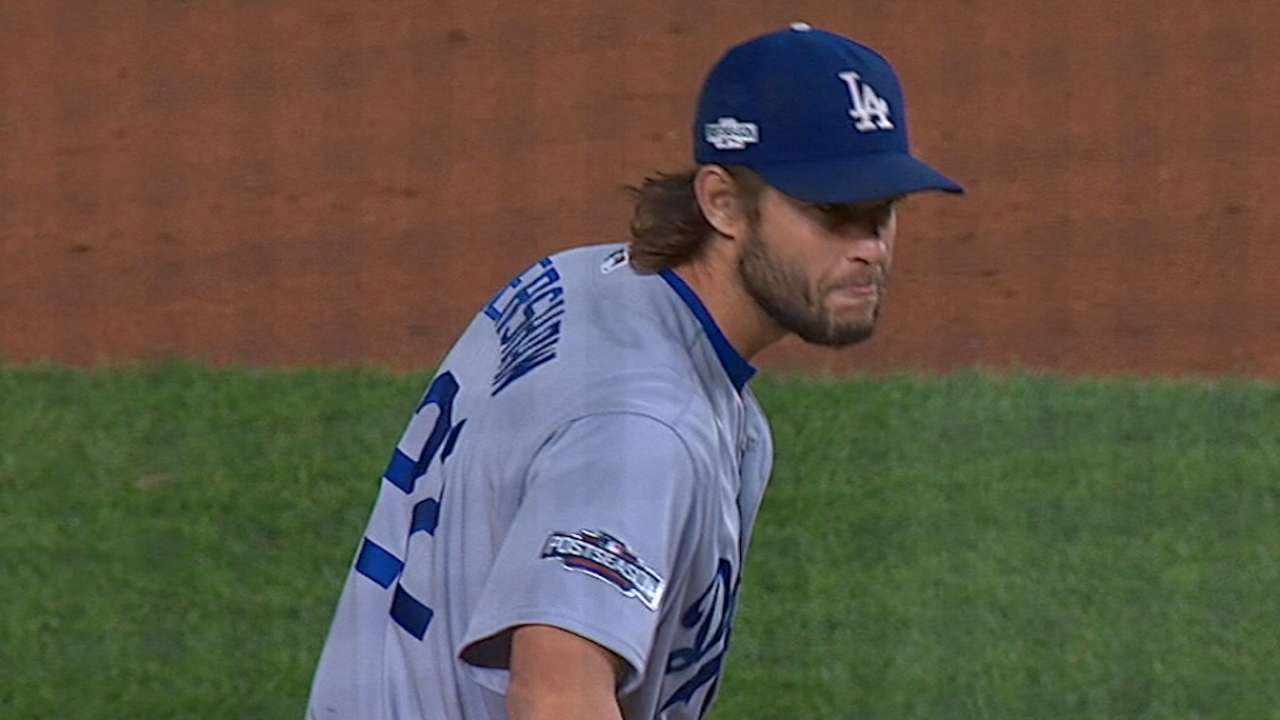 "Starting three games was never a physical thing, and I'm sure it won't be for Kluber," said Ron Darling, who started Games 1, 4 and 7 for the Mets in 1986, the last of them coming on regular rest due to a rainout. "The most difficult thing is getting through a really good lineup three times in a matter of nine or so days. In this day and age of video, nothing is more revealing than knowing your velocity, spin and tendencies, up close and personal. That's the bad news. Good news is that Kluber has many ways to get hitters out."
• With title on line, Indians call on Kluber
Still, Darling and Schilling said the key is to continue relying on one's own strengths, rather than fear an opponent's twice-revamped scouting report. In that sense, the battle can be more mental than physical. "I played with guys who didn't want it, guys who shirked away from it," Schilling said. "Guys that were scared of October."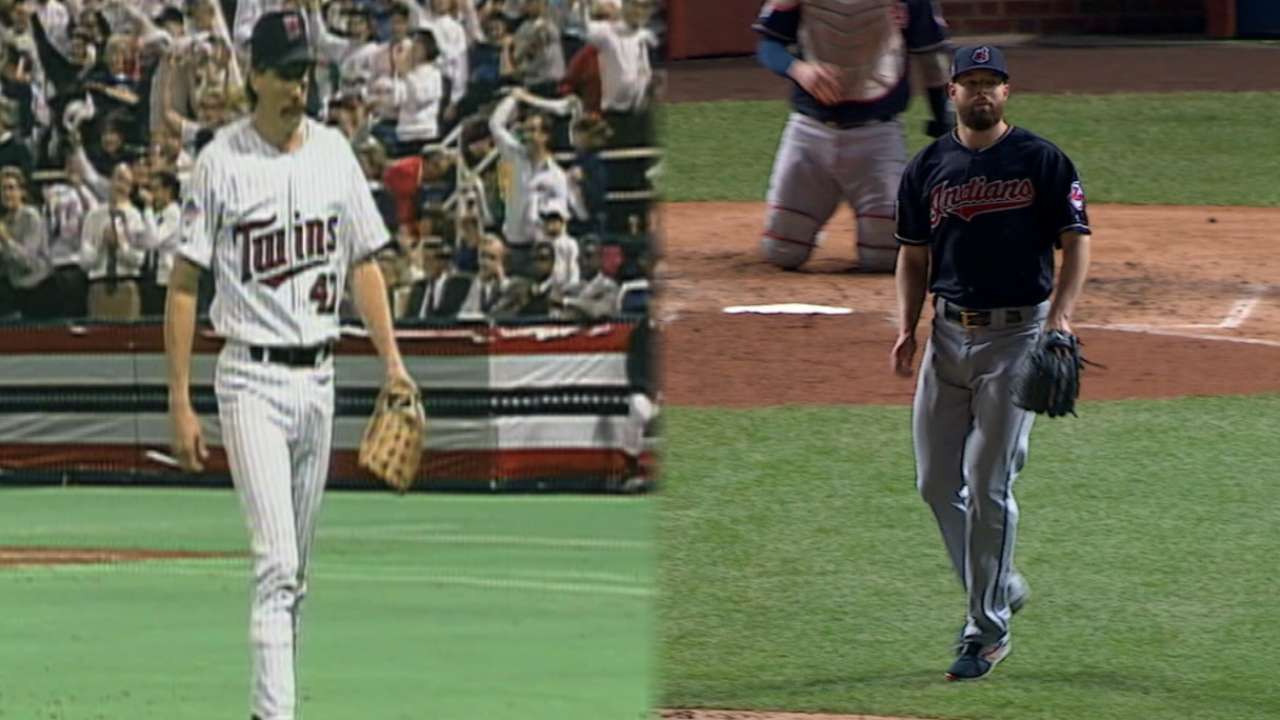 Kluber, Schilling added, is not one of those guys. If he were, he would not be preparing to join the membership of this dwindling club.
"You witness what Randy Johnson did. You see what Bumgarner did. You see what Kershaw did that night," Viola said. "It brings back old-school baseball. It's a beautiful thing. When you're talking the seventh game of the World Series, you want your man out there. And there's nobody better that Cleveland has than Corey Kluber. Let's ride him."
Anthony DiComo has been a reporter for MLB.com since 2008. This story was not subject to the approval of Major League Baseball or its clubs.