Nov. 1 Addison Russell postgame interview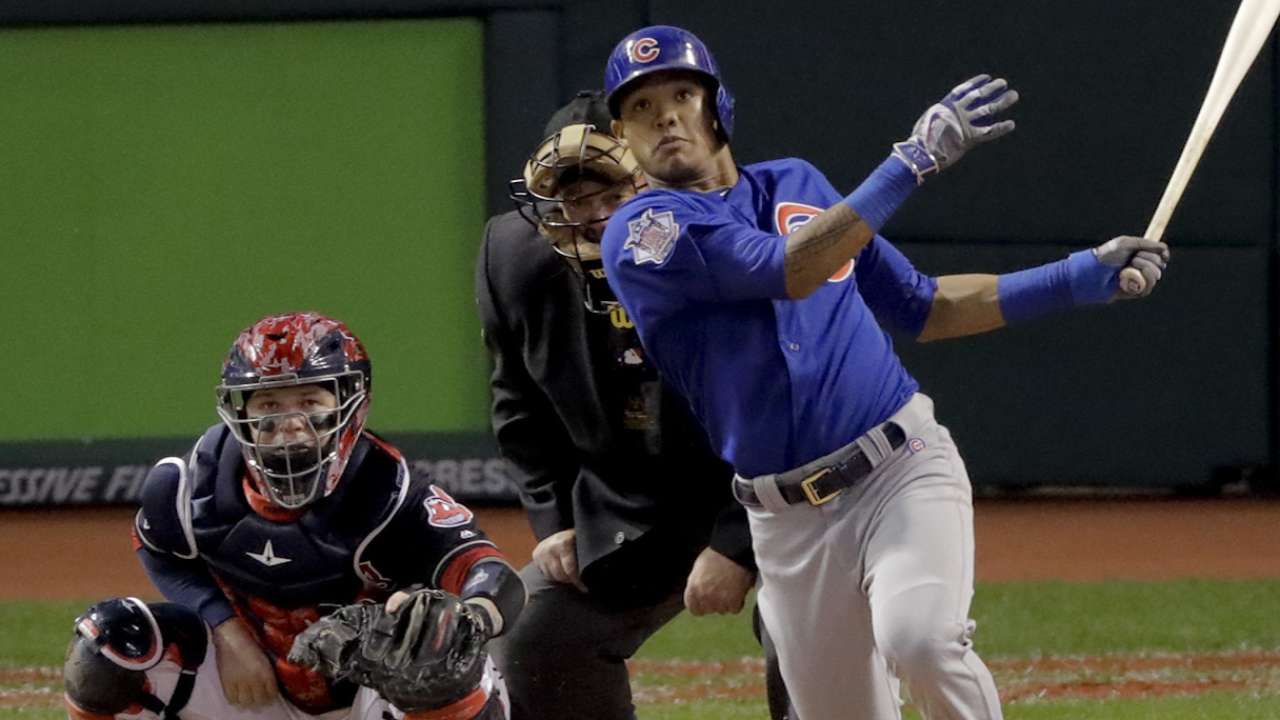 Q. Addison, despite some ups and downs at the plate, you've had some really big hits both in the League Championship Series and here in the World Series tonight. What's enabled you to kind of slow those moments down and come through in those situations?
ADDISON RUSSELL: Honestly, it's kind of been throughout the whole year, being part of the Cubs, you're put in the limelight. And early on you're forced to deliver whenever the game's kind of on the line. So having that practice throughout the whole season and then finally here comes the big moment in the postseason, in the World Series, it's just I wouldn't say it's bread and butter, but you definitely learn to control those feelings, so you're able to see the ball and able to think about pitch counts and all that stuff.
Just throughout the whole season I kind of practiced it.
Q. You had some loud outs in the last couple of games before today. Did you kind of feel like something like this might have been coming today?
ADDISON RUSSELL: Yeah, it's just been the same work ethic since day one. Not doing anything different. Made some pretty good swings tonight. Definitely the confidence is up for tomorrow.
Q. Two questions, first of all, what did you think of that first-inning hit off the bat? And second of all, how did you find out, assuming you had found out, that you tied a World Series record for RBIs in one game?
ADDISON RUSSELL: Rephrase those two questions, please?
Q. Your first inning hit, off the bat, what did you think of that?
ADDISON RUSSELL: Just off the bat, I thought that was going to be kind of a routine play. It looked like there was a little bit of miscommunication there. They didn't put a glove on it, therefore, it counts as a hit, which I was totally stoked. It pushed me for the next at-bat as well, coming up with bases loaded.
Q. Then how did you find out that you tied the World Series records for RBIs in one game?
ADDISON RUSSELL: Well, this is just me figuring it out right now. That's pretty cool, you know. Tomorrow there is obviously an opportunity to break that record.
We've been doing this all year, been breaking records, been putting in new history in history books, and you wouldn't even be able to tell that just from us group of guys. Everyone's so professional. Everyone gets along together. It's a great bunch of guys and they pick each other up.
Q. Last night you're dressed up as a Ninja Turtle, right?
ADDISON RUSSELL: Uh-huh.
Q. So tonight you're doing this in a World Series game. Could you even imagine being in this scenario right now?
ADDISON RUSSELL: Absolutely not. One, Halloween's my favorite holiday. It's my nerd holiday; I go all out. Just to have my friends there and family there to kind of vent to them and take off a little bit of pressure that I have, that was awesome.
But coming into Cleveland, I definitely wanted to have a sound mind, and we did. I think tomorrow we're going to come to the clubhouse with a lot of confidence and a lot of energy, you know. Game 7, it's a kid's dream.
Q. That play where you shovelled to Javy, you were scooting backwards, get the out at second. Can you describe that as you're scooting backwards what is the play you're trying to make?
ADDISON RUSSELL: So in that scenario, I'm kind of anticipating the ball to be up the middle a little bit because Chapman's throwing, but it took some weird hops and it forced me to move my feet and go back to the edge of the infield. Just try to get in front and then shovel the pass to Javy. I'm glad the ball stayed in front to get that out.
I kick that ball and the crowd goes wild and the game could have been changed right there. But Javy also anticipated to cover the bag as well, so that's huge, too.
Q. You just talked about Game 7 being a kid's dream, but to do it for a World Series title with this franchise, knowing the amount of years it's been, knowing the fan base and the way they follow you guys, have you been able to kind of process what tomorrow could be for, not just you personally, but for an entire franchise?
ADDISON RUSSELL: To be honest, I don't even think that we're really thinking about that. We just want to have that sound mind. I think a lot of us are going into tomorrow thinking it's just another game, but we're going to give it all we have. That's the approach that we've been taking this whole entire season and look where we are.
So I think if we go with that mindset, I think that we'll be pretty good.
Q. Is it fitting in some ways though, given the swings both ways, that this actual series between you and Cleveland is going to Game 7?
ADDISON RUSSELL: Absolutely. It's going to test both teams, I think. Tomorrow is a day that you kind of have to put it all on the table. I wouldn't even say the luckiest is going to win. It's the people that come up in the big situations. The guys that make the routine plays, and the guys that make the spectacular plays to avoid the big inning. I think that's going to be the difference maker.
They've been doing it all year. Obviously they have great defense and great bats. We've been doing it all year. This is what we've been working hard for since Spring Training, and just happy to see it all come together and following Joe's plan and succeeding.
Q. I don't know if anybody asked you, but can you describe your leaping tag on Heyward's throw at the end of the game?
ADDISON RUSSELL: Yeah, J-Hey made a tremendous play getting that ball off the wall, anticipating the guy going to second, obviously. But he has a strong arm. I'm kind of just anticipating the ball to go anywhere at that point. But he stayed calm and he gave me a great throw, enough time to where I could jump up and put a tag kind of on him before he got there.
So that was a huge play, too, as well.