Game 7 heaven? Cubs fans ready to rejoice
Representing in Cleveland, supporters daring to imagine title celebration in Chicago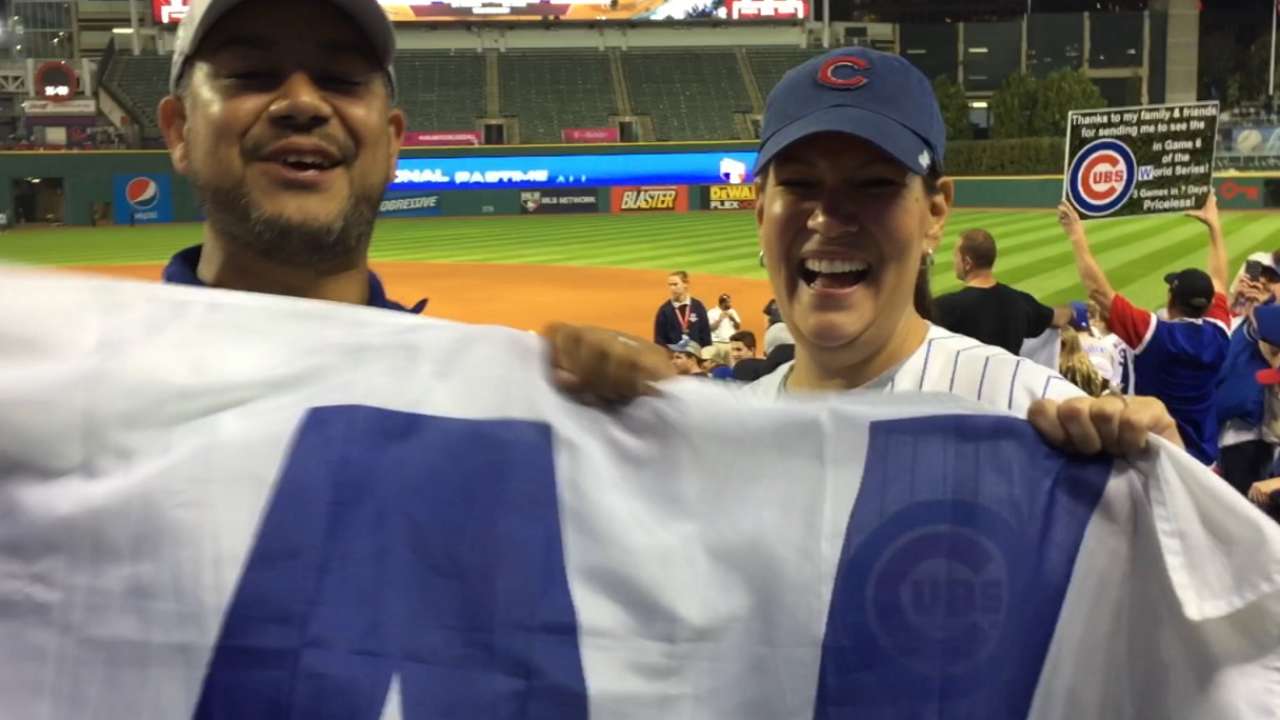 CLEVELAND -- The moment Addison Russell squeezed the ball into his glove in foul territory to catch Jason Kipnis' pop fly for the final out, delirious Cubs fans from all around Progressive Field made a beeline for the visitors' dugout. There they massed together, waving W flags, singing "Go, Cubs, Go" and proclaiming this 112th World Series officially tied at three games apiece.
They are ready for the moment, the moment they have waited for, forever. After a blowout 9-3 victory over the Indians in Game 6 on Tuesday night, the decisive Game 7 awaits on Wednesday.
"I don't know what it's going to feel like," said Brian Dunn, a native Chicagoan who came up from Charleston, S.C., to witness history. "I've never felt it, I've never understood it, but I'm going to enjoy it.
"I'm glad it's Game 7. It's just surreal. It's going to be two historic franchises. Just enjoy it."
• Shop for Cubs World Series and NL champs gear
Bob Burg and May Markiewicz of South Bend, Ind., enjoyed it so much that they were hoping stadium security would let them spend the night in the ballpark. After all, they were wearing pajamas. After a raucous round of "Go, Cubs, Go" behind the dugout, the pair in the PJs let loose.
"We wore pajamas so we can spend the night for tomorrow's game," Markiewicz said.
"Seven. Who would have thought? Cubs, World Series, Game 7, all in the same sentence?" Burg said. "Two of the best teams in all of baseball are playing. And they're going to Game 7 -- as it should be. That's what baseball is all about. Backing the team, win or lose, that's what being a Cubs fan is."
Fans who were at Sunday's Game 5 victory in the Wrigley Field finale already made it abundantly clear that no matter who ends their historic drought, 2016 has been a success. But Burg said he sure would like to see what happens back in Chicago if manager Joe Maddon's crew can complete the comeback from trailing three games to one in the Series.
"It's going to be more fun than anyone else has ever had in Wrigley Field," Burg said. "You know what, we're not going to turn over cars, we're not going to do stupid stuff. We are going to celebrate like no one's ever celebrated before."
"Like nothing else in history," Markiewicz said.
• Wrigleyville raring to erupt for Series title
Ronny and Claudia Valle were in the sea of roaring Cubs fans, him wearing an Andre Dawson jersey and she wearing the No. 17 of the guy who collected four hits in Game 6, Kris Bryant. They drove here from Naperville, Ill, and they will drive back on Wednesday morning and then watch Game 7 back home.
"It was exciting, electrifying," he said. "I felt like I was in Wrigley Field East, as in east in Ohio. This is just a testament to how the Cubs fans follow the team. This is part of history. If we win tomorrow, we can tell our kids and our grandkids, well the kids know we're here, but the grandkids will, too. This is awesome."
• Cubs fan winds up with Russell's grand slam ball
While it may be a fitting finish for these two franchises, Ronny alluded to the last NBA Finals and said, "It's only fitting that it's with the Cleveland Indians, because the Cavaliers came back from 3-1, now the Cubs are going to reverse it on the Indians. One more to go, baby!"
• @Cubs writes letter for fan to wear his cap to work
Tom Reilly of Nashville said it was a "bucket list kind of thing" to be at Game 6 with his sons Alex, 9, and Nick, 13. They sat in the upper deck and then came down after the game, where they were "just enjoying the moment right now."
• Cubs fan receives ticket from Murray, sits next to him
"It will be close in Game 7," Reilly said. "They've got to empty out the bullpen. We'll see what happens. It's going to be exciting."
Then he looked at his sons and said in a sign of the times: "They only know winning. They've had good luck the last couple of years."
Mark Newman is enterprise editor of MLB.com. Read and join other baseball fans on his MLB.com community blog. This story was not subject to the approval of Major League Baseball or its clubs.