Hendricks not lacking for advice on G7 start
Cubs veteran Lackey was a 23-year-old rookie when he delivered in Angels' 2002 WS clincher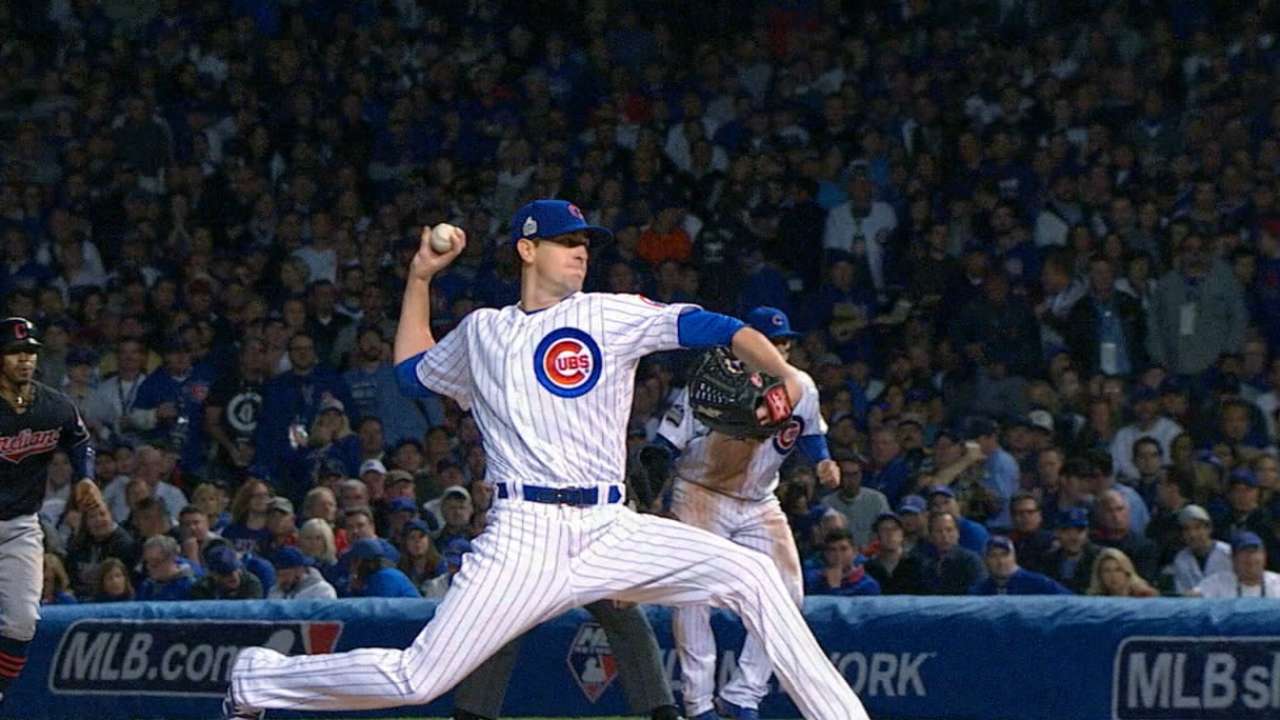 CLEVELAND -- Kyle Hendricks need look no further than his own clubhouse for advice on Wednesday's assignment, the biggest of his three-year Major League career.
Fourteen years ago, the Angels and Giants met in Game 7 of the World Series, and an even younger pitcher started for the Angels.
John Lackey, 23 years old at the time, took the Edison International Field of Anaheim mound for manager Mike Scioscia, whose bench coach was current Cubs manager Joe Maddon.
Lackey won the game, pitching five stellar innings before giving way to relievers Brendan Donelly, Francisco Rodriguez and Troy Percival in a 4-1 win.
• Shop for Cubs World Series and NL champs gear
Now the senior member of the Cubs' pitching staff, Lackey will be cheering on Hendricks, 26, as the Cubs try to win their first World Series title in 108 years.
"It's not a normal game," Lackey said after the Cubs' 9-3 victory over the Indians in Game 6. "Anybody who tells you Game 7 is just another game is lying to you. There's going to be some different emotions. Just try to use those and channel them in the right direction. Embrace that. Don't fight it."
Lackey, who was the losing pitcher in Game 4 of this Series, knows from which he speaks, although he was an unlikely starter for the Angels, who had wiped out a 5-0 deficit in the seventh inning the previous night to take Game 6.
"I didn't know I was starting until ... after we won Game 6," Lackey said. "Sosh came up to me after the game and told me I was starting. So, I was pretty excited. There was a lot on the line."
• Lackey's huge 2002 Game 7 start
There were good reasons why the Angels started a rookie right-hander, who had made his debut on June 24 of that season, Maddon recalled.
"We wanted him to pitch, everybody did," Maddon said. "The players did, the coaching staff, Sosh did. We all wanted him to pitch. We thought he could handle the moment and he was the right guy for the job, which all proved to be true.
"Like Cleveland now, we had a great bullpen. We wanted Lackey to start just based on who he was and just get us through five. We knew he would not be afraid. We thought he would pitch well, and he did."
• A look at World Series Game 7s
Lackey gave the Angels exactly what they wanted: five innings of four-hit, one-run ball. The bullpen held the Giants scoreless the rest of the way.
It happened again for Lackey and the Red Sox 11 years later, this time in Game 6. Could it happen for the Cubs and Hendricks on Wednesday night?
• 3 keys for Cubs, Indians in Game 7
Lackey said he will be available out of the 'pen. So will his teammate on the Cubs and Red Sox, Jon Lester. Lackey said he knows tensions will be high.
"You're not having fun while you're competing," Lackey said. "Winning is the only thing that's fun. The end result is the fun part. While you're competing, you're grinding out every pitch, trying to execute and trying to get things done."
Barry M. Bloom is a national reporter for MLB.com and writes an MLBlog, Boomskie on Baseball. Follow @boomskie on Twitter. This story was not subject to the approval of Major League Baseball or its clubs.