Cubs prepared for G7 after first-rate field work
Aroldis' redemption, a slick DP and two great plays from Heyward latest in season-long reel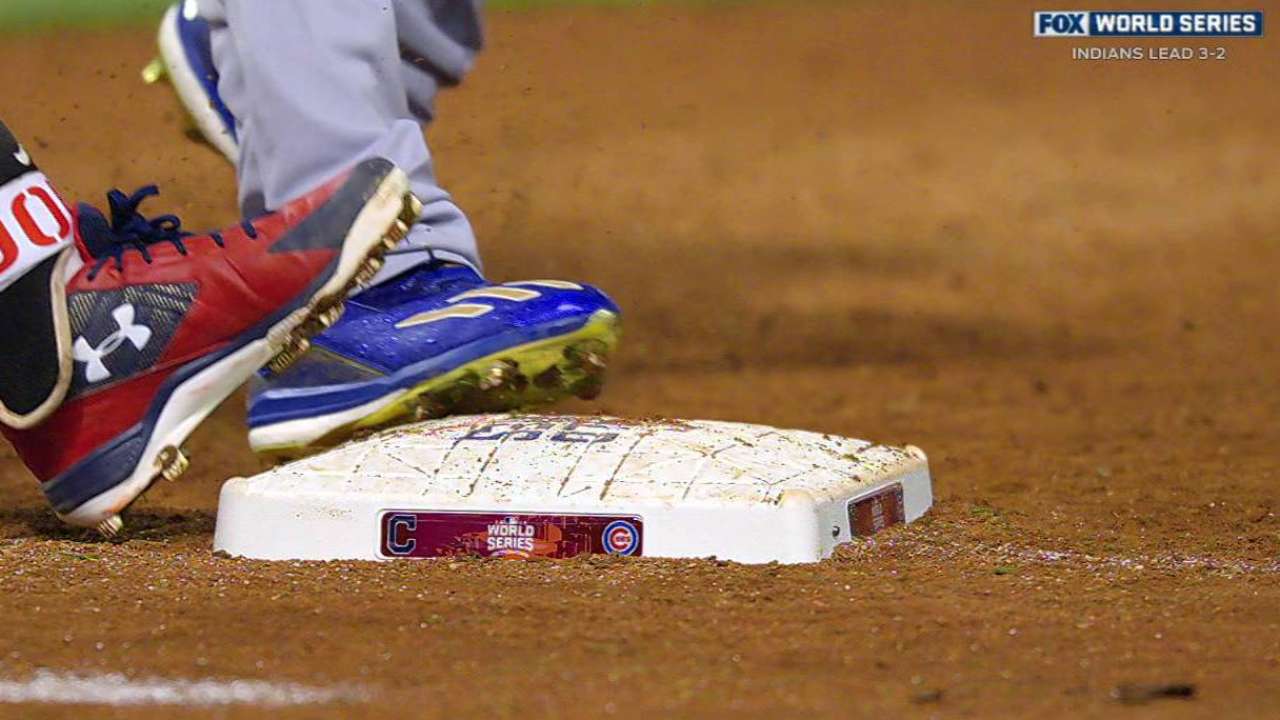 CLEVELAND -- Two nights after a costly defensive mistake, the Cubs were not about to let history repeat.
In the seventh inning of Chicago's 9-3 victory over the Indians in Game 6 of the World Series on Tuesday night at Progressive Field, Cleveland's Francisco Lindor grounded to first baseman Anthony Rizzo, and the race was on, with closer Aroldis Chapman chasing Lindor to the bag. Rizzo flipped Chapman the ball, and after first-base umpire Sam Holbrook called Lindor safe, the Cubs challenged, and the replay official definitively determined that Chapman's foot touched the base a split-second before the baserunner.
The call was overturned, and Lindor was out. It was a reversal of a similar play in Game 5 on Sunday night at Wrigley Field, when Indians speedster Rajai Davis smacked a grounder down the first-base line that Rizzo snared with a diving grab. But when Rizzo looked up to make the throw on Sunday, Chapman was still on the mound.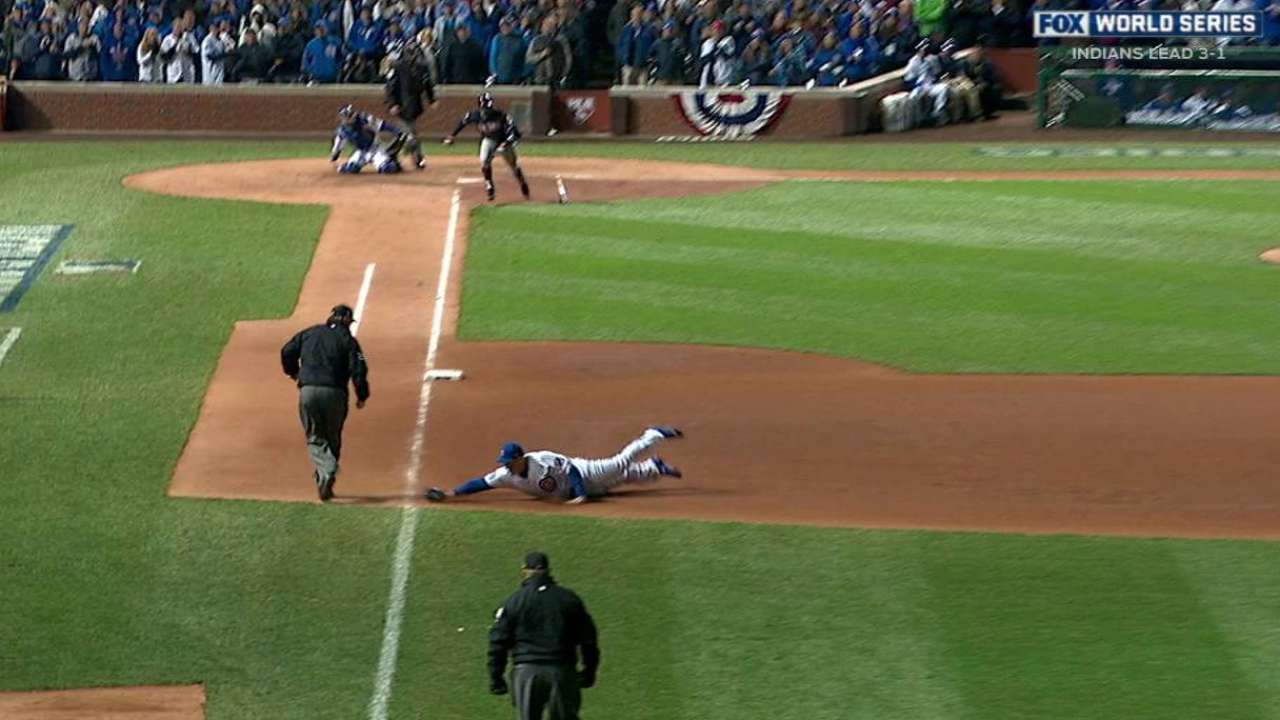 The Rizzo-Chapman play was just one of four acrobatic defensive plays the Cubs made in Tuesday's game, a harbinger of great importance with Game 7 at hand. One play could mean the difference between the Cubs winning the World Series for the first time since 1908, and the Indians grabbing glory for the first time since 1948.
• Shop for Cubs World Series and NL champs gear
"That's what we normally do," said Cubs manager Joe Maddon. "We're used to making good defensive plays. We're also capable of spectacular defensive plays. I like making the ones you're supposed to make, and then we have such good athletes that they're able to make even-better-than-that plays.
"All over the place, man, that's pretty much what we've looked like the entire season, those kind of defensive plays."
Jason Heyward made two excellent plays on Tuesday. The first was a diving catch in right-center on a liner hit by Jose Ramirez in the fourth inning, when the Indians were trying to come back from a 7-0 deficit. The second was a throw from the right-field corner that nailed Roberto Perez at second in the ninth inning after the catcher tried to stretch his RBI single.
The throw was spectacular enough, but shortstop Addison Russell made a leaping grab and then came down to tag Perez before he could reach the base.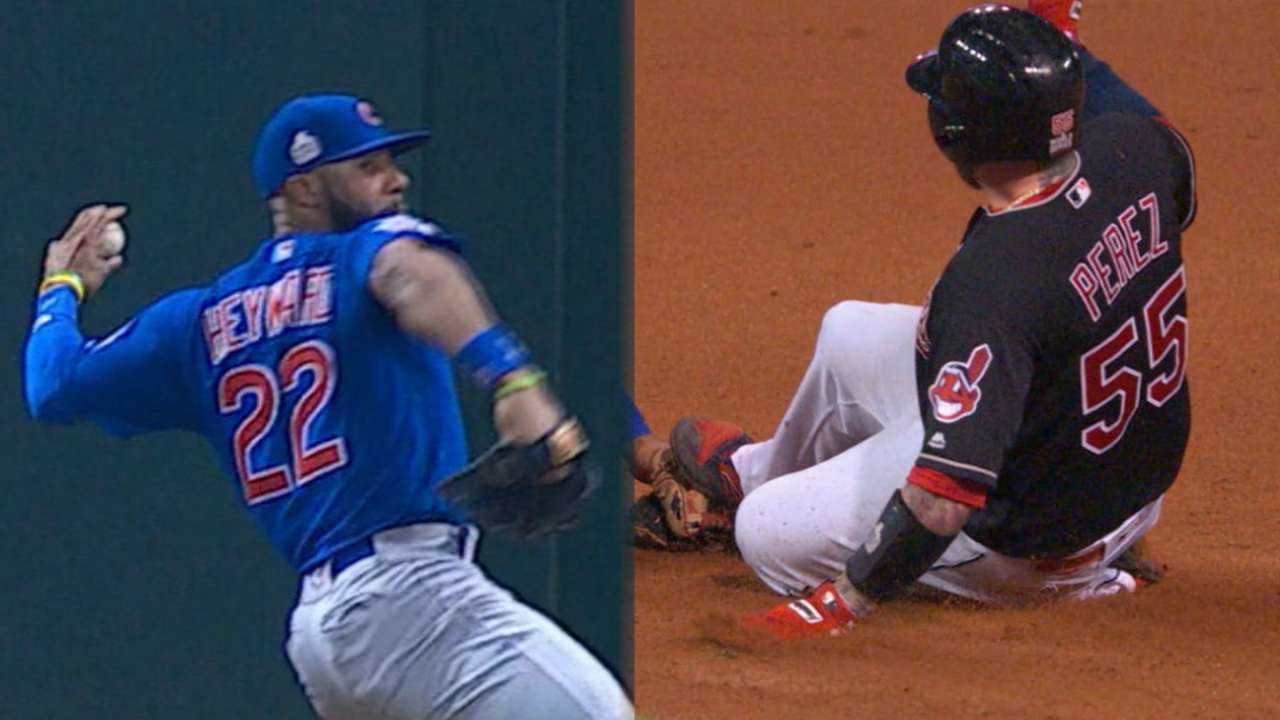 "Yeah, J-Hey made a tremendous play getting that ball off the wall, anticipating the guy going to second, obviously," said Russell, who hit the first Cubs World Series grand slam and drove home six runs in the game. "But he has a strong arm. I'm just anticipating the ball going anywhere at that point. But he stayed calm and he gave me a great throw, enough time to where I could jump up and put a tag on him before he got there."
Just to complete the quartet, Russell and second baseman Javier Baez turned a nifty double play to end the eighth inning on pinch-hitter Yan Gomes' grounder. Russell nearly muffed the ball and shoveled a low throw over to Baez, who grabbed the ball and made an athletic turn to complete the DP.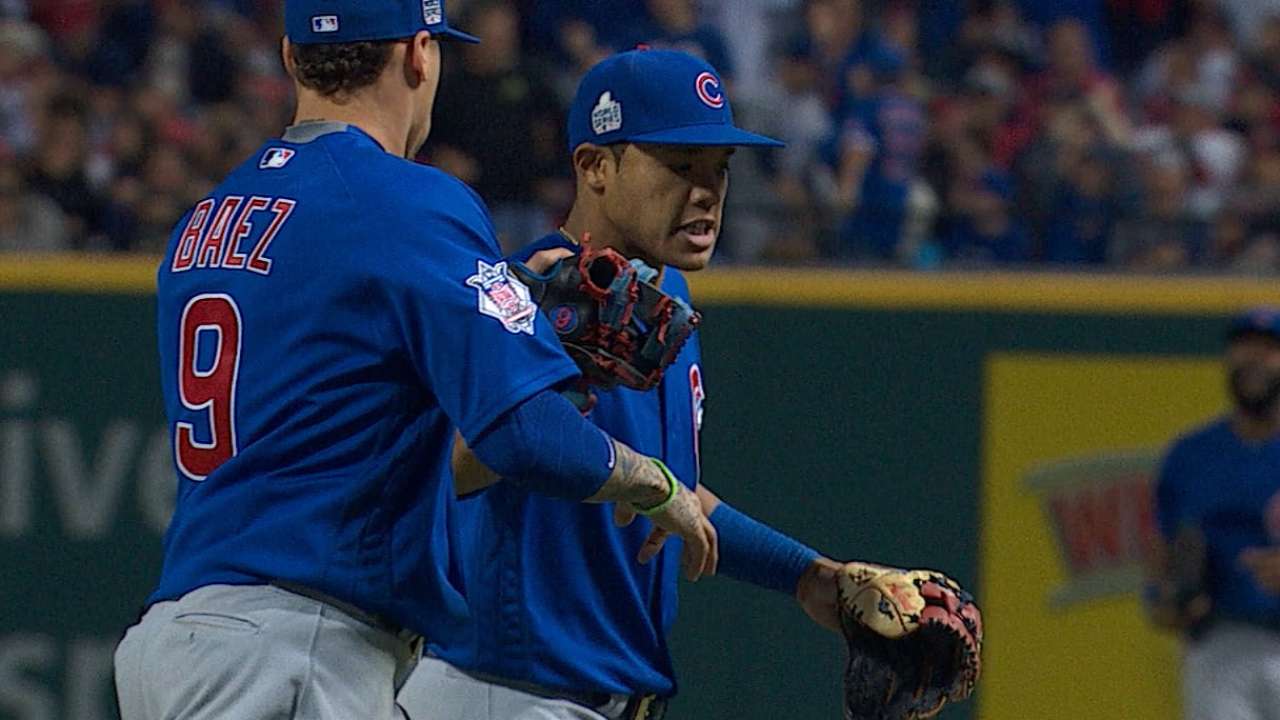 "So in that scenario, I'm kind of anticipating the ball to be up the middle a little bit because Chapman's throwing, but it took some weird hops and it forced me to move my feet and go back to the edge of the infield," Russell said. "I just tried to get in front and then shovel the pass to Javy.
"I'm glad the ball stayed in front to get that out. I kick that ball and the crowd goes wild and the game could have changed right there. But Javy also anticipated to cover the bag as well, so that's huge, too."
• Watch in wonder as Baez turns shoestring throw into effortless DP
Heyward has struggled offensively all season, and in the World Series he is hitting .200 (3-for-15) with no extra-base hits or RBIs. Maddon didn't start him in the first three games, but he's been out there ever since, primarily because of his ability to play defense and separate his offensive struggles from what he can contribute in right field. On Tuesday night, that decision paid real dividends.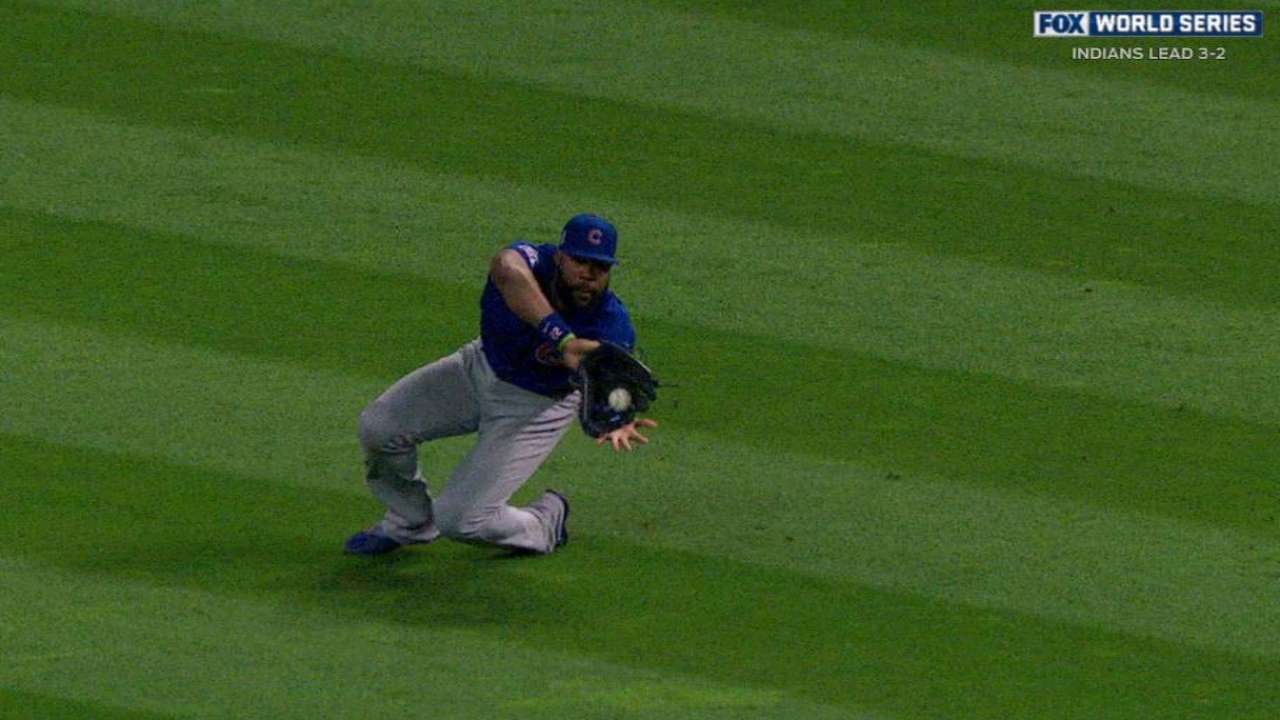 "It's going to take everybody," Heyward said. "We knew that going into the Series, and especially after going down 3-1, we knew it was going to take everybody to get something done. Every play you just try to be ready. Every play you just expect the ball to come to you. Tonight, I was just in the right spot at the right time. It was good to contribute and get the win."
Barry M. Bloom is a national reporter for MLB.com and writes an MLBlog, Boomskie on Baseball. Follow @boomskie on Twitter. This story was not subject to the approval of Major League Baseball or its clubs.