Hendricks-Kluber in G7 a rare CY-worthy duel
Matchup of likely top-five Cy Young Award finishers would be third of its kind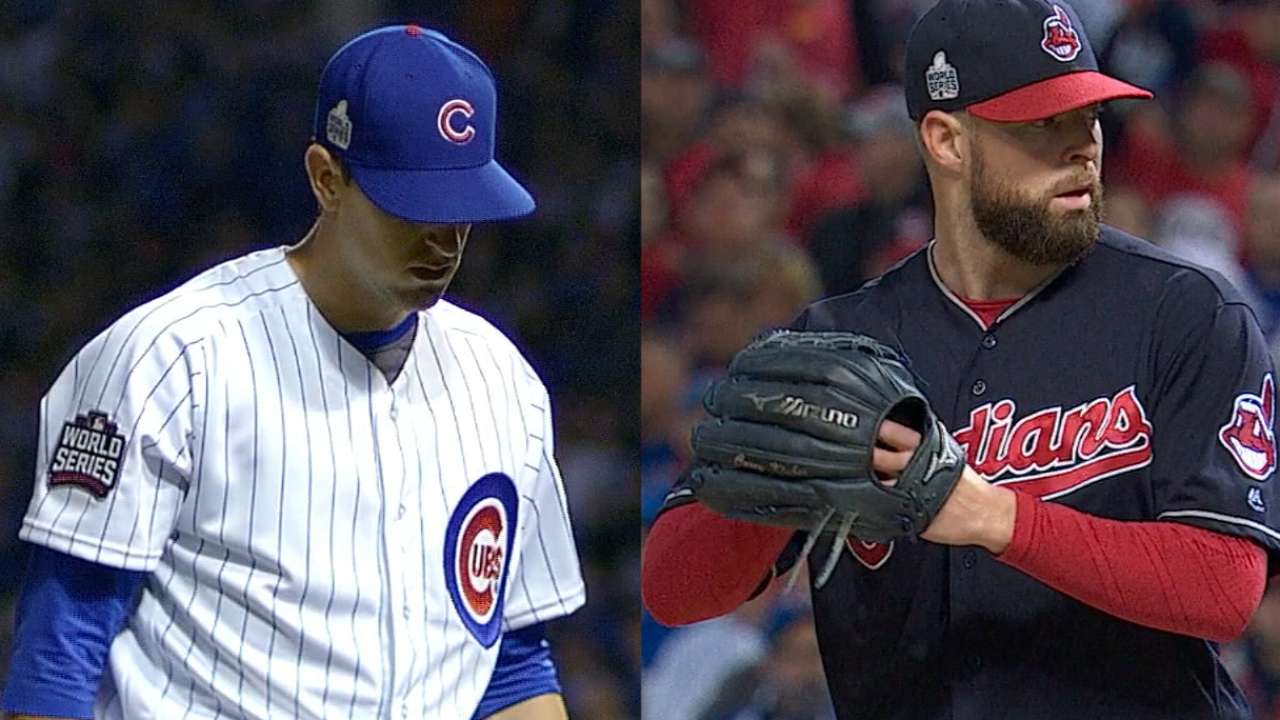 As if a winner-take-all Game 7 isn't enough, as if two of the longest title droughts in sports on the line in one final game isn't enough, look at the two pitchers taking the mound.
With the Cubs evening the World Series with a 9-3 win in Game 6 on Tuesday, we'll watch as the Indians' Corey Kluber and the Cubs' Kyle Hendricks -- coming off two of the best seasons for a starting pitcher in the Majors -- take the ball at Progressive Field in a marquee matchup fit for a Game 7.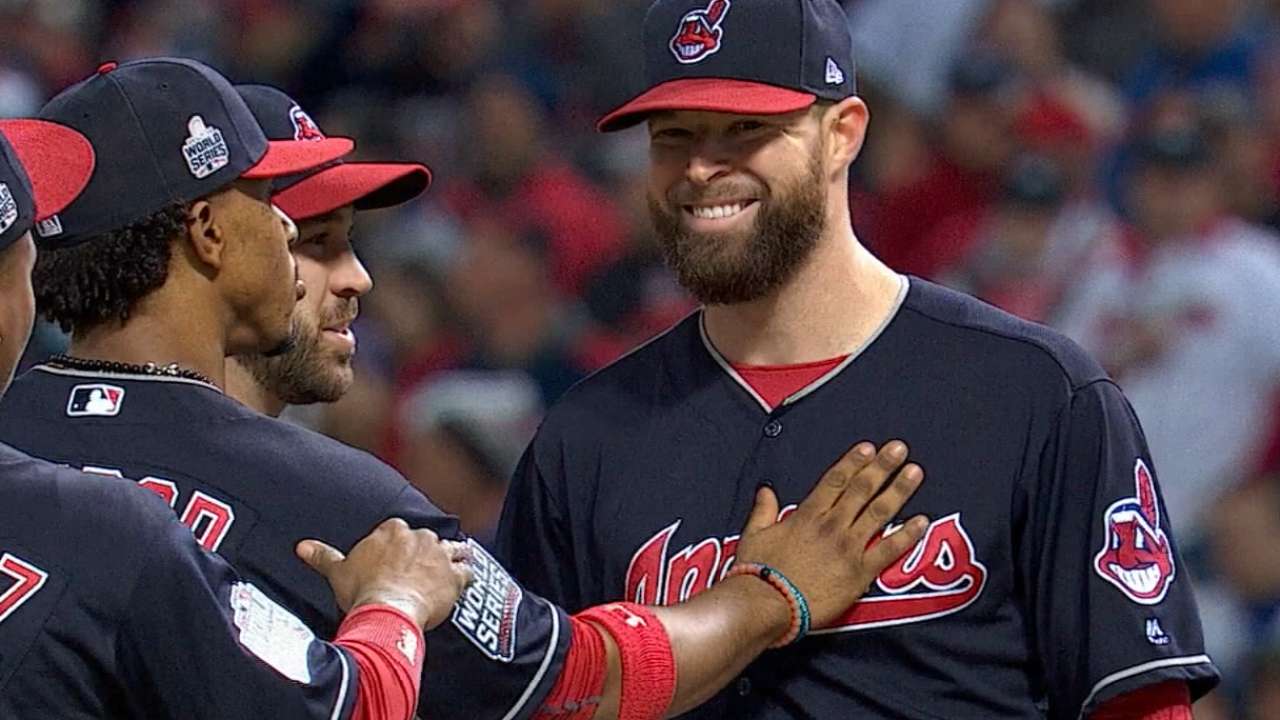 Kluber, Cleveland's ace, has been dominant in his first career postseason. He's had three scoreless outings in five starts, with a sparkling 0.89 ERA. Hendricks, a master craftsman who keeps hitters off balance like few others, has also been sharp, with a 1.31 ERA and two scoreless outings in four postseason starts.
And if the Cy Young Award voting for each league goes as expected, this game will mark just the fourth time that two pitchers who finished in the top 10 in their respective leagues faced off in Game 7 of the World Series.
• World Series gear: Cubs | Indians
If you need convincing on that front, note that MLB.com's Cy Young Award prediction tool, created by Tom Tango, projects Kluber finishing third in a crowded American League field and Hendricks finishing fourth in the National League.
Kluber, who won the AL Cy Young Award in 2014, ranked third in the AL with 18 wins, fourth with a 3.14 ERA, fifth in innings pitched with 215, tied for second in complete games with three and fifth in strikeouts with 227.
Hendricks was equally impressive. He pitched to his Major League-best 2.13 ERA by limiting the quality of his opponents' contact better than almost anyone in the game. He allowed only 16 barreled balls -- the type of contact that goes for hits and extra-base hits the most often -- the third fewest among qualified starters.
Of the 17 previous Game 7s since the practice of awarding the Cy Young Award to a pitcher in each league began (1967), only three featured a showdown between two starting pitchers among the top 10 in the Cy Young Award voting. And just two of those featured two top-five finishers.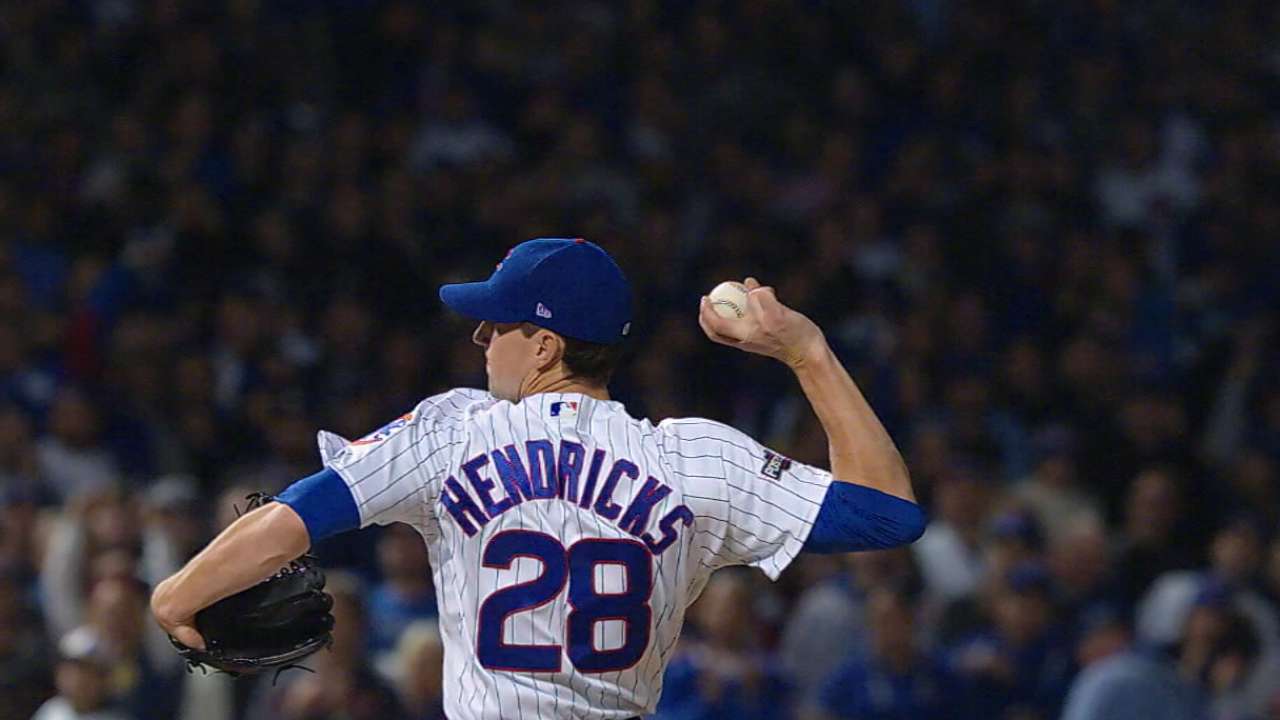 Here is a look at those three games:
Game 7, 2001: Roger Clemens vs. Curt Schilling
This game was as good as they come -- Yankees vs. D-backs in Game 7 of the 2001 World Series. Well before Luis Gonzalez's legendary walk-off hit off Mariano Rivera, the best of the best dueled on the mound. Clemens, who won the AL Cy Young Award that year, allowed one run in 6 1/3 innings and struck out 10. Schilling, who finished second in the NL voting -- to teammate Randy Johnson, who won Game 7 in relief -- went 7 1/3 innings, allowing two runs with nine strikeouts.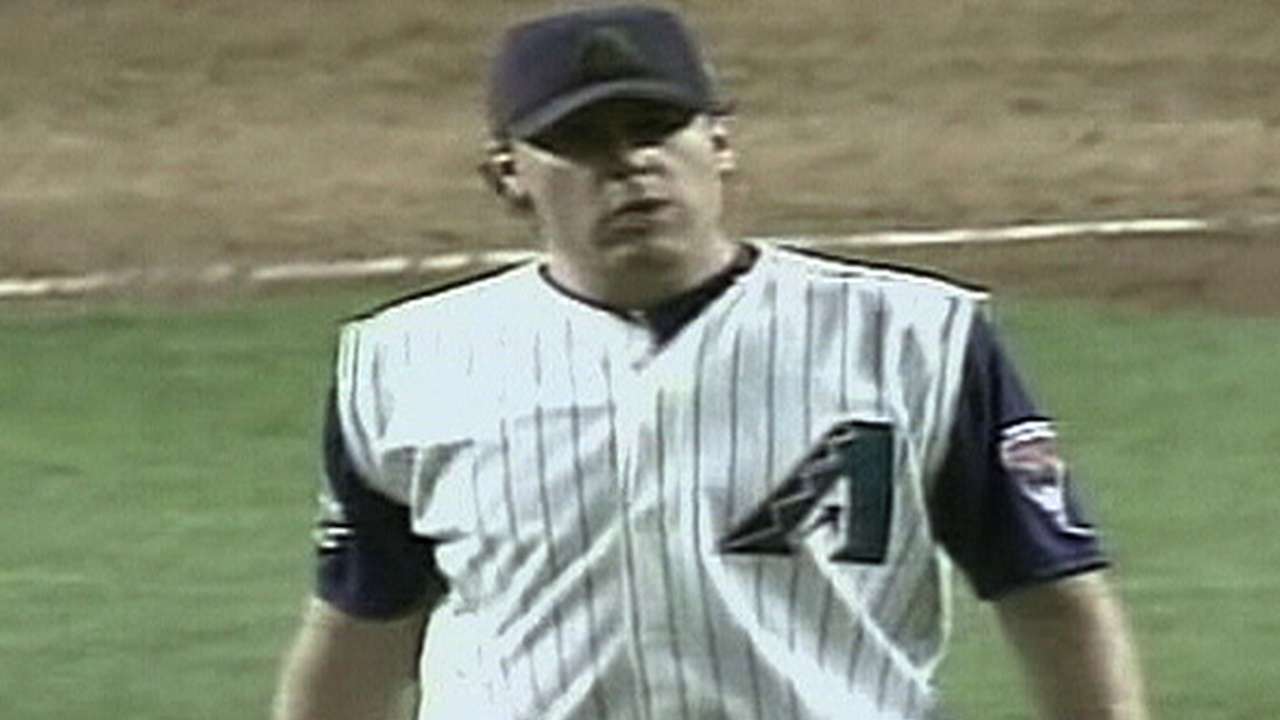 Game 7, 1985: Bret Saberhagen vs. John Tudor
This contest matched up the AL Cy Young Award winner, the Royals' Saberhagen, and the NL's second-place finisher, the Cardinals' Tudor. Kansas City was trying to come back from being down 3-1 in the series -- the same feat the Cubs could accomplish. The Royals succeeded, knocking around Tudor in an 11-0 win. Saberhagen was masterful, throwing a shutout on his way to being named World Series MVP.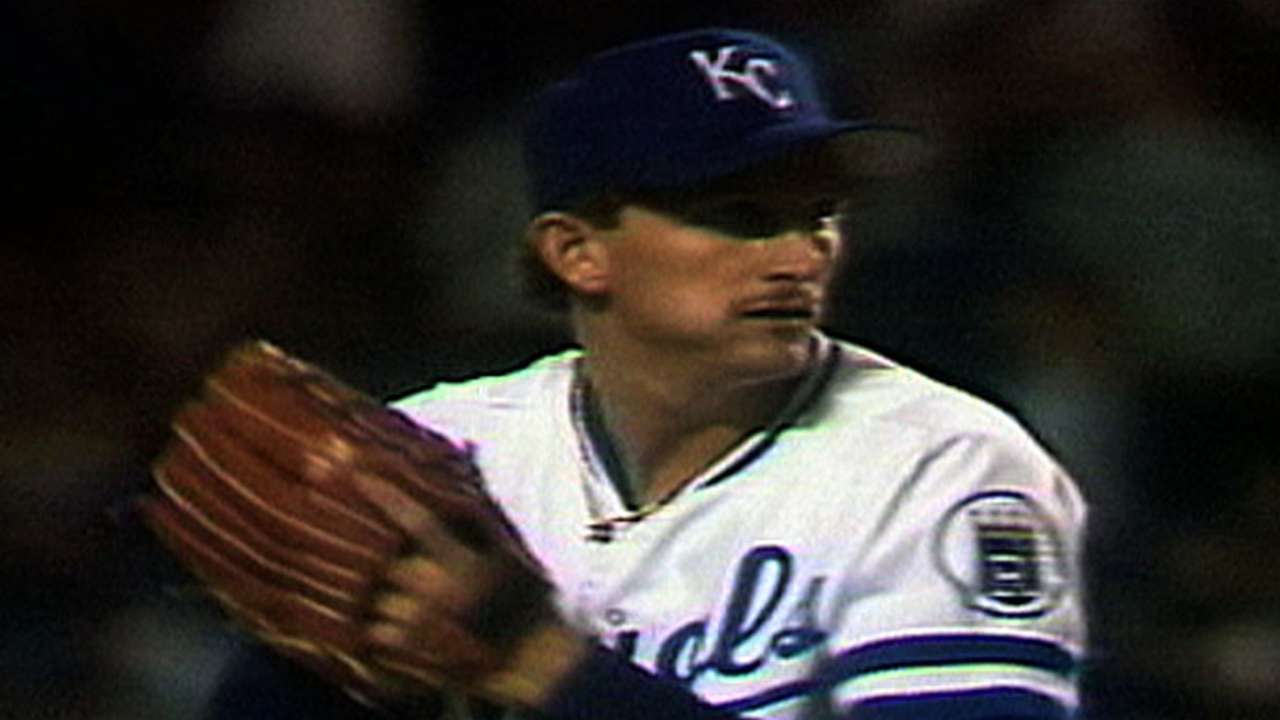 Game 7, 1982: Pete Vuckovich vs. Joaquin Andujar
In 1982, the Cardinals and Brewers matched up in Game 7 at Busch Stadium. Vuckovich, the AL Cy Young winner, faced St. Louis' Andujar, who tied for seventh in the NL voting. Andujar outpitched Vuckovich, allowing two earned runs in seven innings to win the series for the Cards.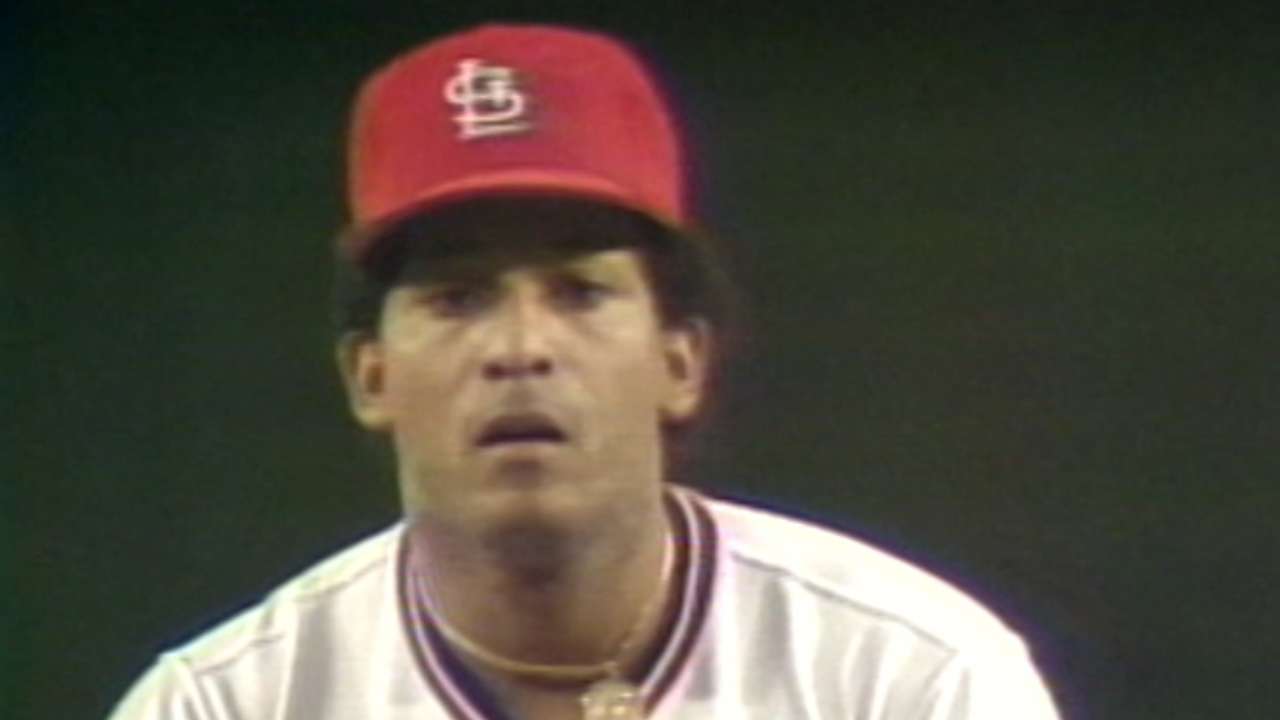 David Adler is a reporter for MLB.com based in New York. Follow him on Twitter at @_dadler. This story was not subject to the approval of Major League Baseball or its clubs.