With title on the line, Indians call on Kluber
Ace right-hander has already picked up two wins in World Series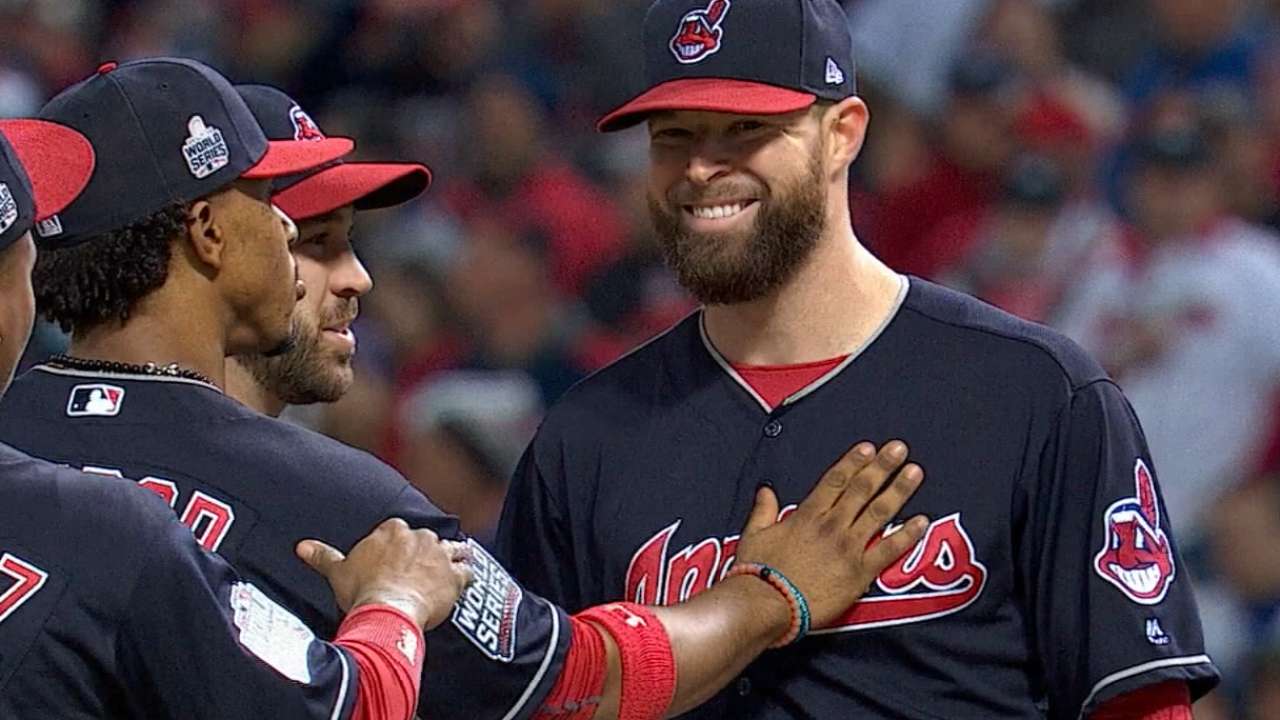 CLEVELAND -- It's only fitting Corey Kluber will be the man on the mound to represent not only the Indians, but also the American League, for Game 7 of the World Series at Progressive Field on Wednesday evening.
After all, it was Cleveland's ace who earned the win in the All-Star Game in July, capturing home-field advantage in the Fall Classic for the AL. The World Series was sent to a seventh game after the Cubs staved off elimination with their second consecutive win Tuesday, and the Indians can claim their first title since 1948 with a victory Wednesday.
"I never connected those dots at that point in time," Kluber said. "Obviously looking back now, the American League did win the All-Star Game, so we have the opportunity to have home-field advantage in the World Series. Hopefully that works in our favor."
The Cubs will counter with right-hander Kyle Hendricks in the much-anticipated affair. As good as the 26-year-old has been this postseason, pitching to a 1.31 ERA, Kluber has been even better, his ERA at 0.89.
"Who else would you want? That's our guy," Indians second baseman Jason Kipnis said. "That's our stud. That's our bona fide ace. If you ask everybody in here who you want on that mound, you're going to get Corey Kluber as the answer. We're pumped about that."
The 30-year-old Kluber, who will be pitching on just three days' rest for the third time this month, has been an absolute postseason powerhouse. He's arguably the biggest reason the Indians are within reach of the World Series title and easily the biggest reason to believe they'll claim it.
Cleveland has won four of his five starts in the postseason, with Kluber providing at least six innings in each of the wins. In all, he's yielded just three earned runs in 30 1/3 innings, making it look easy along the way.
Kluber had never started on short rest before this postseason, magnifying the significance of what he's been able to do on behalf of an injury-plagued rotation. That he's thrived in such situations is of no surprise to his manager, who relied on conversations with his routine-driven ace ahead of plotting out his pitching plans.
"I think good players, good pitchers can do special things," Terry Francona said. "He's in that category."
There's no denying just how phenomenal Kluber has been, but there will be intrigue when it comes to Francona deciding just how long to let his ace go, based on a look at Statcast™'s inning-by-inning data that shows some pretty clear patterns on two of Kluber's most important pitches, his curveball and his two-seam fastball.
As the image above makes clear, the deeper Kluber goes into the game, the further these two pitches get from their best possible versions. Take the fastball, for example, which has been averaging 93.1 mph out of the gate in the first inning, but has been down to 91.7 mph in the three times he's pitched into the seventh inning. For the entire year, hitters have missed 11.3 percent of the time when they have offered at his fastballs when they're 92 or above, and barely half that when it's 91 or below.
The curveball is a similar story. Kluber's season average spin rate was 2,600 revolutions per minute (RPM), which was well above the Major League average of 2,471 RPM, but if he goes too far in the game, it drops to average or even below. High-spin curves tend to lead to more movement, especially downward if the pitch is angled properly.
Kluber is hardly the only pitcher in baseball who gets less effective as he tires, and Francona, who will be mindful of this, has a formidable bullpen in the wings.
"Kluber's on the mound, bullpen is rested," first baseman Mike Napoli said. "We're confident. We're home. We're going to show up to play."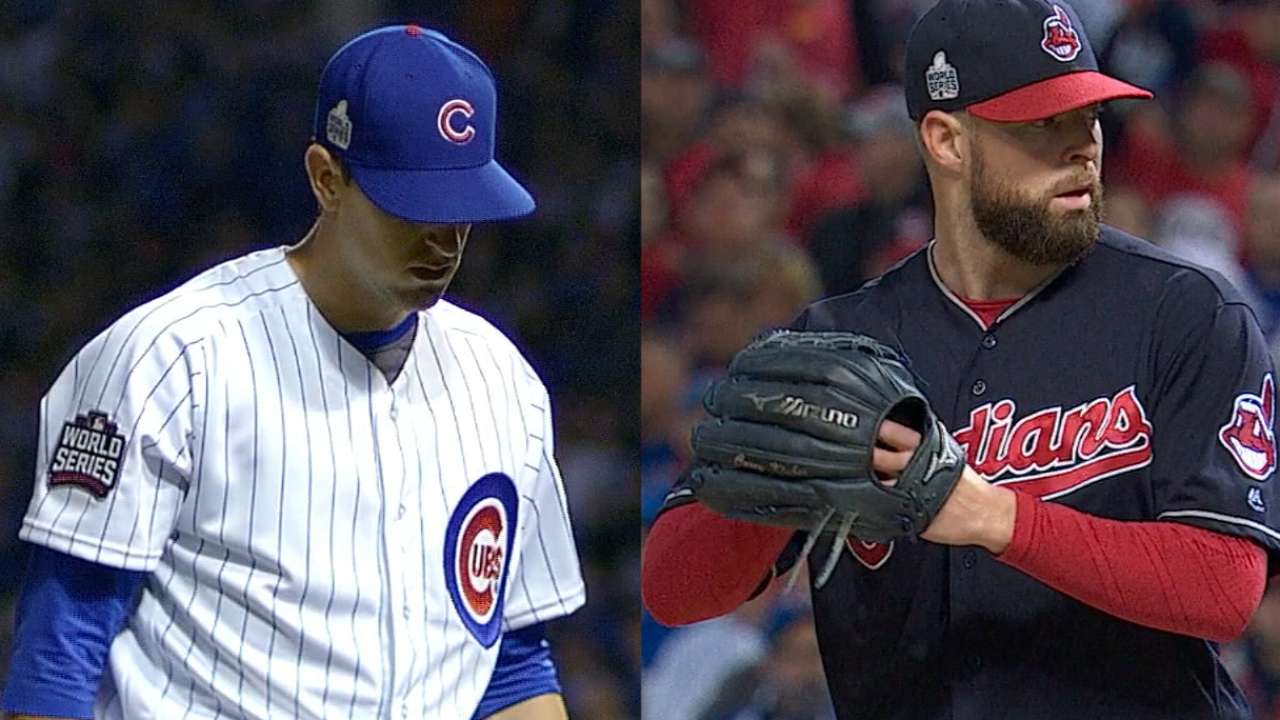 Kluber rarely, if ever, shows any emotion on the mound. He's void of facial expressions, fist pumps and ferocity. But there's no questioning his intensity, seen through the meticulous way he treats each outing. He's produced tremendous results with it, including an AL Cy Young Award in 2014.
On the table now? The World Series Most Valuable Player Award. Kluber, should he continue his dominance Wednesday, would be the favored candidate. He enters the matchup 2-0 with a 0.75 ERA in the World Series, having neutralized a daunting Cubs lineup in Games 1 and 4. He allowed one run in a combined 12 innings with 15 strikeouts.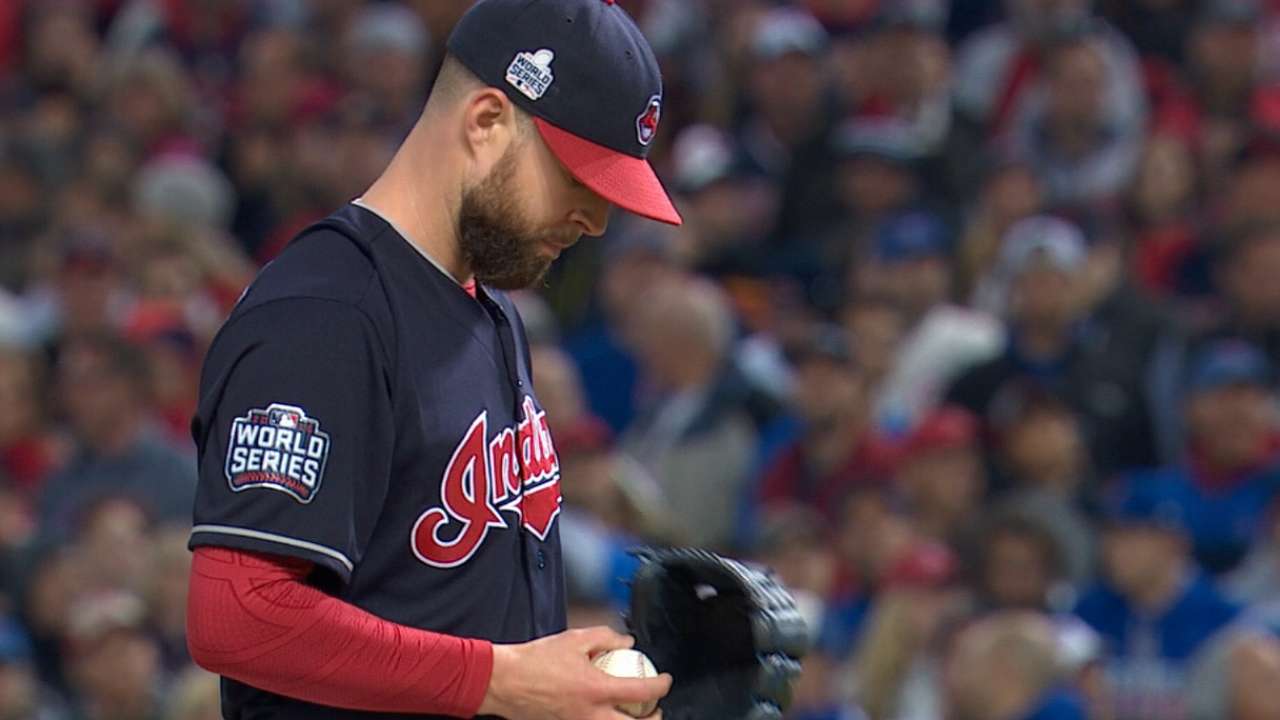 The Indians expect more of the same from him in their final game of the season.
"He's the type of guy, if anybody's going to be able to handle starting Game 7 of the World Series," closer Cody Allen said, "it's Corey Kluber."
Jane Lee has been a reporter for MLB.com since 2010. This story was not subject to the approval of Major League Baseball or its clubs.