Living the dream: Hendricks takes hill for Game 7
Major League ERA leader looks to pitch Cubs to first World Series title since 1908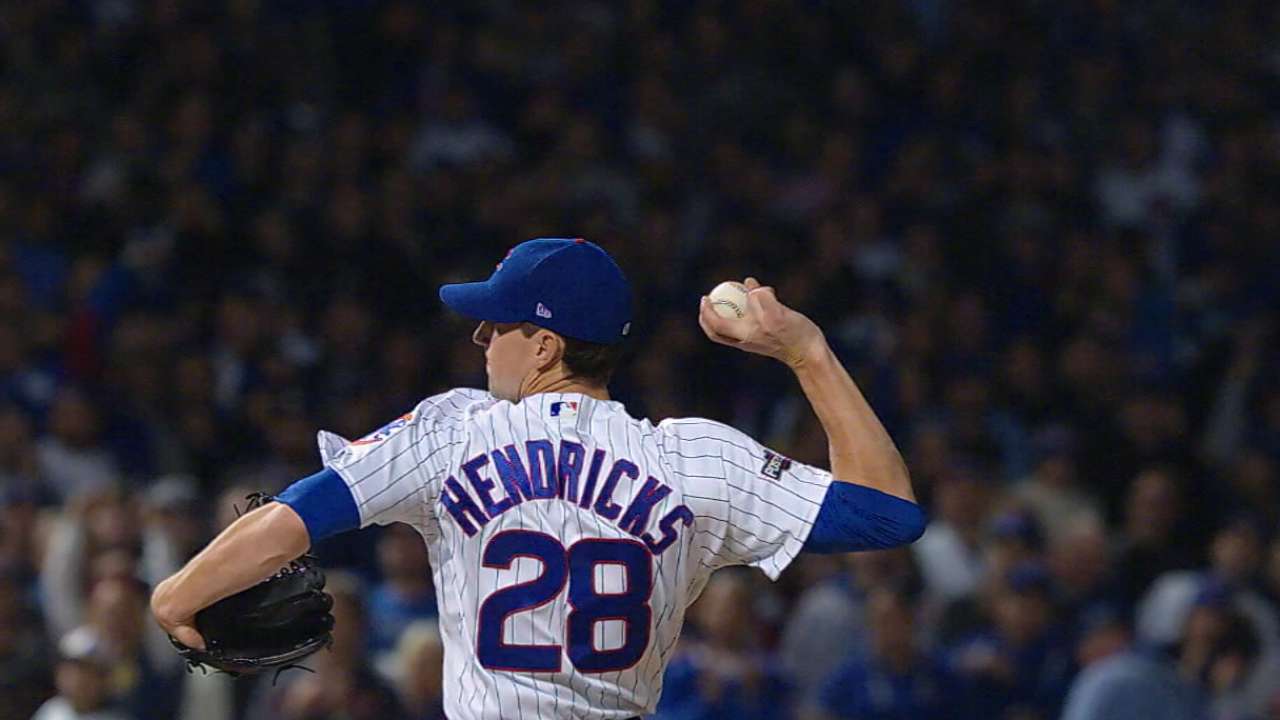 CLEVELAND -- Game 7 of the World Series will begin like this: The Indians will have the 2014 American League Cy Young Award winner on the mound in Corey Kluber, making his third start in the Series and seeking his third win. But don't overlook the 26-year-old Ivy Leaguer starting for the Cubs. Kyle Hendricks is formidable, too.
Hendricks, Major League Baseball's regular-season ERA leader and a leading candidate for this year's NL Cy Young Award, gets the call for the start of the Cubs' third straight elimination game. It will be an all-hands-on-deck affair Wednesday night at Progressive Field, where he watched Chicago score early and often on the way to a 9-3 win in Game 6 on Tuesday night. First pitch for Game 7, originally scheduled for 8:08 p.m. ET, has been moved up to 8 p.m.
"This is the ultimate dream," Hendricks said. "You dream of getting to the World Series, winning the World Series. When you're out in your backyard as a kid, playing Little League at the field with your friends, this is the moment you dream about. Game 7, 3-2, two outs, something like that, bottom of the ninth. But it's always Game 7 of the World Series.
"So when we get there, I'm just going to embrace the opportunity like I have the rest of this postseason, honestly. Approach it like any other game. Simple thoughts, the same old thing."
• Shop for Cubs World Series and NL champs gear
While Kluber already has some Cy Young Award hardware, and is a candidate again this year, Hendricks is a contender for the NL honor for the first time after going 16-8 with a Major League-best 2.13 ERA during the regular season.
It's notable that Hendricks did his best work at Wrigley Field, where he was 9-2 with a 1.32 ERA and a .517 opponents' OPS in 14 starts plus one relief appearance. But he wasn't bad on the road, going 7-6 with a 2.95 ERA and a .643 opponents' OPS in 16 starts. Hendricks surrendered four home runs at home and 11 on the road, worth a mention if the conditions are as warm and hitter-friendly as they were for Game 6.
He completed at least five innings in all 30 of his regular-season starts, but he has been removed from two of four postseason outings short of that mark, including Game 3 of the World Series. Hendricks did not allow an Indians run in that game, but he struggled to command his fastball in the early innings, walking a pair in 4 1/3 innings to push his pitch count to 85 before manager Joe Maddon called to the bullpen.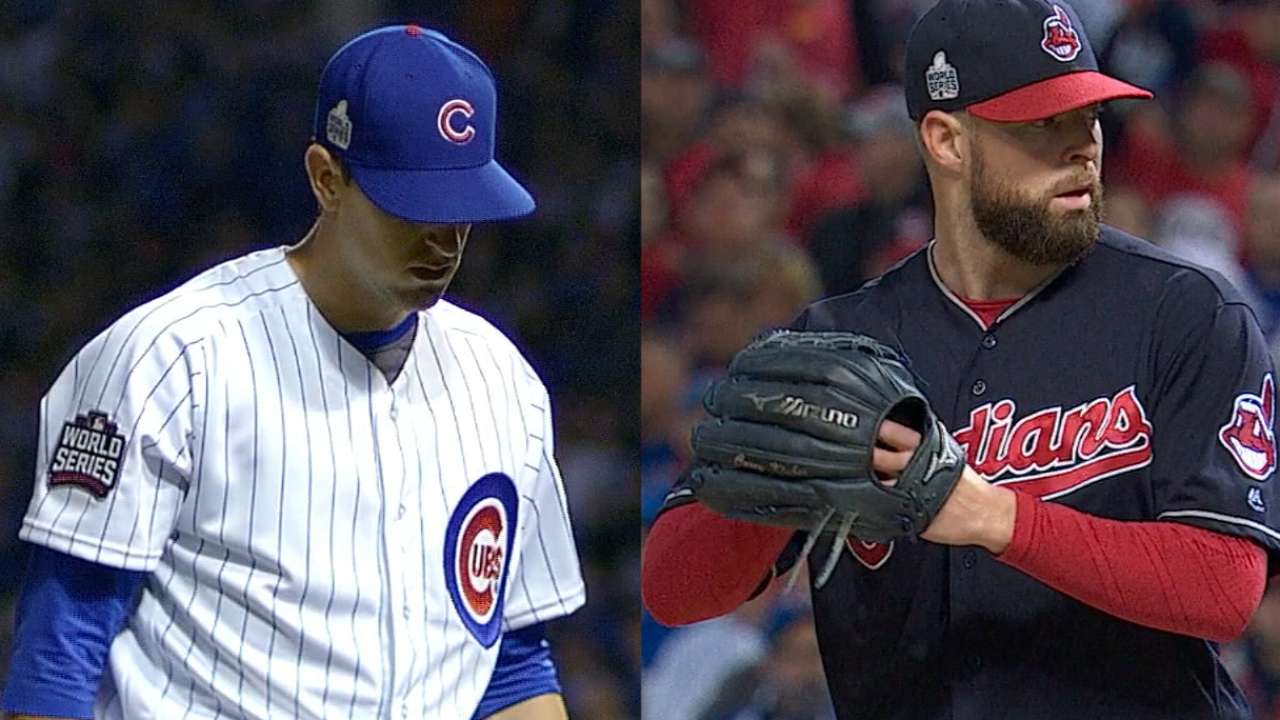 "I didn't have it," Hendricks said that night.
He did have it six days earlier, working into the eighth inning of the Cubs' clincher against the Dodgers in Game 6 of the NL Championship Series. He surrendered two singles over 7 1/3 scoreless innings with no walks in that game, a 5-0 Cubs win that propelled them to the World Series for the first time since 1945.
"I love this team when our back's against the wall," said Cubs slugger Kris Bryant. "You saw it two days ago [in Game 5], you saw it [in Game 6]. Just really good baseball.
"We know it's going to be a good game. We know [Kluber] is going to be good. We've got one of our best pitchers this year, too, going. So you dream for this, man."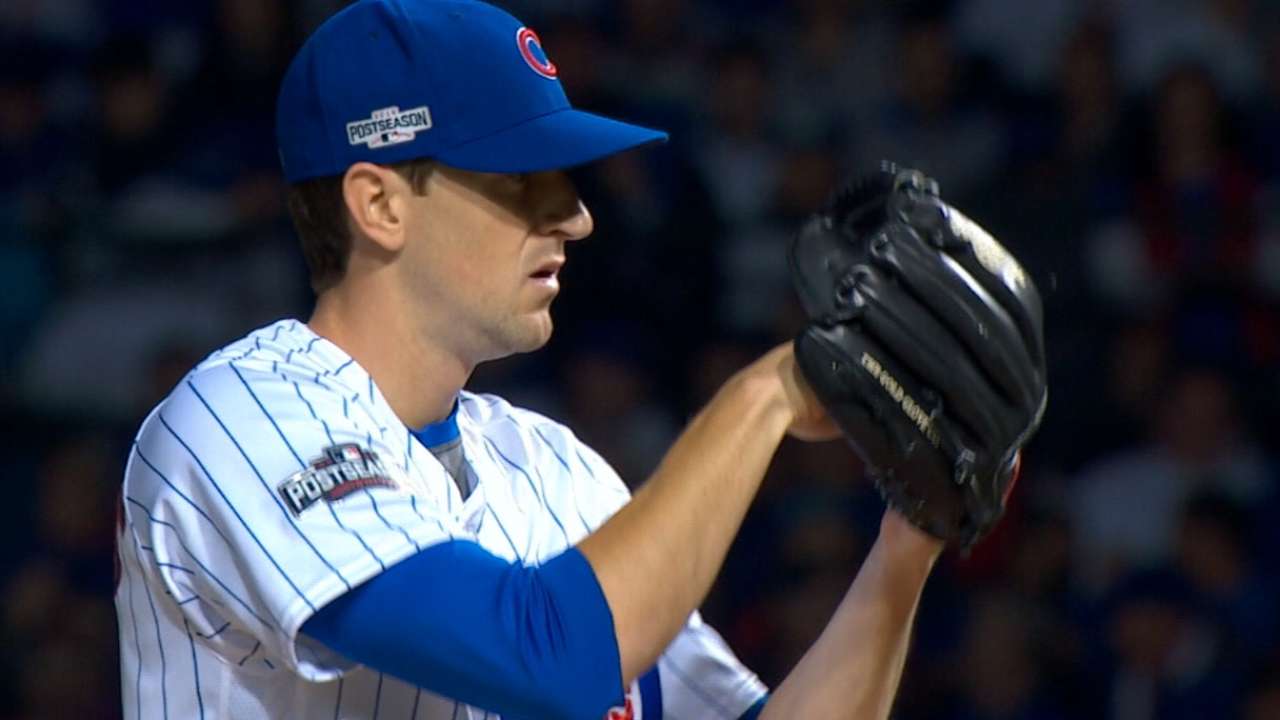 What makes Maddon believe Hendricks is capable of shouldering the magnitude of a Game 7?
"The slow heartbeat," Maddon said. "He's able to control his emotions really well. I like the fact that he commands other pitches in fastball counts well, which really presents difficult situations for the hitter. I mean, that's really where it comes from with him.
"He's an artist. I mean, he could really make pitches. So pitching [Wednesday], you'll know very quickly where he's at."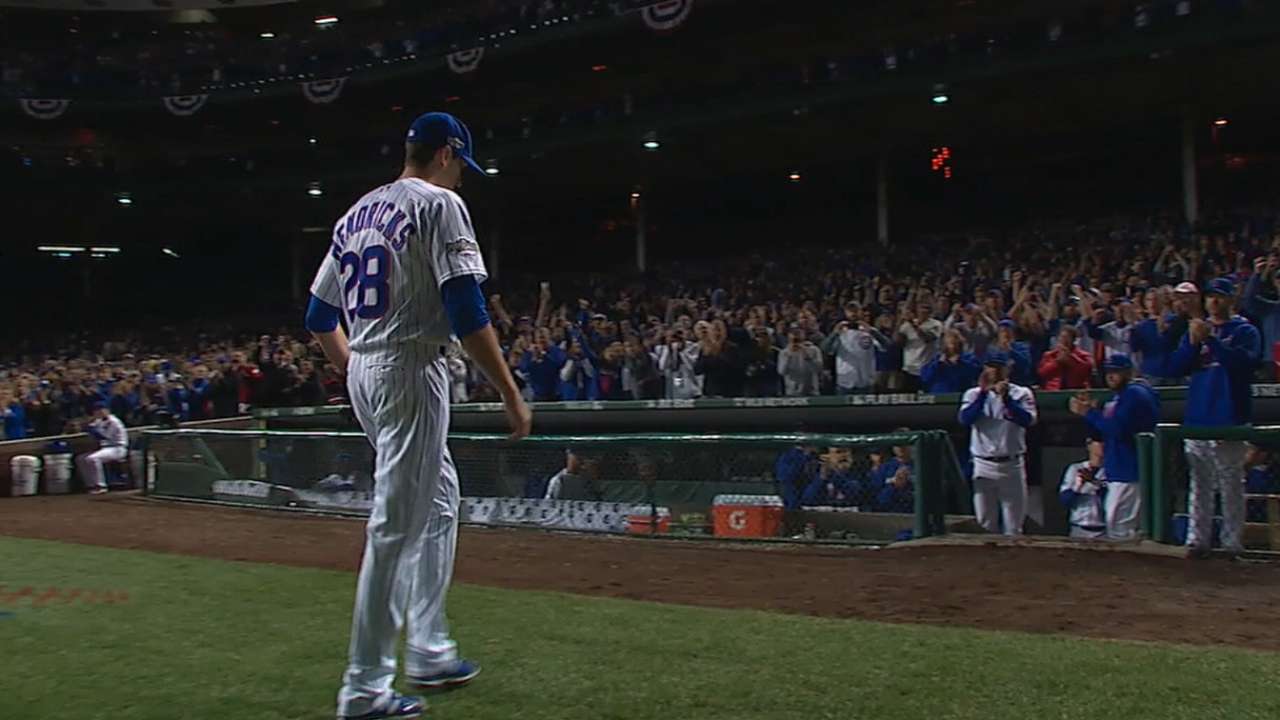 The "tell," Maddon said, will come from Indians hitters.
"If you see the hitter blanch or take a pitch that is obviously a strike, and he does not mention anything to the umpire and he knows it's a strike, that tells you how much his ball is moving and how fine it is," Maddon said. "When I'm watching from the side and I see that, I know he's going to have a good night."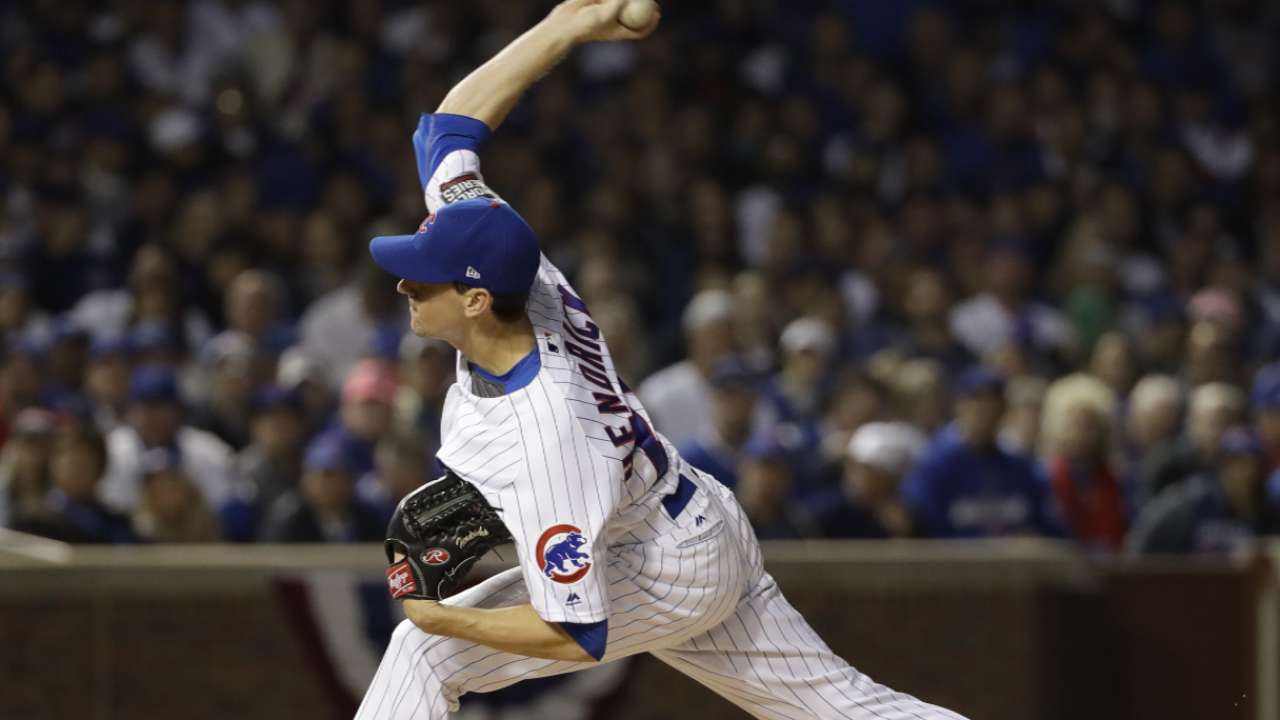 The Cubs are hoping Game 7 brings one more good night in a season full of them.
"There's no tomorrow after tomorrow," said Cubs first baseman Anthony Rizzo. "If you lose, you go home. If you win, you're a hero. That's the way it is."
Adam McCalvy has been a reporter for MLB.com since 2001. This story was not subject to the approval of Major League Baseball or its clubs.