Cubs close to joining 3-1 comeback club
Chicago trying to become 6th team to rally from 3-1 down; 7th to win Games 6, 7 on road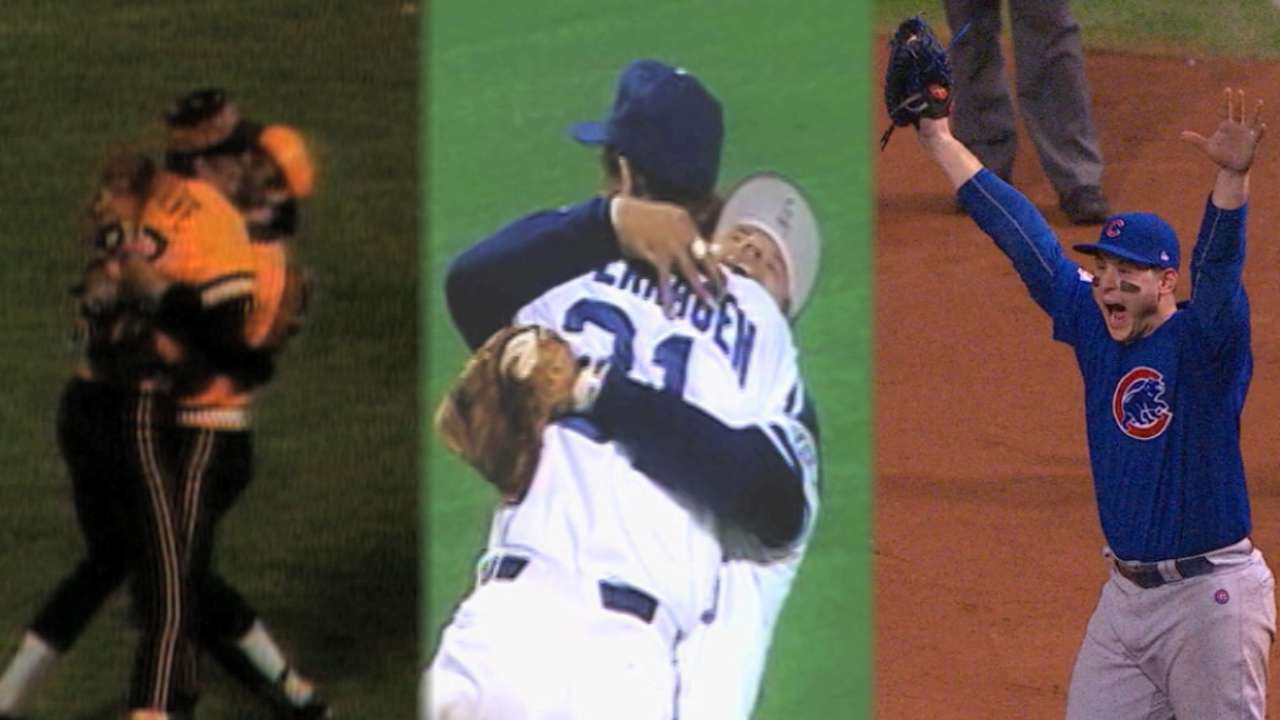 The Cubs trailed the Indians 3-1 through four games of this World Series and they were down 1-0 through the first three innings of Game 5 on Sunday night. Now, just over 48 hours later, Chicago has evened things up with a 9-3 win over Cleveland in Game 6 to force a winner-take-all Game 7 tonight.
The Cubs are the first team to win a World Series Game 6 on the road to force Game 7 since, coincidentally, the Indians in 1997. But Chicago is certainly not alone in its quest to climb out of a hole in the Fall Classic.
Five teams have come back from a 3-1 deficit to win the title, as the Cubs hope to do, since the Series officially moved to a 2-3-2 format in 1925. And six teams have come back from a 3-2 hole to win Games 6 and 7 on the road.
Here are some predecessors the Cubs hope to draw inspiration from as they try to seal the comeback in Game 7, as well as a look at the 3-1 comeback bids that fell short:
• Shop for Cubs World Series and NL champs gear
Teams down 3-1 that won World Series
1985 Royals over Cardinals
Hope turned to reality very quickly for the Royals after a 6-1 road victory in Game 5 and then a 2-1 win back home in Game 6, when a blown call by first-base umpire Don Denkinger in the bottom of the ninth spurred a Kansas City rally. The Royals completed the comeback in style one night later with an 11-0 blowout -- tied for the largest winning margin in a Game 7 of the World Series.
1979 Pirates over Orioles
This is the historical comparison the Cubs are aiming to repeat, as the '79 "We Are Family" Pirates are the most recent team to rally back from a 3-1 deficit without home-field advantage in Games 6 and 7. Pittsburgh outscored Baltimore, 15-2, over the final three games, and World Series MVP Willie Stargell issued the final blow with a two-run homer in Game 7.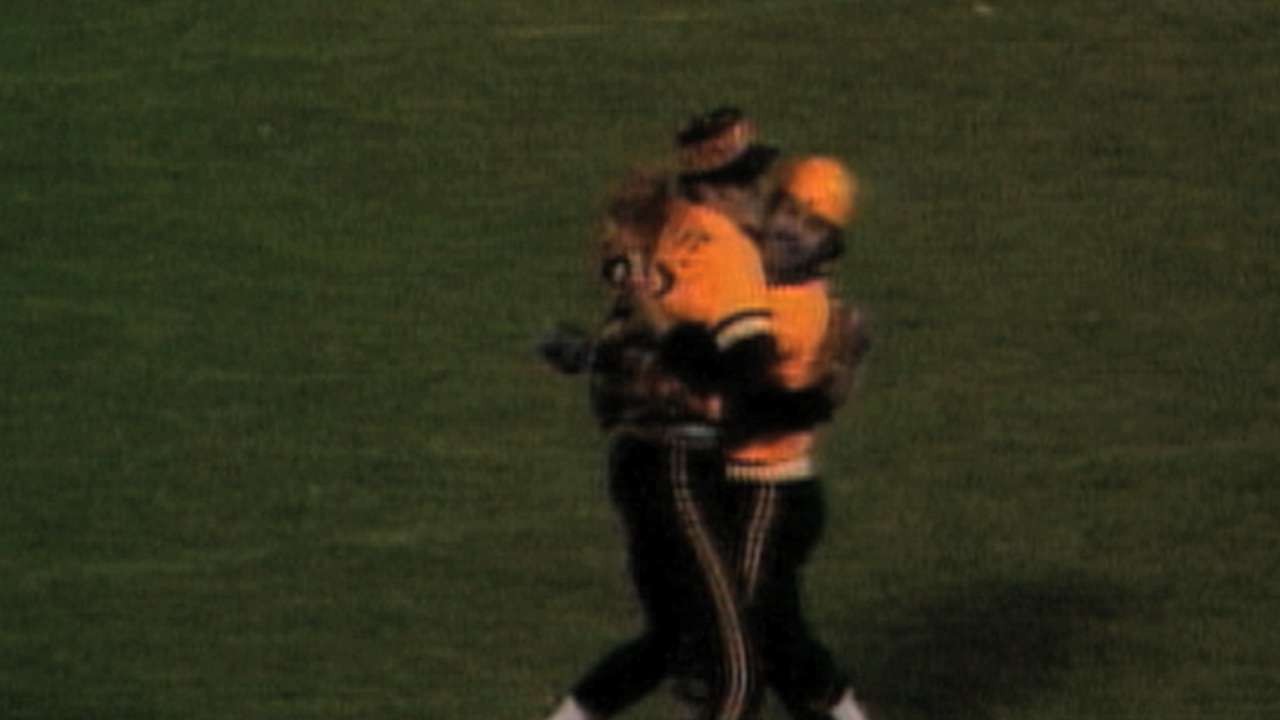 1968 Tigers over Cardinals
Detroit's comeback began with Mickey Lolich's three-run complete-game victory in Game 5. Denny McLain, a 31-game winner that season, followed up with a one-run complete-game effort on short rest in Game 6, setting up Lolich to pitch on just two days' rest for Game 7 in St. Louis. Battling the great Bob Gibson, Lolich prevailed as the Tigers eked out a 4-1 win to capture the title.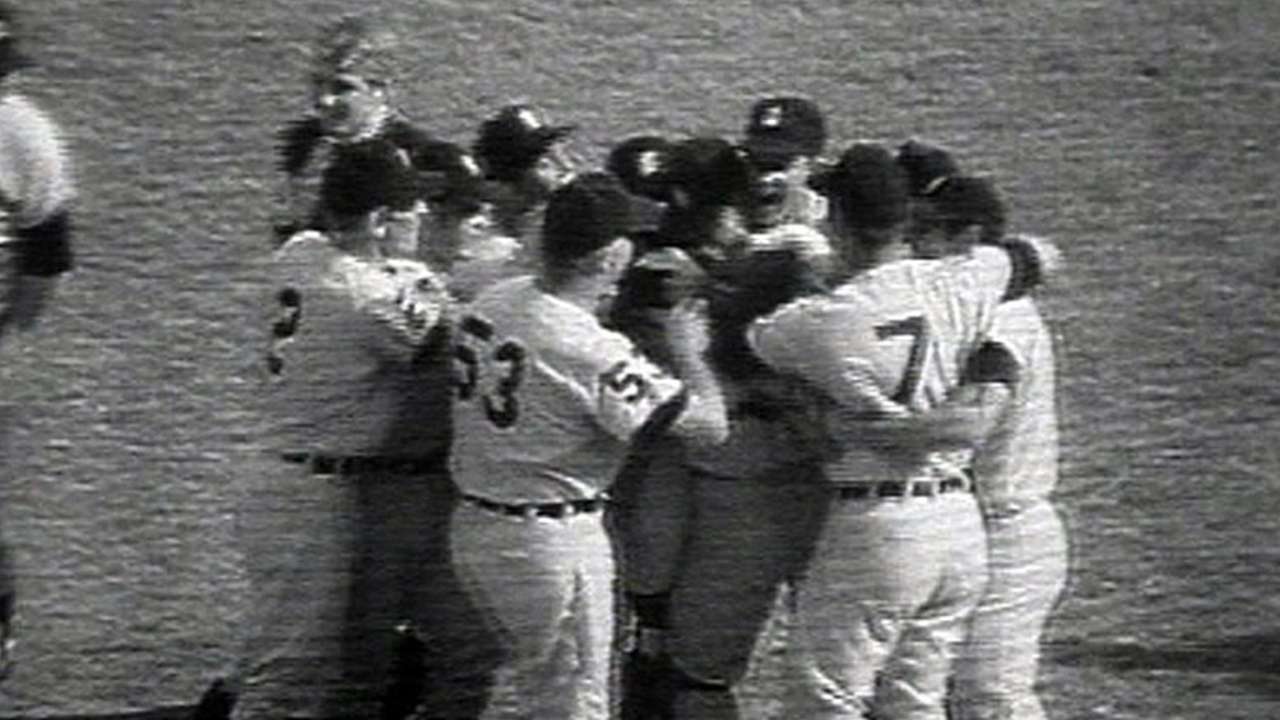 1958 Yankees over Braves
The Braves had toppled the Yankees in seven games in 1957, and they looked poised to do it again one year later. In Game 5, New York hung six runs on Lew Burdette (who had won the World Series MVP Award in '57) to send the Fall Classic back to Milwaukee. Game 6 began with a duel between future Hall of Famers Whitey Ford and Warren Spahn, and it went into the 10th, when New York plated two runs in the top half off Spahn. Hank Aaron singled in a run in the bottom half, but he was left stranded on third as the potential tying run. The Yankees came back to win Game 7, 6-2, the following day.
1925 Pirates over Senators
The Senators were on the verge of their second title in as many years after blanking Pittsburgh, 4-0, in Game 4. But the Pirates rallied against two future Hall of Fame pitchers -- beating Stan Coveleski in Game 5 before hanging nine runs on Walter Johnson amid a downpour in Game 7 at home -- to complete the first comeback from 3-1 in a best-of-7 World Series.
Teams down 3-2 that won Games 6 and 7 on the road
As it turns out, claiming the last two games away from home in the World Series has proven to be nearly as rare as coming back from 3-1. The Cubs are hoping to become only the seventh team to do it, joining the '79 Pirates, '68 Tigers and '58 Yankees, as well as these clubs:
1952 Yankees over Brooklyn Dodgers
New York's fourth consecutive title was hard-earned, as it had to win two elimination games at Ebbets Field to defeat the archrival Dodgers for the third time in six years. Mickey Mantle blasted his first of a record 18 World Series home runs in Game 6, and Billy Martin made a game-saving catch in the Yankees' 4-2 Game 7 victory.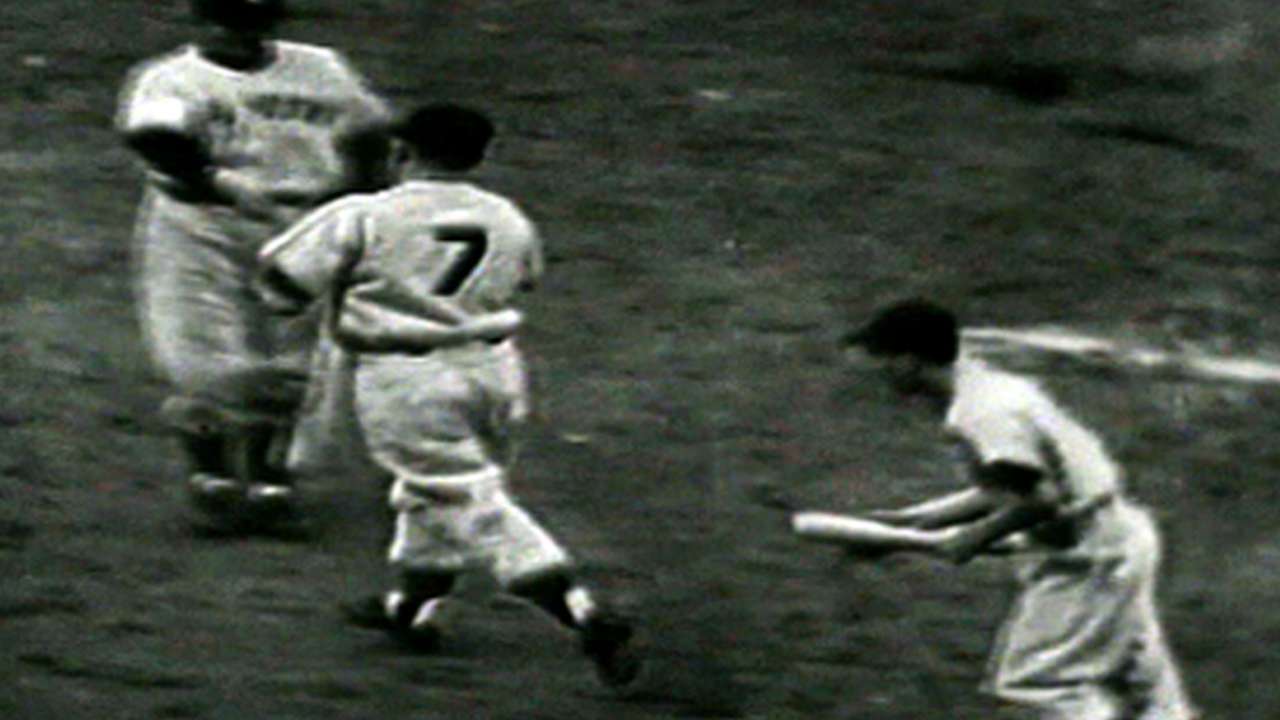 1934 Cardinals over Tigers
The "Gashouse Gang" roared back to stun the Tigers at Detroit's Navin Field. Daffy Dean, who teamed with his brother Dizzy to win all four of the Redbirds' games in the Series, led St. Louis to a 4-3 squeaker in Game 6. The Cardinals then routed the Tigers, 11-0, in Game 7 to claim their third title in eight years.
1926 Cardinals over Yankees
It's hard to believe a Yankees lineup featuring Babe Ruth and Lou Gehrig could ever be topped in a Fall Classic, but the Cardinals pulled off the feat in '26. Future Hall of Famer Grover Cleveland Alexander, pitching at age 39, became St. Louis' hero with a complete-game victory in Game 6 and a seven-out save in Game 7. The Series ended memorably when Ruth was thrown out on the basepaths trying to steal second base.
3-1 comebacks that fell short
Seven teams have come back from a 3-1 deficit to force a Game 7, and five have capitalized on their momentum to seal the deal. The Cubs will try to avoid a letdown Wednesday night and avoid the fate of these two clubs that fell just short:
1972 Reds fall to the A's
Pete Rose turned things around in Game 5 with a leadoff homer off Oakland ace Catfish Hunter before driving home the eventual game-winning run in the top of the ninth. Cincinnati then routed Oakland, 8-1, in Game 6 to carry all the momentum into Game 7 at home. But A's catcher Gene Tenace drove in two runs on his way to winning the Series MVP Award, and Oakland held off Cincinnati, 3-2, in the clincher.
1967 Red Sox fall to the Cardinals
After dropping three of the first four, the '67 Red Sox seemed destined to fulfill their "Impossible Dream" moniker with wins in Games 5 and 6. Boston hosted Game 7 at Fenway Park, but the Sox's lineup proved no match for St. Louis ace Gibson, who paired a home run at the plate with a complete-game two-run effort on the mound for a 7-2 win.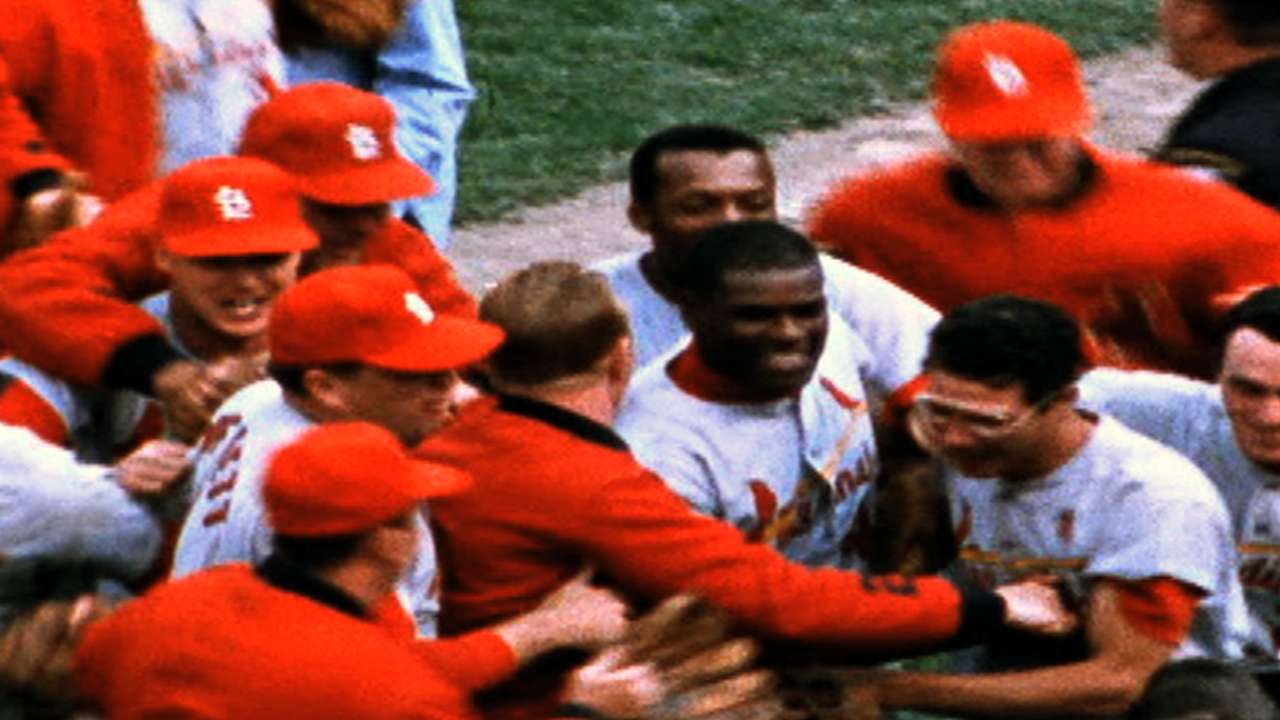 Matt Kelly is a reporter for MLB.com. This story was not subject to the approval of Major League Baseball or its clubs.