Arrieta battles, limits Tribe in strong G6 start
Righty allows 2 runs in 5 2/3, raises career postseason K total to Cubs-record 53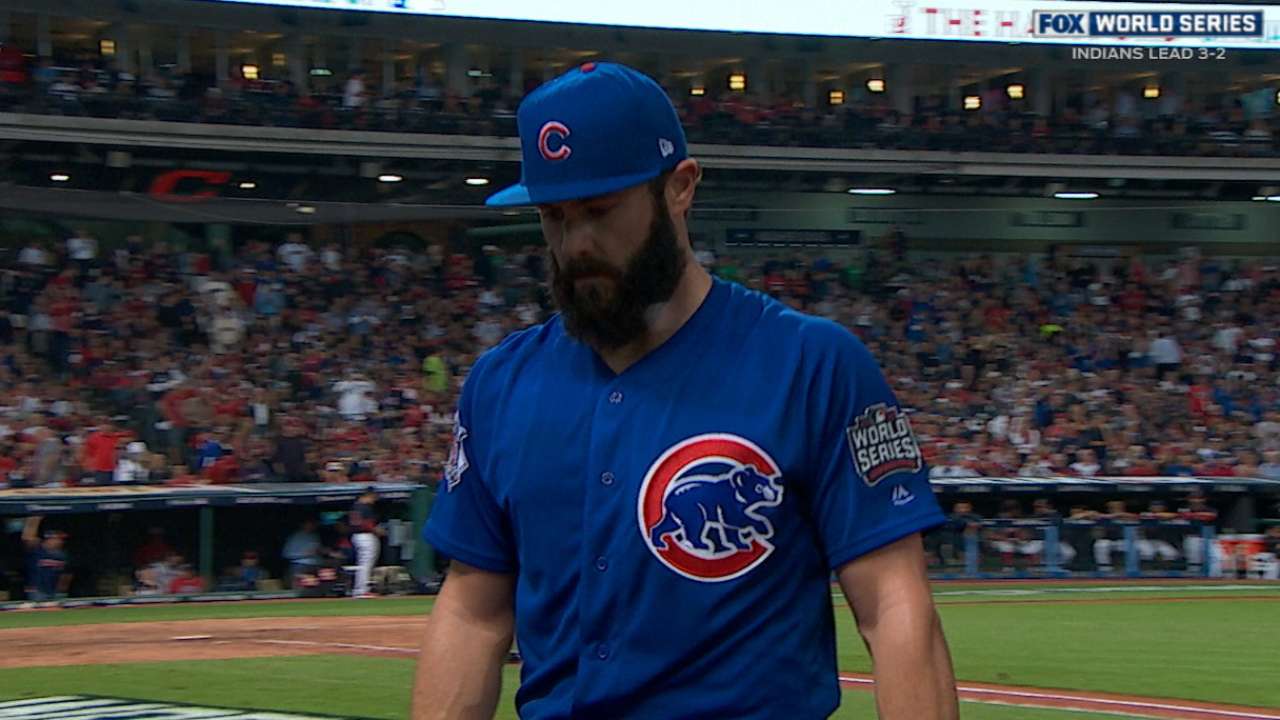 CLEVELAND -- If the Indians were going to climb back into Game 6 of the World Series, they were going to have to gain serious ground against Jake Arrieta and the Cubs in the fourth inning. For a few tense moments, it appeared they might.
"Jake was able to slow the game down," said catcher Willson Contreras after Chicago's 9-3 win forced a Game 7. "He was on fire."
That fire showed in the fourth, but more on that later. First, the big picture: Arrieta limited the Indians to three hits and two runs in 5 2/3 innings, escaping one big jam in the critical fourth and yielding after 102 pitches to reliever Mike Montgomery with a runner aboard in the sixth. Arrieta walked three and struck out nine, the most by a Cubs pitcher in a World Series game since Orval Overall struck out 10 batters in Game 5 against the Tigers in 1908.
• Shop for Cubs World Series and NL champs gear
That was Oct. 14, 1908, to be precise. The last day the Cubs won the World Series.
With Tuesday's haul, Arrieta ran his career postseason strikeout count to 53, a Cubs record. He insisted he's ready to rack up more if needed in Game 7 on Wednesday night.
"I'll definitely be available if outs are needed," Arrieta said. "Last game of the year, Game 7 of the World Series, everybody's available, pretty much."
True to form, he passed praise to his teammates. To Kris Bryant, whose two-out, two-strike home run in the first inning sparked a three-run rally for a lead that grew to 7-0 when Addison Russell hit the 19th grand slam in World Series history in the third.
And to Cubs right fielder Jason Heyward, whose offensive slump has cost him at-bats in this postseason, but who delivered on defense during the critical fourth inning of Game 6.
That inning began with a Jason Kipnis double, the Indians' first hit. Two batters later, Kipnis scored on Mike Napoli's single to make it 7-1, bringing the sellout crowd at Progressive Field to its feet.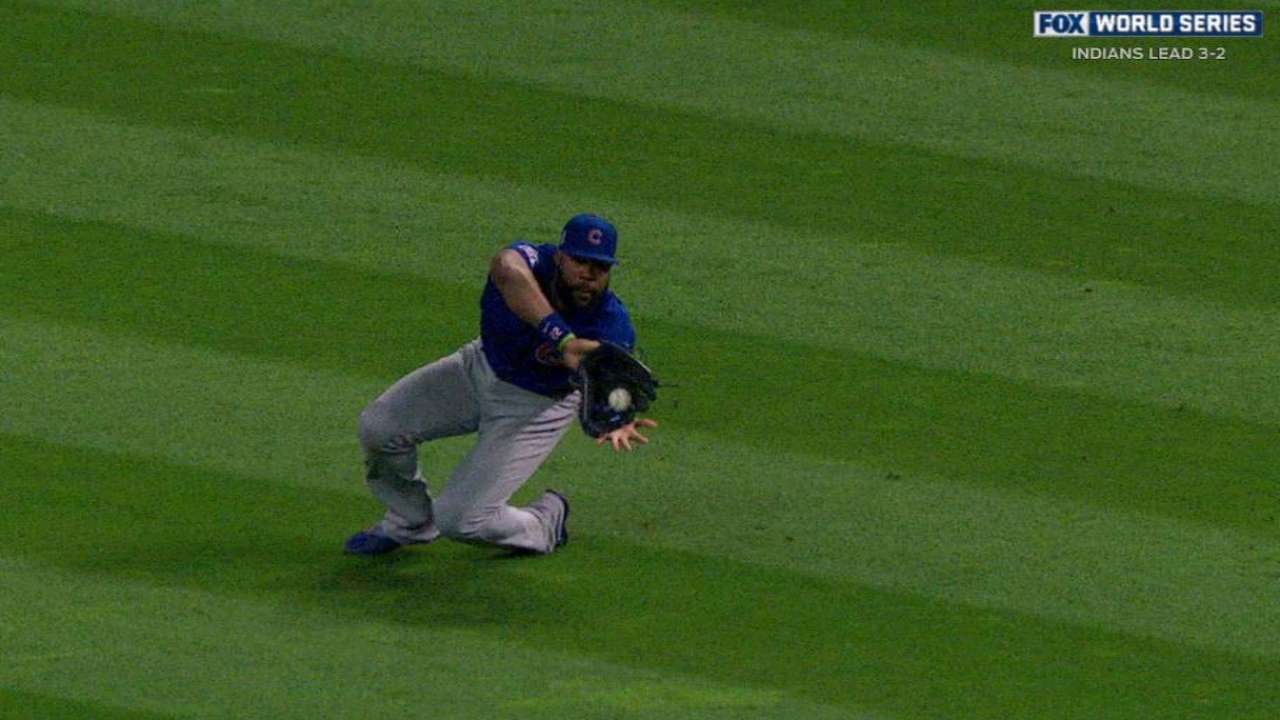 Arrieta fell behind the next hitter, Jose Ramirez, who hit a 2-0 pitch hard and low to right field, where Heyward made a sliding catch. That out loomed large when Arrieta hit Lonnie Chisenhall with a pitch, saw both runners advance on a passed ball charged to Contreras, then walked Coco Crisp to load the bases for Tyler Naquin, the Indians' center fielder who was seeking redemption after a costly misplay in the first.
Arrieta worked ahead in the count, 0-2, missed with one sinker away, then struck out Naquin with another sinker low in the strike zone to end the inning.
"I mean, it's kind of one of those things you have to learn from," Naquin said of his tough night. "It's a heck of a situation to learn from it, being in a big series like this, but you've got two ways to look at it. You can grow up from it or you can just dwell on it."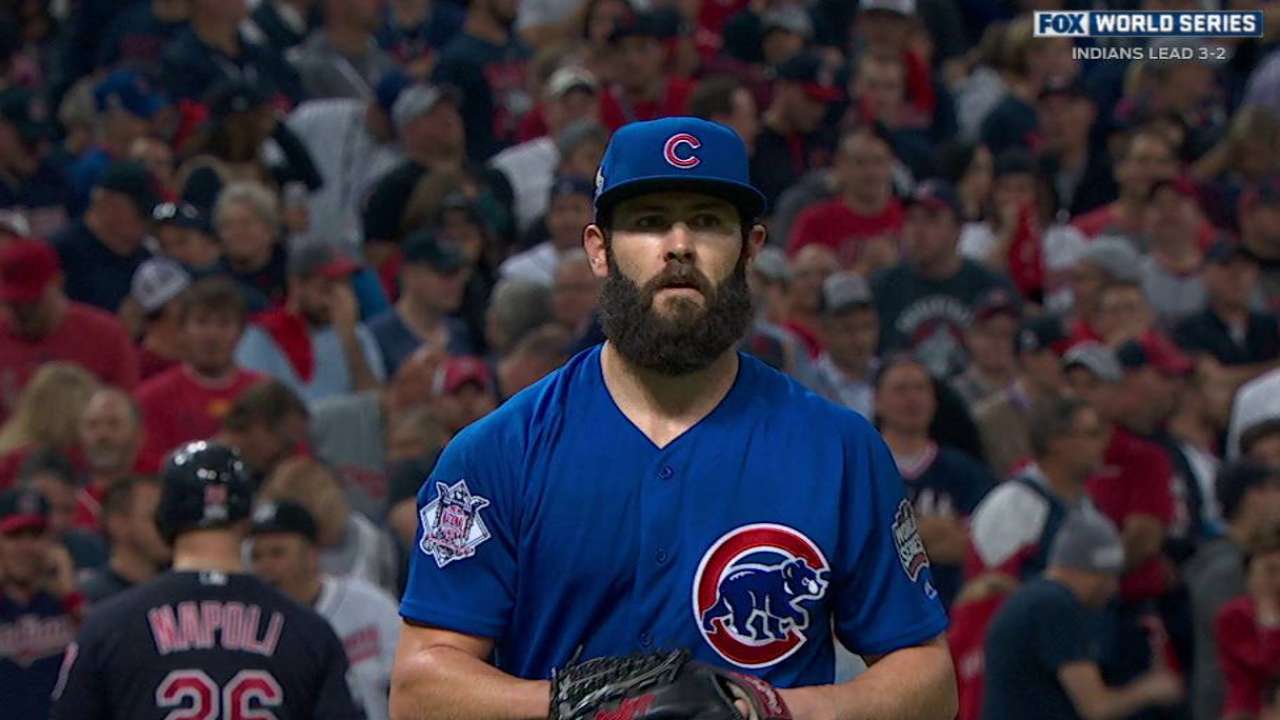 Said Contreras: "We called the right pitches. We were right on the same page, and we got the positive results. [Arrieta] was amazing today. He was attacking every hitter with the fastball."
Arrieta's only other blemish came in the fifth, when Kipnis connected for a solo home run, but when Montgomery recorded the final out of the sixth inning and combined with Aroldis Chapman to preserve the Cubs' lead the rest of the way, Arrieta was rewarded with his second win of the Series. He was also the winning pitcher in Game 2.
"Pretty much all around, up and down the order, everybody contributed," Arrieta said. "That's why we played so well."
Adam McCalvy has been a reporter for MLB.com since 2001. This story was not subject to the approval of Major League Baseball or its clubs.