Early trouble means early hook for Tomlin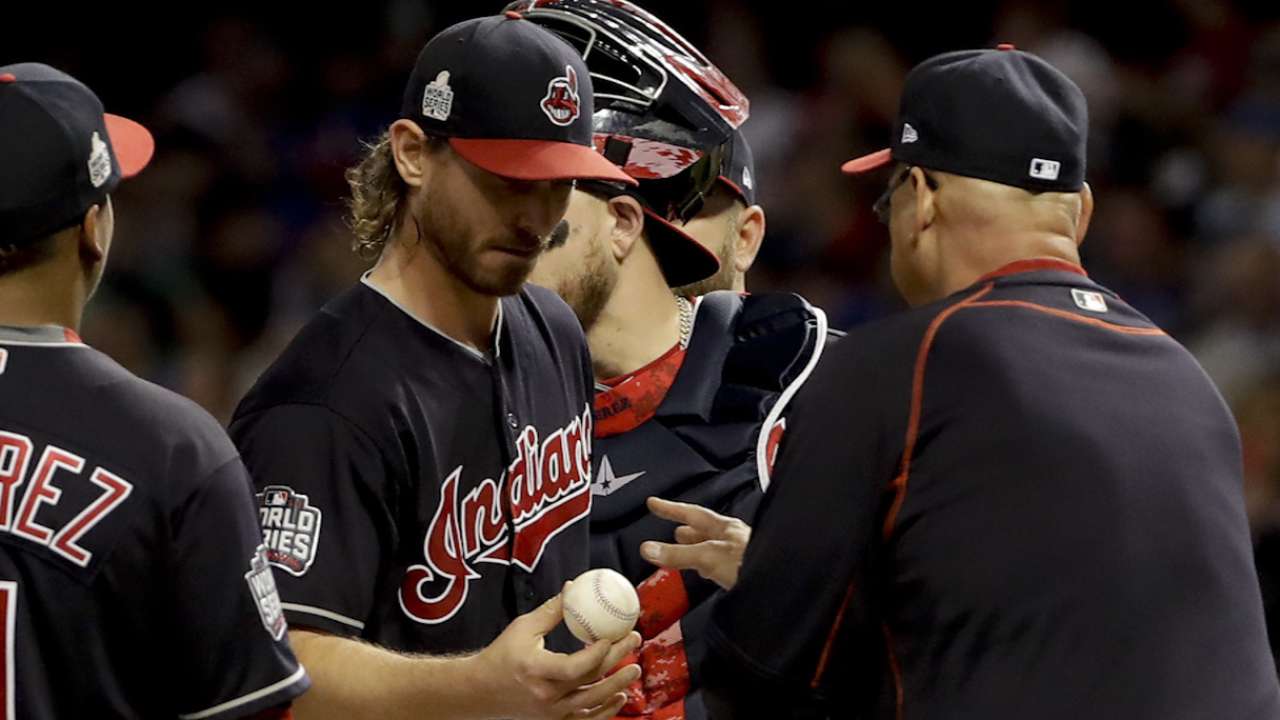 CLEVELAND -- Josh Tomlin just didn't have his best stuff.
After a brilliant start in Game 3, the Indians' starter wasn't the same on short rest and could not make it out of the third inning in a 9-3 loss to the Cubs in Game 6 of the World Series on Tuesday night at Progressive Field.
Tomlin was hit early and often as he was charged with six earned runs on six hits over 2 1/3 innings. Chicago grabbed an early lead on Kris Bryant's solo homer and Addison Russell's two-out two-run double in the first -- the latter coming as a result of a miscommunication in the outfield. The Cubs then chased Tomlin by loading the bases in the third.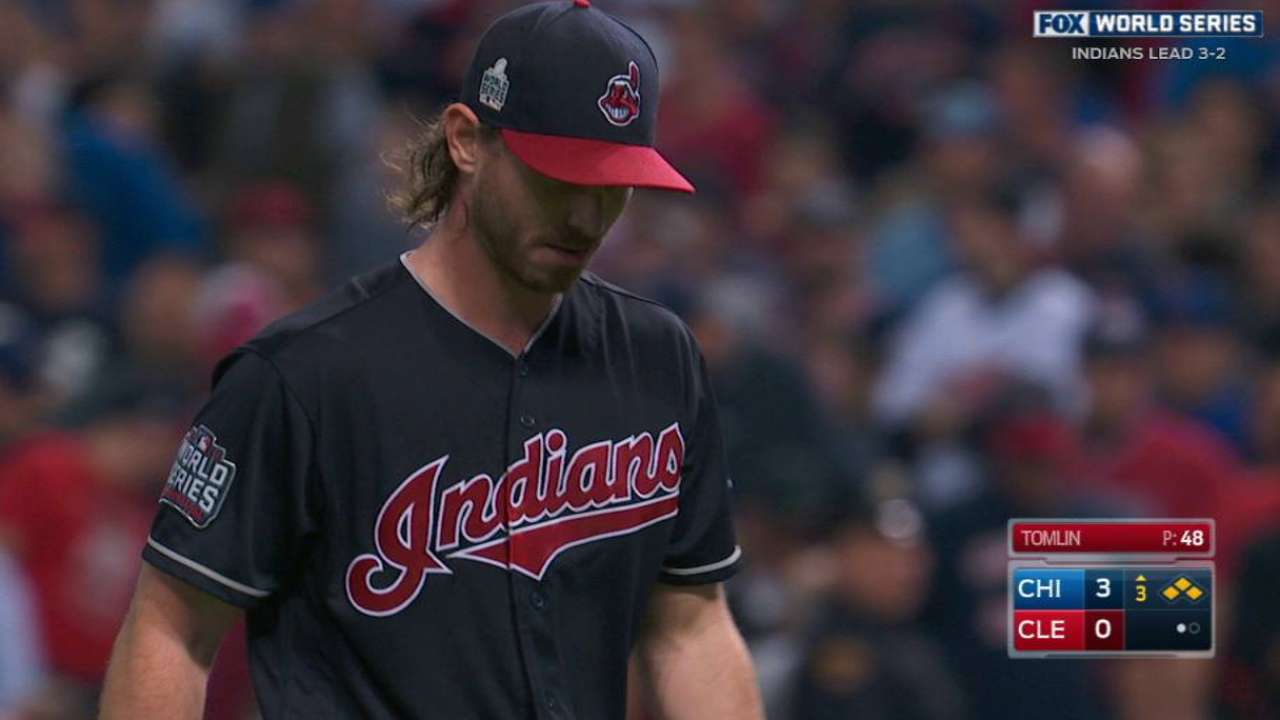 "I thought coming out of the gate he looked terrific," Indians manager Terry Francona said. "I mean, first two hitters, small sample, but kind of shows you what stuff he's going to have. Throwing strikes, and it was crisp. Then getting into the third, I just thought he had a harder time throwing his breaking ball where he wanted to. It was just catching a lot of the plate."
• Shop for Indians World Series and AL champs gear
Tomlin especially had trouble with his curveball, a valuable weapon for him all year. The curveball was his third-most-used pitch during the regular season, but it garnered the highest swing-and-miss rate (13.4 percent) of all his pitches. On Tuesday, he threw it seven times: three were balls, one was Bryant's homer, two were singles, and one was called for a strike.
"It just wasn't as sharp," Tomlin said. "That's all there is to it. I was trying to get a feel for it early on, and that's the big key to my success. I have to find my feel for it early on. I threw a couple of good ones, and that one to Bryant, he put a good swing on it."
Tomlin was heavy on the curveball in Game 3, when he tossed 4 2/3 scoreless innings; he threw the pitch 15 times -- 11 for strikes -- and the Cubs were 0-for-5 with a strikeout against the pitch. But on Tuesday, they were prepared.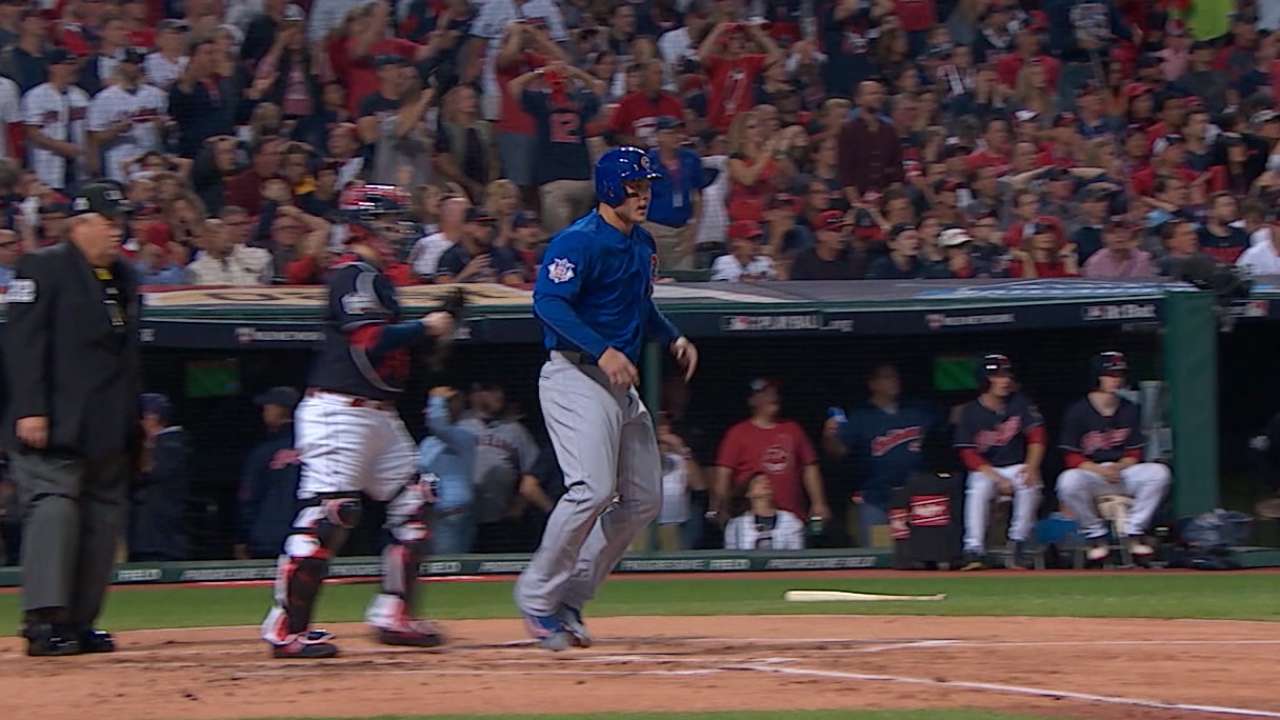 "They've been throwing a lot to me. I feel like they're just throwing a lot to the team in general, too," Bryant said. "With the curveball outside, it's tough to get any slugging on that. ... I mean, it's a tough one, especially with the guys they have on their team. Their curveballs are some of the best in the game. So force them in the zone and don't go chasing for them. I felt like these last two games, we've done that."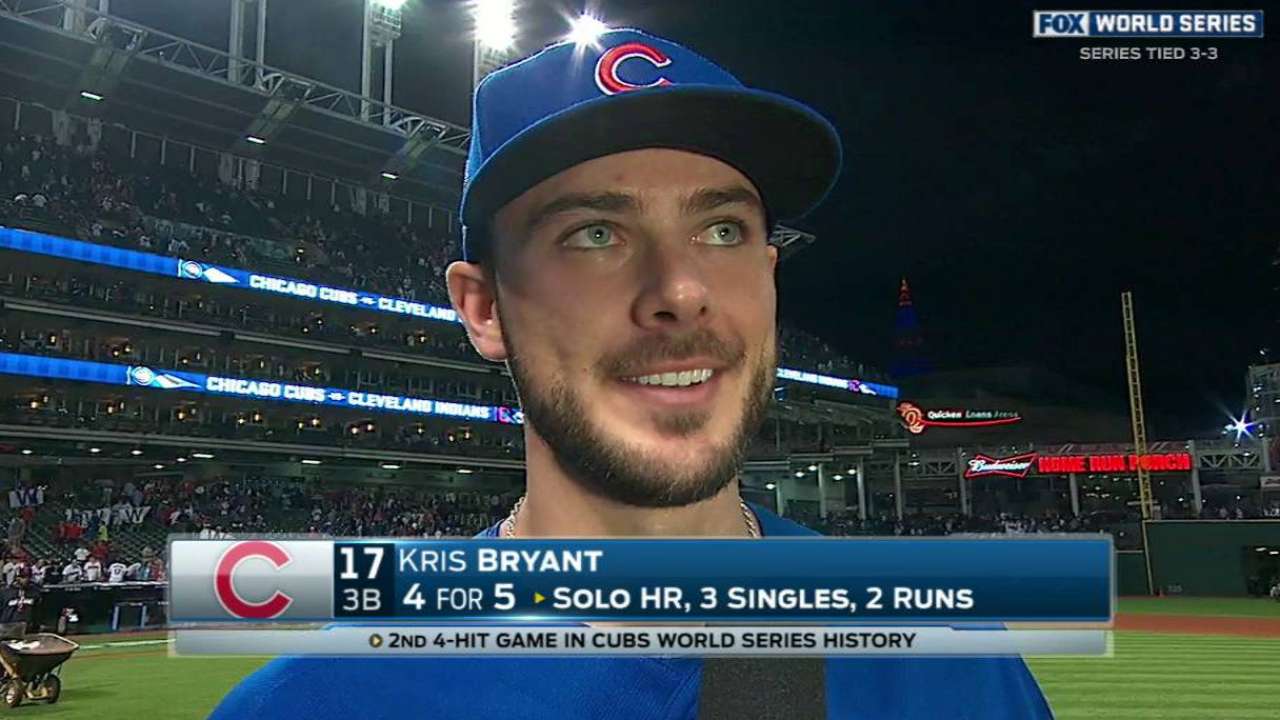 Despite pitching on three days' rest, Tomlin and catcher Roberto Perez both said that they thought his pitches had the same movement, he just wasn't able to execute as well as he had before. Tomlin didn't have an issue pounding the strike zone -- 32 his 48 pitches were strikes -- but he was often off-target and his pitches grabbed too much of the plate.
"I think it was more about executing pitches than it was anything else," Tomlin said. "I left too many balls over the middle of the plate tonight, and they took advantage of it. You can't do that to a team like that, a lineup like that. Unfortunately, I wasn't able to execute, and it put us in a bad spot."
Ben Weinrib is a reporter for MLB.com. This story was not subject to the approval of Major League Baseball or its clubs.