MLB.com Columnist
Alyson Footer
'El Presidente' still embraced by Tribe fans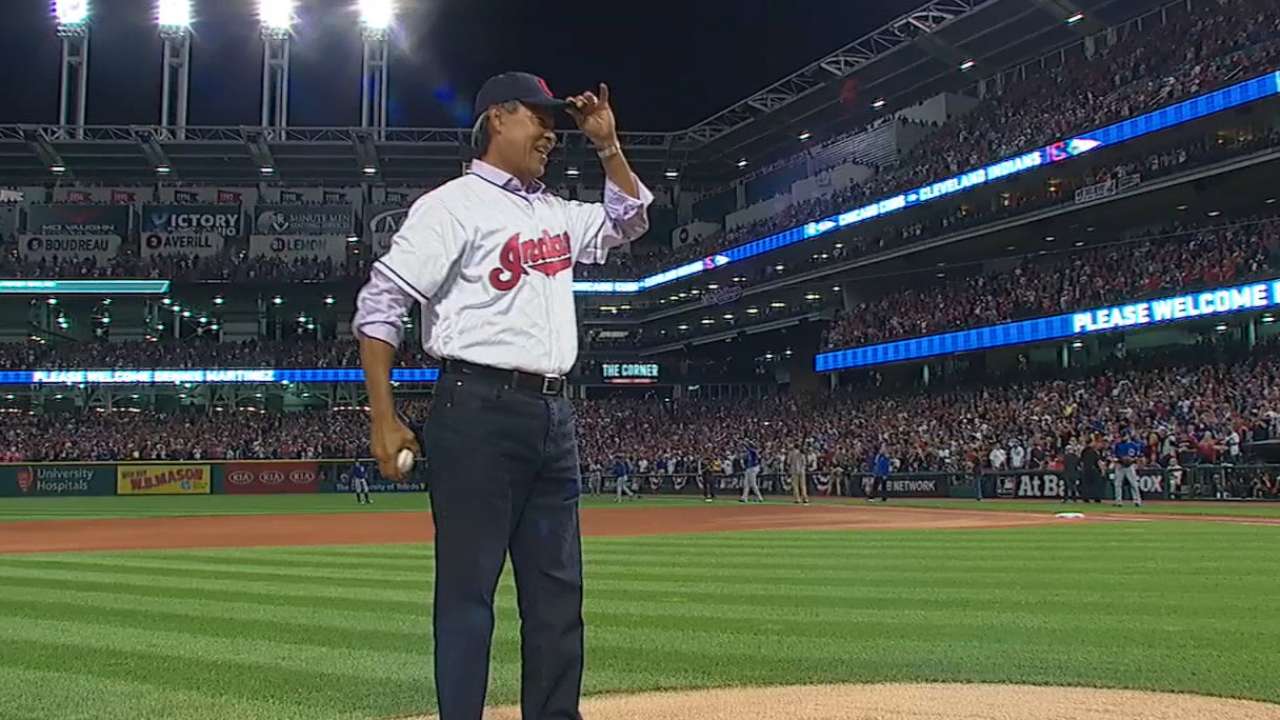 CLEVELAND -- He's been retired from the game for 18 years, but no matter how much time passes, clearly, people don't forget.
Rarely is Dennis Martinez called by his actual name when he appears in a baseball setting. He has always been "El Presidente," and he always will be, as evidenced by the reception he received at Progressive Field on Tuesday night before Game 6 of the World Series.
Martinez, who pitched for the Indians from 1994-96 and was part of the 1995 pennant-winning club, had ceremonial first-pitch honors and is one of several former Tribe stars to attend World Series games that have been played in Cleveland during the postseason.
As the affable Martinez made his way through the maze of media on the field during batting practice Tuesday, he heard, over and over, the familiar greeting: "El Presidente!"
• Shop for Indians World Series and AL champs gear
It's a nickname that's been around since the late '70s.
"I'm kind of humble person, but then when I heard it, my ego inflated so big that I had to hit myself and say, 'Come on down, Dennis, don't let that happen,'" Martinez said a couple of hours before his first pitch. "But it made me feel so good."
Martinez's first pitch didn't bring good luck to the Indians, who fell to the Cubs, 9-3, in Game 6. The series is tied heading into Wednesday's decisive Game 7.
And he loves being called "El Presidente" to this day.
"It's great that people remember and treat me like that," Martinez said. "It's great. It means I did something good in this game."
That is indisputable. Martinez pitched 23 seasons, logged 245 wins and logged a lifetime ERA of 3.70, over nearly 4,000 innings.
He is most famous for throwing a perfect game in 1991 against the Dodgers while with the Montreal Expos, becoming the first Nicaraguan pitcher to ever accomplish that rare feat.
Martinez helped the 1995 Indians win the American League pennant, and he hopes to be a part of a celebration in Cleveland this week, as the 2016 Indians attempt to do what those 1990s teams could not -- win the whole thing.
"I'm just happy to see the Indians back again in the World Series," Martinez said. "Emotionally, I feel great to see Cleveland back in this situation. I'm enjoying it."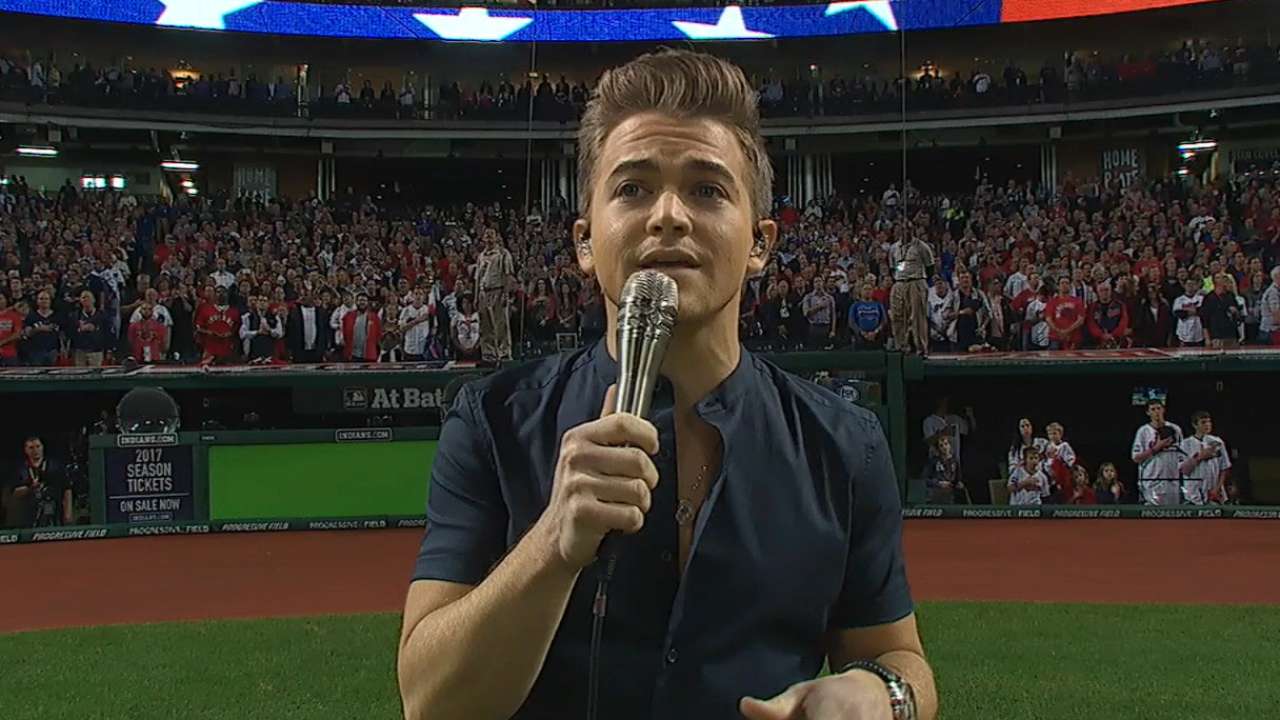 Martinez was one of two perfect game pitchers to participate in the Game 6 pregame ceremony at Progressive Field. Len Barker, who threw the 10th perfect game in MLB history as an Indian in 1981, delivered the official game ball to the mound with Boys & Girls Clubs of America's "Ohio Youth of the Year" Rosetta Shepherd, 18, from the Boys & Girls Clubs of Lorain County in Lorain, Ohio.
Barker pitched five of his 11 big league seasons with the Indians from 1979-83.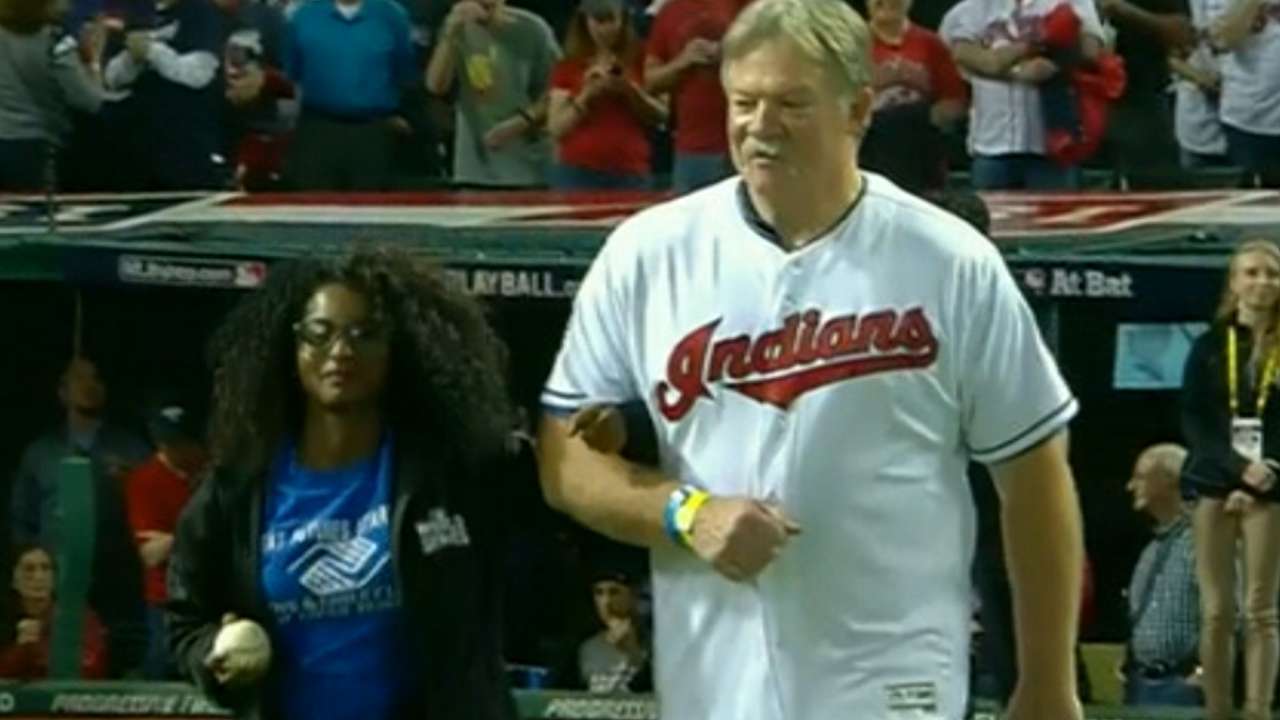 The anthem was performed by five-time Grammy nominee Hunter Hayes, a singer, songwriter and multi-instrumentalist who roared onto the music scene with his double-Platinum-selling debut album, "Storyline."
"God Bless America" was performed by U.S. Army Pfc. Briahna Marie Shaniuk, from Brunswick, Ohio, and currently stationed out of Cincinnati with the 372nd Military Intelligence Battalion, Bravo Company.
Alyson Footer is a national correspondent for MLB.com. Follow her on Twitter @alysonfooter. This story was not subject to the approval of Major League Baseball or its clubs.