With Tribe on verge, Robinson reflects on '48
Hoping to see Cleveland win it, last living member of title team honored at Game 6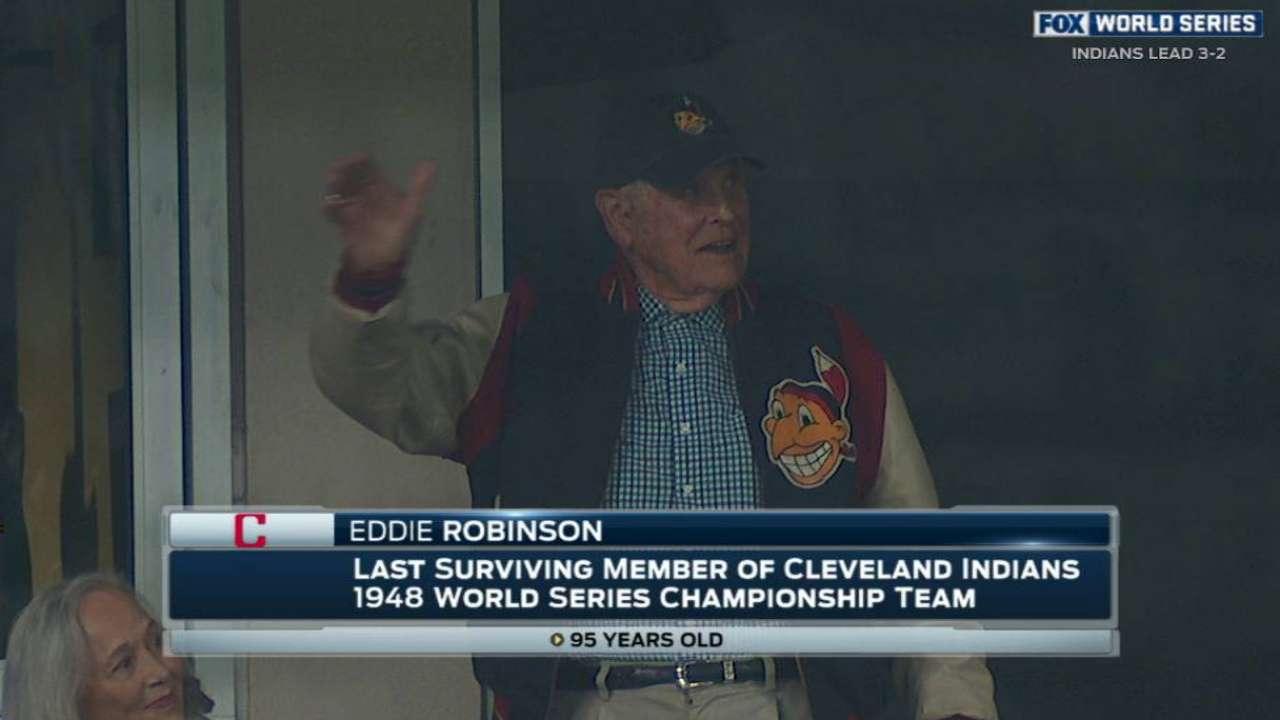 CLEVELAND -- Eddie Robinson, 95, remembers it like it was yesterday. He singled off future Hall of Famer Warren Spahn in the eighth inning of Game 6 in the 1948 World Series, driving in Ken Keltner with what proved to be the RBI that would clinch the Indians' championship and endure through generations as their most recent title.
"I remember. Yeah, I drove in the winning run. It was a great day," Robinson said before the Indians lost, 9-3, to the Cubs on Tuesday, sending the Fall Classic to a decisive Game 7 on Wednesday. "We didn't celebrate like they do today. After we won, we went in and changed and got on a train. But once we got on the train, we had a dining car and a club car. That's when the party started.
"And the next day, the champagne was dripping from the ceiling. I think [owner] Bill Veeck, that cost him a few thousand dollars to put those cars back in shape."
On Tuesday night at Progressive Field, the champagne was on ice in the Indians' clubhouse for Game 6 of the 112th World Series against the Cubs, and fans got a chance to thank the last living member of a championship team invoked for generations to come. The four-time All-Star and his wife, Betty, from Fort Worth, Texas, were sitting in Suite 259, and they were recognized on the giant screen in a moving moment before the bottom of the second inning.
• Shop for Indians World Series and AL champs gear
"We're all about our rich tradition, and one of our mindset is connecting generations," said Bob DiBiaso, the Indians' senior vice president of public affairs. "You'll see a lot of former players always around this building. For us to be able to have a living member of the 1948 World Series champion -- who was instrumental in the Game 6 clincher -- to be here at this ballpark is very special."
Bob Feller. Lou Boudreau. Bob Lemon. Larry Doby. Gene Bearden. Joe Gordon. Satchel Paige. Keltner. All those greats, all those years ago. One man is still standing, and he turns 96 on Dec. 15. With another World Series title in reach for the Indians, Wednesday could be an unforgettable night.
DiBiaso said Robinson's suite will be "right next door to Tito Francona. Those two know each other real well, so we'll have a couple of the old-timers nearby."
Francona, father of Indians manager Terry Francona, played five of his 15 Major League seasons with the Indians from 1959-64, an All-Star in '61. Tito Francona and Robinson were briefly teammates, as Robinson spent the last month of his career with Baltimore in '57, while Francona was in his second season as an Orioles outfielder.
During batting practice Tuesday, the Indians' manager was told that those two former players would be in neighboring suites with a chance to catch up in such an important setting.
"This is going to be really cool," the younger Francona said.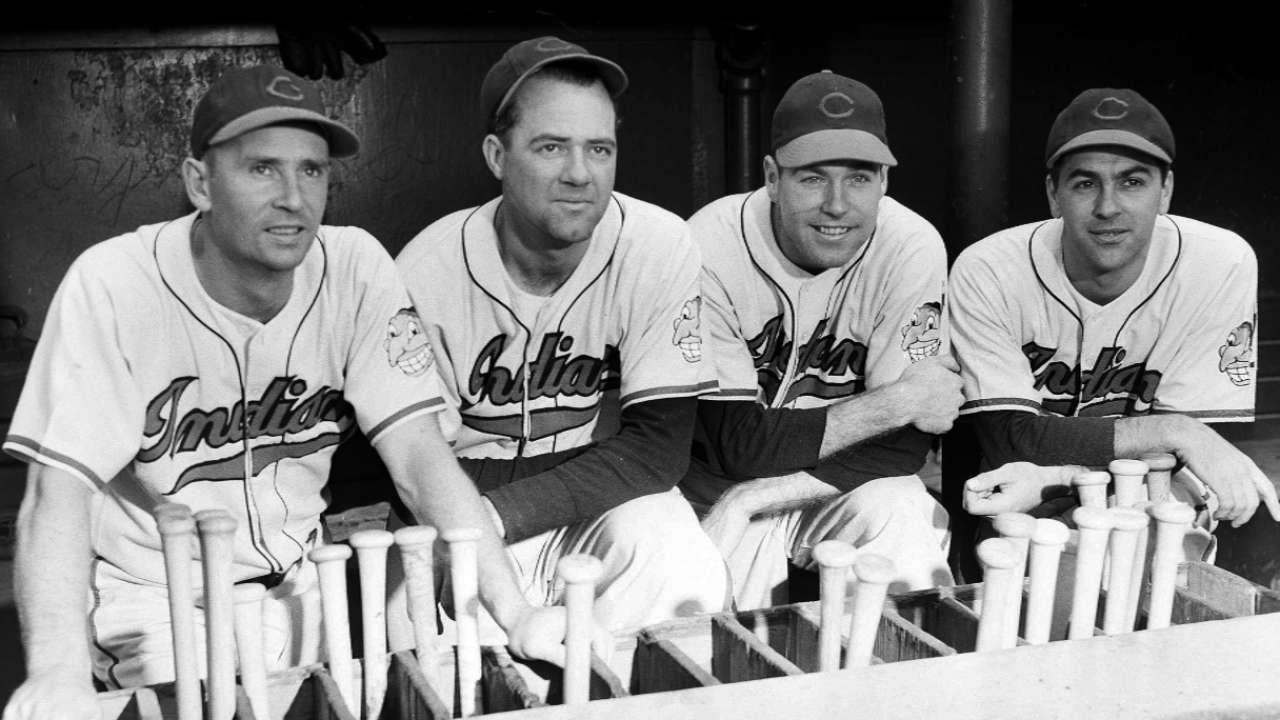 "Early in the game, we're going to recognize him, have him step out to the balcony area in the suite, show him on the scoreboard, talk about his Game 6 heroics, getting two hits and a big ribbie," DiBiaso said. "He got the fourth RBI of that game, and we ended up winning 4-3, so it was a very important RBI. Our fans will welcome him big time, early part of the game."
What is it like to watch this game from Suite 259?
"It's going to be hard for me to watch a game from here, because you really can't -- I may come in here and watch it on television, because I'm used to sitting right back of home plate, and that's where I like to view a game from," Robinson said. "Even in Texas, when I go to a game, I sit right where the scouts sit. It's going to be a little tough for me tonight, but I'll probably stay up here."
Robinson said these Indians have "no resemblance" to the 1948 champs. In fact, he actually saw them earlier this season when they came through Texas, and he told his wife then: "They have a good team, but I never heard of any anybody."
"We had great pitching, like this team," he said of 1948. "But this team is comprised of a bunch of players that they're kind of no-name players."
Robinson was surrounded by future Hall of Famers back in those days.
"Yeah, we had five," he said. "I went to see Cleveland play when they came to Texas this year, and I told my wife Betty, I said, 'They have a good team, but I never heard of any anybody.' [Mike] Napoli was a guy I heard of."
Robinson recalled how players squished into the back seat of convertibles as a parade went down Euclid Avenue, or "Millionaires' Row." He said: "It was marvelous. Looked like everybody in Cleveland had turned out to celebrate our championship."
Robinson hit .254 with 16 homers and 83 RBIs in 134 games as the starting first baseman in 1948. His run-scoring hit off Spahn -- who lost one start and relieved twice in that Series -- gave the Indians a 4-1 lead in the eighth inning, proving to be the difference as the Boston Braves rallied for two runs in the bottom of the eighth to cut it to 4-3.
During the 1970s and '80s, Robinson was a vice president for the Rangers. These days, he golfs, credits Betty for keeping him young, and he called today's brand of baseball "exciting."
"A lot of home runs," he said. "They build these parks with short fences. I would have liked that if I was still playing.
"I think the game is exciting. With the bigger gloves, they make spectacular catches. We played with smaller gloves, and couldn't afford to dive for those balls. They had to knock them down and make sure they didn't go for extra bases.
"It's a different game, but it's still an exciting game."
Robinson said the money is more exciting for players now, too. Free agency happened long after he retired.
"That's the biggest perk," he said. "But, yeah, they fly from place to place, and we took -- trains were good, though. You know, you talk about camaraderie; you really got it on a train. In the dining car, you all ate together and it was good."
When asked if he could imagine the contracts that Bob Feller and Bob Lemon would get now, Robinson said with a laugh, "Oh, I think about Eddie Robinson and what he could have gotten."
No one could have known the Indians would still be waiting for a next title, and Robinson accepted the invite to take part. DiBiaso said Indians alumni players are a big part of this bid to end the long drought, just as it is with the Cubs in this Series.
"It's so funny now with Twitter and texts and all the different voicemails that come flying at you, it's non-stop, but all in a great way," DiBiaso said. "The one aspect of all this that has been the most exciting for me, guys from Max Alvis and Gary Bell, who played in the '50s, through guys who played here in the '60s, and Duane Kuiper, [Tom] Candiotti, Ueck [Bob Uecker], all of them. The guys in the '90s, Omar [Vizquel], they're texting like crazy, wishing well and wanting to make sure that they know they're wishing us well. The energy in this town, the weather is cooperating so that everybody can be outdoors running around the city, just taking it in."
Mark Newman is enterprise editor of MLB.com. Read and join other baseball fans on his MLB.com community blog. This story was not subject to the approval of Major League Baseball or its clubs.