MLB.com Columnist
Jonathan Mayo
Reds' Dixon, Varner, Vincej shine in AFL rout
Dixon paces Peoria's offense with three hits, three RBIs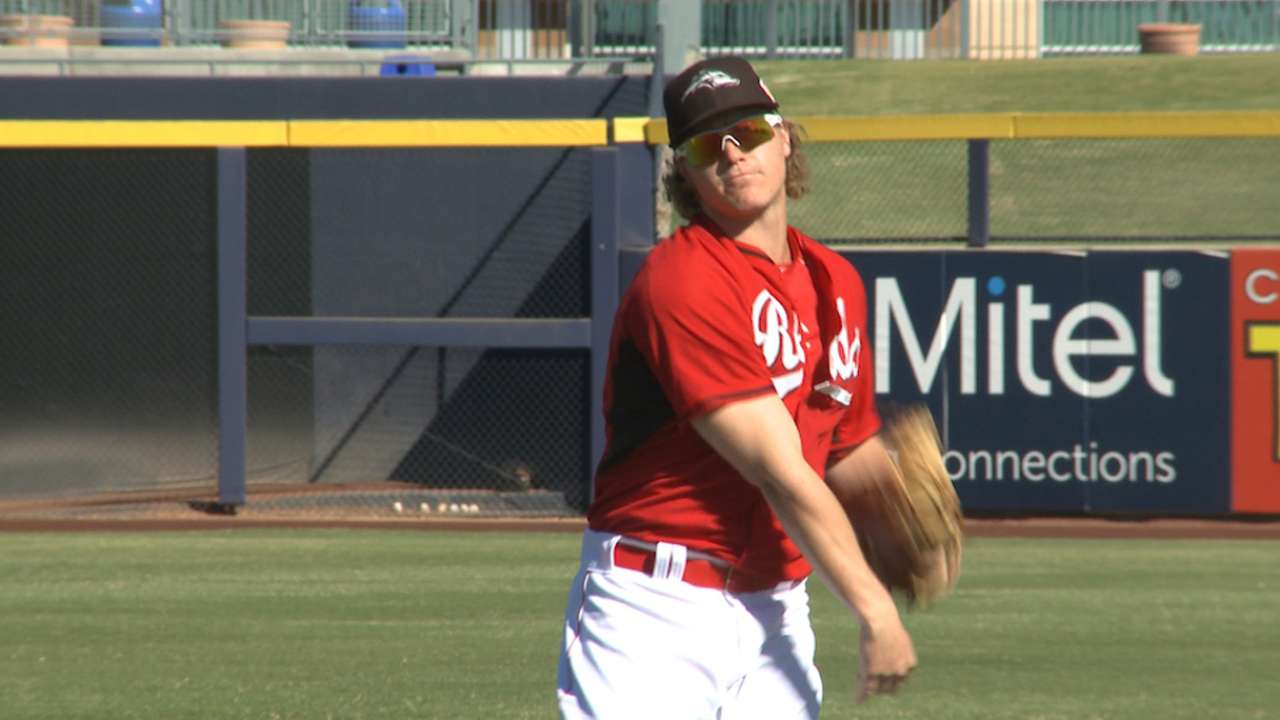 SCOTTSDALE, Ariz. -- While the Peoria Javelinas owned the best record in the Arizona Fall League heading into Tuesday's slate of games, things seemed to be headed in the wrong direction as they carried a five-game losing streak into Salt River Fields.
After banging out 11 hits en route to a 12-2 victory, headlined by Reds prospect Brandon Dixon's 3-for-5, three-RBI performance, the Javs feel they are back where they should be, a team that had won nine straight prior to this recent losing streak.
"We were playing really well right at the start, then we had a few games," Dixon said. "That's just baseball, but it's nice to get it back. We've had these streaks. Hopefully, we can do the nine-game winning streak again."
• Gameday
If they hit like they did on Tuesday, they just might. The Javelinas were already leading 4-0 when they really put the game away with a four-run fifth inning. Dixon drove in two with a double to center in the top of the third. He singled in a run in the sixth, then added a double and scored during a three-run eighth.
Dixon's hits weren't cheapies either. His third-inning double came off the bat at 104.0 mph, according to Statcast™, making it the second hardest-hit ball of the game. And his eight-inning two-bagger had an exit velocity of 98.4 mph, eighth-fastest on the day.
Letfy Seth Varner, also from the Reds organization, threw four innings of one-hit shutout ball. He gave up just one walk and struck out six to pick up his first win of the AFL season. Reds shortstop Zach Vincej, one of the top pleasant surprises of the fall league thus far, added two hits and drove in three runs as well.
• Reds in AFL: Dixon, Wallach acclimating to new organization
Dixon's three-hit performance was not out of character for the utilityman this fall. He's now had five multi-hit games and has brought his average up to .351 over 37 at-bats. While he's still striking out a good amount (12 in nine games) -- he piled up 137 K's during his Double-A season in 2016, his first with the Reds -- he has been walking at a higher rate. Granted, it's a small sample size, but it's a step in the right direction.
"I'm just trying to have quality at-bats, just staying within myself," Dixon said. "Obviously, I'm working on my defense at third base and first base, positions I didn't play too much this year. It's been good."
It's a testament to Dixon's commitment to becoming a super-utility option for the Reds that he has swung the bat so well while his focus has been on learning new positions. He has worked hard not to put too much pressure on himself based on where he is playing, instead just working to refine that approach from at-bat to at-bat regardless of what glove he is wearing that day.
"I've talked to a few utility guys in the big leagues and they just told me, whatever position they put you at, you have what you have," Dixon said. "Just separate the defense from the offense and do what you can."
Dixon spent most of 2016 playing second and all three outfield positions. He'll now have corner infielder on his resume as well. It all enhances his chances of getting a shot in the big leagues, though packing can be a little stressful.
"Back at the clubhouse, I probably have five gloves," said Dixon, who added he will have to get a first baseman's glove for next year because one he had during the regular season was misplaced. "Whatever position I need, I can pull one out and hopefully it catches it."
The only one he doesn't have is a catcher's glove, though evidently there was some thought of seeing what he looked like behind the plate this season. Let's just say the experiment ended quickly.
"I did catch a bullpen once this year and that didn't go so well," Dixon said. "I didn't get into the game."
Jonathan Mayo is a reporter for MLBPipeline.com. Follow him on Twitter @JonathanMayo and Facebook, and listen to him on the weekly Pipeline Podcast. This story was not subject to the approval of Major League Baseball or its clubs.