MLB.com Columnist
Anthony Castrovince
Tribe's 2016 fight, perseverance could bode well
Like NBA's Cavs, falling short one year may be followed by glory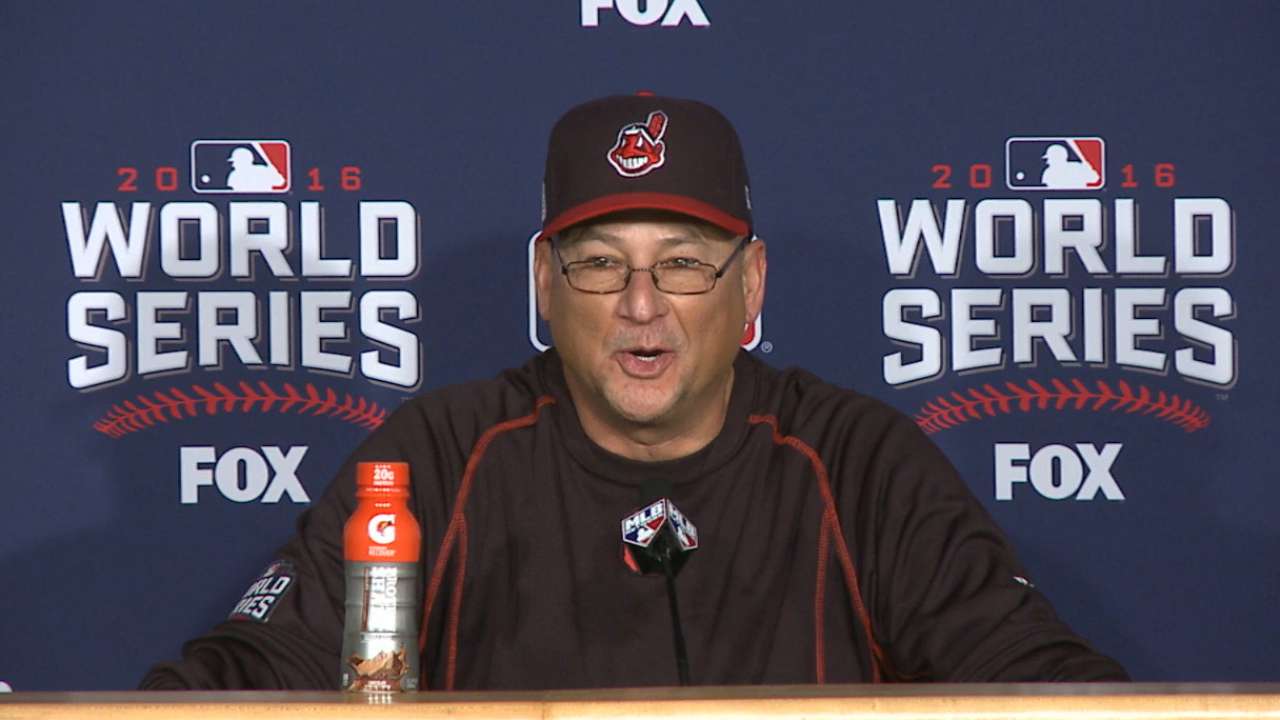 CLEVELAND -- In the end, the Indians conjured up memories of their Gateway Plaza neighbors. Just not the memories they intended.
The Indians wanted desperately to do what the Cavaliers had done in June. They wanted to truly turn this into Title Town, an odd-fitting appellation for a city that had suffered so much for so long on the sporting scene, but a name the locals would have warmed to quite quickly. And man, the Tribe had its opportunities to get it done. A 3-1 World Series lead with the home-field edge? Just three teams in history -- and none since the 1979 Orioles -- had blown such a good thing.
Ultimately, though, when the Indians suffered an absolutely heartbreaking 8-7, 10-inning defeat in Game 7 of the World Series on Wednesday night at Progressive Field, they reminded us of another Cavs club altogether -- the 2014-15 installment that came oh-so-close but ultimately could not overcome the assault of injuries that left its roster ragged.
Maybe, for the Indians, this pain is all a precursor to bigger and better things, as it was for the Cavaliers.
"We will be back," second baseman Jason Kipnis promised.
But for now, it is only affirmation that when you're hurt, it's going to hurt you eventually.
The Cavs learned that in the 2015 NBA Finals, when they went up against a loaded Golden State Warriors squad, with Cleveland's roster basically comprised of LeBron James and, uh, some other dudes. James had a monster series, to the point that he had a legitimate Finals MVP argument in a six-game loss.
Alas, the absences of Kyrie Irving and Kevin Love -- two-thirds of their "Big Three" -- during the playoff run meant the Cavaliers were ultimately asking too much even of a man self-described as a "King." There were some brilliant defensive efforts (Cleveland was arguably a better defensive team without those two guys) and Matthew Dellavedova took his brief star turn and sold a ton of shirseys in the process. But the breaks -- quite literally in the form of Irving's fractured kneecap, and more metaphorically in the form of Love's dislocated shoulder -- caught up to the Cavs.
The Indians' situation is definitely different from the standpoint that they were one win away for the roughly 92 long and agonizing hours that separated Game 4 from Game 7, and now the 2016 team will remain "one win away" forever in the record books.
But there's no doubt the injury bug came to claim the Tribe eventually.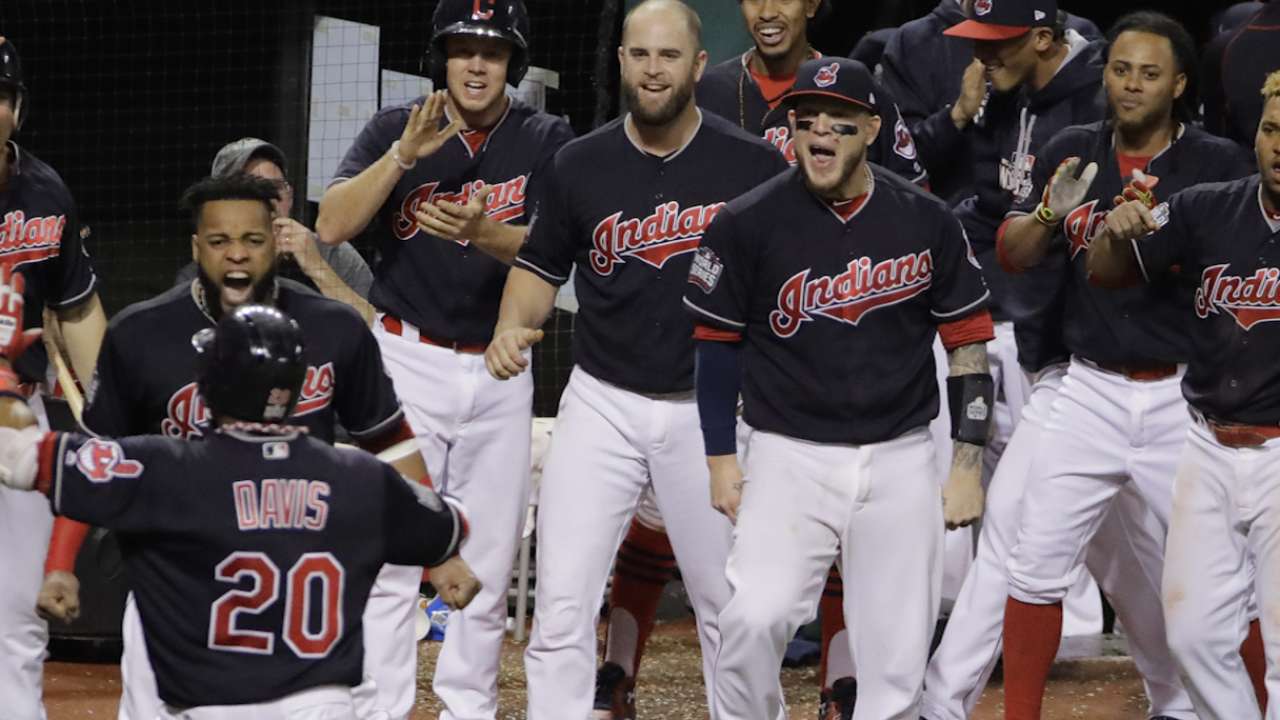 Though Kluber was strong in Game 1, Bauer was a rusty mess who had thrown just 19 pitches in the 21 days preceding his Game 2 start in this World Series, and it showed. Sweeping this Series never rated as a realistic scenario, anyway, and so the Indians' rotation shortage was bound to be placed front and center as the Series evolved.
Salazar, a late add to the roster, was not stretched out enough to give length or healthy enough to snap off curveballs. Ryan Merritt, who stepped up large in Game 5 of the ALCS, was not nearly as strong a matchup with this Cubs lineup as he was with a Toronto team that had trouble with soft-tossing lefties. And Mike Clevinger had, by that point, been reduced to low-leverage relief work.
Rather than string together a bullpen day or two, the Indians opted to utilize their top three starters on short rest -- an outside-the-box strategy for a club very much boxed in. Bauer had one bad inning that got away from him in Game 5, and that was plenty. Tomlin was terrific on full rest in Game 3, not so much on short rest in Game 6. Kluber, in Game 7, made it clear that starting three times in nine days against one team doesn't happen very often for a reason.
"They did a good job of adjusting to him," Callaway said. "He gave us everything he had."
We even saw the limits with Miller in this Series. He set a new postseason record for innings pitched by a reliever (19 1/3) and, generally speaking, wasn't quite as sharp, command-wise, in the World Series as he had been in the previous two rounds. He finally cracked in Game 7. In fact, the six runs Kluber and Miller surrendered in Game 7 were more than they had allowed (four) in the rest of the postseason combined, and they obviously counted dearly.
You could also send out a futile wish that the Indians had Michael Brantley, not Michael Martinez, up with the tying run on base and two outs in the bottom of the 10th.
But that's just getting greedy.
The Indians are certainly going to face some difficult decisions with Mike Napoli and Rajai Davis heading into free agency. There's just no telling what the future holds for the health of the rotation (sometimes flexor strains like the one Salazar is recovering from are precursors to bigger problems, and Salazar's already had Tommy John surgery once). Brantley had so many shoulder setbacks in '16 that you can't blindly assume he'll be full-bore in '17. Losing Derek Falvey from the front office as he embarks upon his new position as the Twins' president of baseball operations is an underrated loss, given how much he meant to the cohesion between clubhouse and front office.
But what we have here is a team that got to within one win of the World Series title, a team that has a shrewd front office with an established reputation of landing bargain buys, a team that has a stable roster (Miller, the hired midseason hand, is under contract another two seasons) and should have Carrasco, Salazar and Brantley upright and active come Spring Training.
That's a hopeful situation, even amid so much immediate agony. Baseball is inherently harder to predict than the NBA, and everybody here ought to appreciate the difficulty of the Indians getting back to this Fall Classic stage.
But if they grow from the experience of their short-handed success on the postseason stage and come back even better, well, it wouldn't be the first time that's happened around here.
Anthony Castrovince has been a reporter for MLB.com since 2004. Read his columns and follow him on Twitter at @Castrovince. This story was not subject to the approval of Major League Baseball or its clubs.