MLB.com Columnist
Jonathan Mayo
Cardinals in AFL: Bader, Kelly preparing for big leagues
MLB Pipeline checks in on St. Louis' prospects in the Arizona Fall League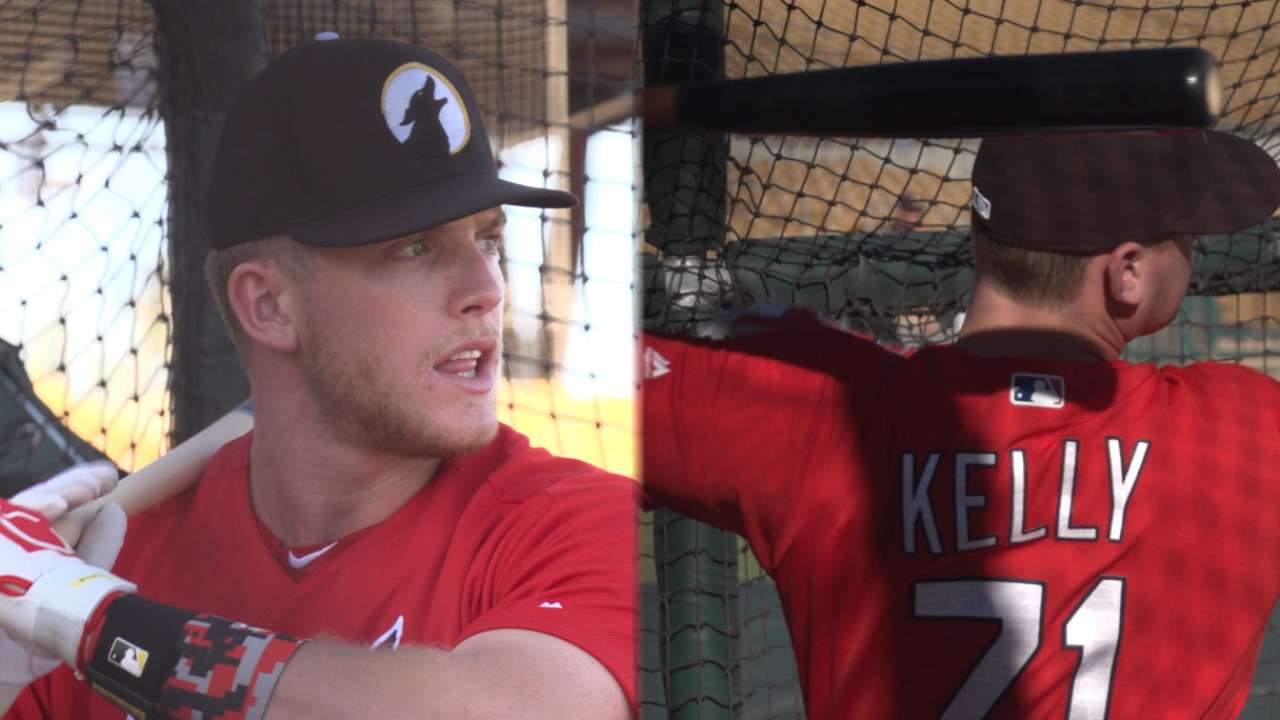 While Carson Kelly and Harrison Bader were drafted three years apart -- Kelly in the second round of the 2012 Draft, Bader in the third round in 2015 -- the pair of Cardinals prospects are only about a month apart in age. Both are also on the brink of impacting the Major League roster full-time and are hoping to put the finishing touches on their development to get them there in the Arizona Fall League.
"I've learned a lot in a short period of time," Bader said about his AFL experience. "I think the organization I'm with, they've done a good job of throwing me into the fire. That's exactly what I want as a player. I'm trying to be a sponge as best I can, learn from players and coaches and just go out there having some fun playing ball."
"Just to take the experiences I had up in September with the big league club and put that into action," Kelly said about his wish-list for his time in Arizona. "Be a leader out here, go about my business the way I would up there."
• Complete Arizona Fall League coverage
That is one thing Kelly has on his resume that Bader doesn't: big league time. Kelly, the Cardinals' No. 11 prospect and one of the better catching prospects in the game, joined St. Louis as a September callup, picking up valuable experience and his first Major League hit along the way.
"My first at-bat, too," Kelly said. "I was shaking. I had to take a couple of pitches to catch myself. It was good to get it out of the way early. It was just baseball from there.
"[The experience was] unbelievable, everything you could possibly imagine and more. They welcomed me with open arms. Just a tremendous opportunity to be there and soak everything up."
Bader has his own first game story, albeit from his pro debut in the New York-Penn League in 2015. It wasn't just that he had an auspicious start with a two-homer game. It's that he did it in his own backyard.
"That was great," said Bader, MLBPipeline.com's No. 82 overall prospect and the Cardinals' No. 3. "In front of family and friends. Locally, I'm from New York City and it was in Staten Island. They took the Ferry over. It was a great experience. My little welcome into pro ball. It's been all downhill from there. I'm just kidding."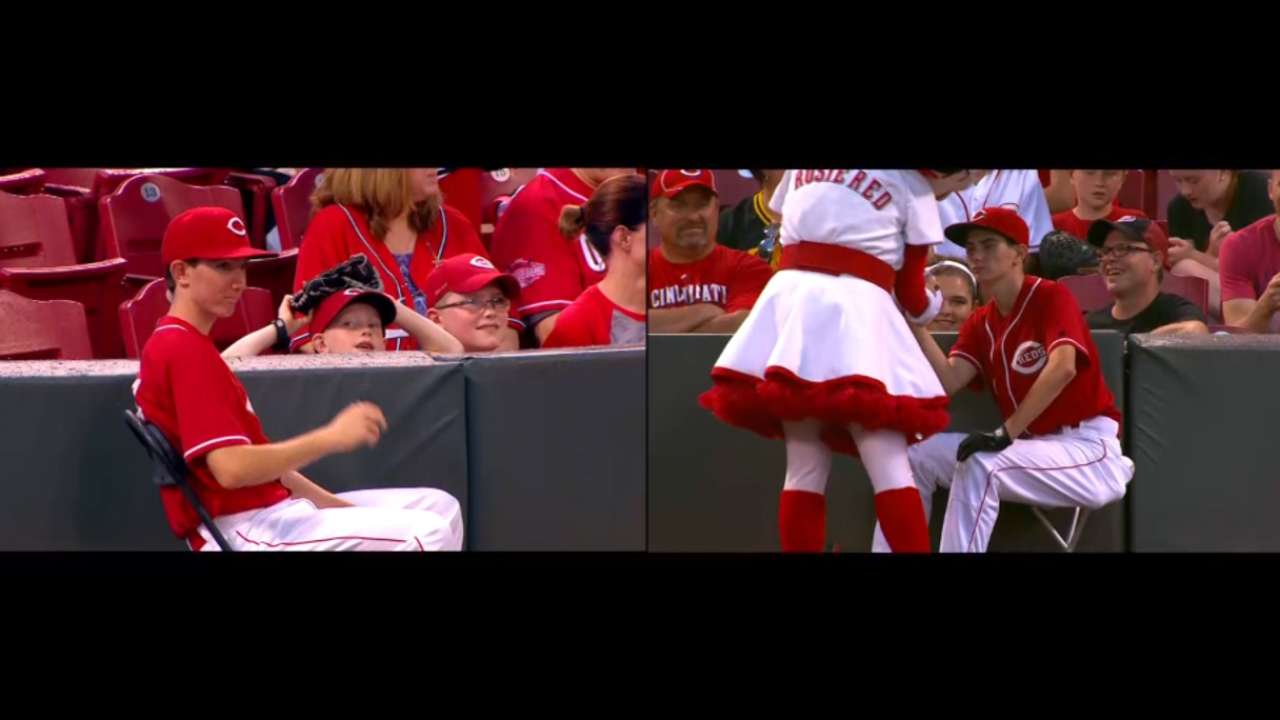 It certainly hasn't as Bader reached Triple-A in his first full season, playing with Kelly there for a spell, finishing with 19 homers and 13 steals. He did strike out 136 times, while drawing 36 walks, so the University of Florida product is definitely working to improve his approach.
"Just working counts the best I can, not chasing as much as I maybe did this past year," Bader said. "Just working on pitch selection, pitch recognition, things you gain through experience. Just another opportunity to get on the field and practice that."
Kelly has a similar to-do list, feeling pretty good about his skills behind the plate and wanting to help his bat catch up.
"Hitting," Kelly said about his focus. "My defense has been there. Obviously, I have things to work on defensively, but mostly the hitting, being consistent, making the minor adjustments I learned up there, things that will help me in my career."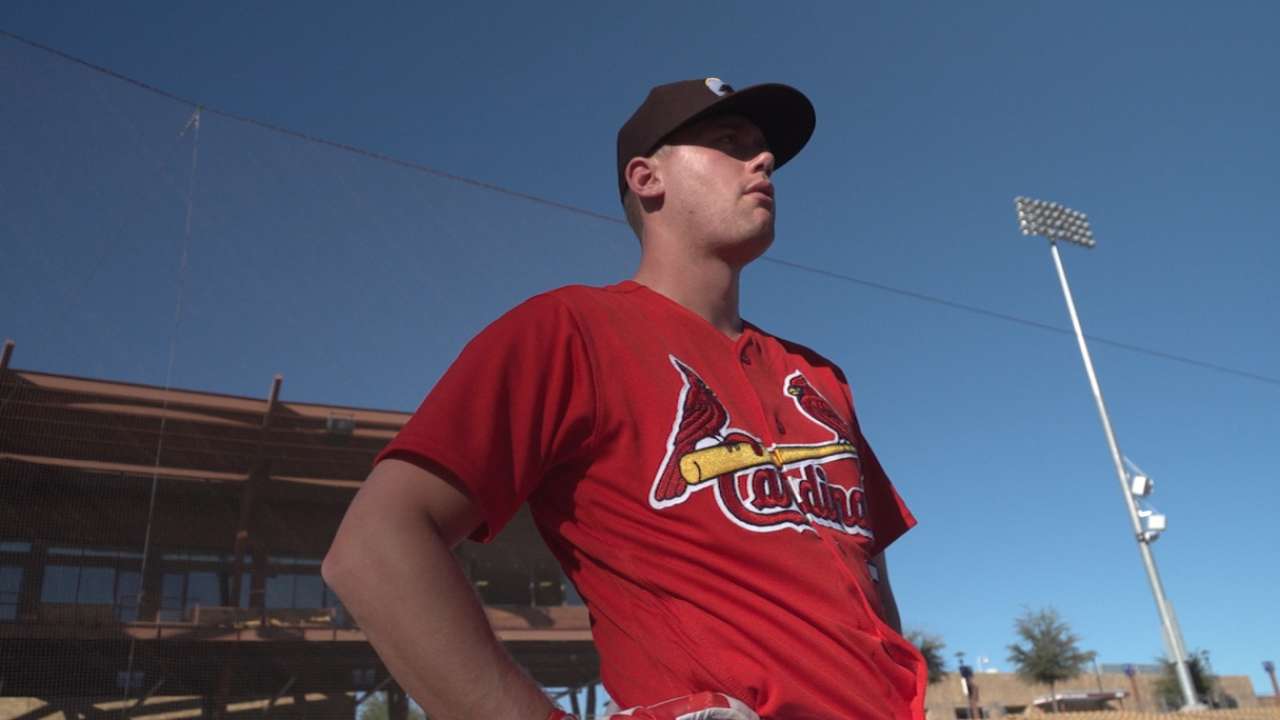 He also feels his experience in St. Louis can help others while he is Arizona. Kelly has natural leadership skills, which have been on display with the Glendale Desert Dogs and which he has grown to learn are essential.
"It comes with the job," Kelly said. "Being a catcher, you have to be a leader. It is required. That's something I'm really starting to learn in my development behind the plate. That's something I really want to improve on down here.
"I've had these experiences and I want to show the other guys who haven't been there yet what it's all about. That's something that will benefit me and them as well."
Cardinals hitters in the Fall League
Bader
Paul DeJong, SS/3B
Kelly
The Cardinals' fourth-round pick in the 2015 Draft out of Illinois State, DeJong had a very successful first full season, spending it all in the Double-A Texas League. He finished in the top 10 in the league in home runs, slugging percentage and total bases. In addition to working on refining his approach (26.1 percent strikeout rate; 7.2 percent walk rate), the Cardinals' No. 15 prospect is also playing shortstop exclusively this fall after spending the vast majority of his time during the regular season at third.
Cardinals pitchers in the Fall League
Austin Gomber, LHP
Corey Littrell, LHP
Ryan Sherriff, LHP
Rowan Wick, RHP
In his second full season of pro ball, Gomber, the Cardinals' No. 19 prospect, once again was all over the organizational leaderboard, leading the system in batting average against while finishing second in WHIP and fourth in ERA. The big lefty may have the ceiling of a No. 4 starter, but with his additional innings this fall, he's pretty close to reaching it in the big leagues.
Littrell came to the Cardinals along with John Lackey back at the 2014 Trade Deadline. After a 2015 season that saw him both start and relieve, he moved to the bullpen full-time in 2016, a switch that allowed him to jump from Double- to Triple-A in May. He misses more bats as a reliever and is particularly tough on left-handed hitters, a skill that should get him to the big leagues in 2017.
Sherriff began his Cardinals career back in 2011 as a late-round junior college selection who was a starter. He moved to the bullpen in 2014 and has been toiling away at the upper levels since. He's coming off of a strong 2016 season in Triple-A, though he faded a bit in the second half, and could provide the Cardinals with another lefty specialist option (.172 BAA vs. left-handed hitters).
A 2012 ninth-round pick as a catcher who quickly moved to the outfield, Wick made it as far as the Florida State League before giving up on hitting and transitioning to the mound. He's taken to it well, reaching Double-A in 2016, his first full season of competitive pitching. He missed plenty of bats (11.6 K/9 ratio this past season) and was tough to hit (.186 BAA). He's auditioning for a spot on the 40-man roster this fall.
Jonathan Mayo is a reporter for MLBPipeline.com. Follow him on Twitter @JonathanMayo and Facebook, and listen to him on the weekly Pipeline Podcast. This story was not subject to the approval of Major League Baseball or its clubs.