Nov. 1 Kyle Hendricks pregame interview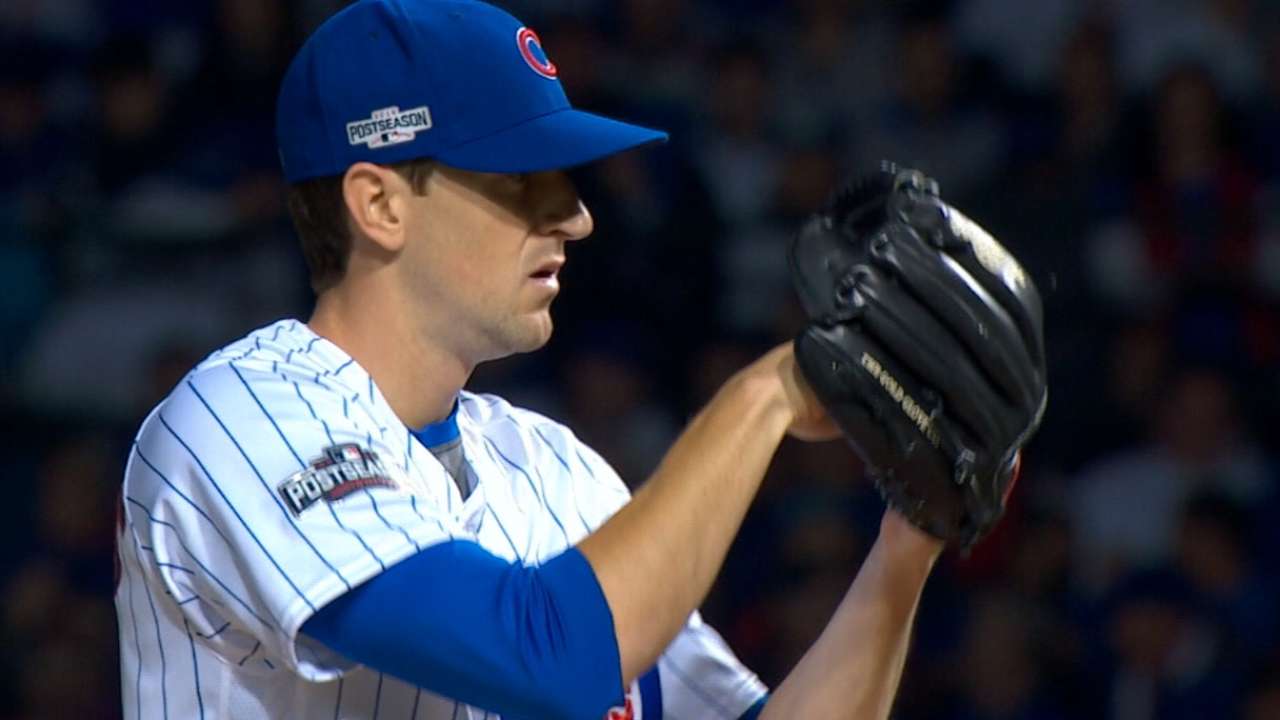 Q. Kyle, knock on wood, there's a Game 7 for you tomorrow, what would it mean? It's the ultimate in baseball to pitch a Game 7.
KYLE HENDRICKS: Exactly, this is the ultimate dream. You dream of getting to the World Series, winning the World Series. When you're out in your backyard as a kid, playing Little League at the field with your friends, this is the moment you dream about, Game 7, 3-2, two outs, something like that, bottom of the 9th. But it's always Game 7 of the World Series.
So when we get there tomorrow, I'm just going to embrace the opportunity like I have the rest of this postseason, honestly. Approach it like any other game, simple thoughts, the same old thing.
Q. You have a guy on your team who won a Game 7 in 2002 and won a Game 6 three years ago in John Lackey. Has he imparted any wisdom on you about how to handle tomorrow?
KYLE HENDRICKS: Not particularly in regards to tomorrow, but I've learned so much from John already. I think the way he approaches every single game, you know, I think that's what prepares him for those big games and that's what I've learned watching him, and I've tried to implement some of that into my routine, just taking that same ruthless approach, every day, every single start, even the regular season. So that when you get to these big moments, it's basically like it has been the whole year, I think.
Q. What's your take on a team having a guy starting games 1, 4, and 7 and Kluber in particular?
KYLE HENDRICKS: You know, I don't think there's too many guys that could do it to start, so obviously he's a special guy. But Kluber, you can just see it. The way he takes to the mound, he's always locked in. He has a very, very good mental approach from what you can see from the outside, keeping things simple, just trying to execute pitches.
Like I said, there's not many guys in this league that could do that. I think it speaks volumes to him as a pitcher and what he can do.
Q. As far as making adjustments, a lot of people talk about the Indians hitters and your hitters trying to make adjustments this time of year. Is that unrealistic for hitters that you watch on video and things like that who have a certain style, have a certain way they've gone about it and have been successful getting to this point?
KYLE HENDRICKS: I don't think so. I think guys are making adjustments. Yes, you're going to stay in your game and your game plan. You know what you do best, but at the end of the day if you see these guys from the other team, their arms, you see them enough, you see what they're trying to do to you, what they're trying to attack you with, you have to make adjustments, in game or before and after games.
So, going in, facing Tomlin today, Kluber tomorrow, we've already seen them a little bit. So I think you saw it in Game 4. We made some adjustments with Kluber there. Guys aren't going to make adjustments in their swings necessarily, but maybe their approach and pitches they're looking for, those kind of things.
Q. You talked about when you came in here you said you were going to be pitching tomorrow. You're very confident. Talk about the team in the locker room about tonight's game, having Schwarber back in the lineup feeling very confident about tonight.
KYLE HENDRICKS: Yeah, we love having him in there. Obviously there were some questions before the start of the series with him, but we saw what he did in games 1 and 2. The way he swung the at-bat, the at-bats he put together. So we love being back here and having him here in the lineup. It's a huge weapon for us.
Obviously, our confidence, the same. I think it's stayed the same throughout the whole postseason. Joe sets up the environment for us. Like I've said before, we come into the ballpark on any given day, and we're focused on what we have to take care of that day. So even going down 3-1, the game the other day, we came in, and we know, okay, we've got to win today. Coming in today, same mindset. We know we've got to win today. If we take care of that, we'll take care of tomorrow.
Q. I cover the Tigers, I'm just curious, do you know Brad Ausmus at all? And how much pride do you take as a Dartmouth guy potentially starting Game 7 of the World Series?
KYLE HENDRICKS: I take a lot of pride in it. Maybe being from a smaller school, maybe not expected.
As far as Brad I haven't met him. I know a lot about him. He went to Dartmouth, obviously, but I've yet to meet him.
Q. Was there a particular time this season when you decided to incorporate the four-seamer and the breaking ball? Was it a general process? Was it an incident that occurred?
KYLE HENDRICKS: I think it was a general process, but there was one game in Milwaukee when I went maybe five or five-plus and give up four runs. I think after that, San Francisco was my next start. There was a very conscious effort of using my four-seam and curveball going forward from there. It was a general process, like I said, going up to that. But that was kind of a tipping point for me where I knew I have to implement these pitches and I have to use them more.
So going to the Giants game, which is my next start, I was able to do it. It wasn't sharp, you know, but at least I showed myself, hey, it's a possibility for me. I can do it in a game, and things kind of started to take off from there.
Q. When you're watching tonight's game, are you watching as the Game 7 pitcher to see how to approach the Indians or are you watching more as a Cubs teammate?
KYLE HENDRICKS: I'll be watching as a teammate, for sure. I have my routine. I have the scouting I have to do. That's all to the side. I'll have that all done before the game. Once game time, I'll be on that bench just soaking it in. I'm not going to be doing anything today, so I'm going to be out there behind Jake, watching him dominate and behind our hitters, just taking in the moment, really.
Q. Regarding the Halloween costumes encouraged on the flight yesterday, what was the participation level? Who had the best, who had the worst? And details, please?
KYLE HENDRICKS: Okay, I think the participation level wasn't as good as some of our other flights. Yeah, I think it might have been below 50%. But some guys still went all out. I think you saw Joe's suit he had, obviously. That had to be one of the top ones. Our masseuse he was Robin Hood. Who else? CJ Edwards was Mr. Incredible. That was probably one of the good ones.
We didn't have too many guys, though. I would say under 50% did it. So those are probably the top ones that stick out in my mind.
Q. Worst?
KYLE HENDRICKS: Worst were the guys that just didn't dress up. Probably me, I'll throw myself in there (laughter).