Nov. 1 Terry Francona pregame interview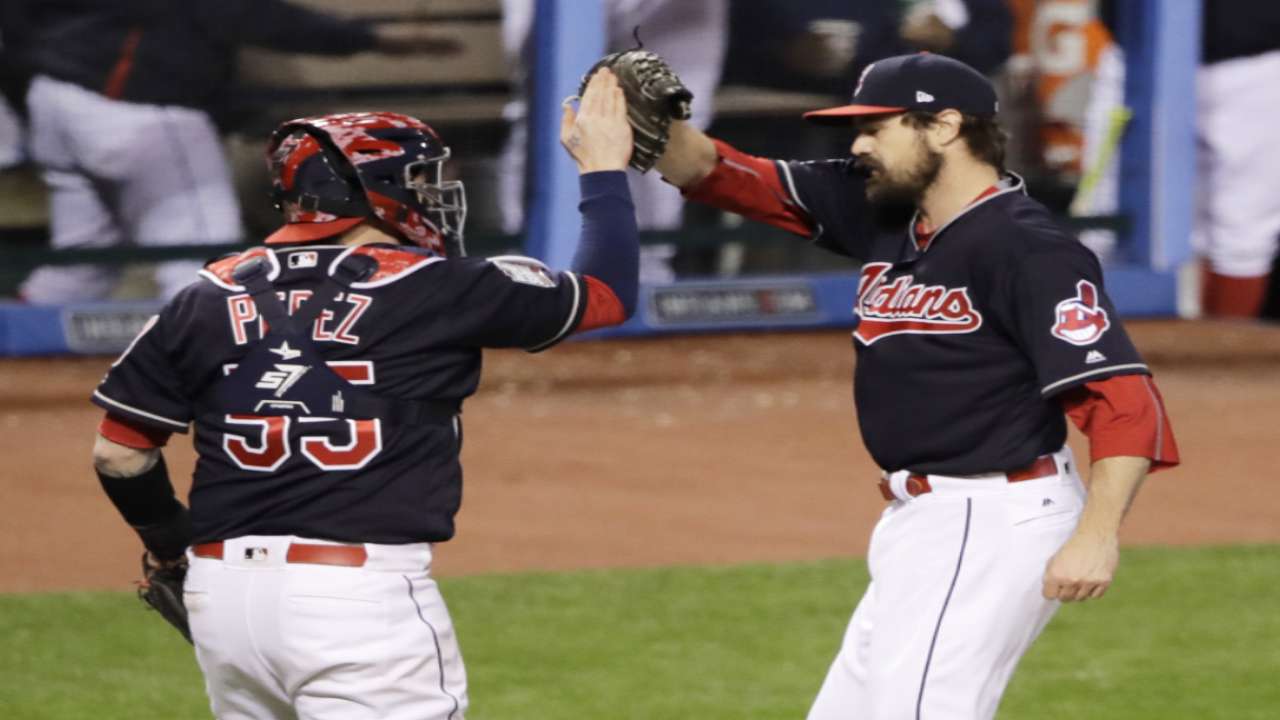 Q. You've been really aggressive in using Andrew Miller and other relievers this postseason. Does the window of situations broaden for you because you only have two games left? In other words, maybe first game of the postseason it's when you got a lead; today if you were down a run in the fourth or fifth inning?
TERRY FRANCONA: No, I think we go about it like we've done every game, and that's try to win the game tonight. Realizing there could be a game tomorrow, but I think the best way to go about it is if you have a chance to win, try to win because a lot of times if you worry about tomorrow, you don't have a lead anyway.
So we'll just do our best to win tonight. And if we don't, then we'll try to figure out how to do it tomorrow.
Q. We've asked a lot about whether or not the way you've used the bullpen would be applicable to the regular season. I'm wondering if the reverse is true. Have you been informed at all by how bullpens have been used in past postseasons or inspired by specifically if you saw like 2011 how Tony (LaRussa) and (Dave) Dunc used the bullpen, or most recently how Kansas City used the bullpen?
TERRY FRANCONA: Well, I mean, I watch baseball because I'm a fan. But, no, I just think that our team is, I mean, our 25 guys have a responsibility to really know what they can do and the things that they do well, we want to put them in that position. So when you get into a playoff series, you just try to take what the guys do and do it more.
There are things you can do in a postseason you can't do during a regular season, like your bullpen, things like that. On one hand, you want to stay true, be consistent, but you also, I think, have to understand that because it is postseason, there are some things you do a little bit differently.
The thing that helps me the most is the cooperation we get from the players allows me and us to have some free reign to be creative, because our players cooperate so well. And I appreciate it, because I don't think it's always that way.
Q. Last Sunday we saw a much more confident Chicago Cubs on the bases after Roberto Perez goes out.
TERRY FRANCONA: Well, they actually ran on Berto, too, though. They were more aggressive on the bases, for sure. That's something we talked about. I think that's a good thing. Tomlin's pitching tonight. He's one of the best in the league at holding the running game down. But they were more aggressive.
Some of that is dependent on who is on base, situations in the game, things like that.
Q. You were pretty excited to bring Scott Atchison back onto the staff. I'm wondering how big of a role has he played in getting these guys ready with the reports and being able to translate them? How much has he had to do with what we've seen on the field so far?
TERRY FRANCONA: I can honestly say I was not expecting that question (laughter), but good, I'm glad. Atch has been a tremendous hire. The reason being, the reason I say that is he was in our bullpen the last couple years, so he knows the relievers. I think he is universally respected by them because he wasn't just a fireballer. He had to pay attention to scouting reports, tendencies, things like that to be a successful reliever. But he's also known me and the coaches, I was with him in Boston, going back that far. So there's relationships all the way around that seem to have this be a perfect situation for him.
He's not going to do this for the rest of his life. He's going to be a Major League pitching coach. He's built for that, and he'll be a good one. But for the time being, we kind of created this spot, and he has helped us immensely. From day one he has taken so much responsibility and so much pride in it that, I mean, he's been terrific.
Q. Players all have different routines to make themselves comfortable. As manager, this is a huge game today, do you have a certain routine early in the day? You've mentioned a couple times you swim. I'm just curious, is that like a stress reliever for you or exercise?
TERRY FRANCONA: It helps. The reason I do it is because my body is so banged up during the year, even on the road, I'll go find a place because I'm able to do more at the ballpark if I swim. But, yeah, in times of like now, getting an hour by myself where I can swim, I feel like a different person when I get out, yeah, for sure. Not just my legs, but my head, yeah.
Q. Coco Crisp will be playing today on his birthday. How big of a pick-up has he been for you guys this season, and how cool has it been for you personally when you were playing to be playing on your birthday?
TERRY FRANCONA: I didn't like my -- I never did well on my birthday. It always seemed like I was 0-for-4, so I was a year older and didn't hit very well (laughter), so I was not a big fan of that.
On Coco's part though, it's been great having him. You add a player that late and you kind of have to be a little careful because your team has formed its personality and things like that. But Coco, I had a history with Coco. He had been in Cleveland. It was really, I'm guessing he would say this, too, really easy transition and we knew that if we were able to move on, we wouldn't have Abe (Almonte), so we tried to kind of the last four, five, six weeks play both of them. And as we neared the end, start to play Coco a little bit more, and he's helped us a ton. I think he's having a ball.
Q. The Schwarber factor, so much was made about it in the first two games and he impacted it for the Cubs. How much do you guys, you, Mickey and the pitchers, maybe adjust the game plan pitching-wise with him in the lineup?
TERRY FRANCONA: Well, we were happy that we're back in the AL rules where you can have the DH. I'm sure they're pretty happy, too. You can bet that if Dexter Fowler gets on, they're not going to bunt him over. He's a very potent bat that you've got to keep track of, but so is Bryant, so is Rizzo. That's part of why they're good. We know where he is, but we know where everybody else is, too.
Q. Is there anybody you played with or managed that really reminds you of Josh Tomlin? Is there any guy? Would it be his style or just his personality and make-up, anybody that comes to mind?
TERRY FRANCONA: Most of them are out of baseball. I'm trying to -- I don't know. I mean, he gets teased an awful lot, but he's one of the very best teammates I've ever seen. Just when you go up through the Minor Leagues and you don't throw 100, you kind of have to prove yourself at every level. Whether it's fair or not, that's just the way it is. Well, he's done that and then some.
For him to start this game tonight, I actually, it's an honor. I mean, this kid embodies so much of what I think our team is. We're all thrilled he's pitching tonight. And that's not coach or manager speak. That's how we feel.
Q. What did you see in Corey that convinced you he could come back twice in a row on short rest and thrive in that situation?
TERRY FRANCONA: Conversations with him, the way he treats his body, the way he works his routines. I think good players, good pitchers can do special things. He's in that category. I mean, you've seen what Andrew Miller has done. You saw what Chapman did the other day. I mean, we don't have the market cornered on all the -- there's some pretty good players and teams out there. But it was kind of an easy decision after talking to him.
The harder one for me wasn't just him, but we had to make sure Trevor was okay and the same thing with Josh.
Q. How much do you think guys like Kluber and Lindor, having their first postseason experience, how much do you think it will help their development moving forward?
TERRY FRANCONA: Well, you know, it's funny, because I got asked that about Kluber the first playoff game. It was like how, "Do you think he reacted?" And it kind of surprised me because I never gave it a thought. I mean, I never really thought, boy, I hope he's okay. I just knew he'd be okay. I mean, he's pitched so many big games for us. And I think Frankie has loved every minute of this. I do think our team in general, because we're, for the most part, pretty inexperienced, I think every time we play a game it's good for our development.
Some teams are a finished product, and I think we're still kind of growing in some areas. I don't think that's something that we should apologize for, and it doesn't mean we can't win. It's just I've noticed that as we've played, guys seem to be understanding it more and more, and I think that will do nothing but help us moving forward. Not just today or tomorrow, but next year.
Q. You immerse yourself in a city when you manage. You've managed in three baseball cities. Just reading some of your interactions with the fans around the city today, is there anything that makes Cleveland unique as opposed to Boston, Philly, that has jumped out at you about this culture and the fans in this city?
TERRY FRANCONA: Oh, yeah, are you kidding me? Shoot. I used to laugh and tell like some of the guys here probably know, when I left Boston, like I said, if I went to Beirut, it would be like the perfect place to go from Philly to Boston (laughter). I mean, there were a lot of times I thought my name was, "You suck!" because that's all I ever heard.
This is so much like where I grew up. It's an hour and 20 minutes from Beaver Falls and New Brighton, and very Midwest, and I like that. I've always liked that. I played in Milwaukee, Cincinnati, Cleveland, same type of cities. You can walk around here a lot and there's a lot and you see the Midwest in people, which I really respect and I really like.
I've been here four years. I haven't grown up here, but I've been here long enough to care, and you see the Downtown. You know, when the Cavs won, it was hard not to think that some of the people Downtown were making some extra money, which I thought was great. Then you see them walking around now, it seems like their chests are out a little bit. I think that's terrific.
The city kind of reminds me of our team a little bit. They got pushed around, now they're starting to push back, and I'm happy for them.
Q. Understanding you don't want to see another one tomorrow night, but do you have a favorite Game 7 as a baseball fan you watched or can you appreciate the finality and drama of a Game 7?
TERRY FRANCONA: I've got to think. The Fisk home run, what game was that?
Q. Six.
TERRY FRANCONA: That's funny, because I can remember that. That would have been -- I was watching with my dad in the living room. And when the ball hit the foul pole I jumped up and went bananas, and I remember my dad was like, "I didn't know you were a Red Sox fan?" And I said, "I'm not. I had the square at school." (Laughter). "I won $100!" I was so happy.
I mean, I've been a baseball fan my whole life. So I've watched so many. I mean, there's so many great games. I mean watching Pete Rose play like with unbridled enthusiasm, and then getting to play with him and getting to play for him later, hearing some of those stories, oh, man, to me that's why you get to the ballpark early.
Q. With Kluber, do you think pitching on short rest has maybe helped him with his sharpness or command at all?
TERRY FRANCONA: I don't think it's hurt it. I think his command has been good for the last three years. But, no, I don't think it's hurt it. I think, actually, I wouldn't want to do this all year. In fairness to him. But I think for a couple starts, I think he can handle it just fine.
Q. Dan Otero has probably been the most under-the-radar member of your bullpen all year. He hasn't had a lot of work in the postseason. What is his role right now?
TERRY FRANCONA: He's just like everybody else: When it's his turn to pitch, he pitches. I don't think we ever know going into a game when he might pitch. We've used him as early as the second or third inning, and probably as late as the 12th. I think he got a save in Cincinnati in the 12th. He's kind of that wild card that we value so much.
Scott Atchison did it for a couple years. He's that guy that comes out of Spring Training and is hot, is pitching well and gets on a roll and you use him all over the place. One, they're able to do it. They're willing to do it, and it really helps you a ton having like a swing guy. He gets outs and you don't have to worry about the platoon splits, things like that.
Dan, I can guarantee you, Dan's not been underrated with us in the clubhouse. We value what he's done immensely.