Francona: 'We're the team that got him going'
Indians prepare to face Schwarber in World Series Game 6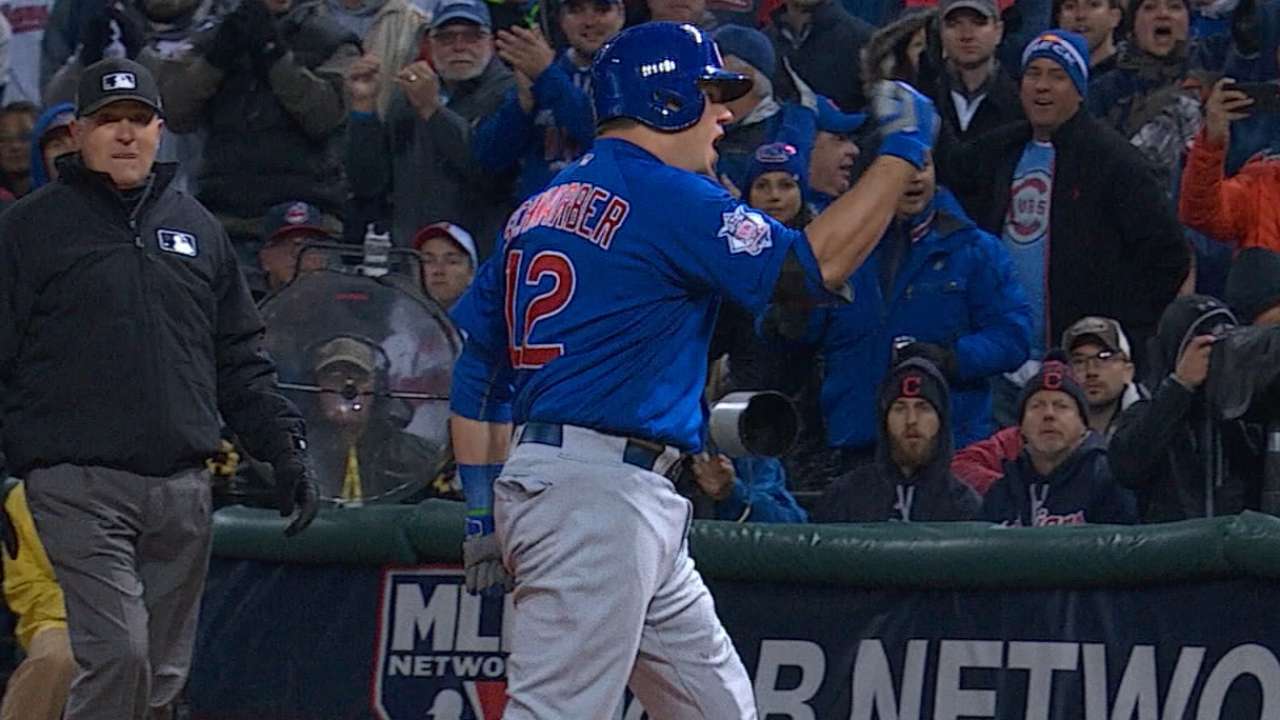 CLEVELAND -- Thanks to the designated hitter being available, the Cubs were able to put slugger Kyle Schwarber back in their lineup for Game 6 of the World Series on Tuesday night. Seeing Schwarber in Cleveland is nothing new for the Indians.
Over the past two years, Chicago's lineup has featured Schwarber in all six of its games in Cleveland, dating back to his debut in June 2015 and including this World Series. Indians manager Terry Francona quipped Tuesday that it was the Tribe that got Schwarber's bat hot in the first place.
"I think we're the team that got him going," Francona said with a laugh. "They called him up, and they were going to send him back [to the Minors]. He did so well here that they couldn't. So I feel semi-responsible. If he goes to arbitration, he can take me with him."
During the June 16-18 Interleague series in the 2015 season, Schwarber came up from the Minors and went 6-for-10, with a homer, a triple and four RBIs in three games at Progressive Field. In Games 1-2 of this Fall Classic, which marked Schwarber's first game action after a long comeback from a left knee injury, he combined to go 3-for-7, with a double, two walks and two RBIs.
• Shop for Indians World Series and AL champs gear
Schwarber hit fifth in the first two games of the World Series, but he was moved up to the No. 2 spot for Tuesday's game, with Indians righty Josh Tomlin on the mound.
"It just gives them, kind of like we talk about, some more balance and another guy that can do some damage," Francona said. "Whether they hit him two or five, he's still a very dangerous hitter. You can be willing to bet that if [leadoff man Dexter] Fowler gets on, they're not going to bunt him over. I hope they do, though."
Worth noting
• Francona noted that his father, Tito, will be in attendance for Game 6. The elder Francona, 82, suited up for Cleveland in parts of the 1959-64 seasons, and he has been enjoying the current club's ride through the postseason.
"This has been good for him," Terry said. "Even before all this, even during the season, his day would be arranged around what time we play. It's good for him. It gives him a reason to be a little invested and even nervous. It kind of gets your blood going. I think he's enjoyed coming up, and then he gets to see my kids and the grandkids and stuff like that. So it's pretty fun for him."
• Roberto Perez has served as Cleveland's regular catcher during the postseason, rendering Yan Gomes the backup. Through the first five games of the World Series, Gomes twice entered late in a game and has gone 0-for-2 at the plate. Gomes is still playing through a non-displaced fracture in his right wrist.
"What he's done is incredible," Francona said. "Next year, you'll see the real Gomes. I think right now, just with everything that's gone on, and I know it's hard for him. I know he'd like to catch every game, because he's our catcher. But with everything that's happened to him, I think it's miraculous that he's even able to contribute."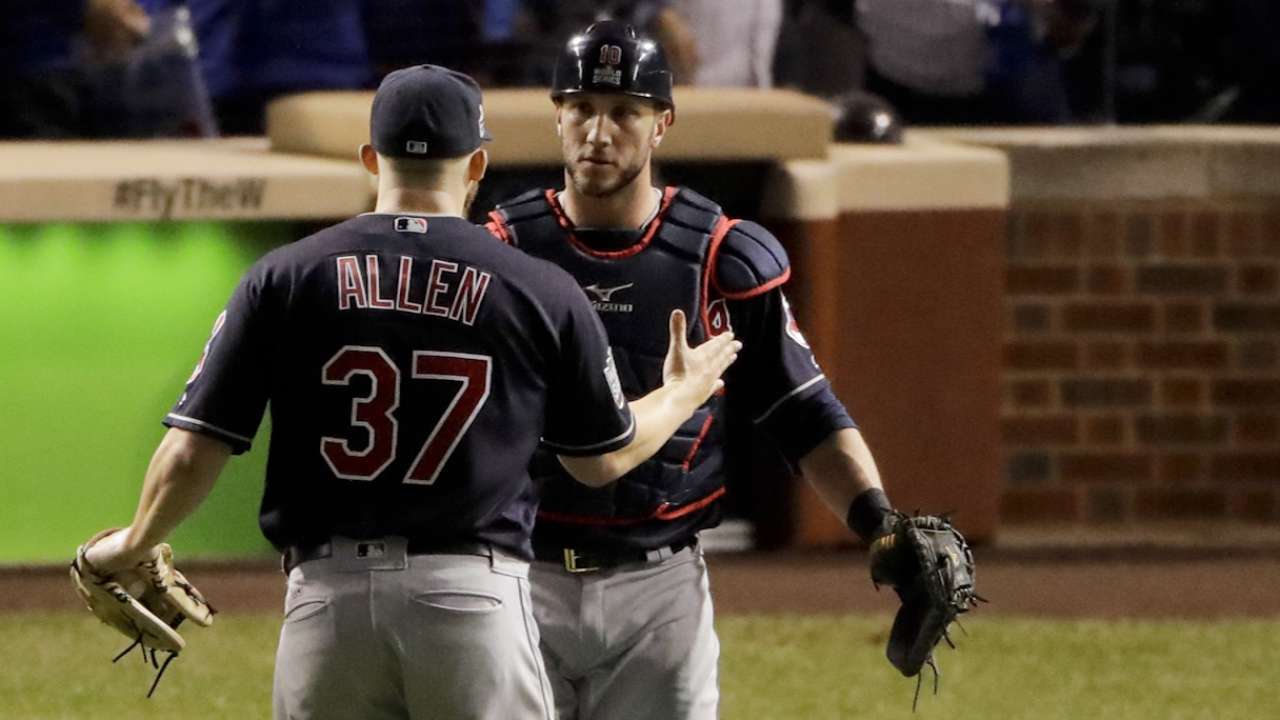 • In theory, right-hander Trevor Bauer could be available out of the Indians' bullpen for Game 6 (and Game 7, if necessary), but Francona said the pitcher is not likely to be used in relief. The manager's preference is to utilize his usual relief weapons, with Bauer potentially available for an emergency or extra-inning scenario.
"We might put him out there [for a Game 7]," Francona said. "But I think a lot of times, unless it's just your flat-out ace, it confuses the bullpen more than anything. But it's nice in extra innings, things like that, to know you have a guy who could do that."
Jordan Bastian has covered the Indians for MLB.com since 2011, and previously covered the Blue Jays from 2006-10. Read his blog, Major League Bastian, follow him on Twitter @MLBastian and listen to his podcast. This story was not subject to the approval of Major League Baseball or its clubs.