Cubs make their pitch to unleash Schwarber
Maddon looking to protect his designated hitter in the No. 2 hole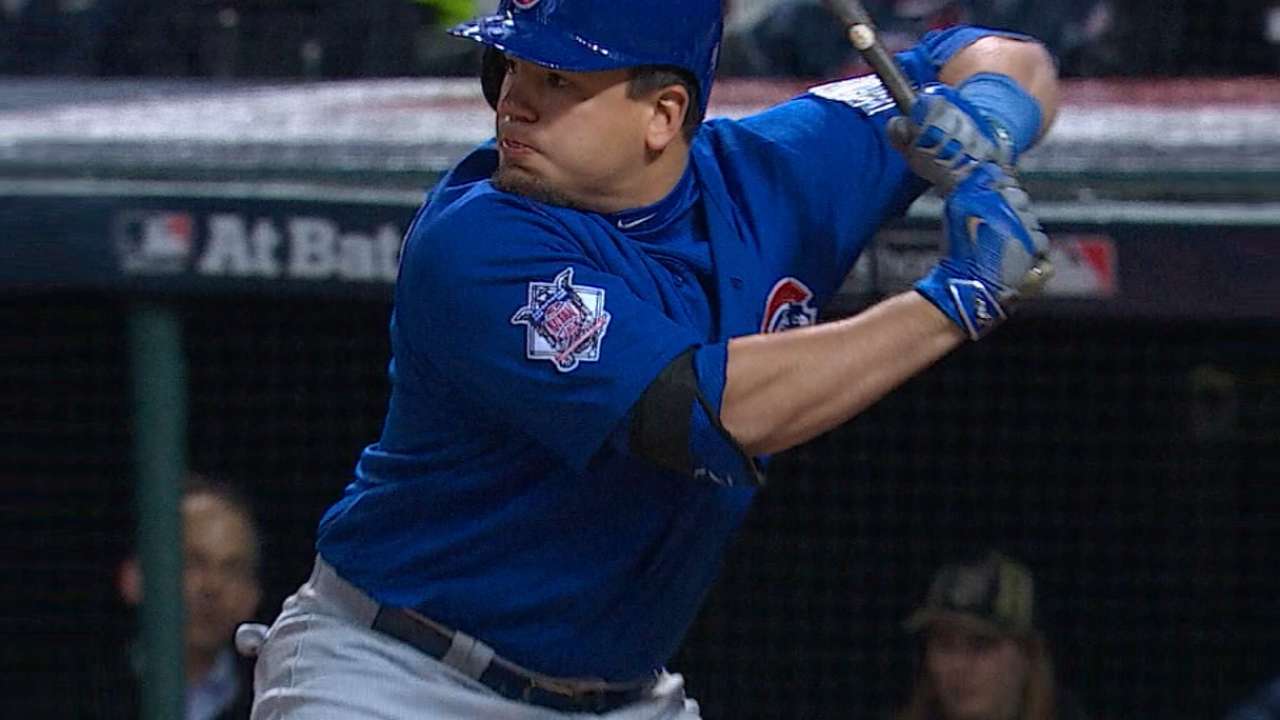 CLEVELAND -- Kyle Schwarber batted fifth in Games 1 and 2 of the World Series, but Cubs manager Joe Maddon moved Schwarber up to the No. 2 hole for Game 6 in hopes that the designated hitter would see pitches to hit.
"If we hit him in the five-hole today, after what he did a couple days ago, they're not going to pitch to him whatsoever," Maddon said before Game 6. "[Ben Zobrist] is used to hitting behind [Anthony Rizzo], and Rizzo is used to hitting behind [Kris Bryant]. The integrity stays the same other than being an American League lineup. We can spot Schwarber so they're forced to pitch to Schwarber."
Schwarber made his first Major League starts as the designated hitter in June 2015 in Cleveland, and he made quite an impression on the Indians, going 6-for-9 with a triple, a home run and four RBIs.
"I think we're the team that got him going," Indians manager Terry Francona said with a laugh. "They called him up and they were going to send him back [to the Minors]. He did so well here that they couldn't. So I feel semi-responsible. If he goes to arbitration, he can take me with him.
• Shop for Cubs World Series and NL champs gear
"It just gives them, kind of like we talk about, some more balance and another guy that can do some damage. Whether they hit him two or five, he's still a very dangerous hitter. You can be willing to bet that if [leadoff man Dexter Fowler] gets on, they're not going to bunt him over. I hope they do, though."
Schwarber did bat second for most of the 2015 season.
"You want to get him up there often enough and you want to get him in a position where they have to pitch to him," Maddon said.
Mind games
Maddon met with Javier Baez prior to Tuesday's game in hopes of getting the young second baseman to relax. Baez was the co-MVP in the National League Championship Series, batting .319 (7-for-22). But Baez is just 3-for-21 (.143) in the World Series entering Game 6.
"It's just trying to get him to readjust his thought process at the plate more than anything, and have him slow things down," Maddon said. "He's a young man -- he's a young man -- and when things are going so quickly, especially right now, it's hard to put the brakes on."
Maddon and hitting coaches John Mallee and Eric Hinske tried to give Baez some ways to slow things down.
"In other words, 'Oh, Javy, you have to put your hands in a different spot,' or 'You have to have your leg kick differently,' or 'Spread out a little more,' or 'You have to turn your head,'" Maddon said. "No, no, no -- just give him more mental concepts, like how to approach the pitcher and try to simplify your approach on where you want to hit the ball, things like that which you can handle. I've always thought you can handle an infinite amount of mental concepts before the game, but it's really hard to pile on the physical mechanics."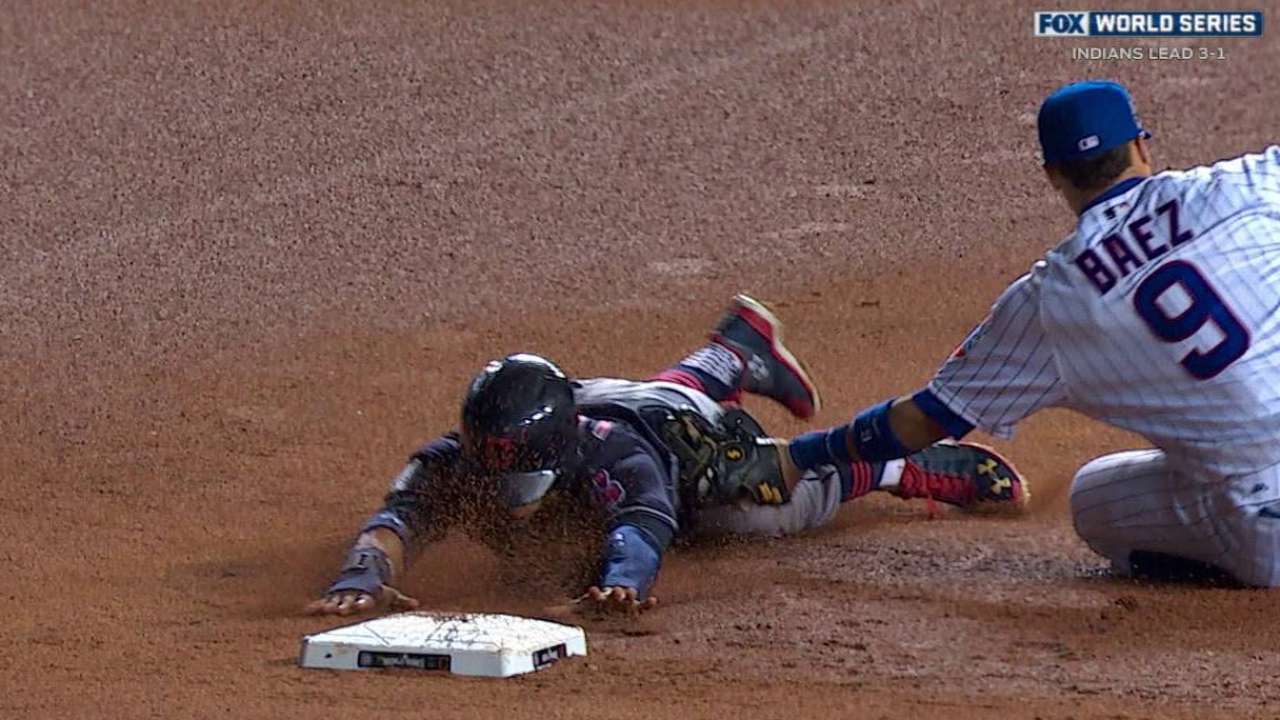 Maddon did not give any thought to sitting Baez. The tag Baez put on Francisco Lindor attempting to steal second in the sixth inning in Game 5 on Sunday is reason to keep the second baseman in the lineup. It's the same reason Maddon feels good about having Jason Heyward in right field.
"I like [Heyward] on the field," Maddon said. "There's one thing I know for sure, when he's out there and Baez is out there, I like the team on the field."
Small talk
Maddon planned on checking with closer Aroldis Chapman to see how he's feeling after throwing a career-high 2 2/3 innings in Game 5 on Sunday. The day off on Monday gave the left-hander time to recover. Maddon most likely won't ask Chapman to pitch more than two innings, but could he get six outs?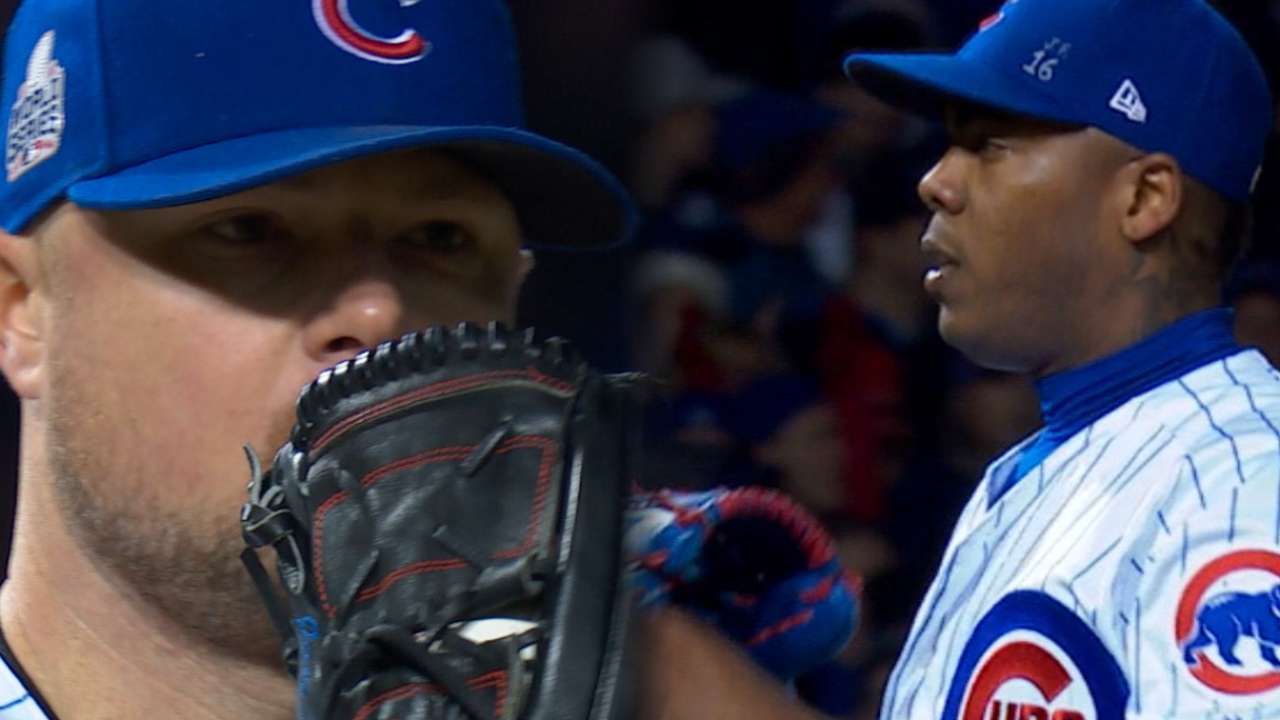 "I don't think it's impossible to think that," Maddon said.
Speaking of pitching, Jon Lester told Maddon that he would be available in relief.
"In my mind's eye, I'd really like him to be well, and with Game 7, he'd be available [in relief]," Maddon said.
Costume party
Only a few Cubs players were in Halloween costumes for the charter flight on Monday night to Cleveland. Carl Edwards Jr. was dressed as one of the "Incredibles," and one of the team masseuses came as Robin Hood. Maddon was wearing a lively black and white suit. Cubs president of baseball operations Theo Epstein did hand out candy to fans who were at Wrigley Field to see the team off.
Carrie Muskat has covered the Cubs since 1987, and for MLB.com since 2001. She writes a blog, Muskat Ramblings. You can follow her on Twitter @CarrieMuskat and listen to her podcast. This story was not subject to the approval of Major League Baseball or its clubs.