MLB.com Columnist
Barry M. Bloom
Relievers overpowering bats in big way this postseason
Much of high swinging-strike rate trend can be attributed to teams leaning on dominant bullpens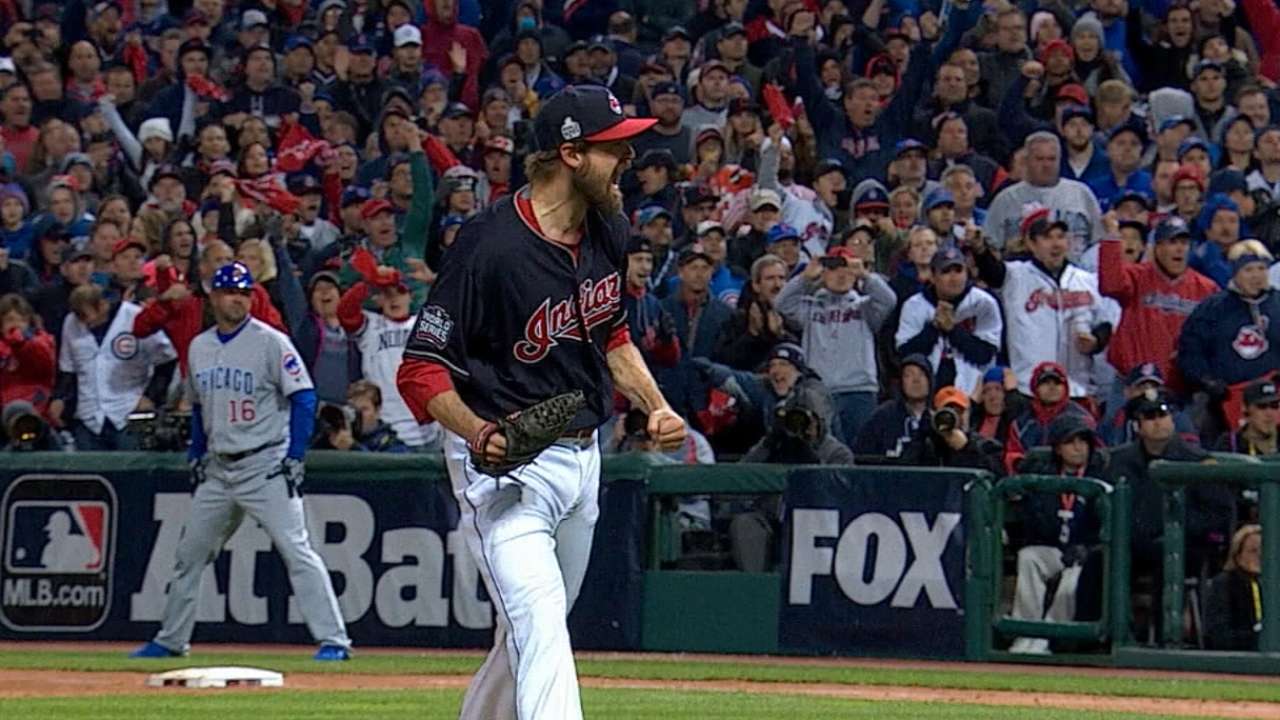 CLEVELAND -- You are not imagining things: Pitchers are overpowering hitters this postseason in a way we've never seen before.
For starters, consider this: The combined on-base percentage this postseason is .286, which is the lowest in the Wild Card era (since 1995). How low is .286? Look at it this way: There were 146 players who qualified for the batting title this year, and a .286 OBP would have ranked 144th.
The overall scoring tells a similar story, as teams were averaging 3.52 runs per game heading into Game 6 of the World Series, which is the second lowest in the Wild Card era, behind only 2012 (3.49).
So why so few baserunners and so little scoring? The easy answer is strikeouts, but it also goes a little deeper than that.
• Shop for World Series gear: Cubs | Indians
As we've seen with the likes of Andrew Miller, Cody Allen, Aroldis Chapman and Kenley Jansen, among others, dominant relievers are missing bats with far greater frequency than ever before. This year, relievers have fanned 9.57 batters per nine innings in the playoffs, virtually tied with the top mark of 9.6 in 2015.
This is all part of a recent trend where batters are swinging -- and missing -- more and more. Take a look at the swinging-strike rate in each postseason going back to 2008:
2008: 8.54
2009: 7.93
2010: 9.46
2011: 9.00
2012: 9.24
2013: 9.84
2014: 9.91
2015: 10.44
2016: 11.03
Much of that can be attributed to a new breed of lights-out relievers, and the trend of teams riding a dominant bullpen to October glory really started to gain attention two years ago with Kansas City. Although the Royals lost the World Series to the Giants in 2014 in Game 7, they effectively used Kelvin Herrera in the seventh, Wade Davis in the eighth and Greg Holland in the ninth.
Last year, Kansas City did the same against the Mets, winning in five games with Davis pitching the ninth, Herrera the eighth and Ryan Madson the seventh after Holland went down with a season-ending right arm injury.
The Royals' bullpen had a 1.90 ERA and allowed the Mets to hit just .193 against them in the World Series.
Similarly, this year, the Indians' relievers have shut down the Cubs with a 1.37 ERA and a .162 batting average during the first five games of the World Series. The Cubs have only scored four runs (three earned) against Cleveland relievers, three of them in the fifth inning of a 5-1 win in Game 2.
Chicago has scored just one run on six hits against the duo of Miller and Allen in a combined 9 1/3 innings. Allen, in fact, hasn't allowed a run all postseason.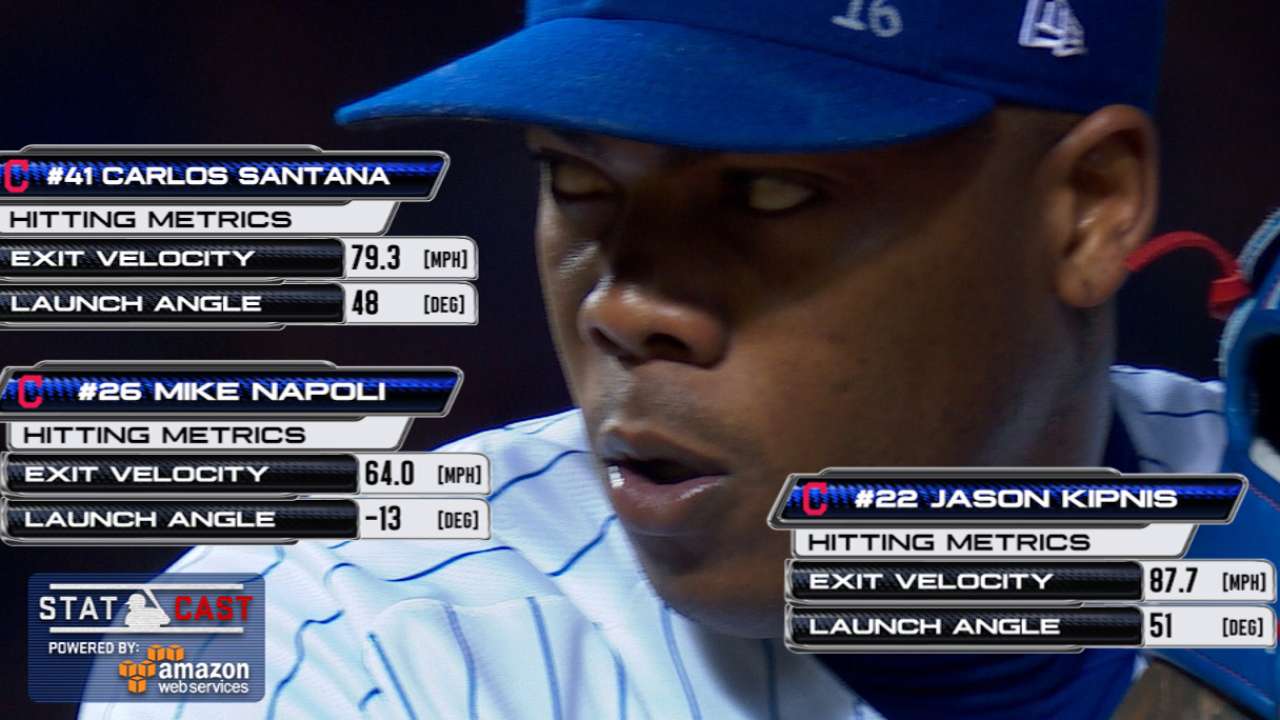 On the other side, Cubs left-hander Chapman has allowed no runs and one hit while walking one and striking out eight in his five innings this World Series, covering three games. That includes the final eight outs of Chicago's 3-2 win in Game 5 on Sunday night at Wrigley Field.
Barry M. Bloom is a national reporter for MLB.com and writes an MLBlog, Boomskie on Baseball. Follow @boomskie on Twitter. This story was not subject to the approval of Major League Baseball or its clubs.