Inbox: Is lefty relief priority for Cardinals?
Beat reporter Jenifer Langosch answers questions from St. Louis fans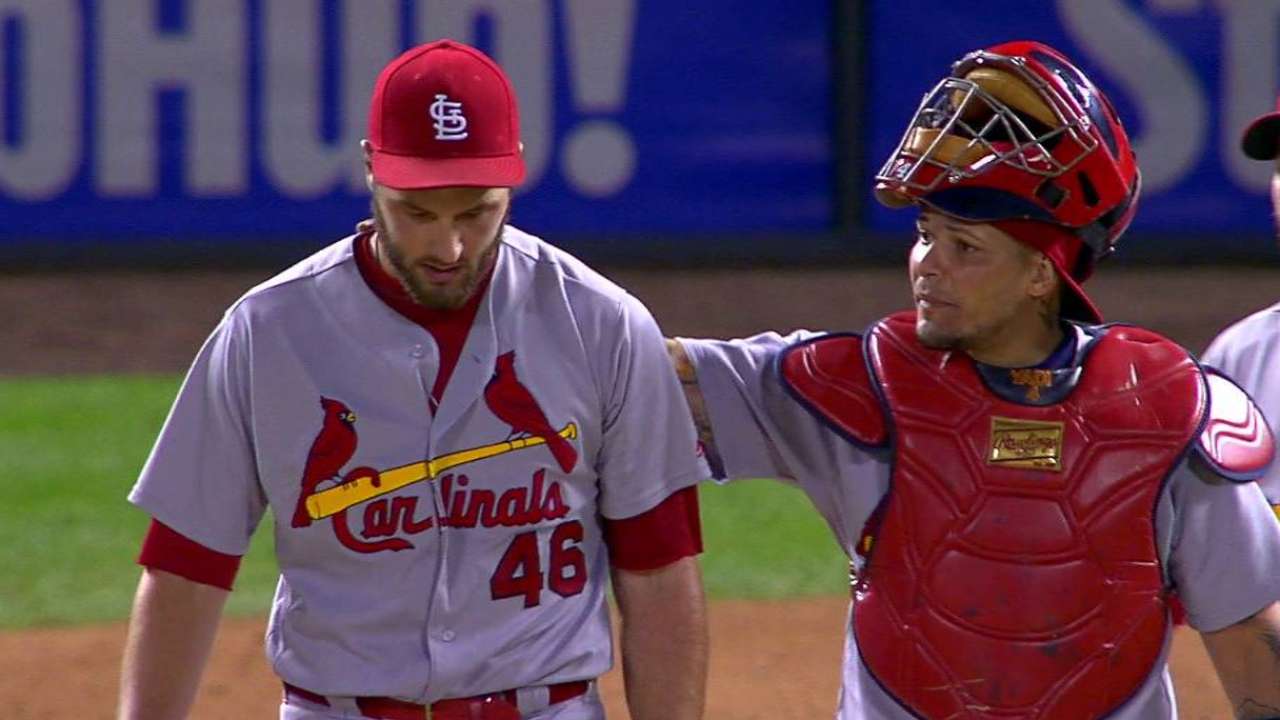 With the loss of Zach Duke for 2017, will the Cardinals pursue a left-handed reliever in the free-agent market or via trade?
-- Michael P., Lindsay, Calif.
The Cardinals will pursue relievers this offseason, though they won't necessarily narrow that search to a left-handed one. The fact that the Cardinals already have lefty Kevin Siegrist as a late-inning arm and could plug Marco Gonzales, Tyler Lyons, Tim Cooney or Dean Kiekhefer into the 'pen as additional left-handed options lessens that specific need.
• Submit a question to the Cardinals Inbox
More important to the organization is finding a reliever who can, alongside Siegrist, help bridge the game to closer Seung Hwan Oh. The Cardinals are fortunate that the reliever market projects to be among the strongest in free agency.
I don't understand the Cardinals not picking up Matt Holliday's option for $17 million while they consider making Brandon Moss a qualifying offer. What gives?
-- Sean C., Dayton, Wash.
Though the value of the two one-year deals -- $17 million on Holliday's option, $17.2 million for a qualifying offer -- are essentially a wash, there are some varying factors in play. If the Cardinals believe that Moss is interested in seeking a multiyear deal -- perhaps the last significant one of his career -- they may take the gamble of making him a qualifying offer, expecting Moss to turn it down. If that were the case, the Cardinals would then net a compensatory Draft pick upon Moss' departure.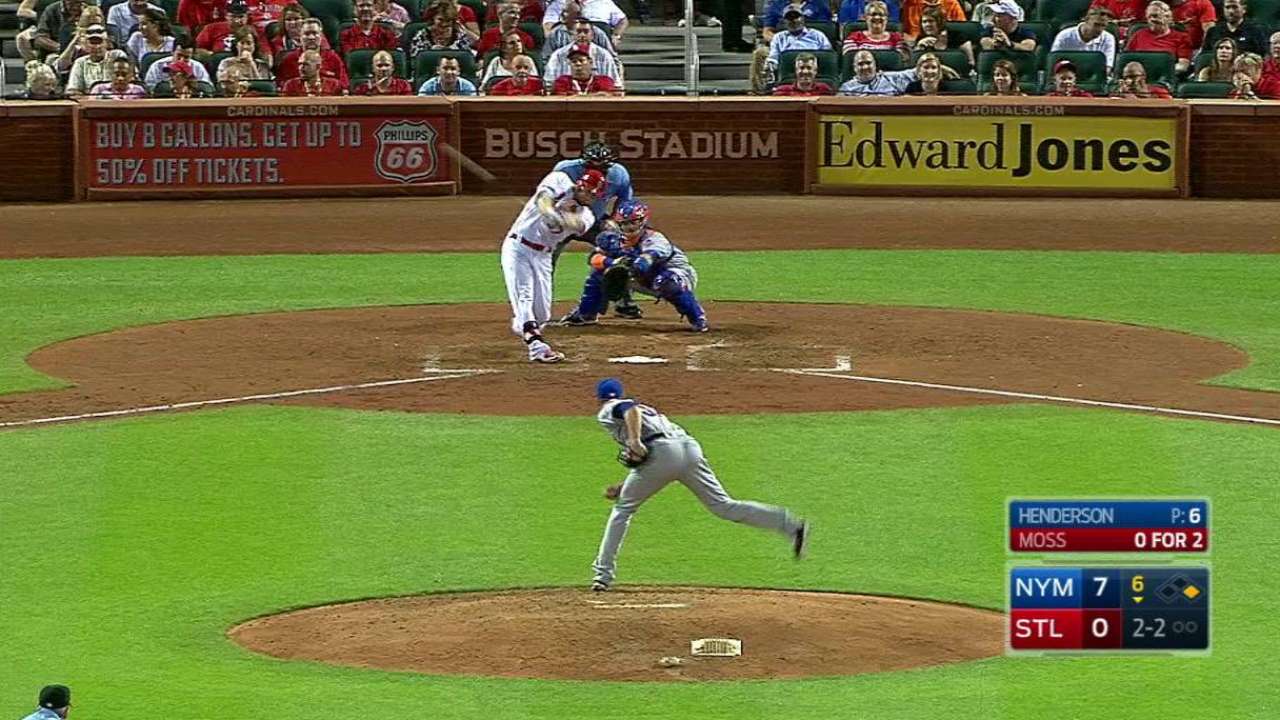 Of course, that comes with a risk. If a qualifying offer were made and Moss accepts it, there is no wiggle-out option for St. Louis.
But having Moss back next season, even at that price tag, would not preclude the Cardinals from addressing their other offseason needs appropriately, so it wouldn't be a devastating development. You have to consider, too, that having Moss, 33, under contract for one year instead of Holliday, who will turn 38 in January, is likely to provide more offensive upside. He's also a better and more versatile defender.
How viable is Luke Weaver as a starter for an entire year? I am asking that because I believe that the Cardinals' rotation next year should be Adam Wainwright, Lance Lynn, Carlos Martinez, Alex Reyes, Weaver and Mike Leake. Michael Wacha, I honestly believe, cannot pitch the innings required of a starter and stay healthy.
-- Kostas K., Calgary, Canada
Weaver offers the Cardinals' rotation depth for 2017, but unless there is an injury between now and April 3, I wouldn't project him to be a part of the team's Opening Day rotation. I think the other starters you named -- Wainwright, Lynn, Martinez, Reyes and Leake -- are the likely starting five, with Wacha a wild card.
The good news for the Cardinals is that their rotation depth should be improved. Not only has Weaver proven that he can be a capable fill-in, but the organization expects Lyons, Cooney and Gonzales to return from injury. It's for this reason that the Cardinals are unlikely to target starting pitching this offseason.
With a weak free-agent market and just one year left on Jhonny Peralta's contract, how likely do you think it is that the Cardinals trade him this offseason as the centerpiece to acquire an outfielder?
-- Matthew D., St. Charles, Mo.
It's not impossible to find scenarios in which the Cardinals would flip Peralta in a trade. In fact, it's one of the reasons the club front-loaded his initial four-year contract. However, he is not valuable enough to be a centerpiece in any deal, especially one for the sort of center fielder the Cards are seeking. That's because other teams would have the same pressing question the Cardinals do: Was Peralta's subpar production in 2016 the byproduct of his spring thumb injury or an indicator of a career decline?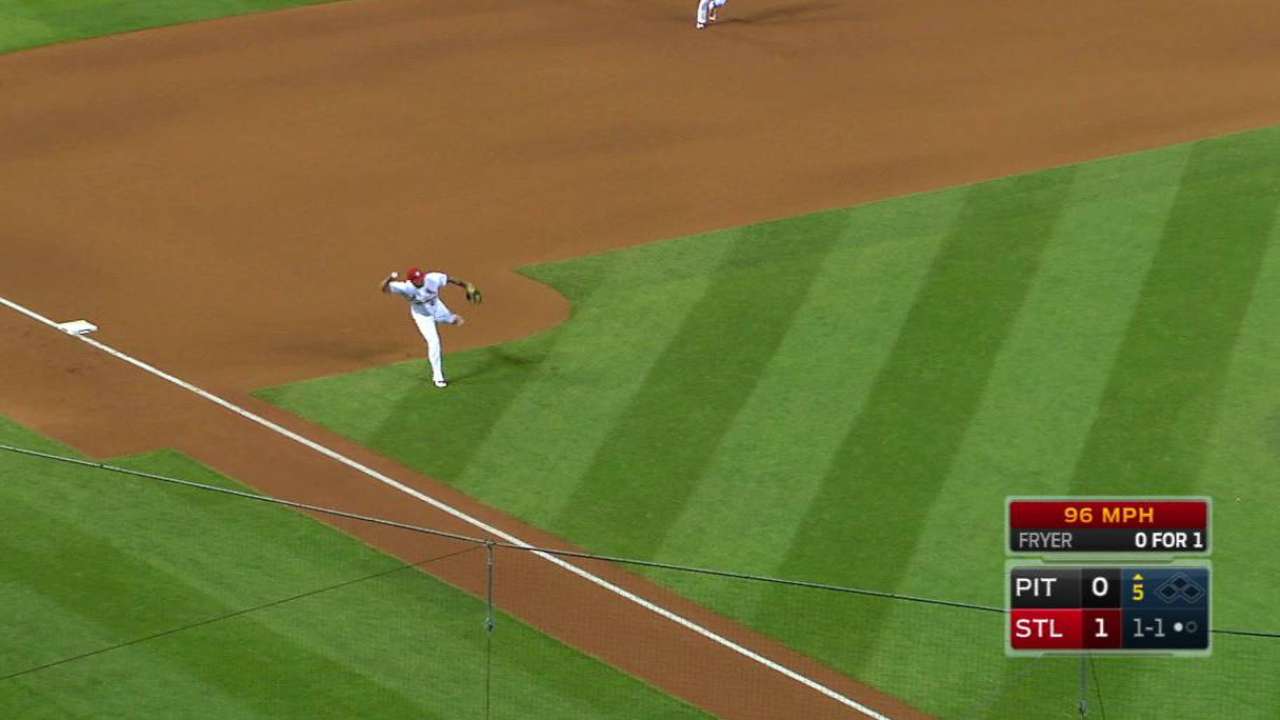 The Cardinals have certainly had great success since owner Bill DeWitt Jr. purchased the team, and the one common denominator during this stretch has been Jose Oquendo. What is his status, and will he be returning to the team next year?
-- Brad H., Schnecksville, Pa.
The Cardinals have still not announced their 2017 Major League coaching staff, but when that announcement comes, Oquendo is not expected to be a part of it. That will be his decision, too. Oquendo is instead expected to take on a coaching role within the system that will allow him to work with the organization's Minor Leaguers near his home in Jupiter, Fla.
What about first base? There was a lot of rotation of players to that position in 2016. How do they solidify an everyday player in that position?
-- Jack T., Baton Rouge, La.
The team's offseason activity will determine what shakes out at first base. One option is that it becomes Matt Carpenter's everyday position. That could open up second base for Kolten Wong and third for Peralta, with Jedd Gyorko an option to move around. Matt Adams is another first-base possibility, though I don't envision the Cardinals opening the season with the intention of giving him a full season's worth of at-bats there. And if Moss were to be re-signed, he'd also be an option. My best guess right now is that Carpenter will end up there.
Jenifer Langosch has covered the Cardinals for MLB.com since 2012, and previously covered the Pirates from 2007-11. Read her blog, follow her on Twitter, like her Facebook page and listen to her podcast. This story was not subject to the approval of Major League Baseball or its clubs.